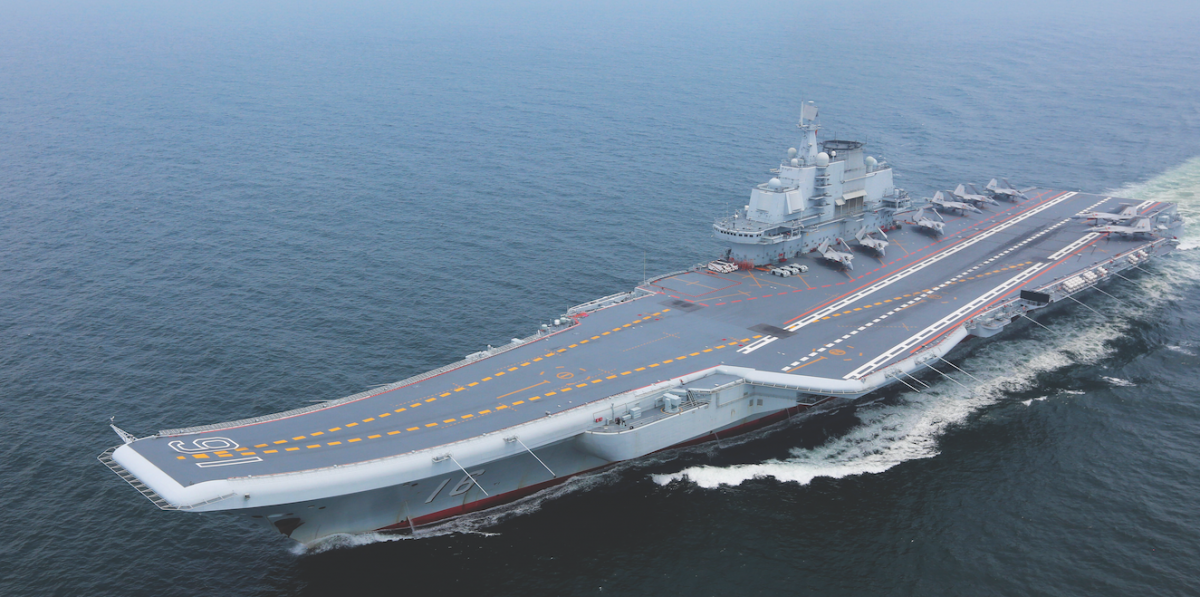 The 55,000-ton Chinese aircraft carrier Liaoning was operational with the People's Liberation Army Navy in 2017. More and larger aircraft carriers are in development. (Xinhua News/Zeng Tao)
The proliferation of sophisticated naval weapons and technology has reached fever pitch during the past few years. Sales of advanced submarines, long-range antiship weapons, and cutting-edge surface-to-air missiles (SAMs) have provided asymmetric capabilities to all interested parties. Modern navies must now come to grips with these challenges, and they must be prepared to face even the most advanced military threats anywhere and everywhere they operate.
This review of the world's navies presents a snapshot of activities and developments during the past year. It is arranged by region, with nations discussed alphabetically under each subheading.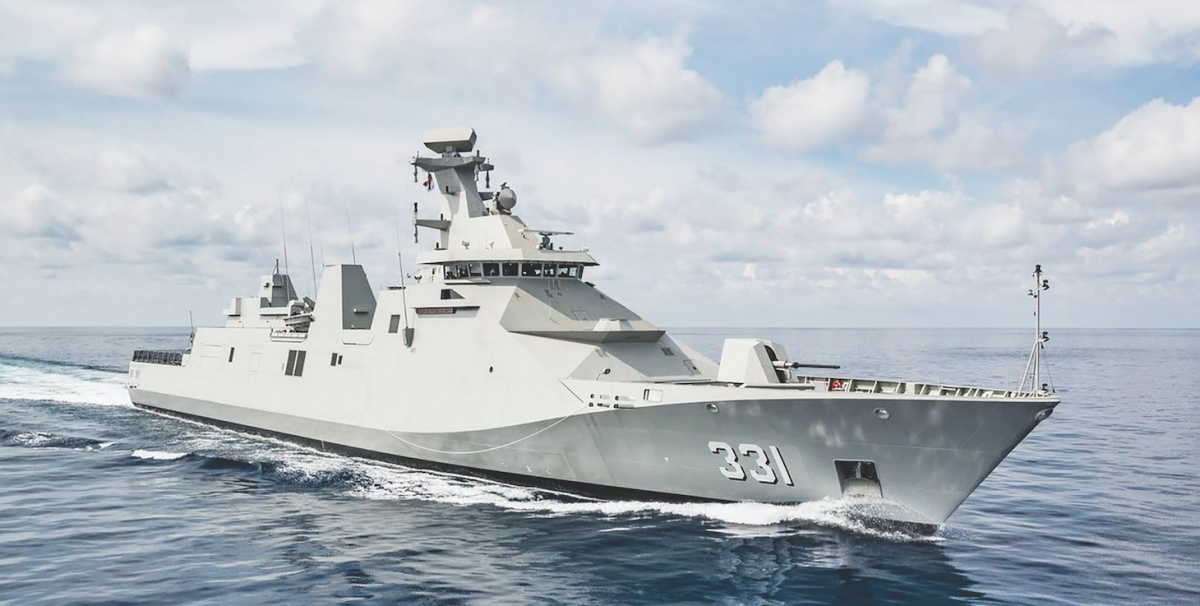 Indonesia took delivery of the frigate Raden Eddy Martadinata in 2017. (Damen)
Australia/Asia
Australia's first new 7,000-ton Aegis-equipped guided-missile destroyer (DDG), HMAS Hobart, was commissioned into service in September 2017. Two others, the Brisbane and Sydney, are planned for service by 2020.
As the Hobart-class DDGs join the fleet, they are replacing upgraded Adelaide-class frigates, including HMAS Darwin, which was decommissioned in December 2017. The Australian Navy has been working to upgrade all eight of its Anzac-class frigates with active phased-array radars and other improvements. The Anzac class eventually will be replaced by nine future frigates beginning in the mid-2020s. The German OPV-80 design has been selected for Australia's 12 new 1,760-ton offshore patrol vessels, with construction set to begin on the new OPVs in late 2018.
In 2017, the first steel was cut for Australia's Pacific patrol boat replacement (PPB-R) vessels. Nineteen will be delivered between 2018 and 2023 for donation to 12 Pacific island nations. Australia also is enhancing its own coastal security and in 2017 commissioned two Cape-class 190-foot patrol boats under a lease agreement.
Two new replenishment vessels are planned for the near future, both of which will be built in Spain and based on the Cantabria class. These new oilers, to be named the Supply and Stalwart, are expected for delivery in 2019 and 2020 respectively.
Australia plans to acquire 12 new 4,500-ton French-designed submarines to replace the six existing Collins-class boats. These 12 diesel submarines are expected in service from the early 2030s.
Two 27,000-ton Canberra-class amphibious assault ships recently entered service. They suffered some early propulsion difficulties, but the problems appear to have been corrected by late 2017. Australian defense forces reportedly are considering acquisition of AH-1Z Viper attack helicopters and UH-1N utility helicopters for use on the Canberra class in the future.
The use of unmanned aerial vehicles (UAVs) also is increasing in the fleet, and some warships are deploying with new unmanned Scan Eagles as well as manned MH-60R Seahawk helicopters. Australia has begun receiving its first Boeing P-8A Poseidon maritime patrol aircraft, and 12 P-8As currently are planned for delivery through 2020. Additional P-8As are expected to be ordered in the future. A total of 7 MQ-4C long- range Triton UAVs also are planned for service beginning in the early 2020s.
Bangladesh became a full-fledged submarine operator in 2017 with the transfer of two aging Ming-class (Project 035) diesel-powered boats from China. China also delivered two newly constructed 211-foot guided-missile patrol craft that are based on its own Type 056 corvette. Bangladesh has ordered two additional Dornier Do-228NG aircraft to boost maritime patrol and surveillance capabilities.
China's naval forces continue to make great strides, rapidly eroding Western technological advantages. As its power projection capabilities continue to grow, naval assets reach further into the Indian Ocean region as well as the South and East China seas. China's first aircraft carrier, the 55,000-ton Liaoning, now is operational, and speculation has shifted to future carrier designs. Current plans include two domestically designed and built non-nuclear carriers known as the Project 001 and Project 002. The Project 001 was launched in the first half of 2017 and is expected to enter service in the early 2020s. Similar in appearance to the Liaoning, the Project 001 will be larger and faster and is expected to carry roughly 40 percent more aircraft than the Liaoning. The Project 002 aircraft carrier currently is in the final stages of development and will be bigger than its two predecessors, displacing 85,000 tons. The Project 002 is expected to be fitted with a new Chinese version of the electromagnetic aircraft launch system rather than a ski-jump.
This past year China opened its first overseas military base—in Djibouti—and is expected to increase use of the Chinese-funded port at Gwadar, Pakistan. China reportedly has doubled the size of the People's Liberation Army Marine Corps from 10,000 to 20,000 troops, and long-term plans call for an increase to 100,000 marine personnel. China launched its fifth Yuzhao-class/Project 071 17,000-ton amphibious transport dock, which is expected to commission this year.
Construction of a new 35,000-ton big-deck amphibious ship (Project 075) is reportedly under way. The Project 075 is expected to have well decks to operate the new Yuyi-class (Project 726) air-cushioned landing craft under construction.
China's surface combatant fleet has been expanding. Its first new, 10,000-ton Renhai-class (Project 055) guided-missile cruiser (sometimes classified as a destroyer) was launched in summer 2017. Project 055 armament is thought to include at least 112 vertical launch system cells, advanced SAMs, land-attack cruise missiles, and the 290-nautical-mile range CH-SS-NX-13/YJ-18 antiship missile. Two Project 055s are reported to be under construction, and it appears at least four are planned. China's sixth Luyang III–class (Project 052D) destroyer was commissioned this past July, and the 13th unit of the class was launched that same month. The People's Liberation Army Navy's 26th 4,000-ton Jiangkai II-class (Project 054A) guided-missile frigate entered service in January, and its 37th Jiangdao-class (Project 056) 1,500-ton missile corvette also joined the fleet.
New auxiliary vessels are supporting these increased operations. The first of a new 41,000-ton class of Project 901 replenishment ships entered service, while a second unit of the class is planned for delivery later this year. A sixth 6,000-ton Project 815 intelligence collection ship entered service in January 2017, with an additional unit launched during the summer; more are expected. A large 50,000-ton dual-use, civil-military heavy-lift ship also became operational early in 2017 and is able to transport up to 10,000 tons of outsized cargo.
According to the U.S. Department of Defense, China has completed six of the Shang I/II-class Project 093/093A nuclear-powered attack submarines (SSNs), and a new variant—the Project 093B—is thought to be under development. Up to 14 next-generation Project 095 SSNs may also be planned for the future. Four Jin-class (Project 094) nuclear-powered ballistic-missile submarines (SSBNs), armed with JL-2 submarine-launched ballistic missiles (SLBMs) have been completed, and a fifth is thought to be under construction. Development is also under way on the Project 096 SSBN that should begin construction in the early 2020s and be armed with the new JL-3 SLBM. A sub-launched variant of the 290-nm range YJ-18 antiship missile is under development to arm the Shang-class (Project 093), Song-class (Project 039), and Yuan-class (Project 041) submarines. Production of the Yuan-class is reported to have restarted after a pause of several years; at least three new boats were seen fitting out in early 2017.
India has been building its naval and defense ties with neighbors while looking to boost naval exports and strengthen its industrial base. The first 8,000-ton Visakhapatnam-class (Project 15B) DDG is expected in the near future, with a total of four units due by the mid-2020s. The first of as many as seven new 6,700-ton Project 17A frigates, improved variants of the Shivalik class (Project 17), began construction last year.
India will acquire from Russia up to four 4,000-ton Admiral Grigorovich–class (Project 11356M) frigates, based on the Talwar-class (Project 11356). India's third Kamorta-class (Project 28) antisubmarine warfare (ASW) corvette entered service in October 2017, and additional sisters are planned. India also is expected to acquire as many as 16 new shallow-water craft for ASW patrol duties. The first two of five planned 1,500-ton Project 21 naval offshore patrol vessels (NOPVs) were launched in the summer of 2017. The fourth and final 325-ton improved Car Nicobar–class patrol craft entered the fleet this past year.
New utility landing craft are entering service, and long-term plans call for acquisition of several large amphibious ships. A new 10,000-ton Project VC 11184 missile-tracking and ocean-surveillance ship is nearing completion and expected in service by late 2018 or early 2019.
In December 2017, India commissioned the first of six 1,600-ton Kalvari-class submarines, which are Indian-built variants of the French Scorpène-class design. India now has an urgent requirement for heavyweight torpedoes because a previous order was canceled over allegations of corruption. India's second Arihant-class SSBN was launched late in 2017 and is expected to enter service in the early 2020s. Two additional SSBNs are planned, and a new class of SSBN may be under development for the future.
In March 2017, India retired the world's oldest active aircraft carrier, the INS Viraat. The 28,000-ton vessel will be replaced by the 40,000-ton Vikrant, currently being fitted out at Cochin Shipyard under the indigenous aircraft carrier program (Project 71). India also is in the market for several dozen carrier-based fighters and hopes to build a full-sized, 65,000-ton carrier in the future.
India retired its last operational Tu-142M maritime patrol aircraft in 2017. The Russian-built aircraft are being replaced by 12 P-8I Poseidon aircraft purchased from the United States, and additional P-8Is may be acquired in the future. The Indian Navy and Coast Guard have each ordered 16 more Druv light helicopters to help replace the Chetak, which is due to retire during the next few years. The Indian Navy hopes to acquire more than 100 maritime multirole and utility helicopters over the next few years.
Indian industry continues development of advanced naval weapons through international cooperation. New extended-range SAM systems are being developed with Israel, and new long-range land-attack and antiship missiles are in the works with Russia.
Indonesia took delivery of two 2,365-ton SIGMA 10514 frigates this past year, the KRI I Gusti Ngurah Rai and the Raden Eddy Martadinata.
The Indonesian Navy also commissioned the Nagapasa, the first of three Type 209/1400 submarines built in South Korea under a 2011 contract. All three of the 1,400-ton submarines are due for delivery by 2021. A new 11,000-ton amphibious dock landing ship was laid down this past year and could enter service before 2020. Additional PC-40 small patrol boats continue to enter the fleet, and new AS565 MBe Panther maritime helicopters and a King Air 350i utility aircraft also entered naval service in 2017.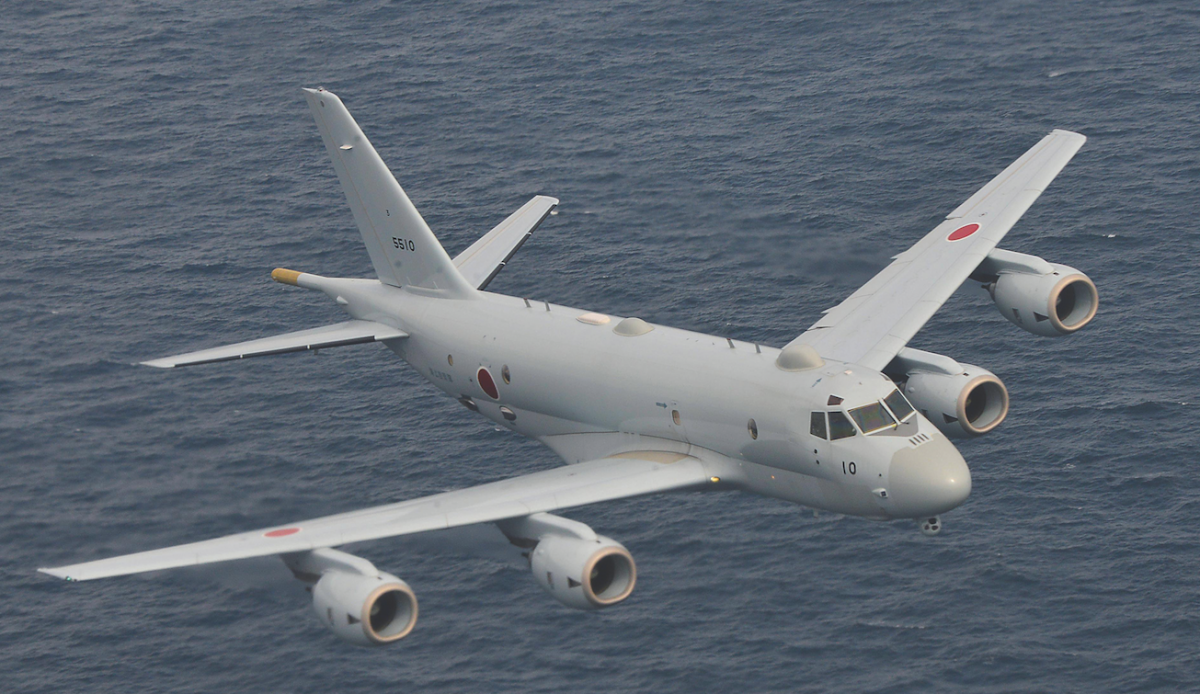 More than 60 Mitsubishi P-1 maritime patrol aircraft are planned for Japanese service. (JMSDF)
Japan's second 24,000-ton Izumo- class helicopter-carrying destroyer was commissioned in 2017. The second of four planned ASW-focused Asahi-class 5,100-ton destroyers, based on the previous Akizuki class, was launched. Two new-construction air-defense destroyers are planned for the early 2020s under the 27DDG program, and a new class of at least eight medium-sized 3,900-ton surface patrol combatants are planned under the 30DX program. The first of three 690-ton Awaji-class mine-countermeasures vessels entered service early in 2017, and a second unit will enter the fleet this year. Japan has increased funding to purchase additional SM-3 Block IIA Standard Missiles for ballistic-missile defense, and in December 2017, Japan's government approved acquisition of two Aegis-ashore missile-defense systems. The two land-based sites are not expected to be operational until 2023.
Japan's eighth Soryu-class air-independent propulsion (AIP) submarine was delivered last year, and the tenth unit was launched in November. The 11th and 12th units of the Soryu class are expected to be fitted with lithium-ion batteries in place of the current lead-acid battery/AIP system. This change could provide many operational and design benefits.
To assist with airborne warning and control, Japan has ordered additional Northrup Grumman E-2D Advanced Hawkeye aircraft with deliveries continuing through 2018. New Mitsubishi P-1 maritime patrol aircraft are entering service, replacing aging P-3C Orions. More than 60 P-1s eventually are planned.
Malaysia has been working to enhance its coastal operations and capabilities. A total of six locally built 3,000-ton littoral combat ships (LCSs) are planned for service beginning in 2019. Based on the French Gowind-2500-class corvette, the first of these new vessels was launched in August 2017. Malaysia also ordered four new 680-ton littoral mission ships (LMSs) from China. Up to 18 of the new LMSs are planned, and construction will be shared between Chinese and Malaysian shipyards. Deliveries of the first LMS is scheduled for 2019. Malaysia is considering the acquisition of two new submarines, as well as new maritime patrol aircraft and a new multirole support ship for humanitarian-assistance operations.
Myanmar conducted its first joint naval exercises with China last spring. In 2017, the government ordered advanced lightweight torpedoes from India. Myanmar hopes to continue its recent naval expansion by establishing a fledgling submarine capability sometime in the future.
New Zealand's Anzac-class frigate Te Kaha extended its deployment last summer to assist the U.S. Seventh Fleet after the destroyer USS Fitzgerald (DDG-62) collided with a merchant ship. New Zealand's frigate system upgrade, to improve sensor and weapon systems on its two frigates, is planned for the future. A new 24,000-ton fleet replenishment tanker is on order from South Korea, with delivery planned for early 2020. An ocean patrol vessel is also planned for delivery by 2020, and a single new multipurpose vessel is being sought to replace both the diving-support vessel and hydrographic-research ships now in service. New Zealand also is looking to replace its P-3K Orion fleet with new maritime-patrol aircraft beginning in the mid-2020s.
North Korea conducted its sixth and largest nuclear test last September, with an estimated yield of 50–60 kilotons. In 2017, the country also test-fired an ICBM that appears to be capable of reaching the entire continental United States. A new ballistic missile submarine—dubbed the Sinpo-C—is thought to be under construction as a follow-on to the existing Sinpo test submarine already in service. North Korea also reportedly is working on a second missile test barge for underwater launch, as it moves toward a fully functioning SLBM capability. The country's maritime forces are seeking to enhance their antiship capability, and in 2017, a locally built version of the Russian SS-N-25 antiship cruise missile was fired from a coastal defense launcher to an estimated range of 125 miles.
Pakistan activated its new maritime Task Force 88 this past year to help protect the Chinese-funded port at Gwadar and China-Pakistani Economic Corridor trade routes. In 2017, two 246-foot corvettes were ordered from the U.S. firm Swiftships, and at least one 295-foot offshore patrol vessel was ordered from the Dutch firm Damen. Pakistan is looking to acquire four Turkish-designed Ada-class corvettes (part of the MILGEM project), most likely to be built in Pakistan. Two 1,500-ton maritime patrol vessels, ordered from China in 2015, are nearing delivery to Pakistan's Maritime Security Agency along with a fourth, and final, 600-ton maritime patrol vessel. Pakistan also commissioned the Himmat last summer, its third Azmat-class guided-missile patrol craft. In late 2017, the Himmat test-fired a new domestically produced Harba antiship missile with secondary land-attack capabilities.
Pakistan plans to expand its submarine force during the coming decade by acquiring up to eight submarines from China based on the Yuan class (Project 041). It is expected that half of the submarines will be built in China and half in Pakistan between 2022–28. In January 2017, media reported that Pakistan test fired its first nuclear-capable submarine-launched cruise missile, the Babur-3, which is thought to have a range of approximately 280 miles.
Pakistan has been acquiring retired Sea King helicopters from the United Kingdom. In September, a Pakistani Sea King conducted its first successful helicopter test launch of an antiship missile.
The Philippines hosted two Russian warships at Manila in January 2017, and on 30 April 2017, a small flotilla of Chinese warships arrived in the Philippines to boost naval ties between the two nations. In order to modernize its aging fleet, the navy hopes to acquire two medium-sized surface combatants based on the South Korean HDF-3000 frigate design. During Spring 2017, the Philippines took delivery of its second 11,500-ton Tarlac-class strategic sealift ship. The new vessel, the Davao Del Sur, was built in Indonesia for amphibious lift and humanitarian assistance operations. New small patrol and attack craft also have been entering service. Two AW159 Lynx Wildcat helicopters, to be armed with the Israeli-built Spike non–line-of-sight (NLOS) missile, were ordered in 2016 and are expected for delivery later this year. The Philippine Navy also began taking delivery of five TC-90 aircraft donated by Japan for maritime security and coastal patrol missions.
Singapore's new littoral mission vessels (LMVs) have begun to enter service. The 1,250-ton Independence-class LMVs (not to be confused with the U.S. Navy's Independence-class LCSs) are modular and reconfigurable, permitting a wide array of naval missions. By the end of 2017, the first three of a planned eight ships were in commission, and all are expected by the end of 2020. The LMVs are replacing the Fearless-class patrol combatants, four of which were retired in 2017. Singapore ordered two Type 218SG submarines from Germany in 2017, bringing to four the number planned by 2024. The first two of the 2,000-ton submarines were ordered in 2013 and are due for delivery in 2021 and 2022, with the third and fourth units expected beginning in 2024.
South Korea is expanding its fleet of Aegis-equipped air-defense destroyers, and the first of three new updated KDX-III (Batch II) DDGs is expected for delivery in 2021. Eight new 3,500-ton Daegu-class multirole frigates are planned under the FFX-II program. Three of the frigates, based on the Incheon class (FFX), are expected in service by the end of 2018. South Korea's first 230-ton Chamsuri II-class (PKX-B) patrol boat was delivered this past fall. Eight more are due for delivery by 2020, with additional units planned. In 2017, South Korea took delivery of the second of four 4,500-ton tank landing ships (LSTs) under the LST-II program. A third LST of the class is due in the first half of 2018, and the fourth and final LST was launched this past fall. In June 2017, South Korea took delivery of the Nampo, an advanced 4,200-ton minelaying vessel. South Korea also is planning to construct a new 4,500-ton naval training vessel for delivery in 2020.
The ninth and final 1,800-ton KSS-2 (Type 214) AIP-capable submarine was launched last year and is expected for delivery in 2019. Construction also has begun on the third of as many as nine new 3,000-ton AIP-equipped submarines that will begin entering service in the early 2020s. South Korea's previously planned acquisition of retired U.S. Navy S-3 Viking aircraft appears to have been called off in favor of more advanced and longer-range maritime-patrol aircraft. South Korea also hopes to fulfill its requirement for a dozen new ship-based ASW helicopters by the early 2020s.
Sri Lanka held its first bilateral Cooperation Afloat Readiness and Training (CARAT) exercises with the United States in October 2017. Sri Lanka took delivery in 2017 of an Indian-built 2,350-ton advanced offshore patrol vessel (AOPV), the largest warship ever used by the Sri Lankan Navy. A second AOPV is expected for delivery later this year.
Taiwan took delivery of two retired U.S. Navy Oliver Hazard Perry–class frigates in 2017. The warships, ex-Taylor (FFG-50) and ex-Gary (FFG-51), have been renamed the Mingchuan and Fingjia, respectively. Taiwan has been unable to acquire submarines on the global market and instead has initiated a domestic submarine design and production program calling for eight diesel submarines to enter service in late 2020s. Despite these plans, a host of technical, industrial, and political challenges likely will impede the effort. Taiwan remains reliant on foreign assistance, and orders for new Mk-48 heavyweight torpedoes, Mk-54 lightweight torpedo conversion kits, SM-2 missile parts, and AN/SLQ-32 electronic warfare suite system upgrades were approved for export from the United States in 2017. Taiwan hopes to acquire a new class of six mine-countermeasures vessels, but contractual issues have plagued the effort.
Thailand's second 2,500-ton Krabi- class offshore patrol vessel is under construction domestically for delivery in 2019. One new DW3000 frigate is being built in South Korea for delivery during 2018. Thailand ordered the first of three planned S26T submarines from China this past year and hopes to begin submarine operations by the early 2020s. The S26T design is thought to be based on the Chinese Yuan class (Project 041), and two additional submarines of the class are expected in service by the late 2020s.
Vietnam's fifth and sixth Improved Kilo-class (Project 636) submarines were delivered by Russia, and commissioned into service on 28 February 2017. Russia also delivered Vietnam's third 2,100-ton Gepard-class frigate, and a fourth is expected later this year. Additional Gepard-class frigates are planned. Vietnam is acquiring six new patrol vessels from Japan that will join older craft transferred during the last five years. In late May 2017, Vietnam took delivery of the retired 378-foot U.S. Coast Guard cutter Morgenthau (WHEC-722) as well as six new 45-foot Metal Shark Defiant pilothouse patrol vessels from the United States. The ex-Morgenthau is now serving with the Vietnamese Coast Guard as the CSB 8020.
Vietnam is working to acquire new light and medium patrol vessels and warships, new mine-countermeasures vessels, and new long-range maritime patrol aircraft during the coming decade.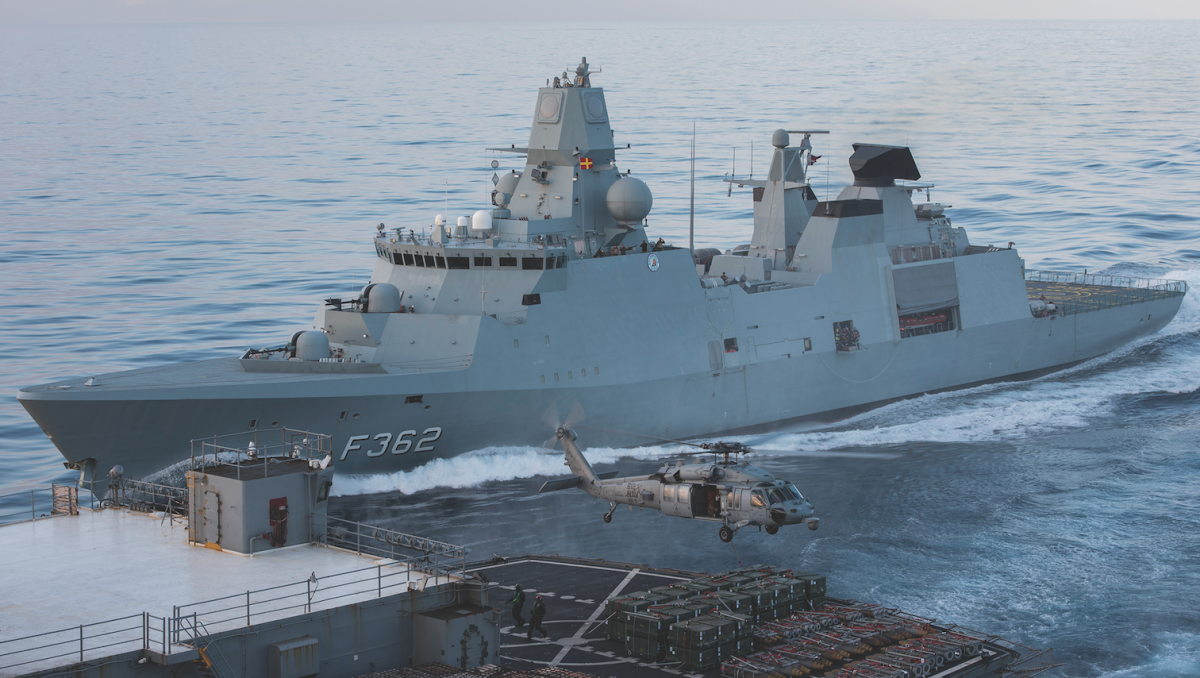 Denmark's guided-missile frigate, HDMS Peter Willemoes, deployed with the USS George H.W. Bush carrier strike group last year. (U.S. Navy/Christopher Gaines)
Europe
Albania's navy completed its first NATO deployment in November 2017, as the 205-ton patrol craft ALS Oriku concluded a year-long assignment with Standing NATO Maritime Group 2.
Bulgaria plans to acquire new patrol boats and is hoping to modernize its aging fleet during the next decade. On 9 June 2017, an AS.565 Panther—one of only three Bulgarian naval helicopters—collided with the mast of the frigate Drazki before crashing into the Black Sea.
Denmark integrated the Iver Huitfeldt- class guided-missile frigate HDMS Peter Willemoes with the USS George H. W. Bush (CVN-77) carrier strike group (CSG) this past year. This marked the first time a Danish warship undertook such a deployment, which included contributions to defense of the CSG during combat operations over the skies of Iraq and Syria.
Denmark has taken a commanding role in NATO's Baltic Operations exercises.The country is seeking to expand its naval helicopter fleet, with nine MH-60Rs on order, the first of which became operational last April. Its warships are being modified to carry the new helicopter. In the future, Denmark hopes to enhance airborne and ship-based ASW capabilities.
Finland plans to acquire four multipurpose offshore patrol vessels to replace Rauma-class missile patrol craft and Hämeenmaa-class minelayers beginning in the mid-2020s. By late 2017, upgrades and modernization were completed on the three Pansio-class coastal minelayers. The navy also plans to upgrade the Hamina-class guided-missile patrol craft. In late 2017, Finland took delivery of its 12th and final 65-foot Jehu-class (U 700) series landing craft.
France's sole aircraft carrier, the nuclear-powered Charles de Gaulle, began a refit early in 2017 and is due to complete its life extension by late this year. Work includes nuclear refueling, aviation upgrades, and combat systems modernization. The navy is beginning to consider replacement of the carrier by the late 2030s. While the aircraft carrier is out of service, French Rafale M naval fighters flew from Jordan to engage Islamic State targets in Iraq and Syria. In April 2017, France took delivery of its fourth 6,000-ton Aquitaine-class frigate under the Franco-Italian European multi-purpose frigate (FREMM) program. Six French antisubmarine variants and two air-defense versions are planned for delivery by the early 2020s.
Work is under way on six Suffren- class SSNs under the Barracuda program. The first of the these is expected to enter service by the end of this year, with all six units planned by 2029. France has been investing in longer range naval weapons development and has been cooperating with the United Kingdom to design future antiship missiles and other strike weapons.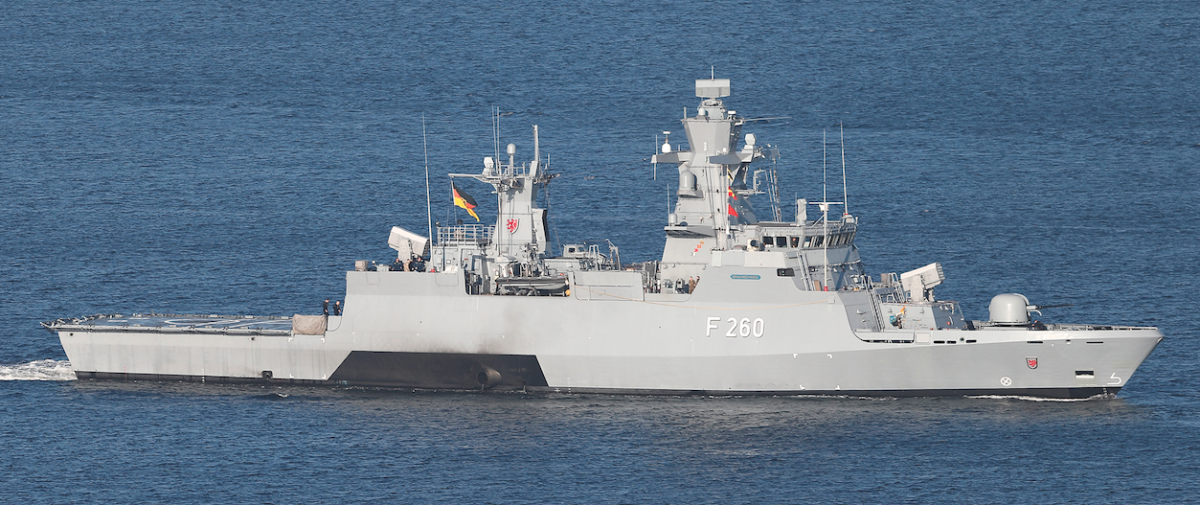 Germany plans to build ten Braunschweig-class guided-missile corvettes by 2023. (Naval Press Service/Michael Nitz)

Germany has announced plans to build five additional 1,800-ton Braunschweig-class (Type 130) guided-missile corvettes, bringing to ten the number planned for service by 2023.
Germany's first 7,300-ton Baden- Württemberg-class (Type 125) frigate was delivered in 2016, but a series of problems have resulted in postponement of its commissioning. The fourth and final Type 125 frigate was launched in May 2017 and is expected for delivery by late 2019.
Germany is planning to build six new multirole warships under the MKS-180 program. The first of these warships is expected in 2023. The German Navy hopes to procure two new naval support ships in the next decade.
Germany now is considering acquiring up to 24 naval helicopters to replace its current Mk-88A Sea Lynx from the mid-2020s. The country is working to update its fleet of P-3C Orion maritime patrol aircraft to extend their service life into the 2030s. In 2017, Germany announced plans to build two additional Type 212 submarines to a slightly modified Norwegian-German design for delivery in the 2020s.
Greece took delivery of four rigid-hull inflatable boats (RHIBs) from the U.S. Navy last fall, for use with special operations units. The country is continuing an upgrade program to return its P-3 Orion maritime-patrol aircraft to operational status.
Italy's maritime forces are stretched thin by the ongoing migrant crisis that demands a heavy naval presence off the coast of north Africa and in the Mediterranean. A new large-deck 22,000-ton amphibious assault ship is on order for delivery by 2020 to help with transport and humanitarian assistance duties. Italy plans to acquire a mix of ten general purpose and antisubmarine-configured Carlo Bergamini-class frigates under the FREMM program. The sixth frigate, Luigi Rizzo, was delivered in April 2017. A seventh was launched last year, and all ten warships are expected by the early 2020s.
Construction began on the first 425-foot multipurpose offshore patrol ship ("Pattugliatore Polivalente d'Altura," or PPA). Seven of these modular PPAs have been ordered in three different configurations, with deliveries set to begin in 2021. Additional PPAs are expected in the future.
A large new 587-foot logistics-support and replenishment ship was launched and will be delivered in 2019. Two additional auxiliaries are planned, and a new fleet of mine-countermeasures vessels are under consideration. New high-speed special forces boats also are being built with deliveries planned for 2019–20.
Italy retired its last Atlantic Mk-1 maritime patrol aircraft in September 2017, and four new Alenia Aermacchi P-72As have begun entering service. The navy plans to modify the 27,000-ton aircraft carrier Cavour to carry stealthy F-35B Lightning II short-takeoff, vertical-landing (STOVL) strike fighters during the next few years. F-35B trials are scheduled to begin on the carrier in 2020. Additional naval and transport variants of the NH90 helicopter are on order and continuing to enter service.
The Netherlands is beginning to plan for the replacement of its four Walrus-class submarines, which may include cooperative design and development with an allied navy. The Dutch Marine Corps and German naval sea battalion completed integration last year to enable joint deployments as a combined force. In 2017, the Dutch guided-missile frigate HNLMS Tromp launched SM-2 and Evolved Sea Sparrow missiles against multiple incoming antiship missile targets while taking part in NATO training exercises.
Norway announced plans in 2017 to acquire four Type 212NG submarines from Germany. In early 2017, Norway finalized an order for five P-8A Poseidon maritime patrol aircraft from the United States. The new aircraft will begin entering service in 2021 to replace P-3 Orion and Dassault DA-20 Jet Falcon aircraft.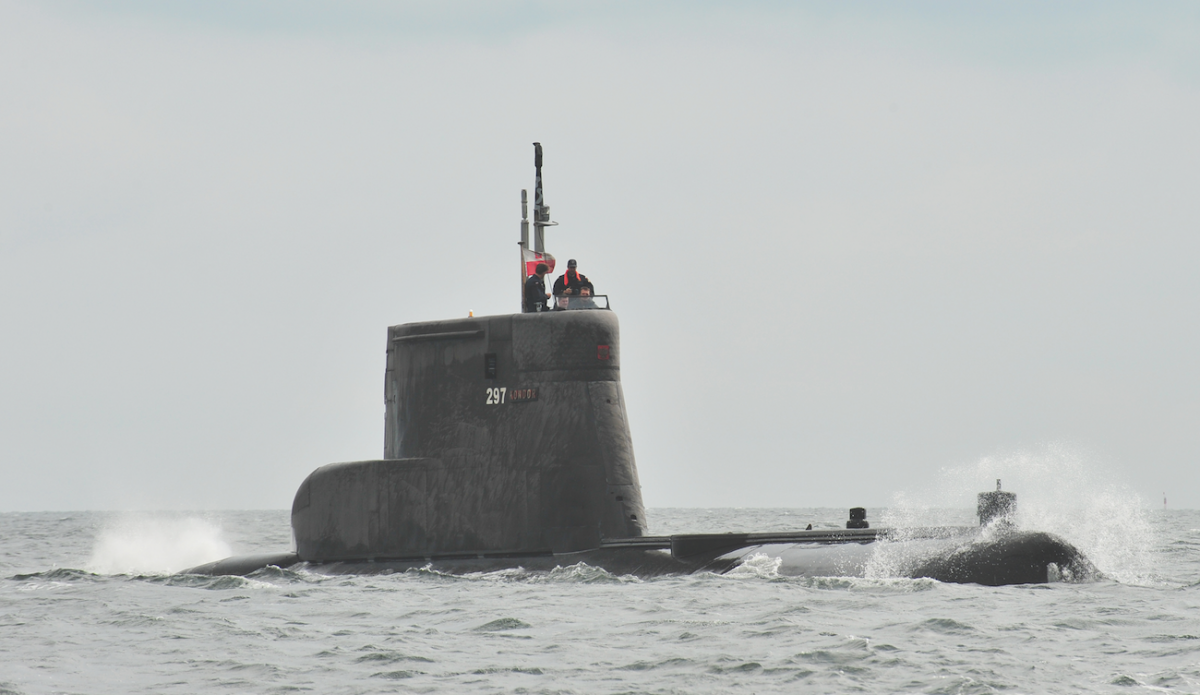 Poland retired the ex-Norwegian Type 207 submarine Kondor in December 2017, leaving three type 207s in service. (A. A. de Kruijf Collection)
The country has begun looking to acquire a new class of more modern submarines and is considering procurement of second-hand frigates from a friendly navy. Late in 2017, the first of three planned Kormoran II-class mine countermeasures ships entered service. Commissioning of the 2,000-ton MEKO A-100 class patrol ship Slazak is expected in the near future following extensive delays. The navy also hopes to replace its Mil Mi-14 Haze naval helicopters in the near future.
Russia published a new naval policy last year declaring U.S. and NATO attempts to dominate global seas a direct threat to its national security. Russia has been boosting its own maritime presence wherever possible, including placement of new coastal-defense antiship missiles on disputed Kuril Islands and hosting its first joint Russian-Chinese naval exercises in the Baltic Sea.
Smaller surface combatants and submarines that pack a punch form the mainstay of work at Russian shipyards. In November 2017, Russia took delivery of its first Admiral Gorshkov-class (Project 22350) guided-missile frigate. A second unit of the 4,500-ton class is expected for delivery this year, and two additional units are planned by 2025. Despite these ambitious plans, numbers of serious industrial and technical issues continue to threaten their timely introduction into service.
Russia's third 4,000-ton Admiral Grigorovich-class (Project 11356M) frigate entered service in late December 2017, and its fifth 2,000-ton Steregushchiy-class (Project 20380) frigates also entered the fleet this past year. New Karakurt-class (Project 22800) corvettes are thought to be under construction at Crimean shipyards seized from Ukraine in 2014, and construction continues on other corvettes, such as the Buyan-M class (Project 21631). The long-delayed 6,000-ton LST Ivan Gren (Project 11711) has been under construction since 2004, yet reportedly had not entered service as of late 2017. Upgrades have begun on the 25,000-ton Kirov-class cruiser Admiral Nakhimov but progress remains slow, and the ship is not expected back in service until 2021. New Zubr-class hovercraft are expected to enter production, and long-term plans, which may prove overly optimistic, call for eventual construction of a large new amphibious assault ship and a new class of guided-missile destroyers.
In 2017, the Russian Ropucha-I-class LST Oslyabya completed overhaul and was returned to service, while another in the class, the Yamal, suffered damage in a collision with a merchant ship. On 27 April 2017, the Russian Moma-class (Project 861M) intelligence collection ship Liman collided with a civilian freighter and sank in the Black Sea off the coast of Istanbul. Russia's second of four planned Project 18280 intelligence collection ships was launched in mid-2017 and is expected for delivery in the near future. Construction continues on new Project 12700 mine-countermeasures ships, with up to two new units planned for delivery this year and more than a dozen units desired. Work has begun on the first new Project 23550 arctic patrol ship.
Russia is continuing to invest heavily in its submarine programs and is thought to have five new Borey II-class SSBNs planned under Project 955A. Improved variants of the Severodvinsk-class (Project 885M) are expected to begin joining the fleet in the near future as well. Older legacy submarines are scheduled for upgrades, and at least some Oscar II-class nuclear powered guided-missile submarines are set to receive new Kalibr missiles in place of their Cold War–era SS-N-19s. Construction began on two new Improved Kilo–class (Project 636.3) diesel-electric submarines, and at least four additional units are planned for delivery by the early 2020s.
In January 2017, Russia's steam-turbine-powered aircraft carrier the Admiral Flota Sovetskogo Soyuza Kuznetsov ended its first combat deployment after only two months. The 27-year-old carrier suffered a number of propulsion and aviation problems during its brief mission off the coast of Syria. A major multiyear modernization and refit effort is planned, and the ship is not expected back in service until the mid-2020s.
Spain's fifth 2,900-ton Meteoro-class offshore patrol vessel was launched in March 2017, and construction is under way on a sixth unit of the class. Spain has begun planning to replace its domestically built Oliver Hazard Perry–class frigates in the mid-2020s with five new frigates under the F-110 program. Spain's S-80 submarine effort continues to face technical delays and financial challenges. The first of the four submarines is not expected for delivery until 2021, but the AIP system will not be ready and may be added during a future refit. Spain has begun taking deliveries of refurbished SH-60F Seahawk helicopters from the United States. Up to five Seahawks could be transferred to join its existing SH-60B fleet.
Sweden is upgrading its two active Göteborg-class guided-missile patrol craft with new variable-depth sonar. The navy also has begun examining plans and designs for a future surface combatant to enter service in the mid-2020s. Two advanced 1,900-ton A26 submarines are on order for delivery in 2022 and 2024. The new A26 class will feature a modular design and AIP system. Two of Sweden's Gotland-class A19 submarines are undergoing upgrades as part of a refit due to complete by late 2019.
Turkey plans to acquire additional 2,300-ton Heybeliada-class corvettes, and a fourth unit was launched this past summer for delivery in 2020. Construction has begun on an enlarged 3,000-ton variant of the class, dubbed the Istanbul-class frigate, for service in 2021. At least four air-defense frigates are planned under the future TF-2000 program. Production is under way on Turkey's German-designed Type 214 submarines, six of which will be built domestically under a 2009 contract. A new submarine rescue ship, the Akin, entered service in December 2017, replacing an older ship with the same name that had recently retired. In 2017, the Bayraktar, first of two new 7,250-ton LSTs, was commissioned while another, the Sancaktar, conducted trials and shipyard acceptance testing. A domestically built 28,000-ton big-deck amphibious assault ship, based on Spain's Juan Carlos I class, is currently under construction and expected for delivery in 2021. Turkey has expressed interest in acquiring up to 20 F-35Bs for operation from the new ship.
Ukraine hopes to increase cash flow by boosting exports of locally produced maritime patrol vessels and aircraft. U.S. Navy Seabees began construction in summer 2017 of a naval operations center at Ochakiv Naval Base, located near Odessa on the Black Sea, to serve as a planning and operational hub for maritime assets in the region. Plans also call for U.S. assistance constructing a small craft repair facility at the naval base.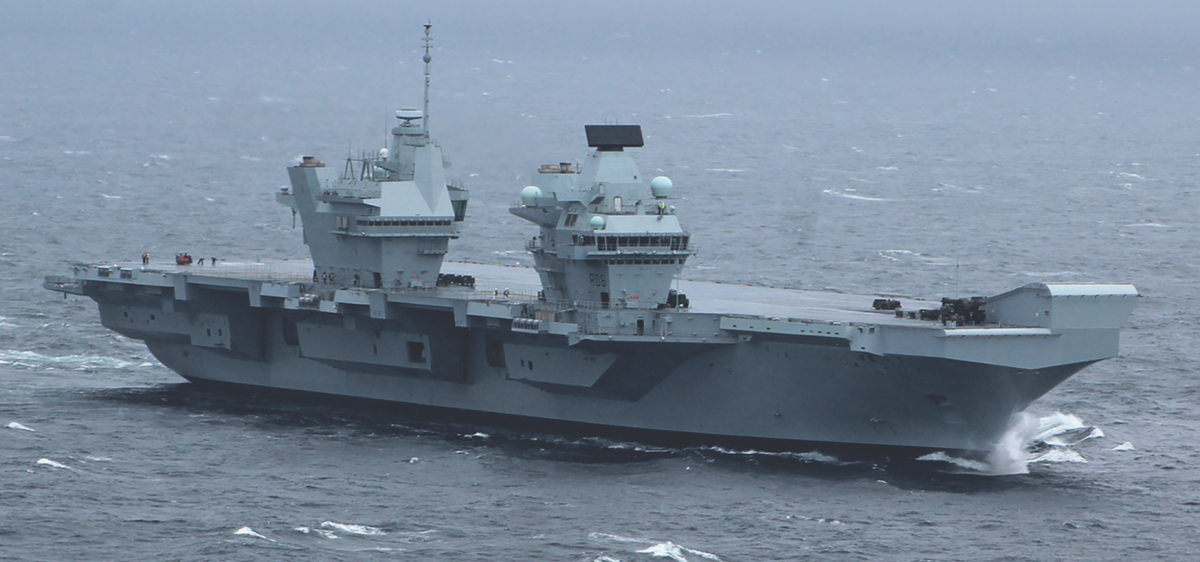 The United Kingdom commissioned its new 65,000-ton aircraft carrier HMS Queen Elizabeth (above) in December 2017. The full-sized carrier is the largest warship ever built for the Royal Navy and will serve as fleet flagship. Flight trials for STOVL F-35B fighters will begin on the aircraft carrier later this year. A second carrier, to be named the Prince of Wales, is expected in 2020. The fleet's previous flagship, the helicopter assault carrier HMS Ocean, is set to retire this spring.
The first three of eight planned Type 26 global combat ships were ordered in 2017. The 6,900-ton frigates will be optimized for antisubmarine warfare and are expected to begin entering service from the mid-2020s. The first of five smaller and less expensive Type 31 frigates are due around 2023. The Type 23 (Duke-class) frigate HMS Argyle completed an extensive 18-month upgrade in 2017 and received a new GWS.35 Sea Ceptor SAM system in place of the GWS.26 vertically launched Sea Wolf. All active Type 23 frigates are expected to receive a similar upgrade in the future.
The first of four new 39,000-ton Tide-class tankers, the Tidespring, entered the Royal Fleet Auxiliary last November. The replenishment ships are being built in South Korea under the British Military Afloat Reach and Sustainability (MARS) program. A new class of three cargo and ammunition transport vessels, known as future solid support ships, is planned for service from the mid-2020s.
Work has begun on the first of four new 17,500-ton Dreadnought-class SSBNs, which will enter service in the late 2020s. The fourth Astute-class SSN, the Audacious, was launched in April 2017 and is expected to commission later this year. Seven Astutes are planned to be in service by 2025.
On 23 March 2017 the Royal Navy retired the HMA.8 Lynx naval helicopter and is replacing it with the Lynx Wildcat. Plans to retire the Harpoon antiship missile without replacement have been postponed, and the weapon in expected to continue in service until at least 2020. A new Anglo-French cruise missile is under development. New helicopter-launched Sea Venom antiship missiles are expected to join the fleet in the early 2020s, replacing the Sea Skua, which was retired early in 2017. Sea King ASaC.7 airborne-early-warning helicopters will be retired by the end of this year and replaced by new "Crow's Nest" radar pods carried under Merlin HM.2 naval helicopters. Nine P-8A Poseidon maritime patrol aircraft will enter service between 2019–22, helping plug an airborne ASW gap brought about by cancellation of the Nimrod MRA.4 in 2010.
Middle East/Africa
(Naval Press Service/Michael Nitz)
Algeria took delivery of its second 3,500-ton German-built MEKO A-200 frigate, El Moudamir, above, in 2017. Up to two additional units are planned.
Two Tigr-class frigates (Project 20382), an export variant of the Stereguschiy class, are under construction in Russia. Up to four additional units are planned for the future. Algeria's first Italian-built Lirici-class mine countermeasures vessel has entered service, and a second unit is on order for delivery in 2019. A new domestically produced 600-ton guided-missile patrol boat entered service this past summer. Algeria is set to receive its first Russian-built Improved Kilo–class (Project 636) submarine in 2018, and a second unit is under construction.
Angola has taken delivery of a new Cessna Citation I/SP 501 for maritime surveillance duties. The aircraft reportedly has been fitted with an active electronically scanned radar array and electro-optic systems. Additional Citations are expected in the future.
Bahrain ordered five more U.S. Mk V fast patrol boats in 2017 and two U.S.-built 115-foot fast patrol boats are also on order. Upgrades to four patrol craft and two corvettes are under way in Italy with completion expected by 2020.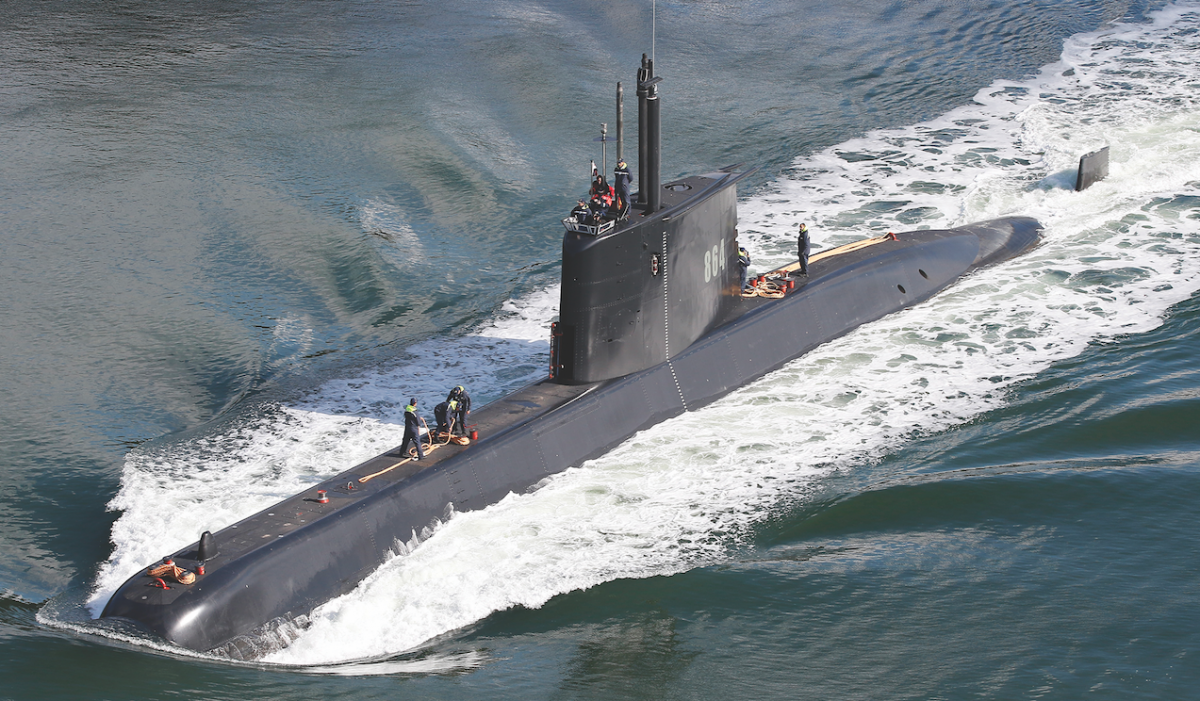 (Naval Press Service/Michael Nitz)
Egypt is expanding its presence in the Mediterranean Sea by enlarging bases and piers, and the country has been expanding facilities near Safaga on the Red Sea to help combat piracy. On 22 September, Egypt took delivery of the El Fateh (above), its first 2,600-ton French Gowind 2500-class corvette. Three more Gowind 2500s will be built domestically for delivery by 2020. Egypt received its second German-built Type 209/1400 submarine last summer and two additional Type 209s are planned by 2021.
Egypt expects to order Russian Kamov Ka-52K naval attack helicopters for use from 20,000-ton Mistral-class amphibious ships the Gamal Abdel Nasser and Anwar El-Sadat.
Iran's maritime forces conducted frequent unsafe interactions with U.S. ships and aircraft in the Persian Gulf for the first half of 2017, but these activities appear to have ceased without explanation beginning around August. Iran, however, stands accused of violating UN sanctions by supplying Houthi rebel forces in Yemen with a wide assortment of weapons.
The Iranian frigate Alvand and a supply ship reentered service in early 2017 after docking in South Africa for emergency repairs during an extended late-2016 deployment. Iran reportedly test-fired a locally produced developmental variant of the Russian Shkval super-cavitating torpedo this past May.
The Iranian Revolutionary Guard Corps Navy began taking deliveries of a large batch of new Nasir antiship cruise missiles this past April. The missiles are thought to be extended-range variants of the Iranian-built Nasr-1 missiles, which are themselves copies of the Chinese C-704 missile. Unconfirmed reports suggest that an Iranian Ghadir-class submarine unsuccessfully attempted to test-fire the new missile in May. In addition, Iran reportedly is working on a new 155-mile-range antiship ballistic missile named the Hormuz-2.
Iraq finally has taken delivery of its long-delayed Assad-class corvettes. The two 685-ton warships were completed in the late 1980s but held under embargo in Italy beginning in 1990. The corvettes are in poor condition after years of neglect, but reportedly were transported from Italy on board a heavy-lift ship and completed their voyage in mid-2017.
Israel is planning for new naval craft, weapons, and sensors to help protect against a wide range or threats. The C-Dome, a naval variant of the Iron Dome defensive missile system, was declared fully operational in 2017, and a containerized naval version of the long-range artillery (LoRA) weapon was test-fired in June 2017. Israel is preparing for delivery of the first of four new 2,000-ton Sa'ar VI-class guided-missile corvettes from Germany in 2019 to be used primarily for protection of gas platforms in the Mediterranean Sea. Israel also is working to modernize its Sa'ar IV guided-missile patrol craft. The navy will receive its sixth Dolphin-class submarine from Germany in 2019, representing the third submarine of the class modified with AIP capabilities. Additional AIP-modified subs are planned for the future.
The Ivory Coast received a new, approximately 85-foot-long Chinese-built patrol boat in 2017 for counterpiracy activity. Reports indicate that China is helping fund construction of a repair facility in the country. In the near future, the Ivory Coast hopes to acquire three AS.365 Dauphins—or other similarly sized naval helicopters—for maritime support duties.
Kuwait accepted a new 210-foot landing craft last year, and the last of five 52-foot fast landing craft has joined the fleet, along with a 138-foot landing vessel named the Sabhan. Kuwait ordered 29 47-foot fast coastal interceptor craft from the United States for delivery by early this year. Upgrades on all eight 225-ton P37-class guided-missile patrol boats are due to be completed in France in the near future.
Libya took delivery of two refurbished Bigliani II-class patrol boats from Italy this past year, joining ones transferred in 2010. Six other patrol craft were refurbished in Tunisia and transferred to Libya in 2017. The ship donations are part of an ongoing European effort to help the Libyan Coast Guard curb illegal migration and human trafficking in the region.
Namibia took delivery of two Haiqing-class (Project 037-I) patrol craft that were recently retired from Chinese service. The 478-ton vessels have been renamed the Daures and Brukkaros.
Nigeria is working to boost stability and security in the Gulf of Guinea and along the western coast of Africa. Nigerian special boat units and at least one offshore patrol vessel were called on to help ensure a smooth democratic transition of power in Gambia following its recent constitutional crisis. Nigeria has been acquiring new security boats in varying sizes and is leasing private security craft to protect merchant vessels. The country also recently added a new naval monitoring system, and floating operating bases have been established to combat the maritime piracy that continues to threaten trade in the region.
Qatar ordered a number of naval assets in 2017 for construction in Italy. Contracts include four corvettes, a mid-sized amphibious dock landing ship, and two offshore patrol vessels.
Saudi Arabian naval forces continue to lead a naval coalition off the coast of Yemen aimed at preventing arms from reaching Houthi rebels. An Al Madinah-class frigate survived a rebel suicide boat attack early in 2017 and was able to return to port for repairs. Saudi Arabia is moving ahead with plans to acquire four multi-mission surface combatants from the United States—Freedom-class LCSs modified for export with a more robust suite of weapons. Saudi Arabia also has ordered additional U.S. Mk V special operations patrol boats, MH-60R Seahawk helicopters, and P-8A Poseidon maritime patrol aircraft.
Senegal contributed at least three patrol boats to military operations in early 2017 that helped ensure a smooth democratic transition of power during a constitutional crisis in Gambia. The successful naval activities help demonstrate Senegal's maritime capabilities and their ability to respond in times of regional crisis.
South Africa has several naval programs on the books, including Project Biro—to build three inshore and three offshore patrol boats—and Project Hotel—that calls for delivery of a new 312-foot hydrographic survey ship. Construction is set to begin in 2018. Maritime surveillance capabilities remain severely underfunded in South Africa, and urgent requirements for maritime patrol aircraft and boats remain unmet.
Syria's government, with Russian assistance, gained ground in its civil war this past year. Military forces conducted major river crossings over the Euphrates using floating pontoon bridges, small boats, ferries, and amphibious vehicles. Much of the crossing equipment is thought to have been supplied from Russian stocks.
Tunisia took delivery of the first of 13 coastal radars from the United States and received two U.S.-built 66.5-foot full-cabin patrol boats this past year. Construction also is under way on four larger offshore patrol vessels being built in Romania for delivery by the end of the year.
The United Arab Emirates began construction of a naval base in Somaliland, Somalia, this past year to support its naval presence in the Gulf of Aden and Red Sea and to help protect shipping from piracy off the Horn of Africa. The UAE has ordered two new Gowind corvettes from France, with an option to acquire two additional units in the future. In February 2017, the UAE commissioned its sixth and final 900-ton Baynunah-class corvette, the Al Hili.
Yemen's bloody civil war shows no sign of abating. A Saudi-led military coalition includes naval assets working to prevent the spread of weapons to Houthi rebel forces, but the naval force also has been blamed for preventing aid from reaching civilians. Both coalition warships and civilian aid vessels have been targeted by rebel forces using antiship missiles, suicide boats, and other weapons thought to have been supplied by Iran. Early in 2017, reports indicated that Houthi rebel forces were mining the Bab el-Mandeb Strait around Yemeni waters, posing additional risk to maritime traffic in the region.

Argentina's 15,000-ton icebreaker the Almirante Irizar returned to service ten years after a fire destroyed much of the ship. (Argentina Ministry of Defense)
Americas
Argentina's 2,350-ton TR-1700-class submarine San Juan went missing at sea with all hands this past November and an international search effort failed to locate the submarine or determine the cause of its loss. The navy hopes to acquire four 1,500-ton Gowind corvettes as well as an amphibious assault ship in the next decade. Argentina received five retired Super Étendard fighter-bombers from France in 2017 to help revitalize the Argentine naval air arm. Plans are also being considered to procure retired P-3C Orion maritime patrol aircraft to replace the country's older P-3Bs. During the spring of 2017, the 15,000-ton icebreaker Almirante Irizar was returned to service ten years after a disastrous fire destroyed much of the ship.
The Bahamas Defense Force commissioned its third and fourth 100-foot Stan Patrol 3007 patrol craft in 2017. Two of the country's 375-ton Bahamas-class patrol craft are being upgraded, and a new bridge training simulator is expected for delivery this year.
Brazil has scrapped plans to modernize its aging 33,000-ton aircraft carrier São Paulo and announced in 2017 that the 50+ year old vessel would instead be readied for decommissioning. While Brazil hopes to acquire a new aircraft carrier in the future, budget shortfalls will remain a major hurdle. The navy has offered to buy the soon-to-be-retired 21,000-ton helicopter carrier HMS Ocean from the United Kingdom.
Brazil's frigate force has continued to contribute ships to international deployments, notably the Maritime Task Force of the UN Interim Force in Lebanon. Plans for a class of new 6,000-ton multipurpose frigates have been postponed for the time being, and the country is now planning to build smaller Tamandaré-class 2,800-ton multimission helicopter-carrying corvettes. Acquisition of new amphibious ships is being looked at for the future. The first of Brazil's four new Riachuelo-class diesel submarines, based on the French Scorpène class, is expected to enter service in 2020; three additional units are expected by the mid-2020s. The navy's nuclear submarine program remains on the books but is not expected to bear fruit before the early 2030s.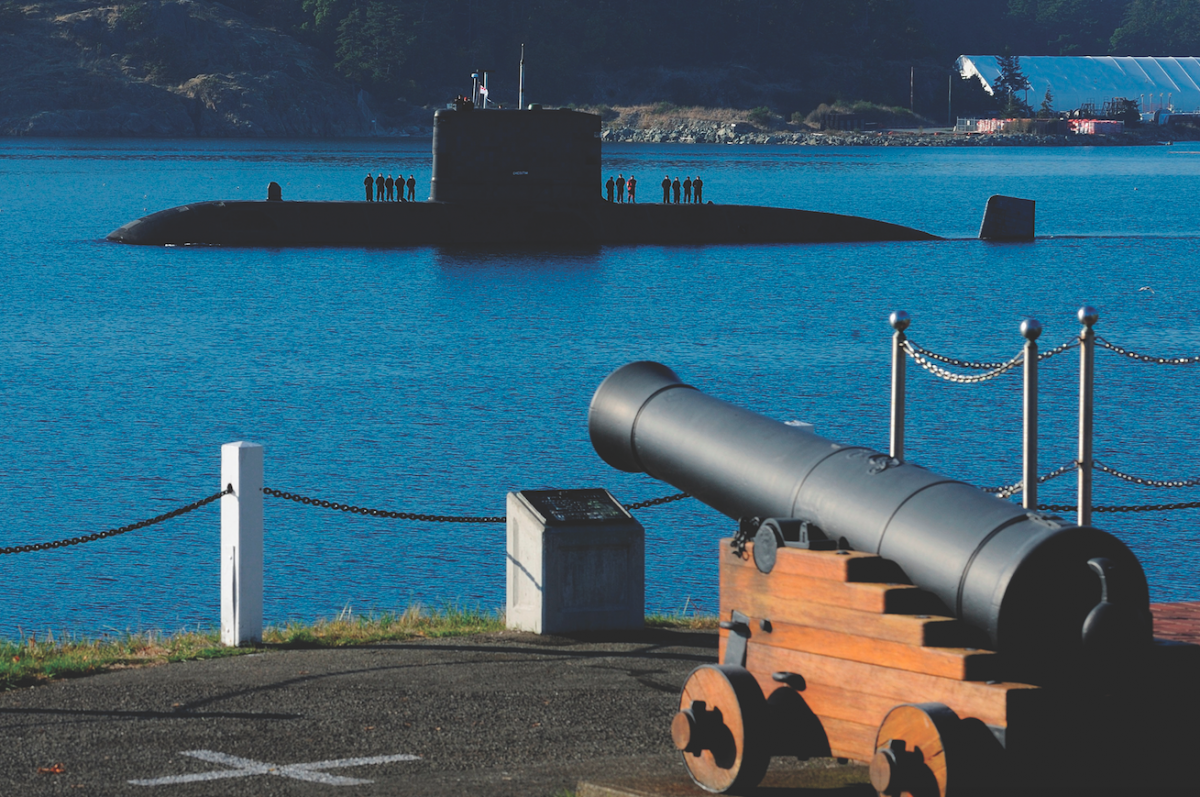 (Canadian Ministry of National Defence)
Canada's last guided-missile destroyer, the 5,000-ton HMCS Athabaskan, above, was retired in March 2017. A new class of up to 15 multirole warships is expected to begin entering service in the mid-2020s to replace Iroquois-class destroyers and Halifax-class frigates. Canada also recently completed upgrades on all of its frigates, extending their service lives into the 2030s. In late 2017, Canada renamed its Queenston-class joint support ship program the Protecteur class. At least two of these new 21,000-ton logistics ships are expected for service beginning in the early 2020s. The first of six 338-foot Harry DeWolf–class Arctic/offshore patrol ships are being built, with delivery of the first planned for 2018. Last fall, Canada deployed the submarine HMCS Chicoutimi to the Asia-Pacific region, marking the first time a Victoria-class submarine has operated in the area.
The last of Canada's CH-124 Sea King ASW helicopters are due to retire by the end of the year and are being replaced by 28 new Sikorsky CH-148 Cyclone helicopters.
Chile commissioned its fourth 1,850-ton Piloto Pardo–class offshore patrol vessel last August. Acquisition of a fourth Duke-class (Type 23) frigate from the United Kingdom is under consideration. The navy is also examining replacement of its three 450-ton Israeli-built Sa'ar IV-class guided-missile patrol craft with larger 2,000-ton multimission patrol ships in the future. In 2017, Chile retired its fleet of Cessna O-2A Skymaster naval surveillance aircraft and is replacing them with new Vulcanair P68 Observer 2 patrol aircraft.
Colombia hopes to acquire a class of up to eight new frigates beginning in the late 2020s. In 2017, Colombia took delivery of its third domestically produced offshore patrol vessel, based on the German OPV-80 design. An enlarged variant of the class is under consideration. A number of new riverine patrol boats are being built, and construction began on the navy's fifth locally built 161-foot landing craft, expected for delivery in mid-2018.
Ecuador took delivery of the offshore patrol vessel Isla San Cristobal this past October. The 164-foot OPV is built to the Dutch Stan Patrol 5009 design. A second unit was launched in May 2017 and began sea trials later in the year.
Honduras has ordered a 161-foot short-range logistics support ship from Colombia. The vessel can transport up to 120 tons of cargo for military operations or humanitarian assistance and is expected for delivery this year.
Jamaica commissioned two new 140-foot Stan Patrol 4207-class vessels in early 2017. The craft replaced three similar but older units, which were retired late in 2016.
Mexico ordered a new long-range patrol corvette in early 2017. Construction on the 2,300-ton warship, based on the modular SIGMA 10514 deign, began in August. The navy's tenth 140-foot Tenochtitlan-class coastal patrol craft, built locally to the Stan Patrol 4207 design, entered service in November 2017. Additional units are planned for the future to replace the Azteca class. Mexico's navy took delivery of new UH-60M and AS.565MB Panther helicopters last year.
Peru's two new 11,500-ton amphibious transport docks, based on the Indonesian Makassar class, are being built domestically with deliveries scheduled by 2019. In September 2017, Peru decommissioned its 12,000-ton fleet flagship, the world's last operational gun cruiser, the Almirante Grau. In its place the Italian Lupo-class frigate Montero was renamed Almirante Grau and designated as the new Peruvian flagship.
By the end of this year, Peru's navy expects to receive the last of five refurbished SH-2G helicopters transferred from New Zealand. Several of Peru's frigates are being modernized to operate the helicopter. The navy hopes to acquire at least two new 5,000-ton multifunction surface combatants by the early 2020s. In 2017, upgrades began on the Type 209/1200 submarine Chipana. Similar modernizations are planned for three other submarines of the class through the early 2020s.
Uruguay's navy has taken delivery of three Cessna O-2A Skymaster naval surveillance aircraft that were retired from Chile this past year. The aircraft will be used for maritime patrol and search-and-rescue duties.
Mr. Wertheim is a defense consultant, columnist, and author specializing in naval and air force issues. He edits the Naval Institute Guide to Combat Fleets of the World, published by and available from the Naval Institute Press.