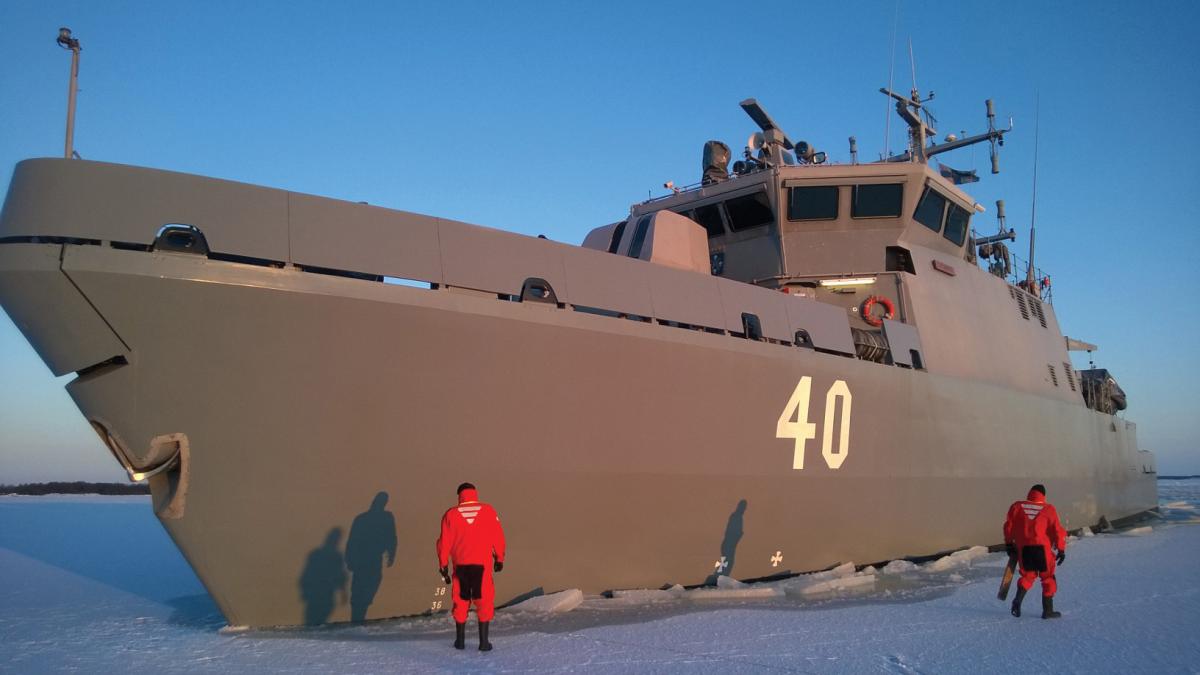 Finnish Navy ship MHC Katanpää on winter training in the Northern Baltic Sea this year. The U.S. Navy must prepare for increased operations in the high north. (Finnish Navy)
On 19 October 2018, the USS Harry S. Truman (CVN-75) and ships in her strike group crossed into the Arctic Circle while operating in the Norwegian Sea in preparation for NATO Exercise Trident Juncture. It is the first time since 1991 a U.S. aircraft carrier has operated that far north, and Navy senior leaders indicated that in an era of renewed great power competition, operations in the high north will become more frequent and regular.
Indeed, U.S. and European navies certainly will be called on to operate in these waters more in the near future than they have in the recent past, as a warming Arctic sees more commercial maritime traffic and an increased Russian military presence. Then-Commandant of the U.S. Coast Guard Admiral Paul Zukunft said in August 2017 that the situation in the Arctic is similar to that of the contentious South China Sea.
The Arctic has not always been an area on the periphery for U.S. and NATO military operations. The United States relied on northern waters to deliver supplies during World War II. During the Cold War, the Arctic was a key area for strategic interests and power projection. And northern nations with enduring interests in the Arctic have built their navies to operate in this forbidding region, including incorporating civilian icebreakers to support naval operations.
In contrast, for more than two decades the United States has not built or trained its Navy to operate in the Arctic. Now as it returns there, it needs to get smart about the basics of operating in such a thoroughly unforgiving environment, especially in winter.
Basics of Winter Operations
Ships and weapon systems must be designed for winter conditions. Extremely cold weather places demands on ships and their equipment and, more important, on their crews. These crews must have a deep understanding of the constraints and characteristics of their ships and systems. The risk of breakdowns and other technical failures is higher in winter, and the consequences more serious. For example, if the ship's ice limitations are not observed, the risk of damaging the hull, rudder, or propulsion system while navigating in the icecap is higher. There is almost no margin for error in cold weather operations—if it can break, it will.
Winter conditions also affect the safety of those on board. The outer decks are vulnerable to icing, so clothing and footwear should be suitable for cold weather and slippery decks. Navies that do not often operate in extremely cold environments are likely to overlook the importance of properly equipping and clothing their sailors.
Meanwhile, extra effort should be made to ensure mission-essential equipment and systems will operate at full capacity in cold weather conditions. This means, for instance, that heating or deicing must be started and maintained while in a cold environment. And weapon systems should be protected by structural solutions that have been engineered during the design of the ship.
Effects on Warfare Areas
The winter operating environment in cold regions affects all warfare areas at least to some extent; it makes none easier and some much more complex.
Search and Rescue (SAR) Operations
SAR operations in cold climates require rapid actions because of the extremely short survivability times. In a man-overboard situation in the ice, sleds, ice awls, and immersion suits are crucial tools. Often the ship's helicopter is the best option for a recovery. Rigid–hulled inflatable boats can be difficult to maneuver in icy waters and often bear the brunt of winter weather because they are stowed exposed to the environment.
Air Operations
Cold weather affects the use of onboard helicopters and unmanned aerial vehicles (UAVs). The effects are greatest between 23 and 41 degrees Fahrenheit, when the dehumidification requirements from the systems are most demanding. Also, snowfall limits the use of helicopters and UAVs. Helicopters and UAVs should be kept in hangars with appropriate heating until they are needed. Ships without hangars are at a distinct disadvantage. Ship landing lights and other flight support devices and safety equipment must be kept clean of snow and ice.
Antisurface Warfare
Changes in visibility are significant in winter, making visual identification of surface contacts challenging. Snowfall and sleet hamper identification of traffic as well. Compacted ice can form stray echoes and limit the tracking of small targets. The effects normally are greater in littoral areas or in enclosed seas where the ice is easily compacted, such as in the Baltic Sea. Limited daylight hours must be considered when planning flight operations.
Antisurface missiles with radar seekers generally do not perform well in areas with sea ice. The ice and icebergs restrict their use and require very precise target tracking. However, antisurface missiles with imaging infrared seekers can be employed effectively.
The in-port missile loading process is far more demanding in winter. Ice blocks hamper the optimum berthing of the ship to missile loading piers and can make it difficult to mate the ship to the pier correctly. Once that is accomplished, even the smallest pieces of ice may prevent loading missiles into tubes and launchers.
Mine Countermeasures (MCM) and Mine Warfare
MCM ships are not icebreaking-capable because of their multiple hull-mounted sensors and antimagnetic materials. Some MCM ships can transit in ice with attached covers protecting the hull-mounted sensors.
Some MCM equipment, such as unmanned underwater vehicles, remotely operated vehicles, and clearance divers can be used under the ice. However, the risk of breaking equipment or system cables is high. MCM operations are an excellent example of why winter conditions must be considered during a vessel's design stage.
Arctic waters generally are shallow and thus suitable for sea mines. Ice does not restrict the use of influence mines in the seabed, but it strongly limits the use of moored contact mines. During mine laying, ice blocks can damage the horns or antennas of contact mines. After mine laying, drifting ice can move moored mines from their original positions and planned depths.
The hydroacoustic environment changes during winter and must be accounted for when programming acoustic settings on influence mines. Normally ice does not necessitate changes to pressure settings or magnetic sensors.
Winter conditions also hamper pierside and shipboard mine loading. Forklifts and other logistics vehicles on board ships should be equipped with winter tires. Cranes for mine loading should be serviced with heating and lubricants designed for cold temperatures.
Antisubmarine Warfare (ASW)
It is difficult to use hull-mounted sonars or towed arrays in icy conditions, as both can easily be damaged. However, low water temperatures generally create optimum acoustics for ASW, even in shallow Arctic waters. Surface ships able to successfully deploy ASW sensors may thus be rewarded. The use of ASW torpedoes is possible, but ice limits torpedo launching. The risk of breaking propulsion systems, seekers, or wire-controlled optical fibers is high.
Because of the shallow waters, many countries use underwater arrays fixed in the Arctic seabed to monitor territorial waters or important areas. Navies that can convert contact detections to submarine prosecutions by cueing nearby surface ships have a significant advantage. Yet complex surface prosecutions of submarines remain extremely challenging in the Arctic. To maximize ASW, ships should use embarked or nearby land-based helicopters with dipping sonars and ASW torpedoes. It is possible to exploit non-ice-covered areas with ASW helicopters, but ice normally limits the use of antisubmarine airplanes.
Antiair Warfare
Winter conditions do not adversely affect shipboard air-surveillance radars or fire-control systems. However, depending on the locations of sensors relative to a ship's superstructure, deicing and heating may be required. For instance, radar antennas, especially those in the forward part of the superstructure, are vulnerable to icing. Fixed antennas with electronically scanned arrays can be particularly susceptible.
Snowfall and low visibility restrict target identification and the use of passive sensors such as TV cameras and infrared trackers. While proper preparation and equipment maintenance can mitigate this, long exposure to icy conditions will render such equipment minimally useful.
On most ships, antiair missiles are located near the forward part of the superstructure, where the missile systems and the ship's main gun are more vulnerable to icing. Snowfall restricts the use of missiles with infrared homing, but the limitations are smaller than those caused by rain. This should be taken into account when developing laser technology–based weapon systems for high latitudes.
Winter conditions also affect electronic warfare (EW) systems. EW sensor sensitivity changes with variations in temperature, as the scattering and reflection of radio waves in the atmosphere is more pronounced in a cold environment.
Navigation
Ships transiting ice fields normally must do so at slower speeds. The shortest route option usually is not the fastest. It is beneficial to exploit open water whenever practicable.
While Western navies have worked for years to integrate UAVs for targeting or intelligence, surveillance, and reconnaissance missions, in the Arctic UAVs and helicopters are more ideal for ice scouting in search of optimum routes.
Cooperation with maritime patrol and reconnaissance aircraft, other ships, and icebreakers is vital to maintain an accurate operational picture and determine if icebreaking assistance is required. Cooperation with coast guards and civilian ice services and icebreakers is important. In Finland, navy and coast guard ships routinely report the ice situation and observations of icing to civilian authorities, who forward the information to the broader maritime community. Similarly, civilian icebreakers regularly cooperate with regional navies.
Before departing port, crews must assess the situation along the route or in the planned operating area. Ice thickness must be monitored to ensure the ship's operating limits are not exceeded. Crews should take special equipment on board to assist with winter navigation, including snowmobiles, spare UAVs, traditional skis, and ice drills.
Engineering Branch
It is essential to adjust the ship's draft and trim so the ice-strengthened part of the hull is at an optimal level. The cooling-water pipelines and engines, air conditioning, and hydraulics all must be operational in winter temperatures. Normally, stabilizer fins cannot tolerate collisions with ice blocks and must be either detached or positioned inside the hull to ice-transit positions.
Cranes and other deck gear must be protected from icing. If possible, their heating should be switched on. All lubricants must be designed for cold temperatures. In winter conditions where a ship is exposed for a long time, rubber and wooden sledgehammers are required to remove extra ice load. Cold temperatures also affect the nuclear, biological, and chemical (NBC) systems on board. The use of fixed NBC sprinklers can increase the ice load on decks.
Better Winter Navies
NATO's 2007 Naval Arctic Manual is an excellent guide. It includes extensive information in compact form. However, more specific winter doctrine, tactics, and manuals should be developed for the task-force level and lower. Too many lessons are shared unofficially and never written into publications.
As the demand for Arctic operations increases, cold-weather training must be increased. Navies with Arctic capabilities and experience should regularly exercise with others interested in building similar capabilities. In the same way the U.S. Ice Exercise aims to advance the operational readiness of submarines, surface forces should train together. While Western navies contemplate navigating in potentially contested Pacific waters, they should not neglect what it will take to regularly operate above the Arctic Circle, where ice, snow, and extreme cold present a unique set of challenges.
---
Commander Raunu
serves as commander of the 4th Mine Countermeasures Squadron in the Finnish Navy. He previously commanded the former Finnish Navy flagship FNS
Pohjanmää
.
Commander Berke served as U.S. naval attaché to the Republic of Finland from 2011 to 2014. He is currently assigned to Special Operations Command Africa in Stuttgart, Germany.