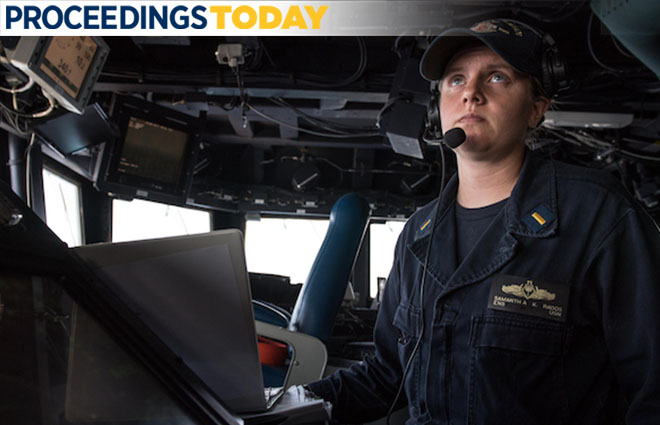 Surface Navy training for new division officers is in flux. The Surface Warfare Officers School (SWOS) Basic Division Officer Course (BDOC) was once a six-month class in Newport that in 2003 transitioned into a box of compact disks loaded with PowerPoint briefings. More recently, in 2013, BDOC became a nine-week course located in San Diego and Norfolk. The 2017 USS Fitzgerald (DDG-62), USS McCain (DDG-56), and USS Lake Champlain (CG-57) collisions and the USS Antietam (CG-54) grounding exposed large gaps in junior officer training, particularly in navigation. BDOC was revised again following these tragic incidents, but even in its newest iteration BDOC does not adequately prepare newly commissioned officers for their initial fleet tours.
Efforts to Fix Widespread Problems
The 2017 incidents notwithstanding, a lack of shiphandling proficiency among junior officers already demanded change—a recent test revealed "significant concerns" in the skill levels of 83 percent of qualified officers-of-the-deck (OOD).[1] In response, Vice Admiral Richard Brown, Commander of Navy Surface Forces, announced the Surface Warfare Officer Career Training and Competency Continuum in early 2018, a complete revision to the surface warfare officer pipeline.[2] As a part of his vision, the soon-to-be implemented OOD Phase I course will provide ensigns with 110 additional hours of shiphandling practice and 50 hours of bridge resource management. However, building the infrastructure necessary to support this course will take time; several years will be needed to determine if this course eliminates or minimizes shiphandling deficiencies in first-tour surface warfare officers (SWOs). Furthermore, there is much more to being a SWO than understanding how to drive a ship.
The current BDOC curriculum includes division officer fundamentals, engineering, damage control, leadership, navigation and seamanship, as well as maritime warfare. In his January 2018 USNI Blog article, Navy Lieutenant John Tanalega said, "the main flaw of BDOC is that it is too short. In just two months, it attempts to provide a survey of everything a SWO must learn to qualify aboard ship. But there are too many topics under the sun for them all to be covered in a two-month course of instruction."[3] We agree.
BDOC instructors—lieutenants dedicated to teaching students as much as possible—are given an almost impossible task. They prioritize topics based on their experience as division officers and incorporate student feedback to improve instruction. But they shouldn't be asking students. Soon, no ensign will report to a ship without first attending the new version of BDOC. The feedback they can offer BDOC instructors will be of limited value, as they will not yet have applied their knowledge in practice. They can't know if they're prepared to conn during a strait transit, meet material inspection standards, or respond to a casualty. They can't recommend what else they should have been taught. Instead, their commanding officers (COs)—who bear the "absolute responsibility for the safety, well-being, and efficiency of the ship and crew"—should be asked.[4] COs qualify first-tour officers and entrust them with the responsibility to safely navigate the ship through a heavily trafficked strait as the rest of the crew sleeps and respond to casualties in an engineering plant. They should be the deciders.
Because COs take responsibility of BDOC graduates they should have input into whether the course is producing an acceptable product. In other words, the Navy should do what any large company does when delivering a product—figure out what the customer wants.
Use Surveys
The surface warfare community needs a fleet-wide survey of BDOC's customers. A volunteer survey could be implemented immediately by BDOC leaders in San Diego and Norfolk, before the survey is refined by fleet leadership feedback and rolled out as a more formal canvass. Only then can the time, money, and knowledge put into the fleet's newest SWOs be properly prioritized and optimized. Ship COs, with input from their department heads and senior enlisted, can be asked today what they think of the new BDOC curriculum and the graduates the school produces. COs, department heads, and chief petty officers from the waterfront already routinely visit BDOC to talk with students; filling out a questionnaire before their talks would be quick and useful.
Surveyed surface warfare leaders should dictate what curriculum is prioritized in the critical nine weeks new officers are full-time students. Lower-priority information should then be given in references to be accessed later. This prioritization would allow BDOC instructors to focus on the most important first-tour competencies and schedule more hands-on learning for areas such as conducting spot-checks, writing and routing casualty reports, and completing enlisted evaluations.
But getting the curriculum right is only the first step: students must also retain the information. The fleet should test junior officers each month, or as often as practicable, to ensure they retain BDOC knowledge, similar to the monthly rules-of-the-road test required by the latest version of the Surface Ship Navigation Department Organization and Regulations Manual. Test results should be used to identify ensigns needing extra instruction and what knowledge from the BDOC curriculum is not being retained. Furthermore, these tests would help to ensure a standard level of knowledge fleet-wide.
In addition to a survey and monthly testing, the surface warfare community should conduct follow-on CO surveys to determine whether ensigns are meeting the expectations described in the initial canvass and corresponding curriculum in BDOC. These surveys will provide SWOS with more feedback to iterate the BDOC curriculum to better meet CO expectations with each additional course convening. As course content improves, ultimately so will the graduates delivered to the fleet.
Finally, SWOS should create a quiz bank of BDOC material for self-assessment. Research shows that frequent testing improves knowledge retention. Ensigns can use these low-risk self-assessments to identify areas requiring extra study, in a similar way to how surface warfare officers use phone applications such as eDivo and NavRules to test rules-of-the-road knowledge.[5] Commanding officers could even use this test bank to quiz their new junior officers.
By asking commanding officers and shipboard leaders what BDOC graduates should know, SWOS will better cultivate fleet-wide support of new officer training. The BDOC curriculum should be a priority for every commanding officer and ensign in the fleet; with fleet feedback constantly iterating BDOC, commanding officers will sleep better at night when their ensigns take the watch.
---
Lieutenant (j.g.) Kuzma serves on board the USS Zumwalt (DDG-1000) in San Diego, California. He is a graduate of the U.S. Naval Academy and Harvard Kennedy School. He has written for War on the Rocks and the Center for International Maritime Security.
Lieutenant (j.g.) Wester serves as repair officer on board the USS Howard (DDG-83) in San Diego. He is a graduate of the U.S. Naval Academy and holds a master's degree from Stanford University, where he focused on national security and technology polic