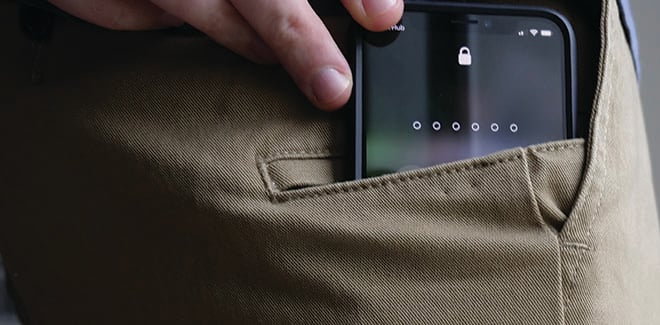 Recent history has seen the introduction of the Navy working uniform, fire-resistant variant coveralls, unisex combination covers, etc.  While these changes sought to produce more comfortable, smart, and uniform uniforms, they failed to address a modern and growing problem: where to stow the ubiquitous smartphone. Nobody asked me, but the Navy should add a "smartphone pocket" to service and working uniforms. We need a 21st-century pant.
Consider the following points: 
 • Nearly 100 percent of Americans aged 18 to 29 own cell phones, 98 percent of those aged 30 to 49, and 94 percent of those 50 to 64.1
 • Mobile phone size is increasing. As mobile devices have evolved from simple voice and text message communicators into video, gaming, and social-media platforms, so has screen size increased. The first iPhone boasted only a 3.5-inch screen as compared to the current iPhone X's 5.8-inch display. Some Android "phablets" can be upward of 6.5 inches in screen size.
 • Most servicemember cell phone owners wear pants.