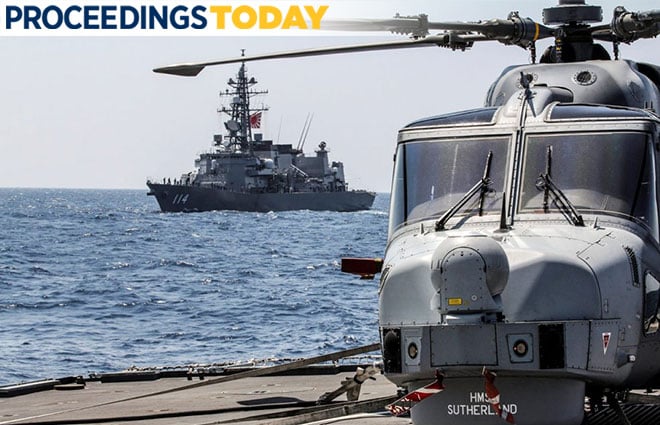 Japan and NATO have much to gain from increased naval partnership. Here, HMS Sutherland (foreground) sails with Japanese ship Suzunami (background).
On 5 May 2018, Chief of Naval Operations Admiral John Richardson announced that the U.S. Navy will reactivate the Second Fleet to focus on a resurgent Russia and its expanding military presence in the maritime domain. At the same time, the expansion of China's People's Liberation Army Navy (PLAN) poses a threat in Pacific. Fortunately, the United States has solid alliances in both regions—the North Atlantic Treaty Organization (NATO) and Japan. This is an opportune time for NATO and Japan to increase their cooperation to help the United States and each other respond to global maritime threats.
NATO and Russia
After the Cold War ended, NATO and Russia initially became more cordial, however, Russia recently has become increasingly aggressive. It invaded Georgia in 2008 and Ukraine in 2014, and there have been frequent flights of Russian Armed Forces aircraft over European nations leading NATO to reaffirm the threat posed by Russia.
In April 2014, NATO suspended practical cooperation with Russia and expanded its Baltic air policing mission. During its 2016 Warsaw Summit, NATO also announced that it would build on its Readiness Action Plan by establishing an enhanced forward presence in Estonia, Latvia, Lithuania, and Poland "to unambiguously demonstrate" the Allies' commitment to deterrence and defense of its members.
Russia's expansion in the maritime domain also has increased, particularly in the North Sea. There were reports of suspicious Russian submarines territorial waters in 2014 in Sweden and the U.K. and in 2015 in Finland. In April 2018, a British Astute-class nuclear-powered submarine reportedly was pursued by Russian warships and subs in the eastern Mediterranean. NATO officials have warned several times in recent years that Russian submarine activity was becoming more sophisticated and reaching levels not seen since the Cold War. They also have sounded alarm about Russian activity around undersea cables that support global communications.
Russia and China
Russia is enhancing its relationship with China both diplomatically and militarily. The 2015 National Security Strategy of the Russian Federation stated, "The Russian Federation will develop its comprehensive partnership, relationship, and strategic cooperative relationship with the People's Republic of China."
Russia is the largest supplier of weapons to China, accounting for 57 percent of China's arms imports from 2012 to 2016.[1] In November 2015, China reportedly signed an agreement with a Russian state-run military company to purchase 24 Su-35 fighters and S-400 surface-to-air missile systems. While the Europe Union (EU) has continued an arms embargo on China since it squashed liberal a movement in 1989, Russia has been exporting state-of-the-art weapons to China, and the two countries have held large-scale combined naval exercises every year since 2012 in the Sea of Japan.[2]
Japan and Russia
Russia seemed to have a positive stance at the Warsaw Summit on territorial disputes with Japan, and encouraged Japan to invest in Siberia. But in reality, Russia is boosting the militarization of disputed islands. Although personal relations between President Vladimir Putin and Prime Minister Shinzo Abe are good, the process for dispute settlement—which showed progress between Prime Minister Morihiro Hosokawa and President Boris Yeltsin in 1990s—has stopped since President Putin took office. To show good faith, Japan invested $17 billion for development of Siberia in 2016. In the northern territories of Japan, which Russia occupied after World War Ⅱ, one well-equipped Russian division still is stationed in Kunashiri and Etorofu Islands.[3] Russia also is proceeding with the development of military facilities in the northern territories. A total of 392 military buildings and facilities have been built on Etorofu and Kunashiri Islands. More critically, in March 2016, Russia's Ministry of Defense announced that it planned to deploy surface-to-ship missiles "Bastion" and "Bal" to the disputed Chishima Islands. More recently, on 3 August, Russia deployed several Sukhoi Su-35C fighter jets at Yasny Airport on Etorofu Island, one of the disputed islands.
NATO and Japan
There is room for more cooperation between NATO and Japan. Japan contributes financial support for the NATO-led International Security Assistance Force (ISAF) and for reconstruction and development efforts in Afghanistan and assistance for counterpiracy operations in the Gulf of Aden, and there are hints of future cooperation. Prime Minister Abe visited NATO in July 2017 for bilateral consultations with Secretary-General Jens Stoltenberg. In turn, the Secretary-General visited Tokyo from 29–31 October 2017 to meet with Prime Minister Abe, Foreign Minister Taro Kono, and Defense Minister Itsunori Onodera. In addition, the North Atlantic Council agreed on 24 May 2018 to accept Japan's request to designate its Embassy to Belgium as its mission to NATO.
Analysis of Essential Factors
NATO and Japan have common security interests. Russia is challenging global norms of freedom, democracy, self-determination, and the rule of law. As Japan believes that protecting these values is in its national interests, Japan should not overlook the challenges in Europe. Simultaneously, NATO-Japan cooperation will help cope with the challenges in Asia. NATO presence in the Pacific and/or Indian Ocean, including the South China Sea, would send a strong message that NATO will not allow China's or Russia's maritime expansion without considering the rule of law.
Given the threat posed by Russia in Europe and Asia, there are three reasons NATO and Japan should face the challenges collaboratively:
NATO-Japan cooperation will divide Russia's military resources into east and west. Because of economic limits, it is difficult for Russia to present a large military force in Europe and Asia. The fiscal year 2017 defense budget registered a year-on-year decrease of roughly 25 percent, which shows the Russian military is under significant resource limitations.[4]
NATO-Japan cooperation will send a strategic message that democratic nations will oppose challenges to their values and the rule of law, and this message will restrain countries like China and Russia.
NATO-Japan cooperation will improve each other's military forces. Mutual exchanges will provide opportunities to learn the other's expertise. For example, the NATO troops have advantages in cyber, whereas the Japan Self-Defense Force has advantages in maritime operations, particularly in antisubmarine warfare and ballistic missile defense.
NATO could benefit from the following three activities with Japan:
Periodical high-level dialogue
Periodical high-level dialogues would generate and confirm common security goals and map strategies to accomplish them. From Eastern Europe to the Western Pacific, the goal would be to limit adversary options for aggression and to increase the cost and difficulty of grabbing and holding territory. Also, periodic high-level dialogue would send a clear message globally that NATO and Japan are working together to thwart challenges to democracy.
Joint Maritime Exercises
To show cooperation while avoiding escalating tension with Russia, NATO and Japan should conduct low-level joint maritime exercises and port visits.
Cooperation in Cyber, Ballistic Missile Defense, Antisubmarine Warfare, and Legal Areas
To improve mutual military capability and to share knowledge and to avoid stimulating Russia, workshops, conferences and table-top exercises should be conducted. Cyber, ballistic missile defense, and antisubmarine warfare should be the first agenda items. In the legal area, Japan can learn from NATO how to fill the gaps between national rules of engagement (ROE) and NATO ROE to enable cooperation with the U.S. military.
Building NATO-Japan military cooperation would be an effective strategy against Russia and China. NATO-Japan cooperation also could help each side better partner with their largest military ally, the United States.
---
Lieutenant Commander Saito is a Japan Maritime Self-Defense Force (JMSDF) officer and an associate military professor at the Stockton Center for the Study of International Law at the U.S. Naval War College. The views expressed in this article are of the author alone and do not necessarily reflect the stance of the JMSDF or the U.S. Naval War College.