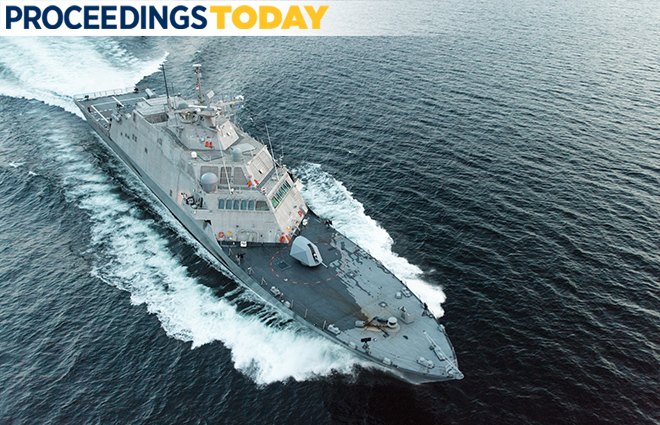 U.S.-German naval relations are built upon a rich history of cooperation dating to the German Navy's re-establishment in 1956. This special relationship has been based on shared values and common understanding within the NATO alliance. In fact, the West German Bundesmarine and its post-Cold War successor the Deutsche Marine have been allied with the United States through times of peace, crisis, and conflict. In a letter to his friend Admiral Friedrich Ruge, Germany's first Chief of Naval Operations after World War II, U.S. Chief of Naval Operations Admiral Arleigh Burke left no doubt about his personal convictions: "I believe that if we support the German Navy, we should do it wholeheartedly." This belief was echoed by the crew of German destroyer Lütjens when they manned the rails and rendered a salute to the passing USS Winston S. Churchill (DDG-81) after the attacks of 11 September 2001.
With the return of the Baltic Sea and Europe's northern flank to the list of maritime theaters of tension, individual deployments—such as that of USS Donald Cook (DDG-75) which was "buzzed" by a Russian aircraft in international waters in April 2016—also have increased.[i] This is a reminder of the renewed importance of credible naval posture in the Baltic Sea. Its maritime geography, hydrographic features, salinity, and strategic importance to Russia, NATO, Sweden, and Finland make it an important and potentially contested body of water. It is therefore no surprise that the German Navy leads a NATO-accredited organization for shallow-water warfare in Kiel, Germany, since 2006.  Still, for many maritime thinkers and strategists the Baltic Sea lay dormant after the end of the Cold War during which it had constituted a key fault line in the confrontation between the Danish and West German navies and those of the Warsaw Pact. With the return of great power rivalry and Russia's assertive behavior, deploying a flotilla of littoral combat ships in the Baltic (akin to the U.S. Navy's littoral combat ships [LCSs] forward-deployed in Singapore) could go a long way to change that perception and provide operational, strategic, and political gain.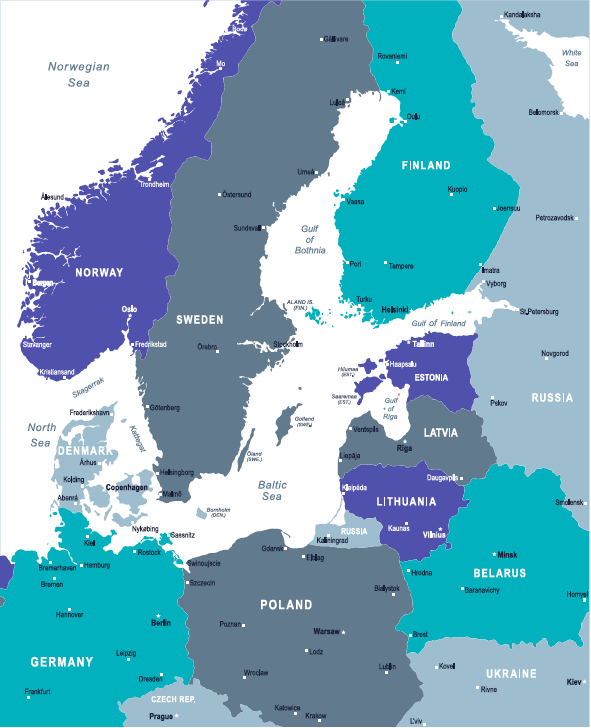 LCSs could be homeported in Kiel, Eckernförde, or Rostock. Because the German Navy has drawn down since the Cold War, all three naval bases offer ample berthing space.[ii] Eckernförde, Germany's most northern naval base, hosts German submarines (Type 212A), navy special warfare forces, and three intelligence-collection ships (Alster, Oste, and Oker). Combining Germany's intelligence-collection ships with the stealth, advanced sensors, and Fire Scout unmanned aerial vehicles on the U.S. Navy LCSs could enable a superior operational picture and greater situational awareness in the Baltic. The ability to deploy German and U.S. special operations forces quickly from a German naval base onto contested shores could shorten reaction time and lessen an adversary's ability to surprise.
The Hanseatic city of Rostock, Germany's most eastern naval port facility, is home currently to the five Braunschweig-class corvettes, and five more ships of this class will be delivered by the late 2020s. Rostock is also seat of Germany's naval headquarters and the future site of the NATO Baltic Maritime Component Command.
Kiel, located 80 nautical miles west of Rostock and some 30 nautical miles south of Eckernförde, is the state capital of Schleswig-Holstein and home to German Navy Flotilla 1, the military formation in charge of all German Navy assets in the Baltic Sea. The Tirpitzhafen Naval Base hosts mine countermeasure (MCM) vessels and is frequented by German and foreign warships on port visits and sea trials.  The military shipyards of ThyssenKrupp Marine Systems and German Naval Yards are located nearby.[iii] Kiel is also an emerging center of maritime and oceanographic thinking, with the Center for Excellence for Operations in Confined and Shallow Waters (COE CSW), the world-leading GEOMAR Helmholtz Center for Ocean Research, the Institute for Security Policy's Center for Maritime Strategy & Security, and the Kiel Seapower Series. These institutions, people, and conferences offer a wide variety of interaction between military, civilian, and government actors.
In light of a stretched U.S. fleet, an LCS flotilla in Kiel would solve the time/distance problem by reducing the need for long transits from the East Coast of the United States to European waters. Consequently, such a force would provide a cost-effective forward presence in the Baltic, complementary to Rota, Spain, and Naples, Italy, and constitute a strong signal of U.S. maritime interests along Europe's northern shores. This also would complicate Russian operational planning. It would complement the trip-wire army and air forces that NATO partners deploy to East-Central Europe to assure alliance solidarity with Latvia, Estonia, Lithuania, and Poland.  Permanently based LCSs would allow for regular exercises with Baltic allies and, should tensions between Moscow and the West ease, to engage parts of Russia's Baltic Fleet in low-scale confidence-building measures.
U.S. Navy LCSs, regardless of purported shortcomings, are impressive ships that would fit well in the environment of the Baltic. Deploying these ships (even on a rotational basis) in the Mare Balticum would be a strategic signal to the people in the region and beyond. Forward-based LCSs would be able to call on ports such as Stockholm, Helsinki, Gdynia, and Tallinn. In the spring and the fall, they could take part in "Northern Coasts" and BaltOps naval maneuvers. They also could exercise in the tricky waters of the Finnish and Swedish archipelagoes, which are rocky and ultimately unforgiving waters. A permanent U.S. Navy LCS presence would lend credibility to Washington's foreign and defense policy for the region.
The German Navy is on track to grow again and revitalize its fleet by the late 2020s; the U.S. Navy could thus collaborate, share best practices, and build interoperability with the largest and likely most capable Baltic Sea navy as it modernizes. Lastly, a standing presence would give the U.S. Navy an opportunity to observe as Baltic navies integrate and collaborate through bilateral measures as well as a seat at the table in events like the Baltic Commanders Conference or Sea-Surveillance Cooperation in the Baltic Sea.
The Baltic Sea is a real-world operational environment that offers a steep learning curve for LCS shiphandlers and future U.S. Navy leaders as they learn about the particularities of the region and the various national maritime strategies and interests.  Germany must understand such a development as an opportunity to stop free-riding on U.S. capabilities, and, instead, to build its own navy and create synergies in a mutually beneficial endeavor. In return for U.S. expanded presence, the German Navy must show an honest effort to provide teeth in naval operations with its U.S. partner, even if they occur outside NATO's traditional area of operations and involve inherent risks or even the use of military force.
---
[i] Bruce Stubbs, "U.S. Sea Power has Role in the Baltic", U.S. Naval Institute Proceedings, vol.143, no.9 (September 2017), 46-51.
[ii] Jeremy Stöhs, The Decline of European Naval Forces. Challenges to Sea Power in an Age of Fiscal Austerity and Political Uncertainty, (Annapolis, MD: Naval Institute Press, 2018), 125-139.
[iii] German MCM assets have substantial experience in what is understood to be an underdeveloped capability of the U.S. Navy. MCM version of the LCS could benefit from Germany's know-how. Similarly, the torpedo threat close to an enemy's shores (often launched by small submarines) is evident in the sinking of the Republic of Korea Navy ship Cheonan in 2010. Exercises that include simulated torpedo attacks could hone U.S. Navy skills.
---
Dr. Bruns heads the Center for Maritime Strategy & Security (CMSS) at the Institute for Security Policy at the University of Kiel. His work focuses on naval strategy and the German and U.S. navies. His most recent monograph is U.S. Naval Strategy and National Security. The Evolution of American Maritime Power (Routledge, 2018).
Mr. Stöhs is an Austrian-American defense analyst at the Institute for Security Policy at the University of Kiel and its adjunct CMSS. He currently is pursuing his PhD on the evolution of European naval power since the end of the Cold War. He is the author of The Decline of European Naval Forces. Challenges to Sea Power in an Age of Fiscal Austerity and Political Uncertainty (Naval Institute Press, 2018).
For more great Proceedings content, click here.