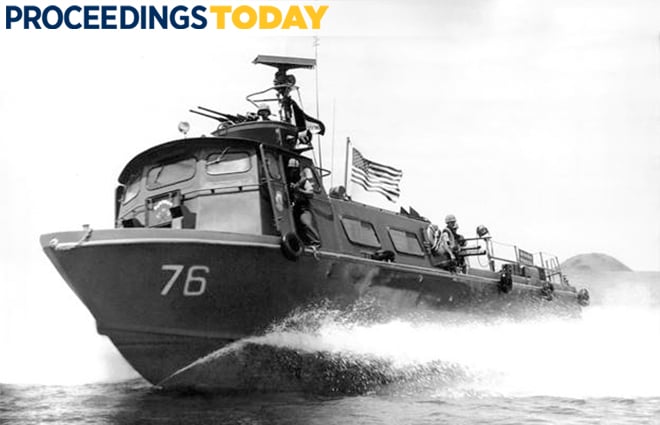 U.S. Navy Swift boats, like PCF-76 shown here, operated independently and quite effectively shut down the coastline of South Vietnam to smuggling from North Vietnam and China.  
As expected, Mr. Burns' latest effort "Vietnam" does a creditable job as a documentary. He covers the political incompetence and misdeeds that were well known to many of us. The competence of the North Vietnamese senior military personnel most likely came as a surprise to most viewers. What is regretful is his relatively flat and neutral portrayal of U.S. troops. According to his telling, there were few U.S. victories, the troops were all dissatisfied, and from a humanitarian standpoint they did little.
For whatever reason, the discussion of the successful Market Time mission received less than two minutes of attention by Mr. Burns. We know something about this first-hand.
In his Episode Four 1967 & 1968, "Resolve," Mr. Burns describes how the U.S. Navy effectively shut down the coastline of South Vietnam to the smuggling and the transport of weapons and troops from North Vietnam and China. Clear and simple evidence that Market Time was a well-defined victory and a tremendous success is the fact that the Ho Chi Minh Trail was then expanded and became the primary source of troop and weapons transport from North Vietnam. This Trail was more than 1,000 miles long and wound through the dense jungles of Laos and Cambodia. The nighttime methods of portage were both human and motorized vehicles. They were subject to continuous bombardment from aircraft. Constant repairs and detours were required, and much of the work was done by hand. Certainly, transport by water and ships would have been far simpler and more efficient were it not for the effectiveness of Market Time.
With the commencement in the fall of 1965 of Market Time, larger U.S. Navy ships and the Coast Guard provided offshore barriers supported by reconnaissance aircraft. Often detection would commence off the coast of China or North Vietnam. Contacts could be lost on the transit south because of foul weather or deception when the vessels appeared to be innocent cargo transports. The process was an all-hands, joint-service effort. The last segment of the enemy's voyage was a rapid 90 degrees turn to the west, then a non-stop, full-speed sprint to the coast of South Vietnam. On shore were the enemy troops (Viet Cong or North Vietnam well-armed soldiers) waited to rapidly unload the cargo.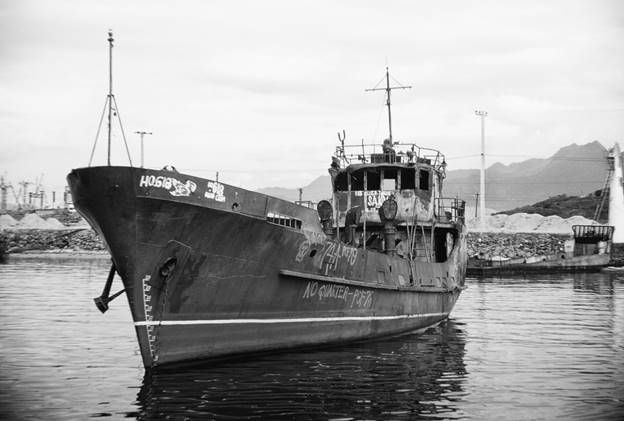 Vessels like this one smuggled weapons and supplies from North Vietnam to South Vietnam during the war, until U.S. Navy and Coast Guard forces began interdicting them in Operation Market Time. 
Intercepting those vessels that were able to penetrate that screen were the U.S. Navy Swift boats. They were the last line of defense of Market Time. The Swifts conducted daily patrols along the shoreline, usually 100 to 500 yards off the beach and also maintained a presence in the river mouths. As a result, the enemy's transport of weapons by sea, which had been both efficient and effective, was now denied to them. The message to the enemy was a simple one: "You can try, but you probably won't succeed."
The Swift boat program encompassed approximately 130 small high-speed 50 foot aluminum boats. Originally, the boats were designed to service offshore oil rigs. They were available and purchased off-the-shelf by the U.S. Navy. Grey paint was the major modification. There was the addition of significant armament, three 50-caliber machine guns and an 81-mm. mortar. The boats were quarter-inch aluminum, and there was no armor plating.
The crews (one "officer-in-charge" and five enlisted professionals) were the most important component of the program. Throughout the program the majority of the men who served were volunteers. Over a five-year period approximately 3,500 men went to battle in Swifts. Their average age was about 23. They conducted more than 130 patrols during their 12 months in country. The program was a new mission for the Navy, and therefore there was minimal top-down oversight. The result was on-site situational leadership where a crew of six was often responsible for carrying out a life-and-death mission in a demanding combat environment. Most patrols were 30 hours, and boredom could turn into a deadly firefight in a matter of seconds. Brutal weather could arrive with little warning, and the monsoon could build seas beyond 15 feet. Finally, there were no heroes only young men committed to the mission, proud of their service then as well as today.
Frequently our missions were humanitarian in nature bringing medical personnel and supplies to Vietnamese who badly needed them. Fresh food and fruit were often our cargo. In sharp contrast, we also provided gunfire support for Marine detachments living in small villages protecting the Vietnamese. We also evacuated entire villages of people before they were destroyed by the enemy.
While these additional tasks were not an official part of Market Time, the Swift crews' operations were successful and easily documented. Still, Mr. Burns gives scant coverage to these ops. The men in Swift boats were not unique. Their dedication, their humanity, and their service to country existed in every branch of the service in Vietnam. We were the skippers of PCF-79 and PCF-76 in 1967 in 1968. We were blessed with crews made up of people who remain today some of the finest men we have ever met.
"Politicians make war. Soldiers merely carry out orders." Perhaps it is time for someone such as Mr. Burns to lead a charge that says to these brave men and brave women, Vietnam veterans, "Welcome Home."
---
Ed Bergin, CO of the PCF-79 lives in Florida. His crew captured a heavily armed enemy trawler in 1967 south of DaNang
Dan Daly, CO of the PCF-76 lives in Boston. He is the author of White Water Red Hot Lead that tells the story of Navy Swift boat operations in Vietnam.
For more great Proceedings content, click here.