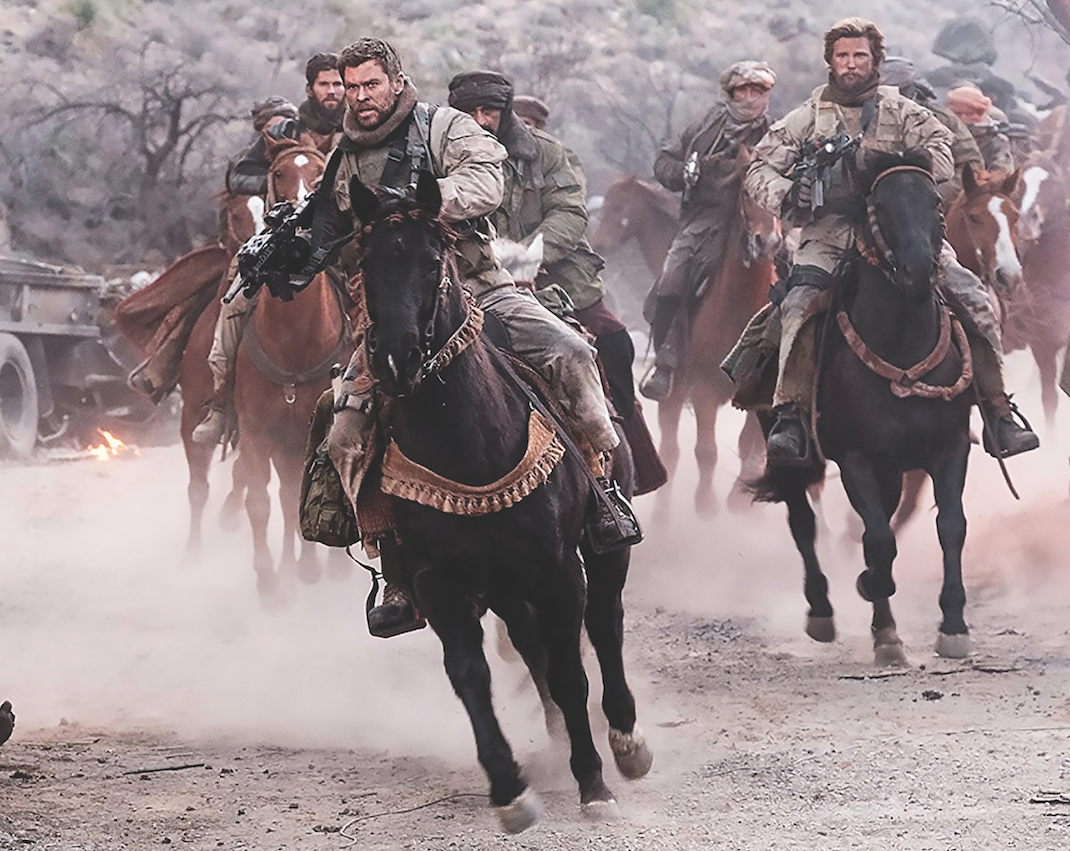 U.S. Special Forces in Afghanistan - as depicted in the movie 12 Strong - adopted beards and longer hair to better blend with and be accepted by local leaders and populations. In a time of rising terrorist activity, changing hair and shaving regulations for all male service members would reduce their chances of being singled out as targets while off duty. 
Walk through any airport around the globe and you could, without much difficulty, point out almost every male U.S. armed forces service member by his haircut and clean shaven face. In the wake of 9/11 and increased terrorist activity, those easily identifiable personnel are now potential targets. Bringing back beards and changing the hair length regulation would allow our personnel to blend in with the rest of the population.
The Problem
On 21 March 2015 the first public targeting of military members was posted on social media when the group Islamic State Hacking Division made an open call for "jihad against the crusaders" using a social network favored by ISIS propagandists. The group provided "the name, unit, and address of 100 U.S. Air Force, Navy, and Marines—many of them pilots—along with headshots of each."1 This was done again on 15 August of that year when a group of hackers released "names, emails, passwords and contact information of some 1,500 people" it claimed were U.S. government and military officials.2
A few months later, in Chattanooga, Tennessee, four Marines and a Sailor were gunned down by a U.S. citizen at two separate military installations. Peter Bergen of CNN news reported, "Nearly a third of the 119 Americans accused of plotting an attack inside the United States since 9/11 were alleged to have plotted to attack U.S. military targets," adding "Thursday's shooting would not be the first jihadist attack on a U.S. military recruitment office."3
OLD Reasoning
In 1984, when Chief of Naval Operations Admiral James Watkins banned beards, the reasoning reportedly was based on implementation of the oxygen breathing apparatus (OBA), which was used fleet-wide when combating fires.4 The OBA mask had to seal to the face to prevent smoke and vapors from entering the user's respiratory system. The surface fleet has not used the OBA for more than a decade, however, replacing it with a self-contained breathing apparatus (SCBA). Because SCBA is a positive pressure system, it does not require the user to have a face-to-mask seal, which is why many firefighters across the United States are able to still maintain beards.
Force Protection
The Department of Defense already has taken some actions to protect service members while off base and off duty, as well as in combat areas.
In 2013, the Navy stopped requiring base stickers on vehicles. According to Captain Brett Calkins, Navy Region Southeast operations and plans officer, the change helps protect military personnel off base. "You really never know where and when you are going to encounter terrorism," he explained. "Vehicle decals can be easily recognizable to those out there that would like to do our service members harm, so not having them on vehicles off base will help lower visibility."5
It has become part of Special Forces teams' protocols to adopt beards and longer hair to better blend with local populations. In Afghanistan, special operations teams feared that without beards they would "face a harder time getting taken seriously by local leaders they depend upon for intel about their bearded enemy, the Taliban," according to a New York Daily News article.6 During operations in-country, beards and long hair, as well as wearing traditional Afghan clothing, helped operators blend in and be seen differently from the regular military.
These are steps in the right direction, but to maximize force protection more changes are needed.
Recommendations
Regulations need to be changed to allow male service members to blend into the civilian population as much as possible when out of uniform. Allowing men's hair to be longer on top, eliminating the requirement for close-cropped sides, and once again permitting men to grow beards would increase their safety. After working hours, female service members can take down their required hairstyles, which helps them blend into the population again, but men do not have that same option and remain a target both in and out of uniform. The U.S. military is one of the last to maintain such strict hair and shave regulations; most foreign military services allow their male service members to more closely resemble those they are protecting.
Senior leaders are responsible for the safety of their personnel, and bringing beards back would be additional protection for our troops after they leave the base. Blending in with the rest of society would reduce their chances of being singled out by groups such as ISIL or even drive-by shooters based solely on appearance.
---

1. Jason Molinet,"ISIS Hackers Call for 'Jihad' against U.S. Military," New York Daily News, 21 March 2015.
2. R Wilking, "ISIS Releases 'Hit List of U.S. Military Personnel,' Claims Hacking Victory," RT.com, 12 August 2015
3. Peter Bergen, "Chattanooga Shooting: History of Attacks on U.S. military," CNN.com, 17 July 2015
4. "A Brief History of Grooming in the U.S. Navy," USNI News, 23 October 2014.
5. Greg Johnson, "Navy to Waive Vehicle Decal Requirements," Military.com, 13 June 2013.
6. James Gordon Meek, "U.S. Special Forces Ordered to Shave Off Beards, Some against Command Because It Helps Relations," New York Daily News, 8 August 2008.
---
Senior Chief Jacobson is senior enlisted leader, Naval Branch Health Clinic Bangor, WA.