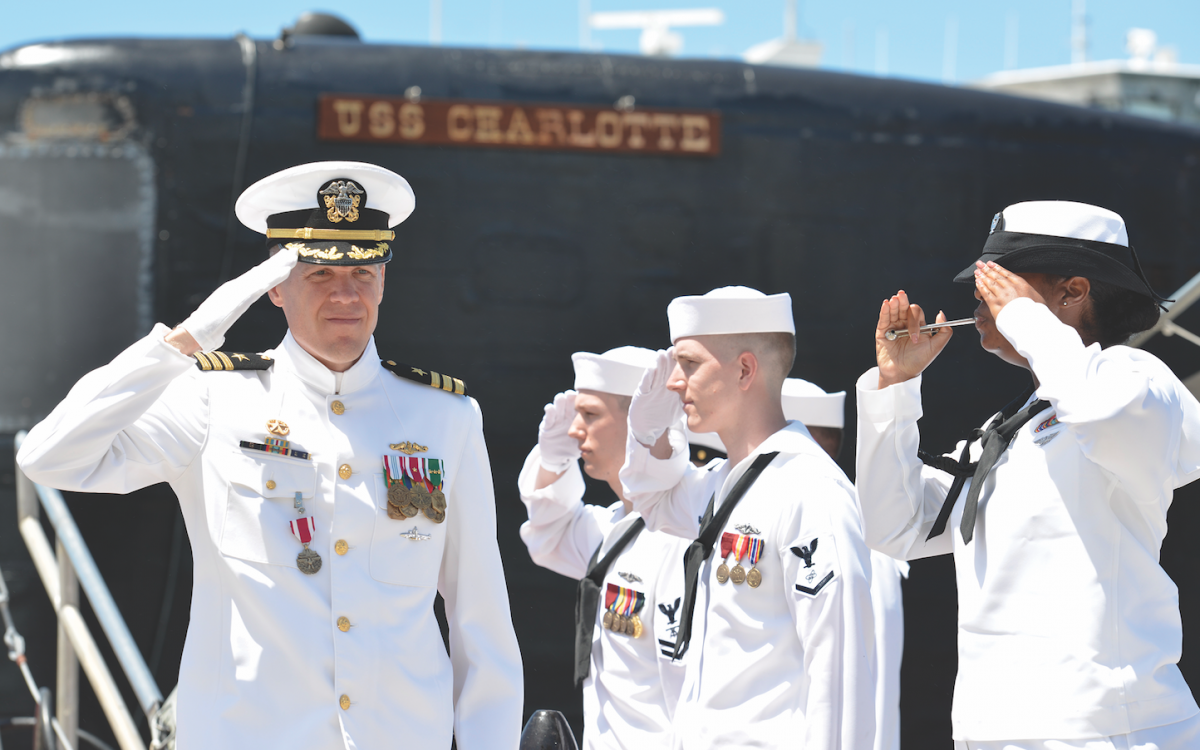 Ringing on board and ashore of naval officers in command of its ships, squadrons, and other units is a curious U.S. Navy tradition. I still can recall my first time hearing it 23 years ago. I was a U.S. Naval Academy midshipman on a summer cruise on board the USS Tarawa (LHA-1) in San Diego. Two times each day a bell would chime over the ship's announcing system: "Ding-ding, ding-ding, Tarawa arriving; ding-ding, ding-ding, Tarawa departing." I also remember thinking at the time, and every time I have heard this practice since, just how emblematic this is of the Navy's dominant paradigm of leadership—a paradigm designed to empower the institution of command at sea above all else, maybe even above the leadership it seeks for the innovation it needs.
Curiosity became clarity later in my education at the academy as I began to weigh whether to pursue my commission as a Marine or a Navy officer. I recall asking a Marine gunny for advice, to which he replied, "It's easy son—if you want to lead leaders, go Corps; if you want to feel like a god at sea, go Navy."
Command at sea is a hallowed institution that has served the Navy well throughout its history. It promotes a culture of awesome, even god-like, individual authorities, respect, and expectations of greatness. Prevailing research and evidence, however, suggest that organizations most capable of keeping pace in the modern era are diversifying their leadership paradigms. They are building and empowering leaders of leaders—many different kinds of leaders, to include leaders of innovators.
To match their levels of exponential innovation, the Navy must graduate beyond its traditional reliance on a singular leadership paradigm. The Navy must learn to value and breed leaders of innovators, not just gods at sea.
Command at Sea Has Costs
Every U.S. naval officer, from commissioning as an ensign, is taught and mentored to aspire to command at sea. Community career tracks vary in when and how one arrives at that achievement, but there is a broad consistency in the ultimate goal. Command at sea is the epitome of autonomous authority and organizational responsibility. It also is—as symbolized by the bell-chiming tradition—the career vertex at which a naval officer's personal and professional duties amalgamate into a single identity. Rhetorically and figuratively, the commander becomes the command.
This has proven to be a useful construct for fleet warfighting and operations, considering the physical constraints of exercising command, control, and communications (C3) at sea. With limited channels of interplatform communication available, C3 integrity and discipline among units is essential and most efficiently exercised by funneling decisions through a single authority: the commanding officer.
Similarly, the Navy has a long tradition of vertically delegating and enforcing operational accountability through commanding officers and by way of the structured chain of command. A glance at how the Navy has approached recent challenges in U.S. Seventh Fleet highlights that the Navy's culture of command at sea has clear benefits in terms of efficient operational accountability and transparent risk management, particularly in the wake of mishaps.1
What is less clear is if the Navy appreciates that its preeminent culture of command at sea could have hidden costs. Chief of Naval Operations Admiral John Richardson has called for the Navy to innovate at an exponential pace to match or exceed the accelerating change in the maritime domain.2 But as the Navy strives for this goal, it is worth asking if the Navy's present paradigm of leadership is sufficient to foster the organizational agility and innovation required to get it there.
Studies of highly innovative organizations point to the need for substantial portions of the workforce to be individually empowered and organized into units explicitly tailored for creative experimentation. Within and among these loosely structured cross-functional teams, leaders not only tolerate risk and failure, but they also encourage—even incentivize—them as prerequisites for breakthrough discoveries. The vetting and eventual scaling of these teams' discoveries then is the task of parallel units with more structured risk-attuned processes to test, develop, refine, and field the innovation.
These varied teams are knit together by an organizational culture of shared creative identity and diffused equity. This takes a delicate organizational balance between decentralized and centralized decision making, creative chaos and structured hierarchy, and organic and mechanistic risk management.3 Successful examples are referred to as "ambidextrous" or "agile" organizations that excel in both stability and dynamism, supported by a cadre of leaders focused as much on "innovation parenting" as on operational efficiency, accountability and risk mitigation.4
With this in mind, one must wonder how ambidextrous or agile the Navy can be if the dominant paradigm of leadership among its officers is one of concentrated individual authority and organizational identity. How much individual empowerment or shared creative equity can sailors account for at the end of any given day hearing their commanding officer rung ashore as his or her organization, "departing?" Is it possible that the very culture of leadership the Navy celebrates could be constraining the service's pace of innovation and risk tolerance for change to that of its individuals in command? Are there ways to balance the operational necessities of the Navy's human C3 architecture and chain of command with the imperative to unleash the full potential of the service's sailors and civilians, both at sea and ashore?
In sum, if the Navy wants exponential innovation, then is it time to expand the service's paradigm of leadership to better accommodate the decentralized decision making, creative chaos, and expanded risk tolerance it demands, along with the innovation parenting it needs? These are critical questions the Navy must answer if it is to achieve exponential innovation.
Learn to Lead Innovators
To be clear, this is not a call for the Navy to scrap its command structure, nor am I suggesting that most naval officers in command at sea or ashore are overly authoritarian by nature or training. On the contrary, the command structure is an operational asset the Navy cannot abandon, and the vast majority of naval officers in command lead with the best of intentions and build teams that do incredible things every day. But the Chief of Naval Operations' goal of exponential change provides justification for a timely and thorough look at how, when, and where to balance the operational advantages of the Navy's culture of command at sea with innovation-advancing offsets.
As a start, the Navy should consider new programs designed to attract, cultivate, and reward innovative talent. And it should do so understanding that while some cultural and organizational facets of the leadership needed to parent that talent may overlap with those that advantage command at sea, others could be separate and distinct.
Borrowing from accounts of what works at some of today's most prominently ambidextrous organizations, some initial steps the Navy should explore include:
• Establish and promote Navy innovation and design units with enhanced tolerances for creative risk; deliberately reduce bureaucratic procedures and command hierarchy; and distribute funding and authorities for rapid prototyping of concepts—both material and procedural. The Department of the Navy's Rapid Prototyping, Experimentation, and Demonstration (RPED) initiatives and Maritime Accelerated Capability Office (MACO) programs are a good start, but their limited scope and strict oversight-laden accommodations are unlikely to be enough. The goal should be to establish cross-functional "internal incubators" tailored to draw ideas for both technical and operational innovation from the bottom up as efficiently as from the top down, and with policies to encourage—even incentivize—productive failure.5
• Develop a service-wide incentive structures and networking tools for sailor-originated innovation. The Office of Naval Research's TechSolutions program is a positive, if cautious, attempt to move in this direction within the field of material research and development. Not only should it be supported and incentivized across the Navy, but consideration also should be given to replicate its approach beyond material research and development into fields such as tactics, training procedure, and staff design.
• Assess, recruit, and advance Navy leaders according to criterion empirically associated with innovation, such as curiosity, insight, engagement, and determination.6 To achieve this, the Navy must adopt new types of naval officer leadership training, performance evaluations, professional mentoring, and career coaching. These programs should promote innovation parenting, not just operational proficiency, and command potential. The Naval Academy's establishment of a Leadership Innovation Lab is one promising new approach, as is the Defense Science Board's recommendation for an "innovation elevator" program to fast-track young science, technology, engineering, and math innovators within specialty career tracks.7 But these efforts cannot stand alone. Investments in any such initiatives should be matched with a concerted effort to ensure the thinkers they attract and launch are accompanied by naval leaders adept at cultivating and vectoring their talents to positively impact the Navy's innovation efforts.
Taking these focused adjustments and measured risk, the Navy can achieve exponential innovation without abandoning the service's time-honored traditions of operational discipline and accountability. Considering the unfathomable speed with which a world of complex competition and persistent contest is unfolding around us, the Navy cannot afford not to. Our Navy needs leaders of innovators, not just gods at sea.
---

1. Amy Held, "Top Navy Officers Fired in Ongoing Leadership Shake-Up after Deadly Collisions," National Public Radio, 11 October 2017.
2. ADM John Richardson, USN, "The Future Navy," Navy.mil, 17 May 2017.
3. Mellissa A Schilling, Strategic Management of Technological Innovation (New York: McGraw Hill, 2017), 211–34.
4. M. L. Tushmand and C. A. O'Reilly, "Ambidextrous Organizations: Managing Evolutionary and Revolutionary Change," California Management Review 38, no. 4 (1996), 8-31. Karin Ahlback, Clamens Fahrbach, Monica Murarka, and Olli Salo, "How to Create an Agile Organization," McKinsey & Company (October 2017). Waguih Ishak, "Creating an Innovation Culture," McKinsey & Company Quarterly (September 2017).
5. Greg Satell, "Want to Do Corporate Innovation Right? Go Inside Google Brain," Harvard Business Review (June 2016).
6. Claudio Fernandez-Araoz, Andrew Roscoe, and Kentaro Aramaki, "Turning Potential into Success: The Missing Link in Leadership Development," Harvard Business Review (November–December 2017).
7. "Boeing Supports Naval Academy Leadership Innovation Lab," United States Naval Academy Alumni Association and Foundation. Aaron Mehta, "Pentagon Tech Advisers Want Special Career Track, 'Innovation Elevator' for Big Thinkers," Defense News, 26 October 2017.
---
Commander Goertner is a strategic planner in the Office of the Chief of Naval Operations, Future Strategy Branch (OPNAV N501). He is a 1997 graduate of the U.S. Naval Academy and holds an MBA from the University of Maryland's R.H. Smith School of Business.