The Navy must revisit its surface combat rescue capability.
For the first time since the end of the Cold War, the U.S. Navy faces real parity at sea. If war is forced on the United States, Navy ships likely will experience localized tactical-level losses, and medical evacuation by helicopter of injured personnel will be necessary. However, the Navy lacks an effective combat rescue force.
As the Navy moves forward with the distributed lethality concept as the means to counter modern near-peer threats and area denial schemes, it must heed the lessons of history and have a plan for surface combat rescue.1
The Navy Lacks the Right Combat Rescue
The current combat rescue force structure is focused almost solely on the recovery of individual or small groups of downed aviators and is intended to support the air wing. In a near-peer wartime scenario, this structure will not be enough. Navy combat rescue forces currently do not train to rescue personnel injured or isolated in an attack on a surface combatant in a contested environment. Moreover, the Navy is not manning, training, or equipping the fleet to provide a combat rescue capability to the surface force.
This lack of surface combat rescue is particularly grave in light of concerns from surface warfare officers that the new generation of highly automated, minimally manned ships will not have sufficient manpower to execute long-term damage control to keep those vessels afloat.2 The problem is compounded by how few ships are in the fleet when compared to past periods of war at sea. Each ship stands at risk in a near-peer fight, and each loss will represent a higher proportion of the entire U.S. naval force and military capability. There is no margin.
Combat rescue enables a fighting mentality, promotes strategic risk taking, and limits losses in a volunteer professional military. Senior military leaders, most of whom will spend the majority of any conflict thousands of miles from the fighting, have a moral responsibility to provide for lifesaving efforts for all their troops. We cannot continue to use a combat rescue framework that serves only the aviation community.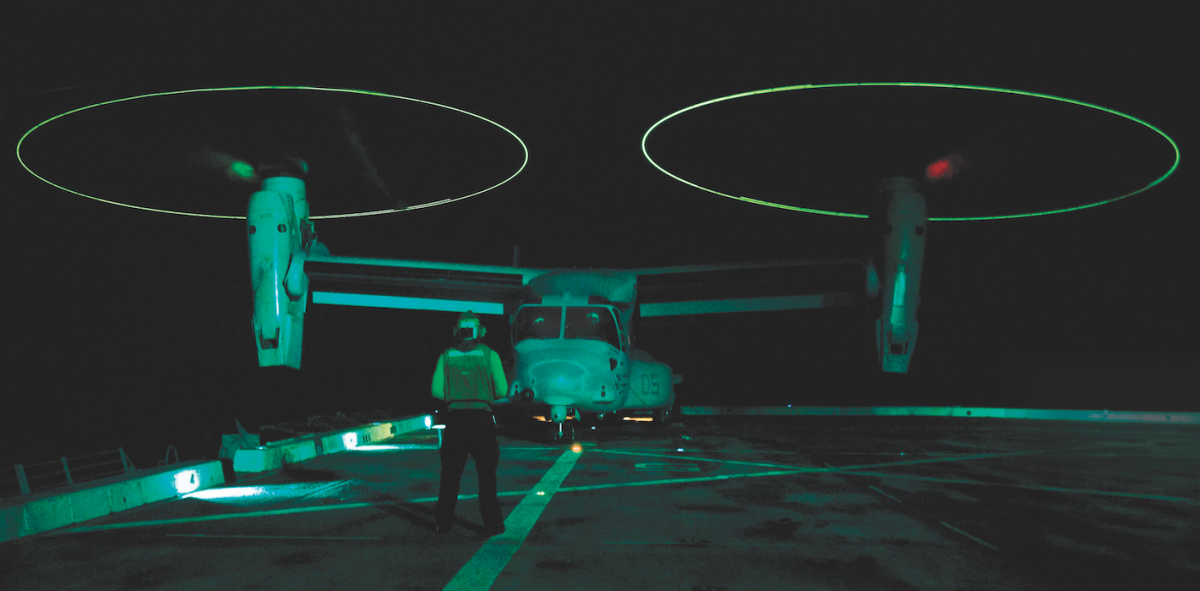 The Navy's Combat Rescue History
During World War II, the Consolidated PBY Catalina flying boat was a natural choice for executing combat rescue in the Pacific theater. It combined good range with the ability to land on and take off from the ocean to rescue both aviators and surface sailors. In December 1944, two aircraft from the Black Cats landed and evacuated 109 survivors from the water after their destroyer hit a mine and sank, just one of several rescues of more than 100 sailors.3
In the early days of the Korean War, Navy and Air Force combat rescue capabilities developed in parallel. The Navy, however, cut combat rescue from helicopter crews following Korea. It was not until 1968, after years of using part-time crews, that it consolidated all combat rescue into Helicopter Combat Support Squadron Seven (HC-7). When stood up, the HC-7 Sea Devils had the usual portfolio of missions for an HC squadron, but the Navy allowed it to shed all extraneous missions to focus on combat rescue.4 The Sea Devils stood 1,815 consecutive days of on-station alert in Vietnam, rescuing 117 aviators in the Gulf of Tonkin and North Vietnam with only one aircraft lost and not a single crewman lost or captured. In 1975, HC-7 was disestablished, and many of its members moved to HC-9, a reserve squadron created to take over the dedicated combat rescue mission. The Navy chose not to deploy HC-9 during the conflicts in Grenada, Lebanon, and Libya, instead using the helicopter antisubmarine (HS) squadrons on scene to perform a mission for which they were neither trained nor equipped.5
By 1990, the Navy had merged HC-9 with its light attack helicopter squadrons to create two new reserve helicopter combat squadrons: HCS-4 and HCS-5. They were equipped with the new HH-60H helicopter—purpose-built for the combat rescue and assault support missions. Unfortunately, the detachment from those squadrons was never used during Operation Desert Storm. Because the Navy's reserve combat rescue squadrons historically were not on scene to support the carrier air wings, Navy leadership pushed for the incorporation of the HH-60H aircraft into the carrier-based HS squadrons.6 This resulted in the Navy having combat rescue aircrew who dedicate only part of their time to the mission and squadrons with the bare minimum of equipment.
The Navy's strike group commanders have chosen not to use their organic combat rescue during the recent decades of war, citing lack of training and dedicated purpose, as well as the needs of the strike group.7 The Navy was so determined to get combat rescue back in the air wing it created a force that it did not want to use, sacrificing critical combat capabilities and resilience for the sake of minimizing peacetime costs.
Distributed Lethality, Distributed Rescue
It is time for the Navy to bring the Sea Devils back to the fight. Just as no Olympic decathlon record can beat the individual event record, no multimission military unit will ever be able to execute a specific mission at the same level as a specialized unit.
At least one new squadron is needed to carry on the legacy of the Black Cats and Sea Devils, and it must specialize in combat rescue. This squadron should be part of the HSC community and use an expeditionary deployment model so it is not tied to the carrier air wing. By moving combat rescue off the carrier, rescue helicopters could be staged in more advantageous locations on sea or land. One of the best ways to accomplish this would be to use the new expeditionary sea base (ESB).8
By remaining dedicated and flexible, this new unit could stage off of littoral combat ships (LCSs), the new frigates, and even the expeditionary fast transport (EPF). More important, it could take advantage of land bases of opportunity like the "Lima Sites" used during the Vietnam War, where combat rescue helicopters would land on small islands in hostile territory and maintain self-sufficient alert postures for hours or even days.9 The Navy's combat rescue force also must be prepared to insert fresh damage-control specialists and equipment on a ship that's been hit before extracting the wounded or isolated members of the crew. These critical differences between legacy strike rescue and war-at-sea rescue will make the difference in a near-peer fight.
The new Sea Devils need to start now with the MH-60S, but ultimately they will require a new more appropriate helicopter, preferably a super-medium lift platform such as the H-92 or AW-101. They both have proven themselves with allied forces, have rescue pedigrees, and have been configured to fold. Either would offer combat rescue capability with much longer range and cabin space than the H-60. They could carry a Zodiac-type small boat inside the cabin that could be deployed to help collect survivors from the water. With double the range and triple the capacity of an MH-60S, an H-92 could have a positive impact in many areas of fleet operations.
War-at-sea combat rescue also requires a different type of rescue task force. The ideal solution is to bring the S-3 back from the boneyard. The S-3 has many of the same characteristics that made the A-10 a legend in combat rescue—good low-altitude performance, long loiter times, and the right suite of weapons and sensors. It also can perform long-range surface search and sea-control missions full time while providing recovery tanking to take over sorties from the beleaguered Super Hornet fleet. The S-3 fleet is reported to have significant life left and has come close to being brought back several times.10
The rescue task force also would include the P-8A as airborne mission coordinator and the F-35, armed with the newest generation of antiship missiles to roll back high-threat surface combatants in the objective area, in the rescue escort role. The MH-60S could be used in its shooter configuration to attrite small boats and quasi-governmental surface vessels that may be racing to gather potentially valuable prisoners from the water. By adding in the new CMV-22, injured personnel could be rescued by helicopter and then transferred to a CMV-22 at a staging base or vessel for long-range transport to a higher level of care.
Start Now
It is time not just to learn the lessons from our past, but to get ahead of them and find new ways to establish an advantage over possibly hostile forces. Some lessons are small and easy to implement. For example, all our surface vessels need a combat survivor evader locater (CSEL) radio on the bridge, so there is no delay in reporting the need for rescue. Ideally, all surface vessel lifeboats should be equipped with a CSEL as well. Even without new combat rescue aircraft, we need to start training better with the ones we have and incorporate assets such as the LCS, ESB, and EPF into fleet combat rescue events.
Predeployment certification exercises need to include a war-at-sea casualty event where friendly forces can test their combat rescue for surface assets. Surface combatants need to train regularly with combat rescue forces to develop new tactics, techniques, and procedures for rescuing injured or isolated personnel and delivering personnel and equipment so the damaged ship can remain afloat and in the fight. The HSC community holds an annual exercise in San Diego called Phoenix Fire that would serve as the ideal sandbox for developing this capability.
It is not too late to make the same kind of sound choices that led to HC-7 and its success, but only if we can fight the thinking that looks to save a dollar now with no thought of the future implications. The men and women we need to make this possible are already in the fleet. Real, adequate, and dedicated combat rescue forces are imperative, so our service members know that if they are in peril, their brothers and sisters will do all that is necessary to see them to safety. It is the right way to fight a war.
---

1. VADM Thomas Rowden, RADM Peter Gumataotao, and RADM Peter Fanta, USN, "'Distributed Lethality,'" U.S. Naval Institute Proceedings 141, no. 1 (January 2015).
2. CAPT Gerry Roncolato, USN (Ret.), "Fitzgerald Proves Damage Control Is Exhausting," U.S. Naval Institute Proceedings 143, no. 7 (July 2017).
3. George Galdorisi and Thomas Phillips, Leave No Man Behind: The Saga of Combat Search and Rescue (Minneapolis: Zenith Press, 2009), 124.
4. Ibid., 605.
5. Ibid., 793, 884–97.
6. Ibid., 897,931.
7. Ibid., 963.
8. LT Benjamin Foster, USN, "MH-60S Can Be Today's PT Boat," U.S. Naval Institute Proceedings 143, no. 9 (September 2017).
9. Galdorisi and Phillips, Leave No Man Behind, 595.
10. Ben Ho Wan Beng, "U.S. Navy: Time to Bring Back the S-3 Viking?" The Diplomat, 9 November 2015, 
---
Lieutenant Foster is a Seahawk weapons and tactics instructor at the Helicopter Sea Combat Weapons School Pacific in San Diego, California. He previously has written for Proceedings and Proceedings Today.