China sees itself and the United States as key power brokers in Asia, but on regional issues, it often views the United States as an interloper.
For more than a decade, the growth of China's military and the expansion of its capabilities have been topics of increasing importance for the U.S. military and its allies. China consistently has responded to such concerns by repudiating them as self-serving and emphasizing the legitimate role of military power in protecting China's sovereignty. With the recent construction of a People's Liberation Army (PLA) "logistics base" in Djibouti and PLA Navy (PLAN) units deploying as far as the Baltic Sea, there are many questions regarding how China perceives the role of its military in the Asian region and beyond.
China's security role in Asia was one of several topics discussed at the 14th Annual East Asia Security Symposium hosted by China Foreign Affairs University, the institution responsible for educating much of China's diplomatic corps.1 The 2017 event provided an opportunity for seven senior Chinese Communist Party officials, PLA officers, and academics to give half-day presentations on regional security topics to Western political scientists and China specialists. The presenters were experienced "Western hands" (several with graduate degrees from Western universities) who speak impeccable English and frequently interact with foreign diplomats, military representatives, and/or academics. Twenty representatives from the United States (including two Naval War College professors), Australia, Canada, the Republic of Korea, and Singapore participated.
While the palpable party-line orientation of each presentation may make it tempting to preemptively reject information from such a symposium, that is short-sighted. The forum offers an opportunity to obtain a better understanding of the rationale for Chinese perspectives—agree with them or not—regarding Asian regional issues. The speakers provided extensive data to support their arguments, which helps in understanding the thought processes that lead to such conclusions.
The presentations obviously were crafted for a Western (more specifically, U.S.) audience. Not only were there frequent comments about the PLA not wanting to challenge or go to war with the United States, but speakers also alluded to the PLA's relative military inferiority in the face of U.S. military regional and global capabilities.Several speakers also attempted (by implication) to make the case that when it came to regional issues, the United States is not a part of Asia and is, therefore, an interloper.
Highlights from the symposium that may be of interest to naval professionals follow.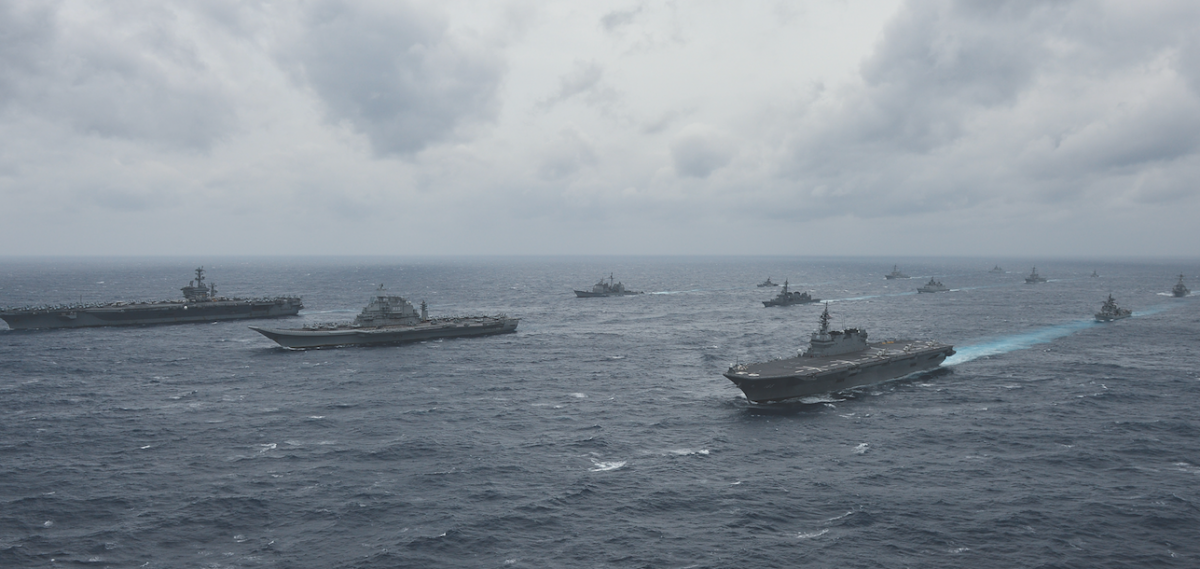 Bilateral Relationships
United States
From China's perspective, the United States and China are the key power brokers in Asia. Former National Security Adviser Zbigniew Brzezinski had proposed that China and the United States establish a bilateral G2 relationship, but China consistently has rejected the proposal, believing that superpowers eventually go to war with rising powers.2 According to one presenter, China's rejection was a "deliberate countermeasure" to keep that from happening. China also did not want to risk losing its standing with developing countries.
The results of the 2016 U.S. presidential elections were described as "the Trump shock," an event that caught the Chinese government by surprise. While there was concern regarding many of the anti-China statements candidate Donald Trump made during the campaign, China was encouraged by then-Secretary of State Rex Tillerson's reaffirmation of the "14 character principles" of the Sino-U.S. relationship during his visit to Beijing in March 2017 and his meetings at Tsinghua University to discuss the North Korea issue. The April 2017 Mar-a-Lago summit between the two heads of state further alleviated concerns. Speakers argued that Chairman Xi Jinping deserved credit for "convincing" President Trump of China's positions, making the event both "constructive and results-oriented." However, China considers the President's transactional, issue-linkage approach (e.g., you deal with North Korea and we'll do this for you) as "nonsustainable."
Japan
China does not know how to deal with Japan. Sino-Japanese relations continue to be tainted by China's profound distrust of Japan and concerns regarding Japan's regional objectives. Alluding to Japan's invasion of China in the 1930s, China views Japan as having potential for reviving such militarist tendencies. China claims Japan cannot accept its defeat in World War II, with Japanese conservatives arguing instead that after conquering most of Asia, to be defeated by nuclear weapons simply "does not count." In this regard, Japanese Prime Minister Shinz? Abe was described as a "troublemaker," citing as an example the Japanese effort to sell the Philippines missiles they "do not need." Japan also was described as "the main barrier" to resolving territorial disputes in the East China Sea. China is particularly concerned regarding Japan's capabilities and intentions in the South China Sea.
There also are concerns Japan is attempting to establish an "Asian NATO" comprising Japan, South Korea, the United States, and others, with the implicit goal of reducing Chinese influence in the region. In the current U.S.-Japanese relationship, the United States is the "spear" and Japan is the "shield." Now Japan wants to be the spear, and that would be "dangerous."
China also has concerns about the "character of the Japanese people," whom they describe as arrogant, self-important, and feeling superior to other Asians. Japan itself is described as being "[overly] proud" of its accomplishments and as a nation that always wants to be the "lead goose" of the regional flock. Japan consistently has rebuffed Chinese invitations to participate in the One Belt, One Road economic initiative, which has been interpreted as a blow to China's regional status.3 In the words of one speaker, the Sino-Japanese relationship has the "worst trust-deficit" of any of Chinese foreign relationship.
Democratic People's Republic of Korea
China is annoyed by the lack of deference given it by North Korea. The nation has yet to express gratitude to China for the sacrifices its fighters made to support it in the Korean War. A request by the Chinese Communist Party Central Committee Minister of Foreign Relations to visit North Korea to meet with senior officials was rejected. The current Chinese ambassador to North Korea had yet to meet with Kim Jong-un to present his credentials. These are all cited as examples of the petulant and unfathomable nature of the North Korean government.
Accordingly, speakers explained, "China can't do anything significant" regarding North Korea. The nation "hates" foreign pressure, so China cannot impose its will. If pressure worked, the United States would have been able to use it. China also understands the importance of maintaining an "exit" for North Korea so it does not become desperate. A key to resolving the current situation is dealing with the nation's "insecurity."
As a major stakeholder in the Korean Peninsula, China considers North Korea a "security threat," in part because its nuclear facilities are near the Chinese border. Accordingly, China was not, is not, and will not be a bystander regarding such matters. If North Korea is attacked or invaded, China "won't promise not to get involved."
Republic of Korea
Several speakers characterized the Republic of Korea (ROK) as a "close friend" of China's, specifically highlighting the mutual benefits of economic cooperation. However, the decision to deploy theater high-altitude area defense (THAAD) was "wrongdoing" by the ROK when "pressured to install THAAD [by the United States]." China argues that THAAD coverage is well beyond North Korea, which shifted regional stability from offensive equality between the China and the United States to an offensive-defensive situation that is "counter to China's military theory." The post-THAAD Chinese boycotts against ROK products were "not an official response" but "simply the people responding." In discussing the alleged unofficial nature of the boycotts, one presenter explained that "no document can prove China's official involvement."
Australia
Australian Prime Minister Malcolm Turnbull's critical comments regarding China during his keynote address at the 2017 Shangri-La Dialogue were "not well received" by China. One speaker explained that China "expected" to be criticized by U.S. Secretary of Defense James Mattis, but was "surprised" at Turnbull's comments and needed to determine whether Australia is a "partner, friend, or frenemy." Australia also was identified as the only country that routinely conducts military exercises with China.
Another speaker described the Shangri-La Dialogue as a "Western" forum that was "created by Singapore" and recently has become a "China-West fight." Such a development was "not the best approach" and was certainly not appreciated by China. In response, China established its annual Xiangshan Forum to provide a different venue for presenting the Chinese perspective. Describing the event as an opportunity for participants to hear both sides of the issues, the speaker claimed the most recent Xiangshan Forum had more attendees than the Shangri-La Dialogue.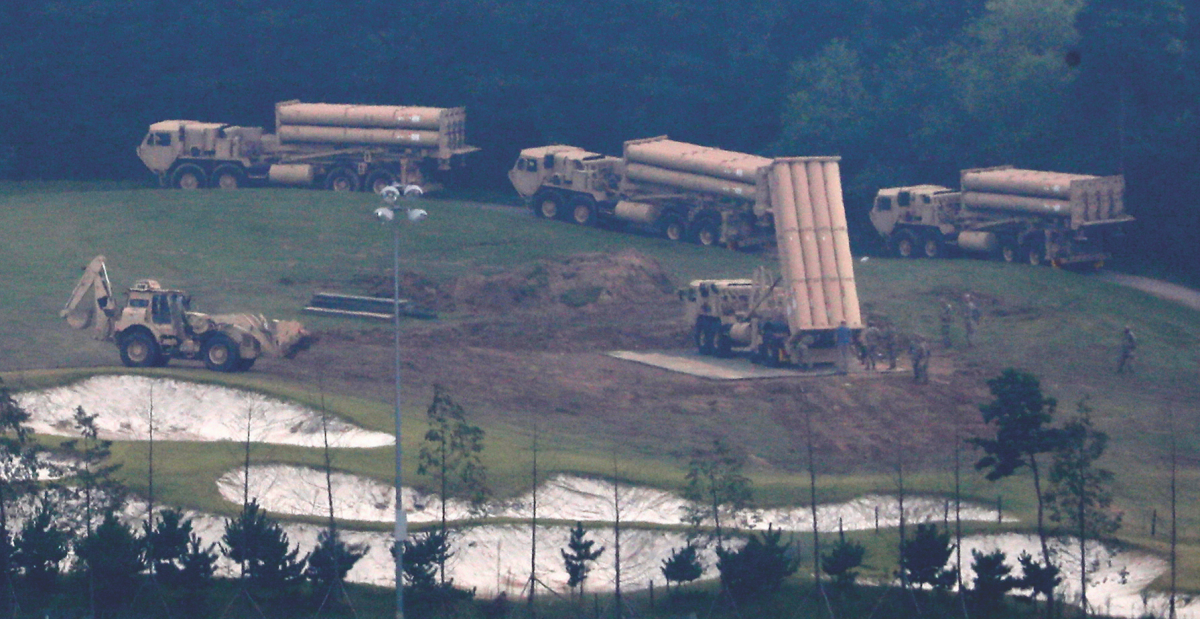 The Republic of Korea's decision to install the Terminal High-Altitude Area Defense System was "wrongdoing" from China's perspective and shifted regional stability. 
Regional issues
South China Sea
When discussing issues related to the South China Sea, the consistent theme was "Last year was bad news; this year is better news." The Chinese government was "in crisis" after the July 2016 Permanent Court of Arbitration ruling.4 From the Chinese perspective, the decision went well beyond U.N. Convention on the Law of the Sea jurisdiction and represented a "politicization of the law" that China deems "null and void." The membership of a Japanese lawyer on the tribunal was highlighted, implying further evidence of the court's anti-Chinese bias.
Several speakers argued that the South China Sea situation has "calmed down." The "reduction of tensions" means the status quo is being accepted. China's approach has been to be patient, work things out diplomatically, and, in the meantime, continue to develop facilities in the South China Sea. China continues to promote its claims based on its interpretation of history in the context of its "hundred years of national humiliation" narrative. The importance of China's interpretation of its national sovereignty related to the East and South China seas and Taiwan cannot be overemphasized.
China sees the issues in the South China Sea as territorial disputes over islands and maritime delimitation. It argues that such issues should be addressed between claimants. U.S. actions in the region are muddying the waters, and its focus on the South China Sea "keeps countries from accepting China's great contributions to the region."
The "land reclamation effort" (i.e., building manmade islands on maritime features) is considered a "great achievement" in China. Such facilities are not for control. Only defensive weapon systems have been deployed there. Unfortunately, as one speaker lamented, China cannot convince other nations of this fact, so why bother?
Chinese military forces in the South China Sea were described as "well controlled." In contrast, coast guard communications were not as good as those of military forces. Coast guard policy making was described as "highly centralized," while policy implementation was described as "highly decentralized." As for the maritime militia, they were simply described as "fishermen."
The U.S. rebalance to the Pacific "forced China to take action" in the South China Sea. China is sensitive to threats from the sea as, historically, seaborne threats to China have been bad. As mentioned by several speakers, China is encouraged by the development of the Code for Unplanned Encounters at Sea (CUES), a mechanism that applies to the PLAN but not coast guard situations.5
China's South China Sea policy comes from Chairman Xi. In contrast, the U.S. policy is established by debate, bargaining, and compromise, an approach that is foreign to China. As a result, China has a difficult time determining who is establishing U.S. policy. For example, there is a perception in China that President Barack Obama offended China by befriending Chairman Xi Jinping and then conducting freedom of navigation operations (FONOPs). A speaker explained that, in reality, the U.S. Congress directed the Navy to conduct FONOPs.
China considers the need for FONOPs to be a "false issue." No regional countries have expressed a need for such operations, only the United States. The increasing number of well-publicized FONOPs "threatens Chinese national security," in part because of the "public pressure" that results in China. As for U.S. concerns about Chinese South China Sea facilities, one speaker explained that there was no cause for concern as "the U.S. Navy can take out facilities with a single Aegis cruiser."
The Association of Southeast Asian Nations
As explained by the presenter, the Association of Southeast Asian Nations (ASEAN) was founded on the basis of Asian regionalism. Only Southeast Asian states can become members, and major powers are excluded. Decisions are consensus driven under Southeast Asian leadership. The ASEAN way includes sovereignty, noninterference in internal affairs, negotiation, and peaceful resolution. As a result, it can accept neither U.S. nor Chinese leadership.
China takes a "dual track" approach in working with ASEAN: engage ASEAN and pursue bilateral relationships. When asked about China's "obstructionist approach" to ASEAN (particularly regarding the South China Sea), the presenter responded "China has a right to express its opinion, doesn't it?"
Other issues
• Taiwan. The prospect of foreign forces (e.g., U.S.) coming to the defense of Taiwan was characterized as "invading our island." China will "not make any promise of giving up the use of force against Taiwan independence." One Belt, One Road (OBOR). China continues to promote OBOR as a means to improve Asian infrastructure. While developing countries have shown great interest in reaping the benefits of the program, financing a project of such a large scope continues to be an issue. With the extension of OBOR into southwest and central Asia, there is growing concern that the OBOR infrastructure will become a multidirectional conduit for terrorism. China is working with countries in the region to address such concerns.
PLA Issues
• PLAN Development. The mission of the PLAN has changed over the years. During the 1950s-70s it emphasized inshore defensive operations, and since the 1980s this has been expanded to include offshore defensive operations. The PLAN currently is responsible for global operations (e.g., keeping sea lanes open) and regional/offshore defense (e.g., South and East China seas and Taiwan). The goal is to build a "strong navy" second only to that of the United States, which will allow the PLA to cooperate with other nations. Six types of "peace and stability" activities were described: U.N. peacekeeping, escort operations, domestic and international disaster relief, establishment of border defense talk mechanisms, military exchanges and cooperation, and personnel exchanges.
• PLAN Aircraft Carrier. Given the complexity of carrier-based operations, the Chinese aircraft carrier Liaoning will not have the required operational effectiveness to support national strategic objectives for another 15 to 20 years. Its current role is "mainly symbolic." The existence of an aircraft carrier is causing budget and mission conflicts between the PLA Navy and Air Force.
• PLA Strategic Weapons. Since late 2015, China's military has been undergoing a major reorganization, including establishment of the PLA Rocket Forces (PLARF)—formerly 2nd Artillery Corps—which is a strategic force under control of China's Central Military Commission. Asked if PLAN strategic missiles (e.g., submarine-launched ballistic missiles) also were subordinated to the PLARF or were under the control of the Central Military Committee, the presenter said this was "in the process of being reformed," but it was his opinion that the PLARF would retain control of all PLA strategic weapons.
• Antiaccess and Area Denial. This was described as "a purely American construct." The Chinese military capabilities characterized as antiaccess/area denial were developed to keep the United States and other countries from interfering with Chinese internal issues.
• PRC Facilities in Djibouti. The PLA does not consider its Djibouti facility to be a foreign military base but rather a "forward logistics base." China will "never copy the U.S. model of overseas basing" because the PLA does not need it. Overseas basing would represent a "strategic failure" on the part of the PLA.
Where You Sit
An oft-repeated adage in foreign relations and other negotiations situations is "Where you stand depends on where you sit." Having a better understanding of a potential adversary's perspective on strategic situations allows for analysis based on more than speculation and mirror imaging.
Author's Note: As the symposium was conducted under Chatham House Rules, specific comments cannot be attributed to individual participants.
---

1. The non-Chinese sponsors of the Symposium are Bond University (Australia) and the University of New Haven.
2. Sometimes referred to as the Thucydides Trap.
3. The One Belt, One Road strategy was proposed by the Chinese government and focuses on connectivity and economic cooperation, including policy coordination, trade and financing collaboration, and social and cultural cooperation, among Eurasian countries.
4. The court ruled in favor of the Philippines over conflicting claims in the South China Sea.
5. For more on CUES, see LCDR Shawn Lansing, USCG, "The Coast Guard Can Reduce Risk in the South China Sea," U.S. Naval Institute Proceedings 143, no. 8 (August 2017), 26-31.
---
Commander Metcalf, a retired surface warfare officer and naval cryptologist, is a 1976 graduate of the U.S. Naval Academy (Far Eastern studies). He has graduate degrees in Chinese studies from the University of Arizona and the University of Cambridge and is a lecturer in Chinese literature at the University of Virginia.