New findings suggest that challenging and traumatic experiences during formative years may lead to harmful outcomes as adults. Identifying at-risk Marines can both prevent misconduct and strengthen the Corps.
In the 37th Commandant's "Message for All Marines," General Robert Neller said, "Our Corps . . . requires Marines who are brilliant in the fundamentals of warfighting, and physically, mentally, and spiritually prepared for the violence of combat." Despite this goal, military leaders increasingly become distracted by conduct and behavioral issues, such as driving under the influence, domestic abuse, sexual assault, suicide attempts, and illicit drug abuse.
There is growing evidence that childhood maltreatment leads to decreased productivity, lost wages, increased medical expenses, and, in the military setting, degraded capabilities and increased costs. These conditions are causing a profound economic burden. The Center for Disease Control (CDC) estimated that the economic toll associated with child maltreatment could be up to $124 billion in 2010, similar to Type 2 diabetes and stroke.1 The estimated average cost to the individual of child maltreatment was $210,012. A study conducted in the Netherlands found that the burden of disease associated with adverse childhood experiences (ACEs) was greater than all other common psychiatric disorders combined.2 Addressing ACEs would not only increase military readiness and improve the forces lethality but possibly decrease long-term health issues for both active duty service members and veterans.
In the present environment, with Marines inundated with social media, there is a high probability of viral misconduct, which can both tarnish the public image of the Marine Corps and distract leaders from mission essential tasks to address the media. The recent Marines United scandal, which required Commandant Neller to testify before Congress, highlighted this.
Current programs have not been successful in reducing the rate of conduct and behavioral issues. The Marine Corps needs to prevent misconduct instead of preparing to react to it. The simplest and most effective solution is to screen Marines who are at high risk of misconduct and implement strategies to prevent incidences before they occur.
Currently, the Marine Corps does little to identify and treat the underlying issues; rather, it directs an enormous amount of time and resources on damage mitigation strategies. Programs such as Uniformed Victim Advocate (UVA), sexual assault prevention and response (SAPR), and force preservation counsels (FPCs) are valuable tools, but they are reactive. While they are well-intentioned, mandated training takes time and resources away from the military's primary goal. Units' training schedules quickly fill up with operational pauses, safety stand-downs, and educational presentations. The Marine Corps needs to accept that there is no objective evidence that these strategies work. They waste valuable time and resources while yielding poor, inconsistent results, and they impede the Corps' mission as a fighting force. Instead of pursuing unproven mandatory training, the Marines Corps needs to identify the cause of behavioral problems and apply preventative strategies to decrease their risk of occurring.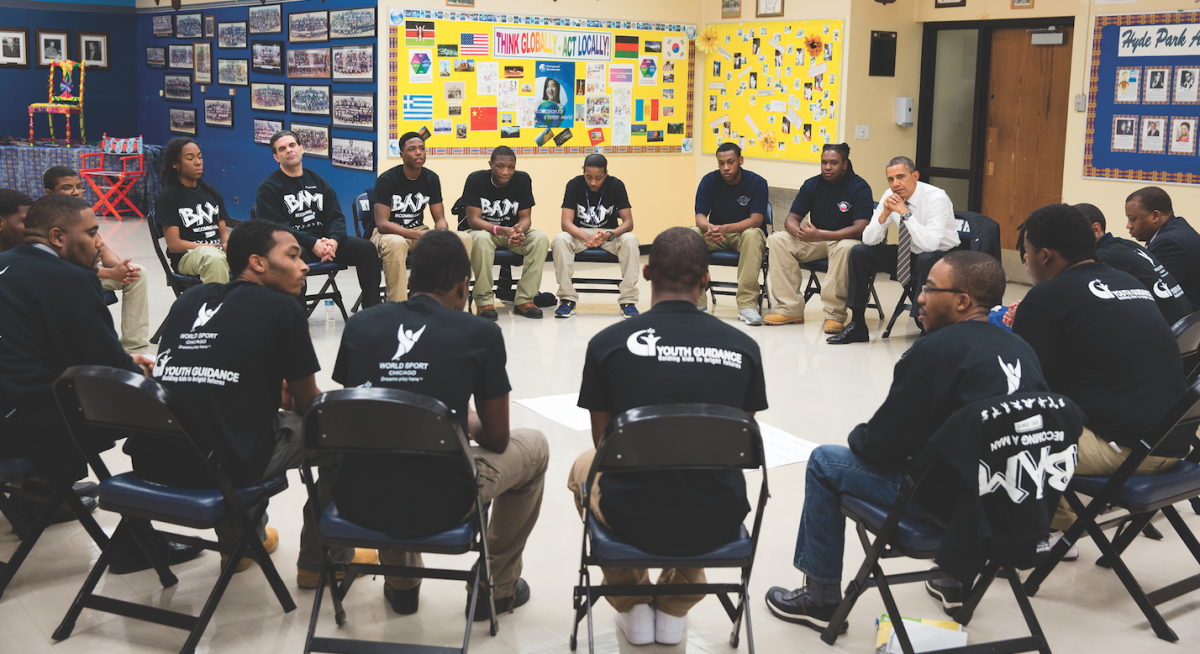 President Barack Obama visits the Becoming a Man Center in Chicago, Illinois. White House photo. 
Identifying the High-Risk Marine
Using modern behavioral psychology with cognitive neuroscience, the Corps can develop ways to identify Marines at high-risk of misconduct. A simple questionnaire identifying childhood trauma is an effective method for identifying high-risk individuals. Young people who have multiple exposures to violence or victimization are at increased risk for mental health problems, behavioral problems, substance abuse, and delinquent behaviors.3 Developing a screening test looking for Marines who were exposed to violence and victimization as children would allow for risk stratification of the force and identification of high-risk individuals on whom to focus preventative services. 
In a CDC study, adverse childhood experiences were shown to increase an individual's risk for many social ills. The study asked ten questions to ascertain seven categories of childhood exposure to abuse and household dysfunction: psychologic abuse, physical abuse, sexual abuse, substance abuse, mental illness, incarceration, or violence against their mother. Individuals who had experienced four or more categories of childhood exposure had a 300- to 1,200-percent increase in health risks for alcoholism, drug abuse, depression, and suicide attempts, compared to those who had experienced none. An ACE score of four or more also showed a 200- to 400-percent increase in smoking, poor self-rated health, greater than 50 sexual intercourse partners, sexually transmitted disease, physical inactivity, and severe obesity.4 
The significance of this finding is magnified by the high prevalence of ACE occurring in our society, with 64 percent of the population scoring at least a one, and 12.5 percent scoring a four or more. As an individual's ACE score increases, the risk of adult disease and potential to harm goes up accordingly.5 An individual with a score of four would have a significantly greater chance of attempting suicide during his or her lifetime. This risk increases by 1,250 percent if the individual was exposed to four or more of the childhood traumas listed above. The risk of becoming a victim of rape also goes from a 1 in 20 chance with an ACE score of zero to 1 in 3 with a score of four or greater. These numbers are profound, and yet entirely actionable.
It may seem implausible to place such a large value on any one of seven childhood experiences, but a Marine's ACE score is a marker for the amount of adversity experienced during a person's formative years. These experiences can be thought of as toxic stress and can disrupt neurodevelopment, causing difficulty learning and engaging with the environment. Evidence suggests that such toxic stress and adversity become "biologically embedded," altering how the brain, endocrine, and immune systems function through abnormal epigenetic expression.6 Acute stress activates the "fight or flight" response and causes secretion of the stress hormones norepinephrine, dopamine, and cortisol; chronic stress causes depletes the system and leads to deleterious health effects.
Maltreated children demonstrate a chronic elevation in cortisol levels, similar to those seen in adults suffering from post-traumatic stress disorder. Adult brains that were maltreated in their formative years show structural differences, including smaller brain volumes, smaller midsagittal areas of the corpus callosum, and functional alterations in the neocortex, visual, and auditory cortexes. Alterations in these brain regions may have profound negative effects on executive function, attention, memory, and visual-spatial function leading to impairment of day-to-day function.
Ultimately, childhood maltreatment evaluated by the ACE criteria causes disrupted neurodevelopment, which can lead to social, emotional, and cognitive impairment, the inability to understand and process information, the loss of high reasoning, and the development of learning disabilities. These individuals are at higher risk of adopting risky behavior which in turn leads to higher rates of social problems, disease, and disability, culminating in premature death. Identifying Marines whose backgrounds predispose them to negative outcomes is imperative to directing resources where they are most needed, improving outcomes, and reducing the administrative burdens commands currently face. 
Help High-Risk Marines
Civilian studies of at-risk youths in inner cities show that while high ACE scores are associated with poor outcomes, when treatment is applied, disability is not a foregone conclusion. The city of Chicago conducted a randomized control trial evaluating the use of a cognitive behavioral therapy (CBT)–based program called "Becoming a Man" (BAM), which decreased the violent crime rate of participants by 44 perfect. The results were replicated in 2012 by another CBT-based program, again showing a 43 percent reduction in violent crime. The BAM program also showed a 22 percent increase in high-school graduation rates and cost only $1,000 per student.7
Tony DiVittorio, the creator of BAM, explains that the program is not sold to participants as therapy; rather it is a program of self-improvement using role playing to act out real-world situations. BAM focuses on the theory of "the normalization of anger," which "opens up that student and frees him to talk about [anger]" in order to find a healthy way to channel these emotions. CBT is grounded in concrete situations, focusing on shaping perceptions and behavioral responses to different stimuli, and teaching individuals how to control their emotions and actions and the mechanisms that form emotion.
A Marine Corps adaptation of a BAM-like system could be developed and implemented using current psychologic and medical capabilities, and it would make any administrative and monetary cost negligible. The goal is to understand how a Marine's emotions and behaviors prevent him or her from solving these problems and then come up with a plan for addressing similar incidents in the future. CBT is, at its essence, changing how an individual processes information to ultimately alter behavior and achieve a fitter, more mission-capable Marine. Local medical departments, military and family life consultants (MFLCs), mental health counselors, and psychologists would lead the program working through a CBT model tailored to Marine-specific scenarios, in a group therapy setting. Integrating it into the culture as leadership development and resiliency training would remove the current stigma associated with mental health care. It would both solidify team cohesion and identify at-risk persons for more in-depth and individualized care.
Similar strategies are increasing in other branches as the military comes to understand that the benefit of increasing access to mental health care is a cost-effective and valuable resource. The Army has invested in educational programs such as Soldier Performance Education for Advanced Readiness and Resilience to give soldiers tools to enhance their careers along with other avenues for help with difficulties sleeping, relationships, and stress. A 2013 Navy study found that increasing force resiliency training had a positive effect on individual readiness and reduced the risk of suicide.8
The Marine Corps only should use this screening as a way to improve the force and should resist any attempt to make ACE a screening tool to disqualify potential applicants. First, such a strategy is unfeasible as potential recruits would quickly realize these are disqualifying conditions and not answer truthfully. Second, many children, despite experiencing ACEs, maintain normal levels of functionality and should not be denied the ability to serve because of risk. Third, fielding a capable force has become more difficult for recruiters as increasing obesity rates in the United States have diminished the share of the enlistment-age population eligible for military service.9 Fourth, there are opportunities to rehabilitate affected individuals, and the military is well-suited to take on this role.

Commandant Robert B. Neller testifies before Congress regarding the Marines United scandal. USMC photo
 
Forward Progress
While the esteem the country places in its military rightfully has increased, so has its expectation that it acts as a professional force. No longer are conduct offenses ignored. Neither is the Marine Corps judged solely on its ability to prosecute a war and defend the country. Military misconduct has become a taboo, caught up in the relentless new cycle and used to push unfavorable narratives of the military.
If the Marine Corps is to overcome these challenges it must face this issue like any other, with innovative solutions pursued relentlessly toward a singular goal. Using adverse childhood experiences and cognitive behavioral therapy methodology to identify and work with Marines, the force will become stronger and more capable, without the often painful lasting effects of personal adversity.
Drastic action is needed if the Corps going to stem this disturbing tide and field the physically and mentally prepared force for which General Neller called.
---

1. X. Fang, D. S. Brown, C. S. Florence, and J. A. Mercy, "The Economic Burden of Child Maltreatment in the United States and Implications for Prevention," Child Abuse & Neglect 36 (February 2012): 156–65.
2. P. Cuijpers, F. Smit, F. Unger, et al., "The Disease Burden of Childhood Adversities in Adults: A Population-Based Study," Child Abuse & Neglect 35 (November 2011): 937–45.
3. J. D. Ford, J. F. Chapman, J., & Albert, D., "Trauma among Youth in the Juvenile Justice Systems: Critical Issues and New Directions," 2007.
4. Vincent J. Felitti, MD, FACP, Robert F. Anda, MD, MS, Dale Nordenberg, MD, "Relationship of Childhood Abuse and Household Dysfunction to Many of the Leading Causes of Death in Adults the Adverse Childhood Experiences (ACE) Study," American Journal of Preventative Medicine, 14, May 1998.
5. "Injury Prevention and Control: Adverse Childhood Experiences (ACE) Study," Center for Disease Control.
6. J. P. Shonkoff, W. T. Boyce, and B. S. McEwen, "Neuroscience, Molecular Biology, and the Childhood Roots of Health Disparities: Building a New Framework for Health Promotion and Disease Prevention," JAMA, June 2009.
7. Jack Glaser, "Chicago State of Mind: How CBT Is Changing Lives in Inner-City Chicago," Brown Political Review, 11 November 2015.
8. W. E. Carter, "Task Force Resilient Final Report," RDML, Task Force Resilient, Department of the Navy (Washington, DC, April 2013).
9. "Requirements and the Demographic Profile of the Eligible Population: Weight Requirements and Rising and Differential Rate of Obesity," .
LIEUTENANT MANDIA serves as the battalion surgeon for Combat Logistics Battalion 3. He is a U.S. Naval Academy graduate and a Doctor of Medicine (Uniform Service University of the Health Sciences).