The voices of 1,700 sinners and a few saints rose in praise as the Bataan forged through the black night and the frigid waters of the Sea of Japan. Father John Coffey held the host aloft while the bells rang. Kids wearing navy blue and forest green knelt on the hangar deck to give thanks for an uncertain future. Corsair fighter-bombers of Marine Fighter Squadron (VMF) 212 stood in the dark nave of the steel cathedral. Red and green wing lights adorned the branches of a stunted Christmas tree that had been delivered by the faithful fleet oiler Cimarron (AO-22).
Lieutenant Commander David Hill played the small pump organ. He was a hard-drinking agnostic. Despite his Jewish faith, D. R. Milstein sang lustily in the choir. He was a plane pusher on the flight deck. Father Coffey would hold a service for the Protestant members of the crew and the Marine squadron on Christmas Day, but everyone came to the Midnight Mass. It was our Christmas. The Hungnam evacuation was complete.
I have attended masses in many great churches and cathedrals since the Bataan 's Midnight Mass in that bleak winter of 1950, but none have been as moving or as inspiring.
Morning on 24 December had arrived cold and gray, with snow flurries and biting winds. It was just another day of endless flight operations. Our gallant Marine pilots in their dark blue Corsairs were trying desperately to hold back the hordes of Chinese attempting to annihilate our troops. We had been at this routine since 17 December, with little time to do more than steal a few hours of exhausted sleep.
We had not yet received any Arctic gear. I remember vividly the bone-chilling cold. An uncommon act of charity made my life a bit more bearable: A crusty Marine sergeant had accompanied one of the last helicopters off the beach. As we tied down his machine, this fierce-looking man with a handlebar mustache saw me shivering violently. Marines are not notoriously kind to sailors and vice versa, but he took off his bloodstained parka and, without a word, wrapped it around me. That act of kindness left an indelible mark on my memory.
On Christmas Day, we sailed south for Pusan. Father Coffey was still hard at work when our two destroyer escorts—the USS Brinkley Bass (DD-887) and USS Arnold J. Isbell (DD-869)—asked for a chaplain. The sun was shining but the seas were acting up. Our orders to rejoin Task Force 77 did not permit us to slow or stop. The only way our 53-year-old chaplain could reach the rolling destroyers was to be lowered from our helicopter. The Bataan commanding officer, Captain Edgar Neal, asked Father Coffey if he wanted to volunteer for the hazardous mission. Father John immediately agreed, saying: "Those sailors need me today."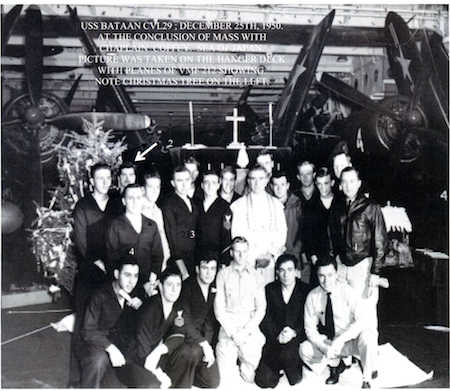 He was gone for the better part of Christmas Day. The metal shop fashioned a large set of naval aviator wings with the inscription "Sky Pilot." Commander Reginald Rutherford, our executive officer, presented Father Coffey with the wings when he landed on the flight deck. The whole flight deck crew and many of the Marine pilots were there to cheer. A few weeks later, two of those pilots, Captain A. H. Agan and First Lieutenant A. J. Ward, were killed in action.
The Bataan , with its Marine squadrons, made two more extended deployments to the Korean conflict and earned seven battle stars. After the war, Father Coffey's shipboard congregation went on to do good things with little fanfare, typical of the survivors of the "forgotten war."
Father John left the Bataan in 1953, after serving his sailors and Marines in all of the ship's combat cruises. Everyone remembered how he dragged liberty-bound kids to help out at an orphanage in Japan. He was known for taking groups of enlisted men to dinner and on tours of the atom bomb site in Nagasaki, to keep them out of the bars. Many of us remember him standing alone on the flight deck in the cold wind, his purple stole flapping, as he gave conditional absolution to the sea for those who did not return.
Father Coffey was released from active duty on 24 June 1953. In 1959, he was elevated to the rank of monsignor. On 23 June 1964, he went to join the saints he had transformed from sinners in the shadow of battle.
---
Mr. Fuss served on board the USS Bataan as a flight deck plane director. He subsequently completed college under the Korean GI Bill and worked 31 years for the National Oceanic and Atmospheric Administration. He is the author of two books and numerous maritime articles.