Then came the exit interview. After the sailor provided some standard feedback regarding his likes and dislikes from his time in the command, the conversation turned to the team-building day. This sailor stated that he did not understand why, on his day off, he was forced to hang out with people from work, and he would have preferred just to have a day off. Through my complete surprise, I explained that the day was never intended to be a day off, but rather a workday to get to know your squadron mates and improve team cohesion.
The exit interview forced me to acknowledge that I had failed to communicate as a leader. I did not ensure that the team-building day's intent was properly communicated through all levels of the telephone game. For at least one sailor—and likely more—the event was viewed as an unwelcome, forced obligation on a perceived day off.
After the exit interview, I decided to master the telephone game. Our leadership team found and developed trusted agents at all levels who would speak truth to power. Be it through formal or informal channels, open, two-way communications and well-placed trusted agents can improve message alignment within the organization. The benefits of this are twofold: First, this allows the leader's representatives to intercept and correct communications at the first modification instead of after multiple misinterpretations. Second, these trusted agents provide timely feedback to the leader on how the message is being received and, more important, acted on by his or her subordinates.
Communication within an organization may never be perfect, but the telephone game reminds leaders that original communications may get distorted—consciously or subconsciously, grossly or minutely—by the individuals receiving and repeating the information. It takes a well-attuned leader to acknowledge this and implement feedback loops both to improve policies and to ensure clarity of the leader's intent.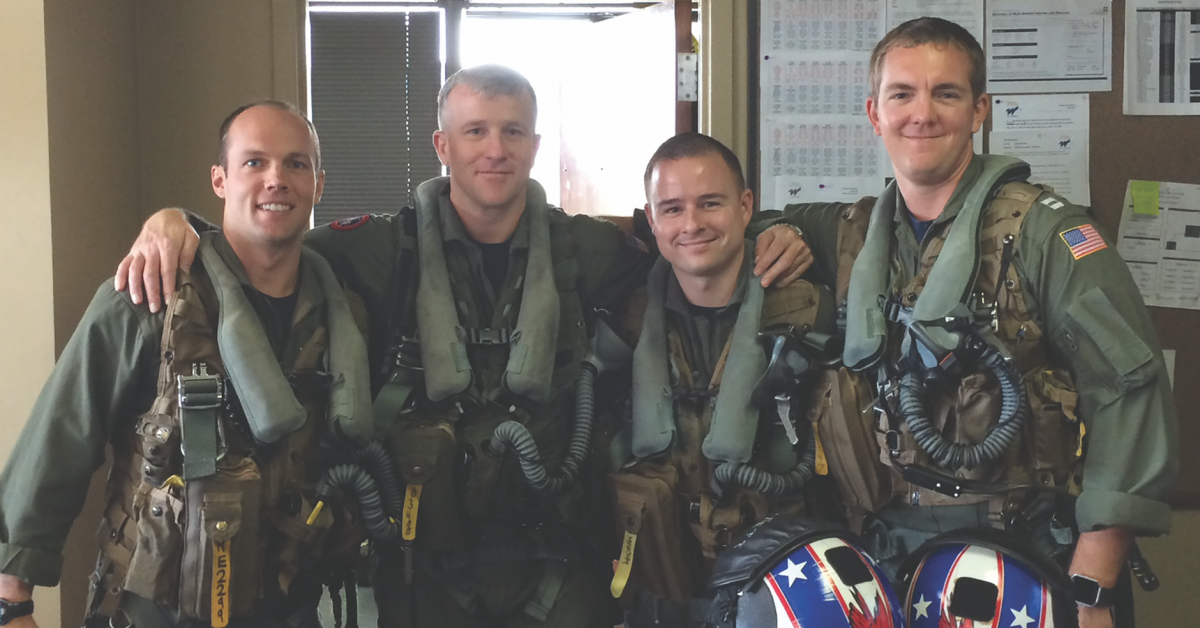 Commander Thomas Bodine (second from left) spends time getting to know his aviators, and letting his aviators get to know him.
Avoid 'the Dangers of Equal'
Nowhere is the risk of unclear communication more perilous for leaders than with disciplinary cases. The need to avoid the "dangers of equal" may best be revealed by comparing two legal cases that occurred during my command tour. Both cases involved serious infractions, and enough similarities exist between them to merit comparison.
In the first case, a sailor, age 22, was in a small town about 90 minutes away from base visiting his fiancée. Driving home from a concert, he was pulled over by police and asked to take a breathalyzer. He was arrested and charged with driving under the influence (DUI). This sailor did exactly as the Navy trained him: he used his one phone call to notify his chain of command that he had been arrested for DUI.
Prior to his arrest, this sailor was excelling in all aspects of his life. Personally, his marriage to his long-time girlfriend was scheduled to occur in three weeks. Professionally, he had just been recognized as Junior Sailor of the Quarter and was a leading candidate for Junior Sailor of the Year. He also was a top prospect for one of only four meritorious advancement awards. Within his work center, he was a peer leader and mentor, responsible for training personnel.
Prior to and during the final adjudication hearing, this sailor took full responsibility for his actions. He admitted to the DUI. I asked him if he understood that had he not self-reported, the command might never have known about the arrest. His response was, "It was the right thing to do." I asked if he was aware of the usual punishment for a DUI case, and he said he knew it involved "throwing the book at him."
The second case involved a different sailor, caught on video surveillance attempting to steal a soccer shirt and two pairs of soccer shorts from a department store on base. Unlike the previous case, the command learned of the offense through a phone call from the local Naval Criminal Investigative Service (NCIS) agent and not from the involved sailor. As in the first case, this person was an intelligent, well-liked sailor. He had a natural leadership role among his peers, in part because he had joined the Navy a little later in life.
During his final adjudication hearing, he claimed he was stealing the clothes for his nieces in Central America, who needed the outfits because they were being scouted for college soccer programs and could not afford to buy the clothes themselves. During questioning, he admitted this was not his first time stealing. When asked directly if he knew what he did was wrong, he refused to admit that his actions were unethical, claiming altruism for his impoverished distant relatives. When asked how his worldview fit into the Navy's core values of honor, courage, and commitment, he had no answer.
What were the "dangers of equal" in these two cases? The apparent equity—not the equality—of the leadership decision in these legal cases was going to have a significant influence on unit morale and trust in leadership. Our sailors ultimately would judge my leadership based on whether they perceived my decisions fair rather than whether both individuals received the same punishment.
In the case of the DUI, a top-performing sailor willingly executed everything the command asks of a person arrested, took full ownership of the transgression, and fully accepted that his punishment carried the possibility of missing his wedding and his removal from service. In my judgment, his integrity and ownership demonstrated his aptitude for continued naval service. His punishment consisted of a reduction in rank; the forfeiture of a half-month's pay for two months, suspended pay for six months (meaning if he remained out of trouble for the following six months, he would not have to forfeit his pay); and confinement in the restricted barracks for a total of 38 days, starting the morning after his wedding. I did not seek an administrative separation.
In the theft case, the sailor refused to admit wrongdoing and showed no remorse for his actions. I judged that his actions were in direct contradiction to the Navy's core tenets, thereby disqualifying him from naval service. This sailor was reduced in rank, forfeited a half-month's pay for two months, and was placed on restriction for 60 days. I requested he be administratively separated from naval service, and within 30 days of the hearing he no longer was in the Navy.
It was clear to me that some members of our command might latch on to the seemingly inequitable punishment of similar offenses. In the DUI case, I was confident the crew would understand the punishment. The sailor was held accountable for his mistake and received a punishment that approached the expected "throw-the-book" limit. Given the sailor's integrity and forthright actions, my decisions not to separate him from the Navy and to delay his restriction until after his wedding were justifiable.
In the theft case, however, there was a real threat that a distraught and disgraced peer leader might adversely influence his coworkers. Given the ethical values expressed by this sailor, he undoubtedly perceived his punishment as unfair. To mitigate these potential effects, we invited those most at risk of being negatively prejudiced by this sailor to observe the legal proceeding. After the hearing, this group was invited to discuss the outcome. In the end, each observer placed varying levels of importance on different aspects of the case, but not a single one disagreed with the fairness of the outcome.
As these two examples illustrate, leaders must account for second-order effects of their disciplinary decisions. Groups within the command—friends, rivals, counterparts, and casual observers—are judging a leader's actions from afar. They will judge the outcome's equity on the decision itself and the complete, incomplete, or inaccurate information available. Each person will construct expectations of how future interactions with the leader will play out, and these expectations will influence immediate behaviors, long-term morale, and mission effectiveness. Leaders who have given due diligence equally to the first- and second-order effects of their decisions inspire lasting confidence.
To Thine Own Self Be True
Failure to be true to yourself is the fastest way to undermine confidence. There is a moment in Shakespeare's play "Hamlet" when Polonius, counselor to the king—whose judgment is generally wrong—gives one good piece of advice: "This, above all: to thine own self be true, and it must follow, as the night follows the day, thou canst not then be false to any man." This is excellent advice to any leader, but especially to first-time leaders or junior leaders entering positions of greater responsibility.
No single leadership style is universally applicable. Based on specific circumstances, successful leaders must learn to adapt their styles and approaches to maximize positive outcomes. As leaders adapt their styles to meet given challenges, they must carefully guard against running afoul of Polonius's advice. First, leaders must not begin a new position under the false assumption that the position itself requires them to be who they are not. Second, once in a job, a leader must not allow the stress to produce results to pressure him or her to assume a different persona. Violating Polonius's advice in either of these manners can lead to disastrous outcomes.
As Polonius reminds the king, "Thou canst not then be false to any man." A person ascending into a leadership position because he or she is a collaborator and analytical genius cannot suddenly become the gut-feeling, fiercely independent decision maker. Conversely, an individual hired to tear down institutional silos and dramatically change corporate processes cannot instantly become the supervisor that defers all decisions to subcommittees for review.
People generally have pretty good BS detectors. When a leader is disingenuous, subordinates are quick to catch on. If this situation continues, a leader will be labeled a fraud and no longer will hold the trust of his or her followers. Trust always is strengthened by authentic leadership. It is important for leaders to remember that the person or group that placed them in that supervisory position had confidence in their ability to succeed.
Leaders must carry that confidence in themselves forward, using it to master the feedback loops associated with the telephone game and the complexities inherent to the dangers of equal. Throughout the leadership journey, leaders must genuinely communicate who they are and always strive to be the best version of their own selves!