The service must elevate disaster response as a critical mission and a budget priority on par with fleet recapitalization. It is time to close the most significant gaps in capacity and capability. The Commandant set the stage in his "Strategic Intent 2015–2019" by identifying building capacity for major incident response operations as a theme under "Building the 21st Century Coast Guard."2
Future Crisis Response
We cannot know the times and places of the next disasters, but there is no reason to expect a reprieve. Researchers suggest the Pacific Northwest is overdue for an earthquake and accompanying tsunami, whose devastation will dwarf any of the aforementioned disasters.3 Both the San Francisco Bay Area and Los Angeles are at high risk of a major earthquake within 30 years.4 Ten years ago, a Spill of National Significance (SoNS) exercise simulated the looming catastrophe associated with the New Madrid fault, which would devastate the United States' heartland, inland waterways, and major cities.
The threat of terrorism, increasing far-offshore oil production, and commercial expansion into the Arctic are among the many reasons to anticipate further man-made disasters. Mass migration because of political and/or climate-based instability is another. Climate change projections suggest weather-related natural disasters will continue and likely intensify. As the Department of Homeland Security's most capable search-and-rescue force, the Coast Guard will continue to respond to hurricanes as well as to devastating floods far from the coast.
The disasters of the 21st century have seen Coast Guard officers assigned as national incident commander, principal federal officials, federal on-scene coordinators, and in countless other leadership positions, at all levels, across the full range of incident command. Not only will Coast Guard operational forces in virtually every mission area continue to play key roles in crisis responses, but the service also will be relied on to man a vast array of command and support functions. Unfortunately, the service's success in tactical operations and integrated command leadership during disaster responses makes it easy to overlook significant gaps and weaknesses.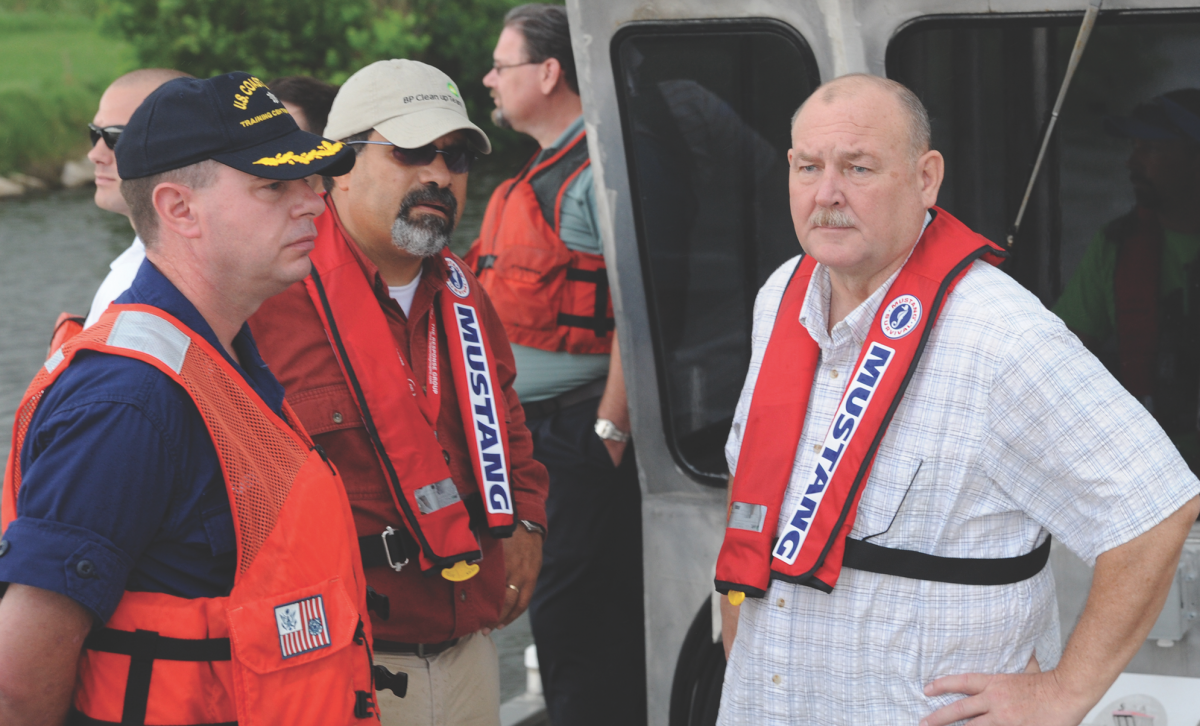 Surge Incapacity
The U.S. Coast Guard is (under)resourced to be employed 100 percent of the time, 24/7, across all missions. Operational units are spread across hundreds of communities large and small, where they are relied on to perform daily prevention and response missions and serve as local first responders similar to police and fire departments.
No forces are kept in garrison. The service lacks the capacity to assign units to training in preparation for deployments. Instead, deployments in response to national crises pull members from fully employed operational commands. The public expects the Coast Guard to be able to surge and sustain full operational capabilities in every port, but the reality is those ports are exposed to risk—sometimes significant—for the duration of the surge, which also weakens future readiness the longer it lasts.
The Irma and Maria recovery efforts, for example, are still ongoing, with Coast Guard pollution response and other personnel playing key roles. As was the case after Katrina and Deepwater Horizon, those responders will leave gaps in vessel and facility inspections in their home ports, potentially delaying commercial maritime activity and increasing safety, environmental, and security risks.
Stressing capacity further, the service maintains no operational spares. The loss of even one airframe can derail a planned transition (for example, the delay from 2010 to 2017 of Air Station Traverse City's switch to MH-60T helicopters) or back up the aviation training pipeline to the point where new pilots languish unqualified at their units for up to a year.
Throughout the height of the Deepwater Horizon oil spill in 2010, Coast Guard senior leadership's greatest fear was the possibility of a second major event—a hurricane, a terror incident increasing maritime security levels, or a mass migration—which would have overwhelmed responders as well as sector, district, area, and headquarters staffs already stripped to support Deepwater Horizon. Ironically, months before the spill, the White House planned to cut the Coast Guard's budget 3 percent, including a loss of 1,100 active-duty personnel.5
Gaps
In addition to the need for greater active-duty and reserve strength, lessons-learned reports have highlighted the need for more specialists in marine environmental response, contingency planning, National Incident Management System/Incident Command System liaison, Marine Transportation System Recovery, external affairs/public relations, and crisis management, among others.
Concerned that pushing for the manpower increase necessary to meet documented needs would jeopardize the even more dire requirement for recapitalization of the surface fleet, the Coast Guard chose until recently to underemphasize its personnel needs. Coast Guard Commandant Admiral Paul Zukunft foreshadowed his intent to adjust that strategy in 2015: "We will develop a force planning construct to address future risks by ensuring the capability to simultaneously respond to major events and conduct steady-state operations."6 Last year, he went on record that the service needs 5,000 more active-duty personnel and 1,100 more reservists.7 The true need is probably double these numbers.
The "BP Deepwater Horizon Incident Specific Performance Review" (ISPR) details the characteristics and qualifications of an effective crisis leader (in a section the service should adopt as doctrine in "Coast Guard Publication 1: Doctrine for the U.S. Coast Guard").8 It also notes the Coast Guard's relatively shallow pool of experienced, qualified senior crisis leaders prepared to step into a leadership role in a catastrophe:
Coast Guard District Commanders and Sector Commanders have many significant and ongoing responsibilities, including crisis management related to search and rescue, security, law enforcement, natural disasters, and oil spills. However, officers assigned to these positions are seldom selected for their crisis management skills. Further, the opportunities to train in crisis management or to hone leadership skills are limited. Experience in crisis management is largely a matter of geographic and temporal happenstance and not necessarily a planned progression to achieve competence in the discipline.9
On-Scene Initiative
On-scene initiative is not just a catchphrase in the Coast Guard; it is one of the key attributes responsible for its success in daily operations and crisis response. However, over the past few decades there has been an insidious creep in real-time tactical "guidance" from above in the chain of command to on-scene units.10 This intrusion is driven in part by the instantaneous nature of communications and media, leading to a constant need to "feed the beast" with information during a rapidly evolving event.
The extraordinary intrusion of the White House and Department of Homeland Security into an array of operational and tactical decisions during the Deepwater Horizon response is one example. Another happened a decade ago, while I was speaking with a heavy weather station officer in charge, a senior chief boatswain's mate, about his perceptions of excessive oversight from above. My sector response chief called, advising that the district had just called to ask for a status report after seeing a CNN video of a floating casino fire. The CNN report was our first notice of the fire. The senior chief just looked at me and chuckled.
The real concern is that over time, with excessive oversight early in their careers, leaders will reach positions of authority with fewer experiences of truly independent decision making and thus less confidence in exercising on-scene initiative. The Coast Guard must compensate for this decreased experience with additional training. Leaders also must be mindful to allow their subordinates the same latitude they enjoyed earlier in their own careers whenever possible.
Knowledge Management
Former Hewlett Packard chief executive Lew Platt famously remarked, "If only HP knew what HP knows, we would be three times more productive." Likewise, if there were systematic processes for Coasties to take advantage of the deep stores of knowledge and hard lessons learned captured on paper and in the minds of disaster veterans, the service would gain immeasurably.
Report after report, however, documents that we are good at collecting lessons but weak at learning them. The Deepwater Horizon ISPR concluded, "It is evident to the team that many critical lessons learned are not addressed programmatically or implemented effectively and, as such, had little role in enhancing the Coast Guard's planning, preparedness, and response programs."11
There are cultural, technical, and resource reasons why many postdisaster recommendations repeat those that came before. Not least of these is the lack of adequate personnel capacity and bench strength. When responders return to their home units, there is no time post-incident to reflect on what happened.
After-action reports—into which great effort is put to ensure lessons are captured for the benefit of others—are deposited in the Standard After Action Information and Lessons Learned System (SAILS) database, but with the exception of contingency planning staff who use the Coast Guard After Action Program, there are no programs of systematic professional development to ensure the reports are widely read and their lessons instilled in junior and mid-grade personnel. In addition, some of the service's most valuable lessons-learned reports were internally embargoed and are difficult if not impossible to access. These include the August 2011 "Deepwater Horizon Strategic Lessons After Action Report"; the May 2006 report of the Disaster Response Information Management Task Force, "Preparedness for Incidents of National Significance Strategic Issues and Recommendations"; and the January 2006 "Hurricane Rita Principal Federal Official After Action Report."
As Admiral Thad Allen liked to say, "Transparency of information breeds self-correcting behavior." After spending thousands of valuable staff hours compiling these exceptional reports, the Coast Guard must make them easily accessible to the next generation of leaders. It must stop reinventing the wheel.
A Coast Guard Command and Staff College
These gaps in knowledge management are symptomatic of a greater need for a common mid-career professional development curriculum. The recently initiated Midgrade Officer Career Transition Course is a great start, but it is long overdue for the Coast Guard to develop its own Command and Staff College.12 This school would provide a well-rounded education in the service's competencies, capabilities, mandates, and authorities and their application in both steady state and surge operations, include catastrophic, whole community responses.
It would include case studies and lessons learned from significant operations. Surge operations would be run as war games, building on and expanding access to the excellent Training Center Yorktown On Scene Commander/Crisis Management course, to include realistic, disruptive political and media inputs, advanced Incident Command System courses, and different tracks for specialty training.
The school's leadership lens would be both the Coast Guard Principles of Operations and the principles of Meta-Leadership, as taught by the National Preparedness Leadership Initiative.13 Derived through analysis of leaders in catastrophes, Meta-Leadership builds skills for leaders to take immediate action in complex, multidimensional situations. It speaks to the cross-programmatic world incident commanders and sector commanders must deal with. Currently, however, only flag officers' attendance is funded by Coast Guard Headquarters. Requiring this training for mid-career officers would address many of the crisis leadership concerns highlighted in the Deepwater Horizon ISPR.
To stand up a staff college, the resource commitment—not only funding staff but also increasing the total force strength to allow officers to rotate out of their units to attend—would be significant. But it is past time to devote the same seriousness to our leaders' professional development as do our peers at the Department of Defense.
Building Capacity for the Future
Neither catastrophic disasters nor the national need for a Coast Guard with the capacity and capability to respond vigorously and effectively are going away. The next few decades likely will bring the challenge of multiple, simultaneous major events.
The Coast Guard repeatedly has demonstrated it has the unique skills, organizational culture, and legal authorities to move swiftly into a disaster zone and take effective action at the tactical, operational, and strategic levels, but no longer can it take disaster operations out of hide. It is time to recognize and fund disaster response as a core Coast Guard mission and build the bench strength—in people and assets as well as experience and qualifications—to sustain surge operations without degrading readiness and normal operations unacceptably.
---

1. " U.S. Coast Guard Operations During Natural Disasters & Incidents of National Significance ."
2. "Commandant's Strategic Intent 2015–2019," 15.
3. Kathryn Schulz, "The Really Big One," The New Yorker, 20 July 2015.
4. Robinson Meyer, "A Major Earthquake in the Pacific Northwest Looks Even Likelier," The Atlantic, 11 August 2016.
5. Spencer Hsu, "Coast Guard Commandant Says Budget Cuts Will Hurt," Washington Post, 12 February 2010.
6. "Commandant's Strategic Intent 2015–2019," 19.
7. Hope Hodge Seck, "After Coast Guard Budget Scare, 'We Need to Keep Shouting,'" DOD Buzz, 4 April 2017.
8. " BP Deepwater Horizon Incident Specific Performance Review (ISPR) Final Report " (January 2011), 57-61.
9. Ibid., 59.
10. See BMC Phillip Null, USCG, "Don't Micromanage Response Boats," U.S. Naval Institute Proceedings 144, no. 1 (January 2018), 64–66.
11. "BP Deepwater Horizon Incident Specific Performance Review (ISPR) Final Report," 10.
12. See also CAPT Buck McDermott, USNR, "Establish a Maritime War College," U.S. Naval Institute Proceedings 144, no. 1 (January 2018), 14.
13. Coast Guard Publication 1: "D octrine for the U.S. Coast Guard " (February 2014) ; and Leonard J. Marcus, Isaac Ashkenazi, Barry Dorn, and Joseph Henderson, "The Five Dimensions of Meta-Leadership," Harvard School of Public Health (November 2007).
---
Captain Jones commanded Sector Columbia River, Sector Lake Michigan, and Air Station New Orleans (during Hurricane Katrina). He served as Chief, Office of Strategic Analysis, at Coast Guard Headquarters. An aviator with more than 5,600 helicopter flight hours, he holds a master's in public administration from Syracuse University and a bachelor's degree from Washington and Lee University. He currently serves as a city councilor and deputy director of the Columbia River Maritime Museum in Astoria, Orego