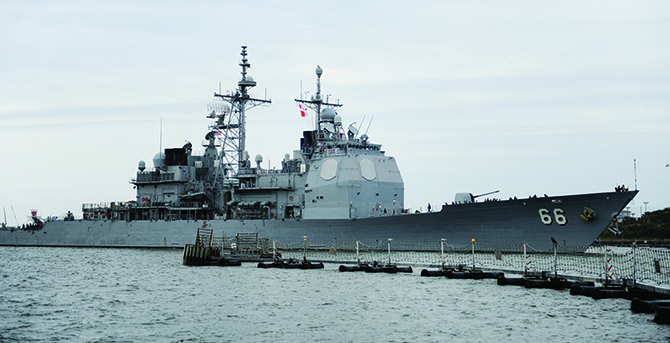 My Sea Story
The USS Hue City (CG-66) departed Mayport, Florida, on 10 April 2014, deploying in support of European NATO allies. Many members of the crew were leaving home less than ten months after a ten-month "double-pump" deployment to the Arabian Gulf with the USS Dwight D. Eisenhower (CVN-69). The double-pump came from a need to complete necessary maintenance for the Ike and get her immediately back to sea because of longer-term maintenance challenges with the next carrier in line. Those of us on board, especially crewmembers like me who joined the Hue City just after the marathon run with Ike, were excited to see the ports of Europe, especially cities in the Baltic—a somewhat rare treat for sailors who joined our Navy after 11 September 2001. As the Hue Cit y's executive officer (XO), I knew the professional challenges of this deployment would be much stronger than the ceremonies and exercises we were preparing to support. Unfortunately, I had no idea how daunting those challenges would become.
I had the pleasure and privilege of working for two superb yet different captains during the run up to deployment. I tried to be the leadership yin to each captain's yang while navigating the Hue City through a brief dry-dock availability and compressed training cycle. It was a complex juggling act, further complicated by a change of command with one day of turnover less than two months prior to our departure for Europe.
We departed on 10 April with the clearly stated purpose of getting back to basics after dashing through a series of final exams with the Afloat Training Group. The commanding officer (CO) and I were intent on focusing on good habits during the transit as the pace of deployment preps highlighted a growing problem with procedural compliance that mandated more zone inspections, a safety stand-down, and even a few rounds of captain's mast.
On 14 April, roughly 200 miles north of Bermuda, deployment preps were over and everyone was happy. Our stellar damage control assistant (DCA) and chief damage controlman (DCC) were touring fanrooms since we left Mayport, clearing out flammable items sailors squirreled away before our departure. It was a task they had set for themselves, and they gave frequent updates to me regarding their occasional finds.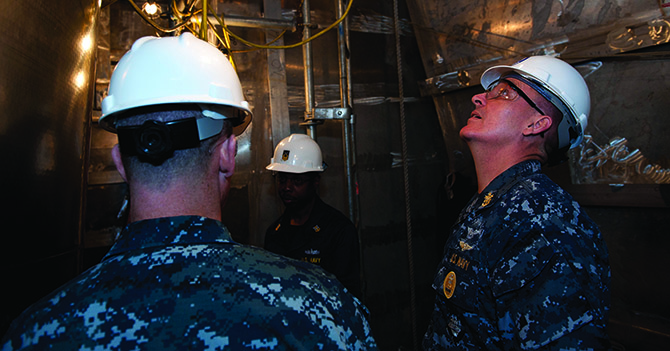 Unfortunately, amid all of these efforts, one space escaped our attention. I did not account for it when I directed changes to our zone inspection program. The program needed extensive revisions because a large number of spaces were missing from records, and there seemed to be a general lack of awareness about what spaces were in each zone. From this assessment, and with the knowledge that the Hue City was heading directly into another training cycle without a complete maintenance phase, I aligned the zone inspection program with the division in the spotlight program and had each division account for its spaces, believing this would resolve the problems of missing spaces without requiring going through roughly 500 spaces to figure out if any were missing from the roster. My intent was to revise the instruction at the end of the basic phase of training, which coincided with the start of the Baltic deployment. It was a project the administrative officer had just started working on for us.
Three weeks prior to leaving Mayport, a working party filled the forward uptake room with a delivery of more than 100 bales of rags that would be used to clean engineering spaces during the deployment. In layman's terms, the forward uptake room is a space that surrounds exhaust pipes for the two main engines and gas turbine generator that operate in main engineering room number one. After four days of continuous operations, those exhaust pipes reached a temperature that caused the rags to ignite around 1800 on the evening of 14 April.
Engineering Casualty
The events that followed were at once the most horrifying and beautiful of my career. I had just finished dinner and was returning to my stateroom when I heard a call on the main 1MC (circuit public address) that there was a fire in the forward generator. I ran to the engineering control room (CCS) to monitor the problem. I was informed that the generator had ingested smoke from the fire that had been smoldering in the forward uptake room, and was not actually on fire. The engineers on watch followed established procedures upon seeing the smoke and protected the engine from additional damage.
Gunner's mates, getting in exercise on the weather deck three levels above the source of the fire, saw smoke starting to build out of the exhaust trunk and heard the call on the 1MC. Without flinching, they ran for hoses and began pouring water into the exhaust room, which had quickly spewed flames. At the same time we received their reports, additional reports from two decks above the source of the fire indicated there was an electrical fire near the electronics technicians' shop. We quickly discerned that the "electrical fire" actually was smoldering insulation in cableways surrounding the uptake room. It was then clear that we had a major fire building in our forward exhaust trunk.
I ordered general quarters set, and the complex ballet of closing fire doors and dispatching fire parties began. Each repair locker went to a different deck. Repair 5 worked the engine room and the source of the fire. Repair 3 minimized the damage around the electricians' shop, and Repair 2 relieved the gunner's mates and continued their work topside. Damage control training team members joined the sailors they had worked so hard to train and took charge of efforts on the scene. While I guided firefighting efforts, the DCA gathered critical information from each station. When I needed to consult with the main propulsion assistant who maintained control of the engineering plant, the DCA took the microphone and guided the crew without missing a beat. We traded on and off like this for about an hour until I left engineering to survey the scene to ensure our efforts were in sync with the teams working around the ship.
Along the way, I passed an experienced sailor reassuring a scared, young seaman recruit and a beehive of activity surrounding the forward uptake room. The crews had heroically contained the 1,900-degree Fahrenheit fire, preventing it from igniting a much more dangerous fire in the engine room below, in the adjacent paint locker, and the small arms magazines above. There were hours of reflash watches and overhauls ahead, but the crew had saved the ship. We returned home for extensive aluminum structural repairs, but the crew had performed magnificently, and our only injured sailor was a fire party member who twisted his ankle running to his repair locker.
I have participated in Tomahawk strikes against the Taliban and negotiated the release of 24 Russian and Ukrainian citizens held captive by Somali pirates. The Hue City fire was, simultaneously and without exaggeration, both the darkest and brightest moment of my naval career. But little did I know that fire would be the easiest test of my character among the professional challenges that would follow.
The Darkest Days
When we returned to Mayport three days later, the homecoming party there to greet us consisted of engineers, inspectors, and investigators—a group from Naval Sea Systems Command to conduct engineering assessments of the damage, a group from the Naval Safety Center to investigate the mishap, and a group from Naval Surface Forces Atlantic to conduct the investigation.
The crewmembers earned plaudits from the investigating officer for their candor and professionalism, and several sailors were recognized in his report for bravery and skilled work in saving the ship. Nevertheless, everyone in the crew knew that mistakes were made, and some, if not all of us in leadership positions, knew that we would be held accountable for the mishap we failed to prevent.
When accountability was assigned for the fire, I was the first and most senior officer to be removed from my post. For me, this happened at an admiral's mast away from our homeport. My punishment and official photo were posted in the Navy Times indicating that I did not respond to a request for comment. The CO was left to mete out punishment for the engineering department chain of command a few days later. It was gut wrenching.
On the following Saturday, I returned to my stateroom to collect my belongings. I locked the door and yelled, with tears in my eyes, for a good ten minutes—finally releasing the frustration and anxiety that had been building. When I emerged a few minutes later, several of my shipmates, officers, chiefs, and sailors helped me with my things. More tears were shed. The promotion for which I had been selected was held up (eventually removed) and my future in the Navy was a matter of speculation. It was awful, but it turned out to be a blessing in disguise.
The Journey Back
I received some exceptional advice and unbelievable emotional support from friends, family, and colleagues in the days that followed my relief. One benefit to getting fired from a job that I somehow managed to do well—yet not well enough to hold onto—was hearing the things people might have said at my funeral without having to die. Folks came to my house to visit, laugh, and share stories with me that assuredly were not on the agenda when I was driving the crew to pass engineering and combat systems assessments. Perhaps most significant, I received some important advice that summer and gained perspective on living a successful life.
The first bit of advice came from a Defense Service Office attorney, Lieutenant Kevin Larson, who recommended that I seek the opportunity to continue to make an impact. This helped me overcome the bitterness that easily could have settled in after I was relieved. Larson's guidance was meant to help me demonstrate that I should be retained at a looming "show cause" board because it would show that I still was "value added" to the Navy. I took this as philosophical advice as much as tactical guidance.
That choice turned out to be one of the best I made after the fire. Instead of treading water at the local destroyer squadron staff, I asked to be assigned to the Fourth Fleet staff, where I would assist the Chief of Staff, Captain Steve Shinego, in supporting a major annual exercise and in making the headquarters staff ready to deploy on short notice. Now retired, I count Steve as one of my most treasured mentors. He shared great stories and helped me navigate through the appellate process, taking the time to review and refine all of my correspondence to the various chains of command and lawyers who reviewed my case.
Steve taught me the following lesson to put into practice: "You will never regret taking the high road." This helped me stay positive, analytical, and professional amid many temptations to do otherwise. Over the course of our many conversations, Steve helped shape my philosophy for leading a shore staff in my current XO position. He also helped me appreciate that no matter what course my career would take, my most important responsibilities would be to raise my daughters and love my wife.
Having successfully achieved recognition that I should be retained in the Navy without having to show cause for retention at an administrative separation board, I looked forward to a new opportunity. Though I had thoughts of carrying on a family teaching tradition and asked for instructor duty, I was "encouraged" by the Navy Personnel Command to fill a billet about to be gapped at the Washington Navy Yard, and so I headed off to be the installation executive officer of Naval Support Activity Washington (NSAW).
The Way Ahead
Of the many hidden blessings that came to me after the Hue City 's fire and its consequences for my career, I am thankful for being released from concerns about my next tour of duty. Many naval officers lose more than they gain from the planning that goes into "checking the blocks" along the up-or-out path of service in the officer corps. At NSAW, I have matured as an XO and devoted myself to the success of my team, and we have accomplished more together than I imagined possible. I am fortunate to have a broader perspective on what is important and what I can accomplish than I had before the fire. I finally recognized that my professional value and self-worth have little to do with the content of my resume, and everything to do with the content of my character.
I also have learned that the passion that sustained me through four years at the Naval Academy had little to do with the degree I earned or my service selection. Sunsets at sea and starlit nights are beautiful. Shooting guns and crashing through waves at 30 knots is great fun, but these are mere moments in time.
Today I find my professional joy in the journey of service and leadership. The best part of going to sea is the camaraderie you build with your shipmates. Being a part of the shared sacrifice is a feeling I cherish and for which I am thankful. In my transition to the world of shore-installation management, I have found the same joy by ensuring the safety of those who serve on the installation team and by giving our people what they need to create their own success. It has been fulfilling and enjoyable and has given me a professional star to follow long after my service in uniform.
Closing
Failure is terrible and painful. I would not recommend it to anyone. My hope is that the catastrophic moment that struck my shipmates and me off the coast of Bermuda never happens to any readers of this piece. Everyone should recognize, however, no matter how hard you work and no matter what good you do in your naval career, catastrophe can strike at any moment. What I learned matters most is how you respond when tested and what you do to sustain yourself, your shipmates, friends, and family as time passes. I likely will never stop thinking of what else I could have done to prevent the fire. In some ways, it has kept me sharp and aggressive in resolving problems in my current tour. I never lose sleep over what happened on my cruiser because I know that I did what I had to do to keep my shipmates safe at a dangerous moment. I live a happy and productive professional life because I have stayed positive and committed to the service and leadership.
---
Lieutenant Commander Liddle is the executive officer, Naval Support Activity Washington.