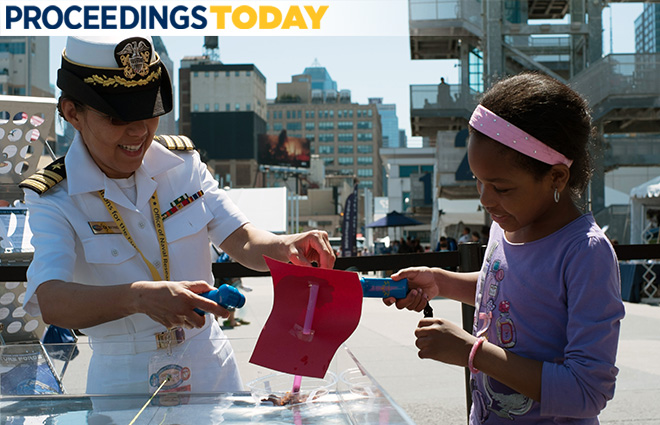 Senior Pentagon officials are sounding the alarm – military readiness has reached a dangerous low point.
In a report released in June, military officials warned the Government Accountability Office that "the result of the current state of readiness is that military forces are not strong enough to protect vital U.S. national security interests from worldwide threats." While some may look toward Congress and its continuing resolutions, or mandatory cuts and sequestration of defense spending, as a root cause, a key factor in the degradation of military readiness involves a very personal element: service members and their young families.
Ask any service member and he or she will tell you that the quality of education for their children is of top priority. In a direct hit on readiness, military families are making choices about whether to accept a particular duty station or, worse, leave the armed forces based in part on the quality of the military bases' schools.
Earlier in 2017, a Military Times survey spelled out the connection between the K-12 education of military-connected children and readiness. More than one-third of respondents said that dissatisfaction with a child's education is "a significant factor" in deciding whether to continue military service. And 40 percent said that they have either declined or would decline a career-advancing job at a different installation in order to remain at their current military assignment where high performing schools are available.
The vast majority of the respondents – 78 percent – have spent 11 years or more in the armed forces, representing the backbone of the military, and are opting out of assignments or leaving the armed forces.
Some 70 percent of respondents said that moving between states added challenges to their children's education. All parents, military and civilian alike, deal with the problems of inconsistent education standards from school district to school district, or state to state, and schools that do not properly prepare children for career or college. But what sets military families apart is that they are highly mobile, with their children often attending as many as nine different schools during their K-12 years.
The result is that more than 1,000,000 military-connected children, most of whom attend public schools, are exposed to inconsistencies of U.S. education at a rate far exceeding that of their civilian counterparts. The education of military-connected children can suffer.
Recognizing the issue for its service members, Pentagon leaders last year unveiled a policy allowing personnel to remain longer at a particular duty station in exchange for extended service. The action was in part a response to complaints by service members parents who are loathe to move if their children are ensconced in a district with high performing schools.
But more help is needed to address this aspect of the readiness issue.
What can our leaders do? For starters, transition materials can alert military families with school-aged kids to a watershed development at the local level – something known as the Military Student Identifier.
The new K-12 federal education law, the Every Student Succeeds Act, has created a new demographic category. For the first time, federal law requires all states to identify military-connected students and monitor their academic progress – including test scores, attendance and graduation rates. This is a huge development for military families. A recent study by the Arlington, Virginia-based Lexington Institute highlighted the importance of these coveted data.
"Advocates for this change felt that without better data, decisions about military-connected students, and the programs, staff, and funds that support them, are in danger of underserving their needs by operating on intuition alone." Military leaders need to ensure that families self-identify as military-connected when enrolling their children at local schools. Better data will yield better programs for military-connected kids and help mitigate a service member's anxiety about local school performance.
In addition, military leaders can work with school districts surrounding installations to actually beef up education, something that the military is test driving in its successful Military Child Pilot Program.
This effort is aimed at raising the science, technology, engineering, and math (STEM) education standards, opportunities and measurable outcomes at public high schools that service military children by bankrolling more Advanced Placement classes. The National Math and Science Initiative is one of the main congressionally authorized programs set up to work with high schools on this program.
The National Math and Science Initiative's College Readiness Program has been implemented in more than 1,000 U.S. schools, and is yielding significant dividends. Using the highly rigorous Advanced Placement exam qualifying score (3 or better on a 5-point scale) as the benchmark, program schools have seen an average 152 percent increase in successful math and science examinations after three years in the program. By this fall, 215 military-connected high schools will be engaged.
As they plot how to improve overall readiness, members of Congress and the nation's military leaders need to recognize that each of those military-connected children has at least one parent in the armed forces, a parent at risk of leaving if the education of their children suffers.
---
A former U.S. Navy officer, Jim Cowen is executive director of the Collaborative for Student Success. Marcus Lingenfelter, who served in the U.S. Marine Corps, is senior vice president of state and federal programs at the National Math + Science Initiative.