NEW & NOTEWORTHY BOOKS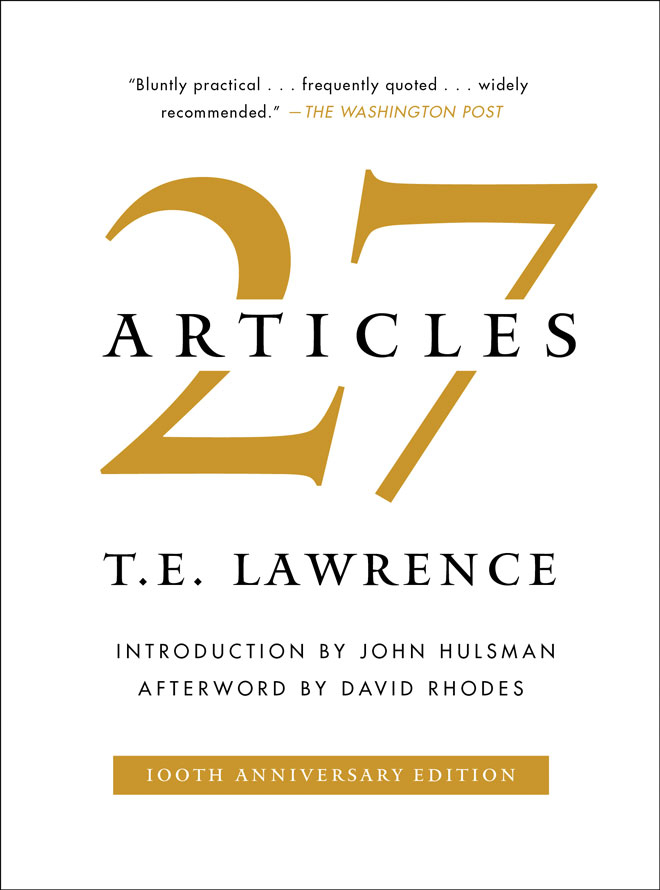 27 Articles, 100th Anniversary Edition
By Captain Bill Bray, U.S. Navy (Retired)
T. E. Lawrence. New York: Simon and Schuster, 2017. 57 pp. $9.99.
Reviewed by John A. Nagl
On 20 August 1917, a young British Army officer published "27 Articles" in the Arab Bulletin. The articles were a compilation of lessons learned from his two years advising Arab armies in their revolt against the Ottoman Empire during World War I. The officer, of course, was Lawrence of Arabia.
T. E. Lawrence had studied history at Jesus College Oxford and was working as an archaeologist in Syria at the outbreak of World War I. He volunteered to join the British Army, and his fluency in Arabic and ability to integrate fairly seamlessly into the Bedouin culture gave him significant influence in a small campaign—Lawrence called it "a sideshow within a sideshow"—that demonstrated the increasing importance of insurgency in an era of improved explosives and other weaponry.