"You midshipmen are the best and the brightest America has to offer." This quote from a Forrestal Lecture ran through my head as I awaited my chance to ask a question at the October conference cosponsored by the U.S. Naval Academy and the U.S. Naval Institute. The panel—former Secretary of State Colin Powell, Bob Woodward, Admiral Gary Roughead (Retired), and Vice Admiral Robert Harward (Retired)—constituted the most impressive group of speakers in Academy history to discuss the topic of whether and how military members should involve themselves in politics, and I would be damned if I did not at least try to ask something. At first I could not remember which speaker had said we were the best and brightest, but then it struck me. They had all said that. I am sure the same is true for every visitor to West Point and the Air Force Academy, whether it's a senator, the Secretary of the Army, or a last-second stand-in speaker. All lecturers open their speeches with some version of the same compliment.
In my mind, this, then, begged the question: If every one of these titans of politics, industry, and the military are to be believed when they tell midshipmen and cadets they are the smartest and best that the country has to offer, why would this large population of intelligent and engaged individuals be permanently sequestered from participating in the crucial political debates facing our nation? Despite the irrationality of doing so, the current norms of the military direct most service members to avoid all political engagement, and many in the military are actively hostile toward those who engage in political discourse on their own time.
I think differently. I believe there is an appropriate and legal way for members of the armed forces to be politically involved while serving. In fact, failure to do so is depriving the U.S. marketplace of ideas and critical input from thousands of individuals who have important insight, experience, and knowledge. At the conference, some panel members suggested that political activity out of uniform, even by retired military members, was inappropriate, despite the lack of any prohibitive regulation. One panelist asserted that the role of military members was limited to creating "nonpartisan" policy. But doesn't this limitation waste taxpayers' investment in our quality education? The Naval Academy was recently rated the number-one public college in the nation, yet the beneficiaries of this unrivaled education are prevented from sharing what they've learned.
At the rate of millions of dollars per year, U.S. citizens are bankrolling an education from which they reap only a fraction of the possible return—because of norms of political silence imposed by the military on itself. I believe these standards are based on erroneous beliefs.
It is unhealthy for any democracy to have a significant and well-educated portion of its citizenry disengaged from political discourse. While former officers certainly have a role to play in crafting policy on a bipartisan basis, as asserted by some panel members, that is not the end of our duty as citizens in the political arena. Current and former officers must appropriately, and respectfully (as Secretary Powell pointed out) engage politically. A major component of the Naval Academy's mission is to prepare midshipmen "to assume the highest responsibilities of command, citizenship, and government." One of the critical responsibilities of citizenship is participation in our national conversation on issues, political or otherwise, and it is clear that achieving the highest responsibilities of government also requires confrontation of political questions.
I have no delusions about my own ability to resolve such issues, but I do know that I have spent nearly four years studying and working with the most impressive people I have ever known. The driving force compelling me to write this article is the group of high-caliber people I have encountered at the Academy, both young and old. This includes those with whom I disagree, who happen to outnumber those with whom I agree. As we find ourselves in an increasingly conflicted world, we can and should hear from these people—not eventually, but now. I am confident that within the Class of 2018 we have at least a few future CEOs, admirals, generals, and congressmen, and perhaps even a potential president. It would be a shame to allow our country to miss out on the timely value of the knowledge and insight of so many whom I know, as well as of graduates who have gone before, because of a noncodified norm of silence.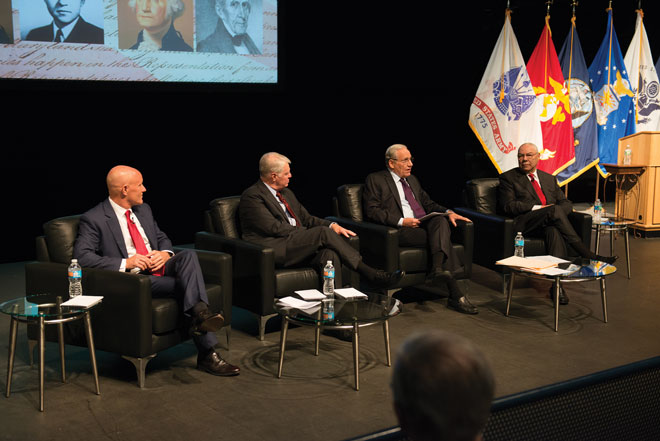 I understand the regulations regarding political activity, and I appreciate the need to avoid alienating subordinates. However, this must be balanced against the equally important need to stand up for the principles for which this nation stands, and for the ideals we individually espouse based on our backgrounds. Department of Defense (DoD) Directive 1344.10, based on the Hatch Act, states that active-duty personnel "may vote, express their personal opinions on political candidates and issues, make monetary contributions to a political campaign or organization, and attend political events as a spectator when not in uniform." Active-duty personnel are barred from showing contempt for current public or elected officials, which leads to one of the principles solidified in my mind by the discussion at the recent Naval Academy-Naval Institute conference.
Secretary Powell championed the idea that all political activity by service members, past and present, should be constructive and should involve building up ideas or candidates, rather than tearing people down (even though this type of activity is encouraged, not required). While this is behavior I sometimes struggle to display myself, as political conversations often arouse strong feelings, I am working to improve and to encourage my fellow sailors to strive for the same. We should replace the norm of silence with a norm of constructive debate. Carving out the appropriate bounds of political engagement by officers is a difficult task, but it is a necessary one. We need to have a nonpolitical conversation as a military community on the appropriate way to have vital political conversations. Silence is a statement, but it is our duty to contribute to society's attempts to solve issues, and to do so constructively. That is, unless every Forrestal speaker has been blowing smoke about the merits of young officers. In that case, we should probably continue our relative silence. I never got the chance to ask my question to this year's star-studded panel, possibly because I was seated in the nosebleed section of Alumni Hall, so I instead pose it to the naval community as a whole today.
---
Midshipman Wolff is a member of the U.S. Naval Academy Class of 2018.