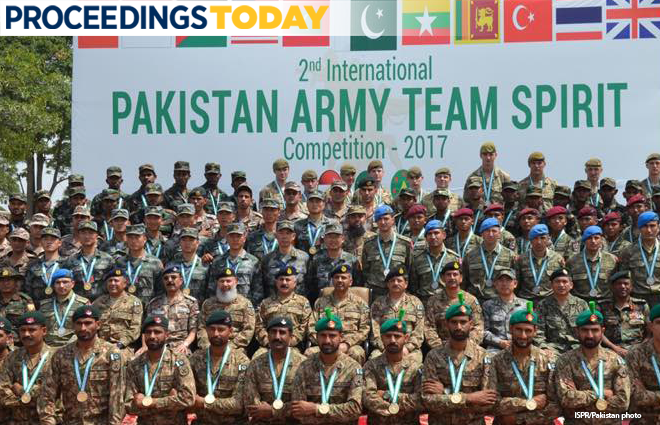 In January 2016, the Marine Corps and the rest of the military opened up ground combat military occupational specialties, including infantry, to women. A year later, three women joined 1st Battalion, 8th Marines, and in September, an unnamed lieutenant became the first female infantry officer in the Marine Corps. Other women are attending infantry training. At the same time, many current and former Marines question how well mixed-gender units will perform in combat. The answer will not be known until the first units enter the fight.
There is a way, however, to begin to assess the mettle of mixed-gender units that goes beyond ordinary training: international military competitions. An abstract opinion either "for" or "against" the opening of the infantry to women could give way to a clear understanding of the strengths and weaknesses of this change that only such competitions can reveal—at least, short of battle. These competitions also represent a unique opportunity to test Marines' warfighting skills in general against actual "near-peer" adversaries, all under the umbrella of peaceful security cooperation.
Several competitions could gauge accurately the performance of mixed-gender infantry units. Whether they are controlled by an ally (the United Kingdom) or an adversary (Russia), the important condition is that the United States does not set the rules! What better way to challenge assumptions or strip away institutional or political bias? An almost equally important condition is this: Be they allies or adversaries, all the participants come to win—just as in combat.
Exercise Cambrian Patrol (United Kingdom)
Cambrian Patrol is an annual, grueling, international military-patrolling exercise that has been held in Wales since 1959. The competition consists of teams of eight troops conducting a 36-hour, 50-mile patrol, with each participant carrying 60 pounds of equipment. Exercise Cambrian Patrol is not aimed at special operations forces but rather is "designed to be within the capability of any well-led and well-trained patrol from any Arm or Service," and markets itself as an exercise, not a competition. Nonetheless, it does include a scoring of participant teams' military skills (including such things as dismounted close combat skills, obstacle crossing, patrol techniques, media handling, minefield clearance, and others), orders, and a debrief. It is a world-class event that tests the mettle of any infantry unit.
The 2016 exercise included teams from Latvia, Mexico, Nepal, Canada, Italy, Georgia, Germany, Pakistan, Australia, Czech Republic, New Zealand, India, Ireland, Bosnia and Herzegovina, Belgium, Chile, Kosovo, Brazil, and Switzerland. How will mixed-gender infantry units stand up against "near-peers" in long-range patrolling? Enter a team in this test to find out. Teams that won gold medals last year included all-male units from India and Pakistan. Do India and Pakistan have better infantries than the U.S. Marine Corps? Can they be categorized as "near-peer"? Marine Corps infantry should be the team to beat.
Pakistan Army Team Spirit
How will U.S. mixed-gender infantry do in counterterrorism missions? Enter them in the Pakistan Army Team Spirit (PATS) competition to find out. The second PATS was conducted in April 2017 at the National Counter Terrorism Centre near Jhelum, Pakistan. It focused on scenarios that small units might face during counterterrorism missions. The event sponsors label it the "[world's] toughest military competition," and participating countries included China, Indonesia, Jordan, Malaysia, Maldives, Myanmar, Sri Lanka, Turkey, Thailand, the U.K., and Pakistan. China and Pakistan won gold medals while Sri Lanka, Turkey, and the U.K. took home silver medals.
Looking at pictures from the competition, it does not appear that any women competed in 2017. The Marine Corps, however, will take women to battle. Therefore, the Marine Corps should seek an invitation to the 2018 event.
Russia's International Army Games
Russia's International Army Games, often called a "Military Olympics," included more than 3,000 participants from 19 countries in 2016. For the August 2017 competition, Russia invited more than 47 countries, including the United States and several NATO members. However, the only NATO ally to send a team was Greece. The United States should send a mixed-gender, Marine infantry unit the next time it is invited to see how it fares against potential adversaries Russia, China, and Iran. The Marine Corps espouses diversity and gender integration as strengths. It should have the courage to back up that assertion in open competition.
Objections
A contrarian might complain that these competitions are unfair because the other participants do not have women on their teams. But the saying that "the enemy gets a vote" holds true, and the United States does not get to dictate how the enemy staffs its infantry units in combat.
Another objector might be concerned that the Marine Corps could fail and embarrass itself in front of prospective adversaries. If mixed-gender infantry units are not effective, it would be far better to discover that in an arena where no one is killed rather than in combat. If mixed-gender teams fail, the military can study the reasons why and identify mitigation measures before going to war.
A practical-minded objector would note that participating in some of these competitions would violate restrictions on conducting exercises with certain countries—but, "Where there's a will, there's a waiver." How to fight with mixed-gender units is too important a subject not to take advantage of every opportunity to study and test it.
The Time Is Now
Whether someone is for or against mixed-gender infantry units is irrelevant; the decision has been made. The Marine Corps owes itself and civilian leaders a thorough, capabilities-based analysis of their new weapon system: the mixed-gender infantry unit. In international infantry skills competitions, competitors will do their best to beat U.S. Marines in the same way enemies in combat will do their utmost to kill Marines. International competitions have the potential to be valuable experiments in which to assess the effectiveness of gender-integrated U.S. units against competitors free of any goal except winning. If the Marine Corps' self-image is more than hype, it should not be hesitant to show the world, and itself, that it has the courage of its convictions.
---
Major Nappi, an intelligence officer and South Asia foreign area officer, is the South Asia Desk Officer, Marine Corps Forces Pacific, G-37. He holds a master's degree in security studies from the Naval Postgraduate School.
For more great Proceedings Today content, click here.