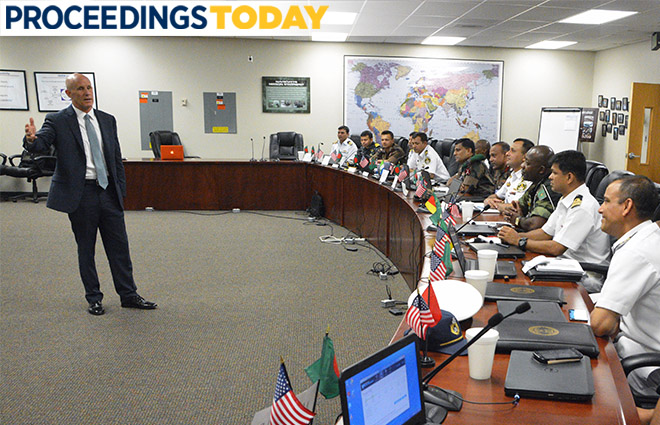 As the Navy searches for ways to enhance the training of its maritime professionals, one resource seems to have been left out of the discussion: those retiring with extensive leadership and operational experience. Instead of mandatory retirements for senior enlisted professionals and officers, the Navy could create a new program: permanent military trainer (PMT). This program would be similar to the permanent military professor (PMP) program, but with several key differences. Here is how it would work.
The Brain Drain  Under the current system, officers in the grades of O-5 and O-6 and senior enlisted personnel in the grades of E-8 and E-9 retire after 20 to 30 years of service, usually between the ages of 40 and 52. Years of experience, leadership, and technical expertise walk out the door—and draw healthy retirement pays for the rest of their lives. Many of these retiring servicemembers want to continue to contribute to the Navy so they decide to take what they learned in their active-duty years and pass it on to the next generation—often finding the best option to do so is as contractors. The Navy thus pays a retirement salary, benefits, and a second salary—including overhead costs— to provide training to the fleet.
Why? Because force reductions in the past decades reduced the ranks of senior active-duty personnel available for training commands, sea-shore rotations were changed, and the Navy's "up-or-out" system leads many mid-grade leaders to get out or retire in time to start second careers while still in their prime earning years. This has served to gut the mid-level training pool that represents a large "sunk cost" and is lost to the fleet. This void has been filled by contractors and to some extent by Government Service (GS) personnel, but perhaps there is a better way to access this talent directly—as professional trainers who remain on active duty.
Trainers, Not Educators  The PMP program allows selected officers to pursue  PhDs, often for four years, in exchange for assignments at a service academy or war college as a professor—an "educator"—for up to ten years. The PMT program would be similar but without the four-year educational investment since the preparation would consist of the years of experience accumulated at sea or in the air. The program could be selective, perhaps requiring command, command master chief, or elite-level tactical or technical experience, complemented by a masters' degree in a related specialty and significant leadership training. Officers and senior enlisted PMTs could then populate schoolhouses like the Surface Warfare Officer's School, Submarine School, Senior Enlisted Academy, Weapons and Tactics Instructor programs, and enlisted ratings "C" schools—adding a layer of credibility and "been there-done that" to training programs. PMTs could serve as senior mentors for executive officers, commanding officers, and command master chiefs, perhaps providing advice and best practices as part of integrated training exercises or even in day-to-day leadership forums on the waterfront. Anecdotally, the submarine force used a similar program in the past to address leadership failures with some success.
If implemented, this program could free more mid-grade officers and enlisted personnel to pursue full-time graduate education or warfighting specialty training, such as the weapons and tactics instructor (WTI) pipeline—honing warfighting and joint professional military education skills instead of spending two years teaching a single topic at a Navy school, in many cases to more senior personnel. Administrative requirements for the PMT force could be flexible, and management overhead could be reduced for this group—there is no sense writing evaluations or awards for this cadre of trainers, no real use for promotion board consideration, and maybe a simple annual weigh-in or measurement would suffice for the physical readiness test (PRT).  There are parallels in the Navy Junior ROTC (NJROTC) program in high schools—where teacher pay is augmented for certain retirees by the Navy—that could be leveraged. Perhaps an age limit of 62 makes sense—many foreign militaries require service until this age—and PMTs could support research and testing as part of the assignment.
There would be several barriers to this idea, to be sure, and a rigorous cost-benefit analysis would be necessary before such a program were considered; but the world is changing—to toss aside highly trained and skilled individuals at the peak of their technical, managerial, and leadership game, based on an archaic promotion system that has not changed in decades, may be a dated practice and deserve another look. Again, a comparison with the PMP program might show that a similar return on investment is possible.
Continuing to Serve  In the interest of full disclosure, I am employed as a government contractor. If a PMT program were created, my current job as a contractor likely would not exist. Shortly before retiring, I went to lunch with a Navy friend to compare our "wish lists" for post-Navy retirement jobs. Location, pay, and benefits were all considerations, but "doing something meaningful" was a key criterion. Contractor positions, that allowed us to work with and continue to help the Navy, fit the bill, but we both would have preferred to be PMTs if that had been an option. Despite the occasional "nice tie—we must be paying you too much" comment that comes with being a "slimy contractor," my peers and I approach our contracted training positions with the same dedication and drive that led us to successful Navy careers. A PMT program could provide a better and more cost-effective way, however, to leverage the experience and talent of exceptional leaders, tacticians, and technicians who have served 20 to 30 years on active duty. 
---
Captain Cordle retired in 2013 after 30 years of service. He once served as the Director of Manpower and Personnel for Commander, Naval Surface Forces Atlantic.  He commanded the USS Oscar Austin (DDG-79) and USS San Jacinto (CG-56). He is the 2010 recipient of the U.S. Navy League's Captain John Paul Jones Award for Inspirational Leadership.
Photo caption: A retired U.S. Navy officer—working as a contractor—teaches a class. (Credit: U.S. Navy) 
For more great Proceedings Today content, click here.