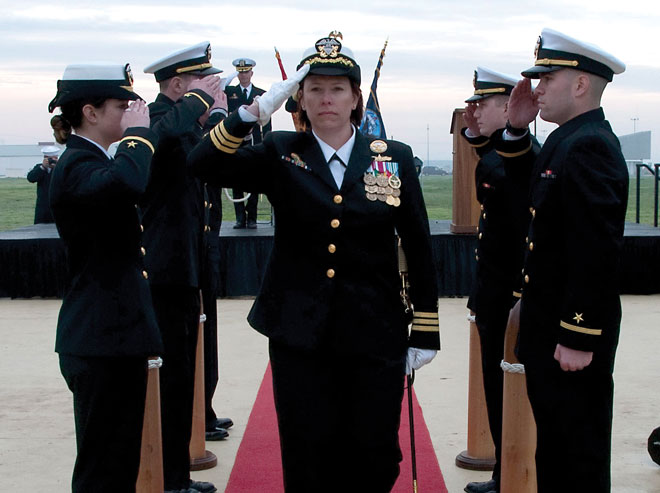 Commander Andria Slough, also a member of the U.S. Naval Academy graduating class of 1998, is the captain of the USS Porter, one of two Navy destroyers that launched cruise missiles at a Syrian military airfield in April. 
Much has been discussed recently in the news media, in online forums, and in person concerning former Senator, Secretary of the Navy, and Naval Academy graduate James Webb and his decision not to accept the distinguished graduate award for which he was selected earlier this spring by the United States Naval Academy Alumni Association. I am not going to dissect whether he should have this honor in light of his 1979 Washingtonian article, "Women Can't Fight." This feature caused grief, anguish, and personal hardship for the pioneering women of the U.S. Naval Academy class of 1980 and beyond—to include as far forward as for the women in my class of 1998. My hope is, with decades of distance from when the article was first published, there exists an opportunity to reconcile the arguments he championed as a means to prove how far we have come as a military and a nation, and how the service academies have developed as gender-cohesive, federally funded military institutions of higher learning.
Political-Military Divide
Webb disregarded his role in exacerbating the politico-military (pol-mil) divide on what then was an extremely contentious subject: women in combat. He widened the chasm between military leaders and the civilian policy makers who, with the passage of Public Law 94-106 in 1975, dictated the fate of the service academies—and the nation—by opening service opportunities where women had previously been excluded. "Civilian political control over the military is a good principle, but too many people, especially those involved in the political process, have lost their understanding of what that principle means," wrote Webb. Although Webb penned "Women Can't Fight" after medically retiring as a junior Marine officer, he had significant combat experience and was awarded the Navy Cross for his heroic actions as an infantryman. In the context of the post-Vietnam War era, his disdain for government overreach is understandable, but his objection and disregard for the nearly 70 percent of the members of Congress who ordered women be allowed to attend the military service academies was shocking. Women already had begun attending the U.S. Coast Guard Academy the previous year, in 1975.
The issue of women's acceptance into military service academies was the vehicle for Webb's unbridled rage against the inconvenient pol-mil relationship, in which military leaders take orders and direction from civilian officials and the policies they draft, vet, and approve. "The military is a politician's toy, a way to accommodate interest groups without losing political support in the home district . . . a test tube for social experimentation," wrote Webb. He set his sights squarely on the foreheads of the women midshipmen who sweated, struggled, and ultimately excelled alongside the men in those first few integrated classes he observed while serving as an instructor at the Naval Academy. But the larger issue was his lack of confidence in Congress to determine what was right for our country. In reality, opening military academies to women broadened the talent pool to all of our nation's best and brightest.
Fast forward to April 2010, when Rear Admiral Barry Bruner, commander of Submarine Group 10, spoke to the change in Navy policy that allowed women officers to serve on board submarines: "It is important to note that the percentage of women graduating with technically-based degrees in our country has risen to the point where females now make up 51 percent of the total talent pool of young Americans we can recruit to enter our submarine force in the nuclear-trained officer community."
In Webb's case, this brazen act of penning "Women Can't Fight" perhaps propelled him into a life of civilian public service at the federal policy-making level that he sharply criticized in his article. The article provided a rally point for dissenting opinion opposed to the ascension of women in the services, casting them as unfit for combat and, therefore, unworthy to compete for, and rightfully earn, coveted appointments to the three military service academies. But the performance of women in the military over the past 40 years has proven that they are capable and competent to assume the highest positions of command.
Boys to Men
Webb provided a passionate, deeply emotional portrayal of women's admission to the military service academies as the root cause of the institutions' emasculation of the rite of passage where boys became men. He compared his personal combat experiences as a Marine platoon leader in Vietnam to various anecdotes during his plebe year at the Naval Academy—sans women classmates. In making this comparison, he implied that after the admission of women, the percentage of graduates equipped to be combat leaders diminished.
"Only the service academies have been able to turn out combat leaders en masse, and they have stopped doing so." But what Webb failed to recognize is the changing nature of warfare, and how that changed the way we man, train, and equip our women and men to fight our nation's wars. To be fair, 40 years is a long time, and the technological advances have been staggering. How we conduct war today is vastly different from how we fought the Vietnam War. Throughout the past 40 years, women have provided innovation, vision, and leadership as a force multiplier to attack and crush our nation's enemies in the ever-changing, complex military landscape.
Still, the subject of war (specifically the application of force and violence, which Secretary of Defense James Mattis frequently telegraphs to service members in official correspondence) is the crux of Webb's article. He described the function of combat as not merely to perpetrate violence, but to perpetrate violence on command, instantaneously and reflexively. "The function of the service academies is to prepare men for leadership positions where they may someday exercise that command," wrote Webb. "There is a place for women in our military, but not in combat. And their presence at institutions dedicated to the preparation of men for combat command is poisoning that preparation."
To that point, let us reflect on how our wars are fought today. Yes, some battles are fought with boots-on-the-ground forces, and those hand-to-hand missions are not going away. But today's dynamic combat environment also encompasses combatant ships, aircraft, unmanned aerial vehicles, submarines, drones, cyberattacks, and intercontinental ballistic missiles.
In today's rapidly changing global security environment, women are fulfilling significant roles, including at the command level, in every one of these areas and also in tackling complex problems from creative and innovative perspectives that were not conceivable before women were accepted among the combat ranks. So, instead of lamenting the loss of an institution where boys became men, we should celebrate the transformation the presence of women has spearheaded to improve our armed services to the lethal fighting forces they are today.
She's a Warrior
In "Women Can't Fight," Webb ignored the fact that women could be warriors. He overlooked the idea that women would be capable of developing into combat leaders in the future. In justifying the $100,000 taxpayer price tag of putting a midshipman through four years at the Naval Academy (today, according to a recent GAO report, the cost has nearly tripled), Webb wrote, "They [American taxpayers] are buying combat leaders, men with a sense of country who have developed such intangibles as force, clarity of thought, and the ability to lead by example, who have lived under stress for years and are capable of functioning under intense pressure." Here he perfectly describes my brothers and sisters in arms 20 years later, my '98 classmates.
But I suppose Webb thought he was cutting to the chase when he wrote about the nuances of men and women living and working together in a 24-hour setting. "Men and women are different, they treat each other differently, and the ramifications of this different treatment permeate every aspect of the brigade. It is one thing to sexually sterilize a work environment during an eight-hour day. It is quite another to do so in a closed environment where males and females engage in forced interaction on a 24-hour basis, seven days a week." How I wish I had the ability to transport myself back in time to November 1979 to talk to Webb. What would I say to him? "Tell me about it."
In 1999, having served as one of four women out of a crew of 350 on board a forward-deployed Aegis cruiser in the U.S. Seventh Fleet, the first to integrate my ship's crew, I know exactly what he is talking about. Because, you see, I am a battle-proven combat warrior, too. Women have achieved tremendous strides in all branches of military service since the academies were opened to them. Like African-American male graduates before them more than 30 years earlier, since their acceptance, women have ascended through all ranks of service, except for the U.S. Marine Corps, which has had women serve in all ranks but four-star general.
The integration of women at the service academies has had the reverberating effect of opening positions of opportunity for women throughout the services, both officer and enlisted. It's time our nation indisputably recognize our women military service members for who and what we truly are: We are warriors, and women can fight.
---
Commander Brugler has served in the U.S. Navy since 1994. She currently serves as a Navy Reserve foreign area officer.