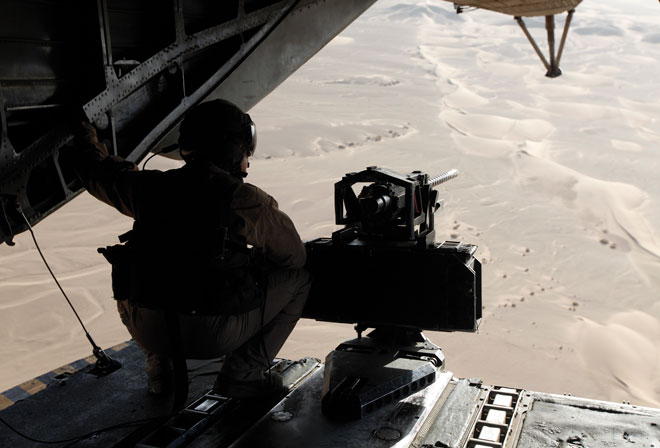 Simply by folding his legs underneath him instead of hanging them out of the helicopter, this Marine demonstrates a crucial cultural sensitivity: exposing the soles of one's shoes is seen as a sign of disrespect. 
The dimension of information operations (IO) in the battlespace is an abstract and dynamic sphere of warfare, its significance prescribed time and again by generals from Sun Tzu to James Mattis. Recent conflicts have shown a degree of inefficiency within the Marine Corps in terms of the theory and practice of information operations, addled by the limitations of resources and a lack of awareness in the fourth dimension.
Where the battlefield is easy to quantify in the dimensions of depth, breadth, and airspace, the fourth dimension does not lend itself well to measurement in real-time. The fourth dimension, or information environment, is divided into three domains.1 The first domain is the physical, i.e., infrastructure; the second is information itself; and the third is the cognitive domain, i.e., the way target audiences and individuals think.
The primary objectives of IO are to identify target audiences and to influence and gradually control their decision-making process while protecting our own—in effect, shaping the battlespace at all levels. A target audience can be as general as an entire nation's population or as focused as one single decision maker. It also can include anyone in the area of operation such as enemies, allies, and neutral parties.2 The means for influence are wide ranging and may have the objective of spreading a tailored message to a village, interrupting the enemy's information flow, or influencing a political figure.
Information operations is an umbrella element meant to coordinate a variety of Marine Air-Ground Task Force components including electronic warfare, public and civil affairs, military information support operations, operational security, and more. Depending on the mission's needs, any Marine can be incorporated into an IO mission plan. This necessitates a basic understanding of IO for all personnel.
COGNITIVE DOMAIN
There are numerous examples of Marines displaying cultural ignorance in Iraq and Afghanistan. Early in the wars, not enough women Marines were available for frisking and questioning local women, breaking a serious social norm in those cultures. Issues arose when military personnel hung their feet out of helicopters during flyovers of population centers. This broke another social norm—as showing the bottoms of your feet is an insult in Arab culture. Issues such as these would be solved with increased cultural sensitivity training now common before deployment. The lesson of how these issues negatively impact perception of Marines and the U.S. military is vital.
Cultural ignorance is a problem of indifference: to the local population, to guidance on tactics, and to the tactics employed by IO components as a means to advantageously shape the battlespace. Populations are not homogenous, yet often perceptions of one group of individuals is applied to a whole community.3 In Iraq, community leaders expressed outrage at some tactics employed by Marines. When tactical guidance, meant to ease tensions, was reconciled, Marines often followed it intermittently because of an unwillingness to sacrifice any tactical advantage.4 Connected to this is reluctance by some Marines to work with military information support operation teams who used loudspeakers to speak to communities while accompanying patrols.5 While loudspeakers eased tensions and kept civilians out of danger, some Marines perceived these tactics as sacrificing too much tactical advantage.
My own first experience with IO was a rude awakening. During Steel Knight 2016—an exercise conducted at 29 Palms by First Marine Division—the IO working group requested a liaison from the G8 (comptroller, the finance section) for general information on program funding. The G8 contingent had no experience working with programs such as commander's emergency response and no practical experience with condolence payments. These and similar programs were not part of the G8's daily operations, however they were highly valued by the IO community, especially for their use in civil-military operations. The G8 eventually supported the IO hypotheticals but more could have been accomplished in the way of experience and knowledge if the G8 had not started in a position of ignorance in the fourth dimension. Furthermore, most component liaisons and leaders were starting with a bare understanding of IO. What level of interoperability could have been achieved if component leaders came with a ready knowledge of IO? The operations directed at the enemy could have taken practical form or at least been further developed on paper.
Currently there are training aids available, namely in the form of Marine manuals, independent reports, articles on the Marine Corps Information Operations Center's (MCIOC) website, and Marine Corps Institute (MCI) and MCIOC professional courses. The MCI course lacks clarity; the MCIOC course is available to relatively few personnel; and the other tools are not actively disseminated to Marines. Only those with professional necessity will study enthusiastically what is available to achieve a comprehensive understanding.
Expanded training should take the form of an in-depth, readily available course that incorporates a variety of learning aids and provides Marines with a basic understanding of IO by explaining the domains of the information environment and the primary means and objectives of this kind of warfare. Case studies on operations such as Overlord (1944) and Phantom Fury (2004) would demonstrate how IO fits into the combined-arms maneuver concept and how these operations create and exploit advantages at the tactical, operational, and strategic levels. In addition, cultural sensitivity would be a paramount topic in this course because the most common physical interaction of IO is individual interactions.6 Few things can do more for IO than positive interactions between Marines and members of a targeted audience.
Expanded training likely would be divided into classroom work and annual briefs. Classroom work might be unpopular, but a revamped MCI course would be the most practical way of educating many with limited means. The annual brief could be conducted by IO-associated personnel from division or MEF level and include lecture and role-playing components. Its effectiveness would be the product of both instructor preparation and student participation.
In addition, having a centralized location where information could be added easily and accessed by all would improve the knowledge of all Marines. This could be as simple as expanding the current MCIOC website to include a page devoted to learning aids, including a variety of relevant materials created by subject matter experts.
Creating a new learning environment and providing the tools to make it successful would build a fighting force more capable in IO. This would allow Marines to take decentralized action without deviating from an overall IO directive, and provide the Marine Corps unmatched shaping capability at all levels of the battlespace. To quote Sun Tzu, "Therefore the clever combatant imposes his will on the enemy, but does not allow the enemy's will to be imposed on him."
If we hold influence over the fourth dimension, we will have the advantage.
---

1. Marine Corps Operating Concept for Information Operations, USMC 2013, 5. 2. Todd C. Helmus, Christopher Paul, and Russell Glen, Enlisting Madison Avenue: The Marketing Approach to Earning Popular Support in Theaters of Operation (RAND Corporation, National Defense Research Institute, 2007). 3. Andrew Mackay and Steve Tathamm, "Behavioral Conflict: From General to Strategic Corporal: Complexity, Adaptation, and Influence," The Shrivenham Papers (Swindon, UK: Defense Academy of the United Kingdom, December 2009). 4. Helmus et al., Enlisting Madison Avenue, 41. 5. Jordan Stern, "Civil Military Operations and Military Information Support Operations Coordination: A Non-Kinetic Ballast for Disciplined Counterinsurgency Operations," Small Wars Journal, 1 November 2011, www.smallwarsjournal.com. 6. Helmus et al., Enlisting Madison Avenue, 89.
n Lance corporal Gilchrist is a graduate of the University of Wisconsin-Oshkosh and is currently stationed at Camp Courtney on Okinawa.