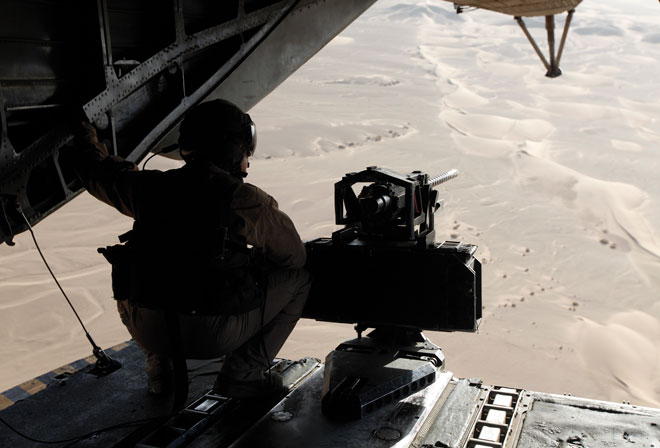 Simply by folding his legs underneath him instead of hanging them out of the helicopter, this Marine demonstrates a crucial cultural sensitivity: exposing the soles of one's shoes is seen as a sign of disrespect. 
The dimension of information operations (IO) in the battlespace is an abstract and dynamic sphere of warfare, its significance prescribed time and again by generals from Sun Tzu to James Mattis. Recent conflicts have shown a degree of inefficiency within the Marine Corps in terms of the theory and practice of information operations, addled by the limitations of resources and a lack of awareness in the fourth dimension.
Where the battlefield is easy to quantify in the dimensions of depth, breadth, and airspace, the fourth dimension does not lend itself well to measurement in real-time. The fourth dimension, or information environment, is divided into three domains.1 The first domain is the physical, i.e., infrastructure; the second is information itself; and the third is the cognitive domain, i.e., the way target audiences and individuals think.