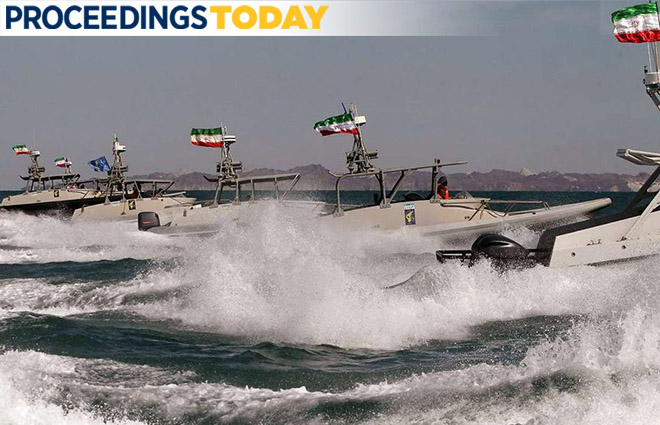 Asymmetric tactics present a challenge to U.S. and allied maritime forces seeking to defend home waters, as well as navigate globally in a free and legal manner. The U.S. Navy is geared for live-fire fleet-defense and offensive operations, and its duties are conducted under assumptive international and maritime norms. However, old adversaries and new players alike seem to have thrown the accepted rulebook to the wind. Encountering asymmetric, provocative, and unprofessional tactics, Navy warships are limited to radio transmissions, dangerous evasive maneuvers, and warning fire. As provocative enemy tactics push the envelope of tolerance, naval commanders will be forced to protect lives and hardware with kinetic engagement, violence that will result in death, destruction, and international crises. Therefore, just as police carry Tasers as a stopgap between shouting and shooting, so too should U.S. and allied warships carry nonlethal weapons.
Integral to its South China Sea territorial ambitions, the People's Republic of China uses white hulls—civilian fishing and government law-enforcement vessels—to confront maritime forces of opposing nations, including those belonging to U.S. allies Japan and the Philippines. In 2009 on the South China Sea, China-flagged fishing vessels shadowed and aggressively maneuvered near the USNS Impeccable (T-AGOS-23) as she conducted routine operations in international waters. The Impeccable, an unarmed, civilian-manned ocean surveillance ship, resorted to spraying deck hoses at the Chinese as they closed to within 25 feet. One Chinese vessel dropped wood debris into the Impeccable's path before sailing afore her, forcing an emergency all-stop, while other Chinese fishermen attempted to snag her towed sonar array.
The Islamic Republic of Iran uses fast boats to swarm and harass commercial and foreign military vessels, including those of the U.S. Navy, as they transit the Straits of Hormuz and the Gulf's shipping lanes. In January 2008, Iranian gunboats harassed three U.S. warships transiting the strategic Straits of Hormuz. The USS Hopper (DDG-70), Ingraham (FFG-61), and Port Royal (CG-73) were in international waters and entering the Persian Gulf when five Iranian Revolutionary Guard Corps fast boats approached at high speed. Although the U.S. ships flew colorful stars and stripes, the Iranians claimed they could not identify the vessels and therefore had to aggressively maneuver among the formation broadcasting threatening messages. In July 2017, the USS Thunderbolt (PC-12), in the company of the USS Vella Gulf (CG-72) and two other Coast Guard vessels, was approached by an Iranian patrol boat that came within 150 yards and failed to respond to warnings including radio calls, flares, and blasts from the Thunderbolt's whistle. The Iranian vessel finally veered away after the U.S. patrol ship fired warning shots into the water.
To interfere with U.S. operations in international waters, the Russian Navy has claimed engineering mishaps and displayed false international signals to justify unsafe maneuvers. In June 2016, the Russian frigate Yaroslav Mudry shadowed the USS Harry S. Truman (CVN-75) Carrier Strike Group in the eastern Mediterranean. The Russians feigned and announced an engineering problem, then assumed a collision course toward a guided-missile destroyer escorting the supercarrier, the USS Gravely (DDG-107), crossing 315 yards astern of her. There have also been multiple incidents of Russian aircraft buzzing and otherwise harassing U.S. Navy vessels and naval aircraft, a dangerous tactic that could result in collisions or, worse, a shootdown.
Nonlethal weapons are defined by the Department of Defense as being "explicitly designed and employed to incapacitate personnel or materiel, while minimizing fatalities, permanent injury to personnel, and undesired damage to property and the environment." Examples of naval nonlethal weapons are:
• Active Denial System: Transmits millimeter-wave energy producing a burning feeling in skin
• Long Range Acoustic Device: Creates pain-inducing sound beams
• Flash-bang or stun grenades: Disorients
• Laser/LED systems: Dazzles (can be used to warn off aircraft)
• Propeller fouler: Immobilizes or slows down vessels
• Water cannons: Douses opposing deckhands
Nonlethal weapons have been procured and deployed for anti-piracy operations, but such off-the-shelf hardware should be considered for fleet-wide deployment on U.S. and allied maritime forces. Nonlethal uses of existing hardware—such as by multi-beam radar arrays—should also be considered during software upgrades.
Further, as a counter to competitor naval tactics, the Navy should establish clear policies regarding deployment and use of nonlethal weapons, buttressing deterrent effects for those who choose to approach. An example of such use would be during China's recent seizure of a U.S.-unmanned underwater vehicle (UUV) operating in international waters and in the process of being retrieved by the USNS Bowditch (T-AGS-62). Despite bridge-to-bridge communication between the Bowditch and Dalang III, the Chinese ship that shadowed the U.S. survey ship, Dalang III launched a small boat and moved to seize the UUV glider. The Bowditch was powerless to interfere with the theft. Had she had nonlethal weapons on board, she could have made clear her intentions to employ them to protect U.S. property, and then done so against the approaching small boat and crew.
Rules of engagement regarding live fire are clear and purposely limiting, thereby attracting and perpetuating harassing tactics from adversaries seeking to impede freedom of navigation or promote national agendas. It is time for the U.S. Navy and allied maritime forces to embrace and deploy nonlethal weapon technologies to deter exploitation of rules of engagement; counter asymmetric tactics and provocative, unprofessional seamanship; and provide options beyond warning or targeted live-fire engagement. As Rear Admiral Scott Craig, USFF Deputy Chief of Staff for Fleet Policy, Capabilities Requirements, Concepts, and Experimentation, said during 2011's Trident Warrior exercise: "Equipping . . . surface vessels with nonlethal weapons will further expand the capabilities of our naval forces to confront an increasingly complex set of threats."
---
Dr. von Bleichert holds degrees in public policy and administration (specializing in homeland security), international relations, and history. He is a college professor, writes fictional military thrillers and fantasy games in his spare time, and is a past contributor to Proceedings.
Photo Caption: Iranian Revolutionary Guard Corps Navy fast attack craft like these have been a steady irritant for the U.S. and allied navies for over a decade, sometimes approaching closely and rapidly. 
For more great Proceedings Today content, click here.