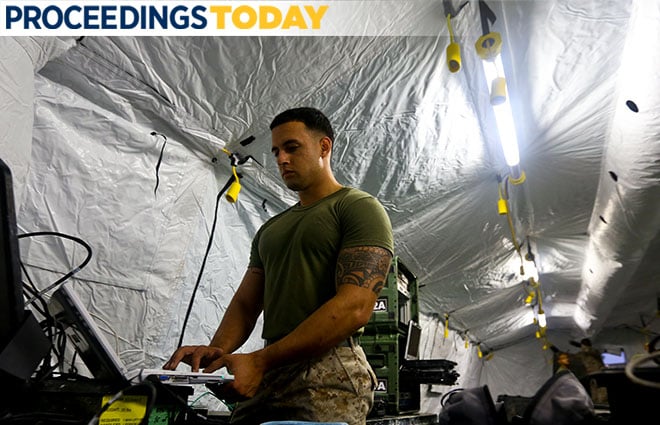 The loss of talented, experienced enlisted Marines in the cyber operations field is a threat to the Corps' effectiveness in the 21st century. As a Marine with more than 12 years of service in this field, I see departures of talent and expertise from the ranks at alarming rates. It is not just first-term Marines who are leaving, but those on their second and third enlistments. While the Marine Corps tries to integrate cyber operations into operational planning and execution, the loss of talented human capital hinders warfighting effectiveness and threatens the security of Marine Corps computer networks.
The Commandant has emphasized Marine cyber capabilities with the Force 2025 initiative. As an institution, the Corps always has prided itself on being the best, which is ingrained into candidates at Officer Candidate School and recruits at the Marine Corps Recruit Depots. The men and women who join the Corps tend to have an internal pride in their abilities, and they take that feeling into any military occupational specialty. The Marine cyber community tends to attract people who may not be stereotypical Marines, but they still carry the "we are the best" mentality.
Cyber Marines accomplish amazing things—many of which cannot be discussed in an unclassified forum. Enlisted Marines attend the six-month-long joint cyber analysis course (JCAC)—the course enlisted personnel from all services attend to start cyber careers. The government invests tens of thousands of dollars to teach, train, and employ each Marine in this difficult and mysterious occupation that is the battle front of the 21st century. So, why is the Marine Corps losing cyber talent?
Some think the retention problem is about money. The Marine Corps is not the highest-paying organization for cyber skills today. But men and women do not join the Marine Corps for high pay. They join to serve their country. They choose the Marine Corps because it brands itself as the best. If not money, what is the problem? Discussions with many Marines who have left or plan to leave reveal it comes down to a lack of appreciation and job satisfaction.
Marines hear from their leaders about how great they are, and the good jobs they are doing, which is nice. But what they really want are assignments to exciting and challenging tasks and making real, impactful differences to the Marine Corps. That excitement and impact, however, are short-lived. Marine Corps staff non-commissioned officers (SNCOs) have thousands of hours of cyber training and operational experience, but the mid-career "reward" given to them is to lead junior Marines. To many SNCOs this feels like being a glorified babysitter. Making sure adults clean their rooms, complete their 45th iteration of sexual assault prevention training, or update their shots is not seen as a reward. It takes them away from the cyber fight and does not make them feel useful.
Cyber SNCOs get to babysit privates while watching "action officers" take part in cyber mission planning. Officers get to plan and shape the cyber future of the Marine Corps. SNCOs get little opportunity to be useful in the cyber wars happening daily, and they get few (if any) opportunities to make impactful differences in the success and growth of the Marine cyber force. What qualifies officers for those tasks? Is it their education or experience? Too often the answer is no. The Marine Corps assigns officers to military occupation specialties with little to no correlation to their university degrees. As a result, many Marine cyber officers have degrees in history, military studies, or business, and they often have less time in service and much less technical training and experience than the SNCOs.
Even more frustrating for SNCOs is to see cyber planning teams staffed with logistics, artillery, and intelligence officers with little or no subject matter expertise. Meanwhile, just when Staff Sergeant Gung-ho Jones gets good at hacking or network defense, he gets "promoted" to platoon sergeant, company gunnery sergeant, or training chief and taken away from the cyber warfare duties for which he joined the Marine Corps. So, it should not surprise anyone when Jones decides not to reenlist and instead seeks a job outside the Corps.
To fix the problem and retain more cyber Marines, the Corps must keep them "online." Do not pull the best cyber operators out of the highly technical work they want to do, and ask them for their ideas and involve them in planning the Marine Corps' cyber future.
---
Staff Sergeant Gilliland joined the Marine Corps in 2005. He is a cyber Marine who has served as a signals intelligence (SIGINT) analyst, network analyst, member of an NSA red team, SIGINT instructor, and a watch officer. 
For more great Proceedings Today content, click here.