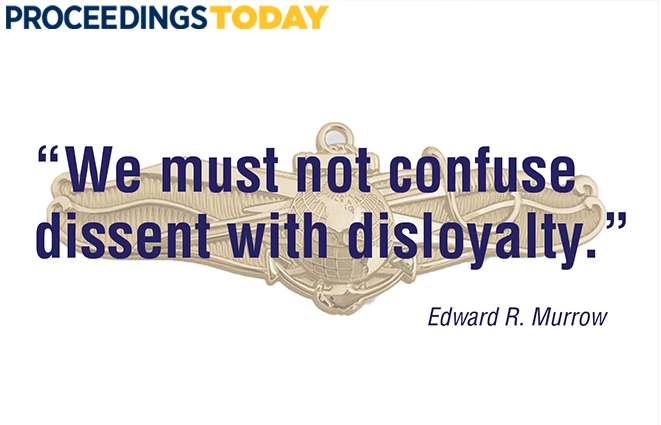 Leaders of any organization face the challenge of facilitating consequence-free dissent while still ensuring policy is supported and executed professionally. Protecting a channel for dissent is healthy, as it allows new ideas to surface while also holding prevailing policy to account lest it calcify into dogma. The organization's professionals in the ranks have two obligations. First, they must faithfully and to the best of their abilities execute policy. Second, they must appropriately express dissent when they believe policy is flawed. To do the first and never the second only engenders a conformist culture, and that never ends well.
It has been nearly a year since the publication of "Intelligence Is Not Warfare," an essay that elicited a great deal of feedback. What has become clear from that feedback is that many members of the information warfare community (IWC) perceive that expressing a dissenting view on the current IWC's organizational structure is anything but consequence-free.    
Harboring a culture that is antagonistic to dissent is self-defeating. If an organizational concept or construct is sound, and the policies flowing from it executable in a way that the benefits are clear, an intellectually strong argument in its defense should win the day against any dissenting argument. In defending the construct against serious challenges, its champions will have placed its future on secure ground. By avoiding debate on central questions, the opposite eventually will happen. 
Indeed, most of the opposing arguments to the essay avoided addressing its points, and instead were more of what I often heard while on active duty when I voiced objections or asked questions. That is clichés such as "we're not going backwards," "time to move on," and "we need a seat at the table." Now, true innovation is rarely popular at first, so I am not contending that the current information warfare structure needed popular support when first introduced in 2009. But that was then. It is now more important than ever to reconsider certain structural elements that remain unpopular and which still raise questions from many. Nearly a decade is long enough to have generated support for a well-functioning organizational construct. As anyone who has studied organizational change knows, many attempts at change fail. That should never deter bold attempts at change, but it should also inspire honest reflection and reevaluation when enough time has elapsed.
Regardless of how the information warfare community matures in the future, the question of whether intelligence belongs in it—as opposed to being an independent discipline supporting it—remains legitimate and important. Most critics of last year's article  (including some current and former seniors for whom I have great respect) seem to accept intelligence as warfare as a genuinely innovative viewpoint. The intellectual argument supporting this viewpoint, however, seems more tendentious than cogent, and when challenged is often abandoned in favor of a simpler assertion: without naval intelligence, the Navy's IWC would be too small to be viable, and an independent naval intelligence will be relegated in terms of power and influence. This is a valid concern, but it sidesteps the central argument about independence and core identity. It assumes that an independent naval intelligence community will not be more relevant and influential by virtue of being better at what it is chartered to do and less compromised in doing it. 
In the tradition of form following function, a proper mission analysis of information warfare should have preceded and informed decisions on structure and alignment—not the other way around. Putting the cart before the horse and then resorting to an argument that seems little more than a post-facto justification does not bear up under the light of calm, measured, critical thinking. Lacking a coherent concept, definition, or a rigorous mission analysis, information warfare as a warfighting community remains transparently insecure, and institutional leaders who cannot adequately defend the core organizing principle reflexively resort to enforcing the party line. 
This brings us back to the issue of whether current information warfare professionals feel safe to express dissent on the principles that underpin the entire concept. What I have heard in the past year convinces me the answer is no. This is unfortunate and undoubtedly will inhibit the Navy getting right the structure of this important warfare mission area.    
What today's senior IWC leaders should realize is that listening to and considering dissenting opinions is an act of trust. They are trusting their subordinates to express dissent without seeking to undermine current policy or the chain of command. Likewise, subordinates must trust that they can express themselves without fear of professional retribution. Trust is lacking right now, and failure to address this will worsen the problem of failing to sell the current organizational concept and retaining the best and brightest young people in the community.
Make no mistake, there is a serious problem here. As the 2016 Information Warfare Senior Leaders Symposium survey showed, support for the statement "my 'tribe' has benefited from the creation of the Information Warfare Community" regressed from the 2014 survey and stood at only 41 percent in March 2016. By then the survey respondents (commanders and captains) had been in the new community for more than eight years. It is time to pause and revisit the original organizational concept to ensure the Navy has it right moving forward. This must involve an open, honest discussion. Proponents of the current structure cannot simply label detractors "resistant to change." They must engage the substance of this issue. If their arguments are strong enough, they will not have to fear dissenting viewpoints.
---
Captain Bray served as a naval intelligence officer for 28 years before retiring in 2016.  
For more great Proceedings Today content, click here.