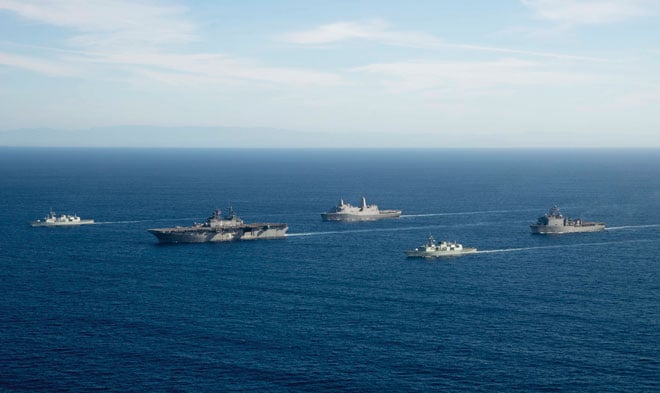 The defense has the advantage in amphibious operations. Marines will require small, swift, stealthy, and survivable platforms and units to access, persist, fight, and win in littoral environments. Boxer Amphibious Ready Group- U.S. Navy photo
In February 1915, the French and British launched an operation to seize control of the Dardanelles with an amphibious assault on the Turkish coast at Gallipoli. The invasion's failure demonstrated the immense challenge of amphibious operations in the early 20th century. Both the purely naval and the amphibious operations were poorly coordinated; ship-to-shore movements were conducted with open and unarmored boats; and poor communications made it difficult to coordinate aerial surveillance, fire support, and maneuver. The ad hoc nature of the operation—and the task force itself, composed mainly of whichever forces happened to be available locally—prevented it from overcoming a Turkish defense equipped with modern weaponry.
In previous wars, amphibious operations had been conducted with little decisive interference from defenders ashore. So long as naval forces could maintain local sea control, the offense had the advantage. Technological innovation changed that; at Gallipoli, thanks to modern weapons, the defense was far stronger than the offense.
The changes in the littoral environment made plain by the failure of Gallipoli drove changes in the way amphibious forces fought and the way they were equipped. Today, emergent technology is again enhancing the defense over the offense in amphibious operations. Without experiencing another Gallipoli, we can examine the operating environment and draw conclusions about how amphibious forces should be trained, equipped, and employed. Forces in the coming years will require a focus on platforms and units that are small, swift, stealthy, and survivable. Marine and Navy units will have to operate in dispersed fashion and remain undetected, then concentrate at decisive points based on the tactical situation. The creation of pockets of air, sea, and undersea superiority will enable surface operations.
Forces based offshore will need to maintain their inherent flexibility to address the full range of military operations. Unmanned systems must augment rather than replace Marines and sailors through integrated, emergent information, cyber, and electronic warfare capabilities. Future operations in the littoral will resemble what retired Admiral James Stavridis calls "maritime hybrid warfare."1 To fight and operate in this manner, the Navy and Marine Corps must modernize in two major areas: amphibious platforms and surface connectors.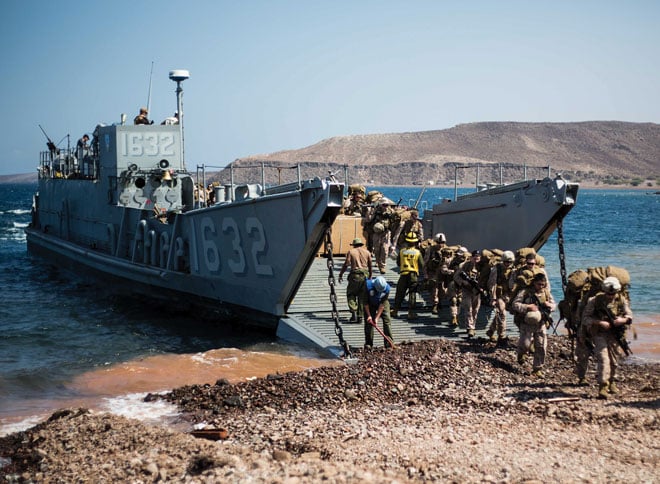 A landing craft utility (LCU) of the 1610 class, shown here landing members of the 11th MEU in the Gulf of Aden, can carry as many as 350 Marines to the beach, but the 50-year old design lacks survivability and is slated for replacement. U.S. Marine Corps photo
The Interwar Period
The technologies that gave the defense the advantage during World War I are well known. Reliable and portable machine guns allowed almost any prepared defense to defeat a frontal assault. Indirect-fire artillery, enabled by both breach-loaded guns and communications that allowed forward observation, made unprotected troop concentrations and maneuver virtually suicidal. Aerial surveillance by fixed-wing aircraft brought the third dimension of warfare into use. Submarines and steam-powered ships revolutionized naval warfare, and the mass mobilization of populations created huge armies that could stymie flanking maneuvers and surprise attacks through sheer mass.
Between the wars, innovations began to shift the balance again toward offensive operations. Purpose-designed surface connectors became armored, then tracked, then amphibious, providing vehicles that could transport troops from offshore to beyond the beach. The earliest experiments with rotary-wing aircraft sought to achieve the same goal. Ships changed as well. Troop ships and escort carriers presaged the post-World War II amphibious assault ships. Both the Navy and Marine Corps pioneered the coordination and application of both naval surface fire support and close-air support. The Marine Corps' Advanced Base Force, created in December 1913, evolved into the Fleet Marine Force 20 years later, the first modern amphibious warfare organization in history.
The innovations that the Navy and Marine Corps pursued secured a rebalancing toward the offense and made opposed landings viable again—for a time.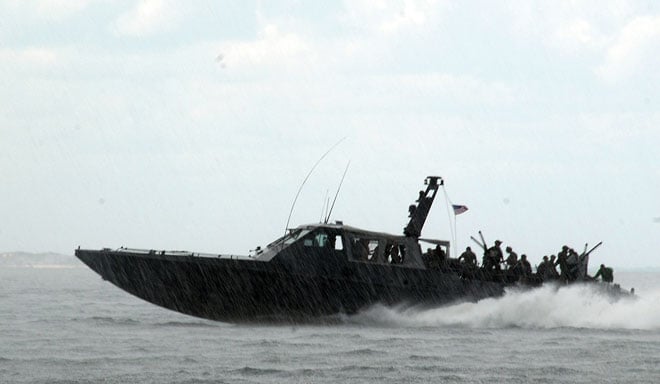 Expeditionary Marines wil need a variety of boats and small connectors, potentially including the 50-knot Mark V special operations craft or other boats currently used by Navy SEALs, to move from the amphibious ready group far offshore. U.S. Navy photo
The Modern Operating Environment
When the U.S. Navy amphibious ready group (ARG) and Marine expeditionary unit (MEU) concepts were developed, the Navy and Marine Corps had cracked the code on how to fight from the sea in the 20th century. But the operating environment has changed again, while the ARG and MEU have not. Even in World War II, the innovations that muddy today's littoral environment were beginning to appear. Electronic warfare existed in a nascent form. At Bougainville and Rabaul in 1944, the Navy used TDR-1 assault drones guided by pilots in manned aircraft to support Marine Corps amphibious assaults, destroying Japanese antiaircraft systems and other targets.2 These technologies and others have matured and have become ubiquitous in the littoral operating environment.
Today, unmanned aerial systems (UASs) provide strike capabilities and persistent intelligence, surveillance, and reconnaissance (ISR), giving commanders proverbial unblinking eyes. Satellite imagery and UASs make it difficult (although not impossible) for units to hide on the battlefield. Even encrypted communications can be detected and located instantaneously. Precision-guided munitions come in a variety of forms and are available to both state and nonstate actors. The most worrisome of these is antiship ballistic missiles (ASBMs), which will force Navy ships to operate farther from shore than ever.
The rapid proliferation of these emergent, maturing technologies, until recently known as anti-access/area denial (A2/AD) systems, is shifting the advantage again to the defense. These systems have sprung up at littoral hot spots around the world because potential adversaries recognize the United States' primacy on the seas and seek to raise the cost of exploiting that advantage through expeditionary operations. To defeat these systems will require targeted investment to ensure the ability of the ARG/MEU to access, persist, and fight in littoral environments with platforms and units that are small, swift, stealthy, and survivable.
Right-Sizing the "Gator Navy"
War games and analysis have shown that meeting all regional demands from combatant commanders would require approximately 54 amphibious ships.3 Budget constraints have produced a major shortfall in the joint force's ability to meet global presence, power projection, and crisis response needs, as well as the ability to conduct forcible entry. Current goals provide for just 34 amphibious ships, with only 31 presently operational.4 The fleet is composed of amphibious assault ships (LHDs, with well-decks, and LHAs, without); amphibious transport dock ships (LPDs); and dock landing ships (LSDs).5 The current 34-ship plan provides for 11 LHAs/LHDs, 12 LPDs, and 11 LSDs (or their follow-on, the future amphibious replacement ships [LX(R)s]). These ships routinely deploy with an embarked MEU as an ARG including an LHA/LHD, an LPD, and an LSD.
Tasking for global presence demands using one forward-deployed group in the Pacific Rim and rotational deployments to Central Command (CentCom) from the continental United States. These transit through the Mediterranean when deploying from the East Coast and through the Pacific and Indian oceans when deploying from the West Coast. While the transit time is not wasted, the tyranny of distance affects availability, requiring employment of nearly the entire amphibious ship inventory and reducing those ships' availability to respond to crises. Because U.S. interests are challenged in multiple regions, these ship formations are often distributed to cover more areas with less capability, which is not without significant risk.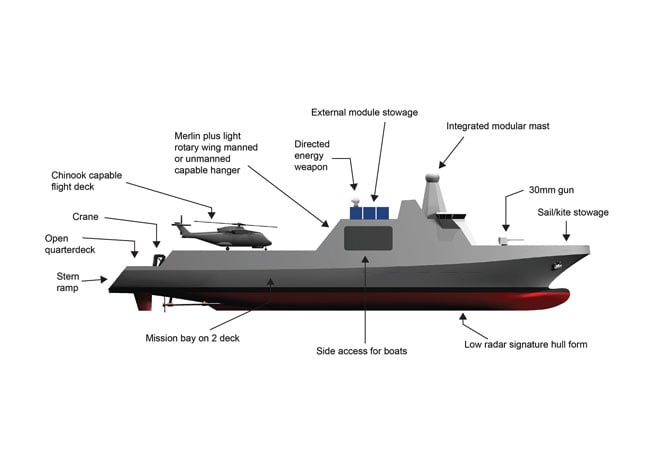 The Royal Navy's proposed Black Swan class offers stealth, survivability, and berthing for platoon-sized units. Photo courtesy of Ministry of Defense: Crown Copyright
A total of 40 amphibious ships would improve coverage of strategic interests in key regions. Positioning five ARGs (each with one LHA/LHD, one LPD, and one LX[R]) on the East Coast would allow, through rotation, continuous presence within the CentCom region and support for European Command (EuCom) and Africa Command (AfriCom) as they transit. Meeting a demand for engagement, deterrence, and crisis response in AfriCom/EuCom would require an additional ARG consisting of an LHA/LHD, an LPD, and two LX(R)s based as a forward-deployed naval force in a location such as Lisbon, Portugal. This ARG would be supported by a newly created 21st Marine Expeditionary Headquarters and rotational components.
On the West Coast, five ARGs likewise would support continuous rotational deployment throughout the Pacific, meeting required training needs, contingency options, and demand for presence and crisis response within the Pacific. In addition, a forward-deployed ARG consisting of an LHA/LHD, an LPD, and two LX(R)s located in Sasebo, Japan, would complement transiting naval forces from the West Coast. This ARG would continue to be supported by the 31st MEU.
This approach would require the Navy to have 12 LHAs/LHDs, 12 LPDs, and 14 LX(R)s to form and deploy the 12 ARGs. In addition, two LHAs would be converted to provide afloat command and control as well as enable deployment of their aviation capacity in crisis, contingency, or power projection operations. The original amphibious command ships (LCCs) are in use by fleet commanders but are aging rapidly. Without a dedicated command-and-control platform, the naval force lacks an ability to integrate fully from a sea base in a contested environment, particularly given the complexity of manned and unmanned fight forward. These 40 amphibious warships would provide sufficient capability to meet (currently unmet) combatant commanders' global presence and crisis response needs and provide an additional capacity for training.6
Exploiting existing shipbuilding lines can maximize economies of scale, but the exact construction requirement for future amphibious warships should be determined in conjunction with the development of the new "fighting connectors" (such as the proposed ship-to-shore connector [SSC]) to drive cost savings. Amphibious platforms must maximize the combat power that can be delivered over distance using the fighting connectors. The close-in littoral fight will not be executed by the amphibious ships at short range, but by manned-unmanned teaming in the air, sea, and subsurface supported by the fighting connectors themselves.
Given the threat to the amphibious assault ships from ASBMs, the Navy should consider augmenting ARGs with a small, self-deploying expeditionary corvette or frigate (call it an "FF[E]") that can operate closer to shore until shore-based defenses are mitigated. FF(E)s should be built to embark a Marine Corps platoon-sized task force (roughly 40 Marines depending on mission). The ship would have landing space sufficient for a single, small helicopter, a UAS, and a small well-deck or ramp intended for connectors or boat operations such as special operations and combatant craft boats, rigid-hulled inflatable boats (RHIBs), jet skis, and unmanned underwater/surface systems. Point defense would leverage embarked capability, and external markings should be minimized to allow for visual camouflage of the vessel itself. Potential FF(E)s, such as the Royal Navy's proposed Black Swan-class ships, can be acquired relatively cheaply.7 (Two Black Swans would have berthing for company-sized elements.8) By virtue of their size and speed, FF(E)s would be able to operate within the arc of adversary long-range fires in a way larger warships cannot and would be less costly to the ARG/MEU in the event of losses. More small ships would complicate adversary targeting efforts and could fall below the cost-benefit threshold of expensive and limited antiship missiles.
The proposed FF(E)s would offset the need for additional amphibious assault ships, providing options for extended-range logistics and sustainment of expeditionary advanced bases (EABs). In addition, they would enable Marine forces to take on more duties relating to presence and crisis response, support employment of unmanned systems, and significantly increase capability to support sea control and preparation for power projection and forcible entry operations. The littoral combat ship (LCS) unfortunately is not a good option, as it lacks the berthing capacity to embark Marines or other troops (even a platoon would be too large) and has operational difficulties whose future resolution is unclear.
An FF(E) class could form the basis for ships with capabilities that overcome shortfalls in the fleet as a whole. They would contribute to distributed lethality by increasing the available firepower, albeit modestly. Such vessels also would address the imbalance of the fleet toward "blue water" operations. In an April 2017 Proceedings article, Commander Benjamin Armstrong wrote, "If the U.S. Navy faced a peer or near-peer conflict today, there would be no ships available to convoy supplies, protect the combat logistics ships, or run raiding operations and resupply, because of the fleet's woefully unbalanced architecture. . . . The Navy needs a significant proportion of its ships to be small combatants, and it needs them fast if the United States wants to see success in the multipolar world."9 The flexibility of the proposed FF(E)s would allow them to take on a variety of Marine Corps and Navy missions, some of which are extremely difficult or limited with current platforms.
"Fighting Connectors"
Modern amphibious operations will require ship-to-shore infrastructure that is difficult to target during the approach to the beach. While the Marine Corps has a range of options for aerial connectors, modern air defense systems will preclude their use in some situations. Therefore, a wider variety of surface connectors, including unmanned and autonomous systems, are required for the future operating environment.
Armored surface connectors with the requisite range on both land and sea are not within the realm of possible and cost-effective physics, given the threat of antiship missiles and the ranges involved. Such a state of affairs should not be seen as a defeat but instead as an opportunity to increase the diversification of surface connectors by investing in other options, such as the FF(E), that would increase the flexibility of amphibious forces for decades.
Boats, armored amphibious vehicles, and a modernized connector fleet are the clear additional choices for the current operating environment in a constrained budget. Boats are an ideal solution to achieve a high-speed, high-range, low-signature surface connector capability. Fortunately, there are many options already developed or in the inventory. Navy Special Warfare's combatant craft boats, with some modification, offer a solution for both over-the-horizon surface transport of Marines to the shore and fire-support capability. An emergent unmanned boat system such as the Sextant series, which includes small- and medium-sized unmanned RHIBs, and a large unmanned boat that could transport personnel from ship to shore at high speed are worthy of close examination as additional options for the Gator Navy and the Marine Corps.
The drawback for manned or unmanned boats, how-ever, is that they cannot transition to land once the ship-to-shore phase is complete. Boats that can provide close fire and ISR, and facilitate the movement of personnel ashore, can instead be complemented by autonomous or unmanned connectors bringing ground tactical mobility and logistics ashore to link up with personnel.
The Marine Corps' amphibious combat vehicle (ACV), intended to replace the aging amphibious armored vehicle (AAV) fleet, is still a few years from realization. Even as it becomes operational, it likely will not have the legs to deploy from ships outside the range of shore-based missile emplacements. That said, amphibious armored combat vehicles still are needed to complete the assault phase and breakout from an amphibious operation; other types of surface connectors will need to provide the volume of combat power necessary to support the joint force—whether operating from EABs to support sea control or supporting continued land operations.
Innovations in connector design, therefore, will be the critical element. The Navy's landing craft, air cushion (LCAC), and its replacement, the SSC, do not offer the survivability and stealth required to operate during the shaping phase of an operation. Fortunately, there are a variety of emerging options to increase the diversity of means for projecting power ashore. The landing craft utility (LCU) fleet, composed of the 1610-class LCU that is more than 50 years old, must be modernized. The current LCU fleet can bring a large quantity of forces and gear ashore quickly, but only in a permissive environment. The Navy currently is looking to replace them with a newer and slightly more capable platform that essentially does the same thing—i.e., provide high-volume throughput from ship to shore at extremely short ranges. If this is all that a new platform achieves, it will be a tragic missed opportunity. The naval services should seek a platform that increases not only throughput but also the flexibility of amphibious forces. An extended-range displacement connector, able to operate independently for a limited time, would be a far better investment than just an updated LCU. Such a platform can be used for close-in maneuver warfare in the littorals once launched from amphibious ships. (These ships could operate at greater distances in conjunction with protective electromagnetic warfare effects.) In addition to deploying Marines and their equipment, it could provide in-shore fire support, precision strike, casualty transport, picket boat/defense functions, and serve as a refueling station or even a visit, board, search, and seizure platform. LCU-type craft are already modular in a sense—they can embark a wide variety of equipment—but their potential remains untapped. The landing craft utility, folding (LCU-F), proposed in the July 2013 Proceedings, is just one option that conceptually identifies what is required to support the littoral campaign and could even support shore-to-shore movements in littoral regions.10
Prepare for the Future
Change is inevitable; a disaster on the scale of Gallipoli is not. We do not have to wait for a catastrophe to identify and solve the challenges that the 21st century presents.
Enjoying the benefits of a maritime nation does not mean just maintaining the ability to fight for and win control of the seas. The United States also must maintain the ability to exploit that control by projecting combat power ashore. It takes amphibious power to put Rear Admiral J. C. Wylie's "man with a gun" on the scene, and the ability to do so should be a primary concern of the Department of the Navy as a whole. A modest but necessary increase in amphibious ships and investment in diverse surface connectors would rectify the decades-old shortfall in amphibious power to address the challenges of the modern littoral environment and prevent future failure.
---

1. ADM James Stavridis, USN (Ret.), "Maritime Hybrid Warfare Is Coming," Proceedings 142, no. 12 (December 2016), 366.
2. Benjamin Jensen and Andy Macak, "Your Grandfather's Manned-Unmanned Teaming: Looking Back to Stay Ahead," War on the Rocks, 4 April 2017, warontherocks.com/2017/04/your-grandfathers-manned-unmanned-teaming-looking-back-to-stay-ahead/.
3. Ibid, 3.
4. Ronald O'Rourke, "Navy LX(R) Amphibious Ship Program: Background and Issues for Congress" Congressional Research Service 7-5700, 1.
5. Ibid, 2.
6. Ibid.
7. B. A. Friedman, "Black Swan: An Option for the Navy's Future Surface Combatant," www.realcleardefense.com/articles/2017/07/10/black_swan_an_option_for_the_navys_future_surface_combatant_111766.html.
8. Ibid.
9. CDR Benjamin Armstrong, USN, "Hard to Lee: New Naval Priorities for a Multipolar World," Proceedings 143, no. 4 (April 2017), 38–42.
10. Susanne Altenburger, Commander Michael Bosworth, USN (Ret.), and Captain Michael Junge, USN, "A Landing Craft for the 21st Century," Proceedings 139, no. 7 (July 2013), 60–64.
---
Colonel King is the director of the Ellis Group and Major Friedman is plans officer there. The Ellis Group, part of the Marine Corps Warfighting Lab in Quantico, Virginia, is tasked with informing the combat development and integration process, supporting naval innovation, and strengthening naval warfighting partnerships.