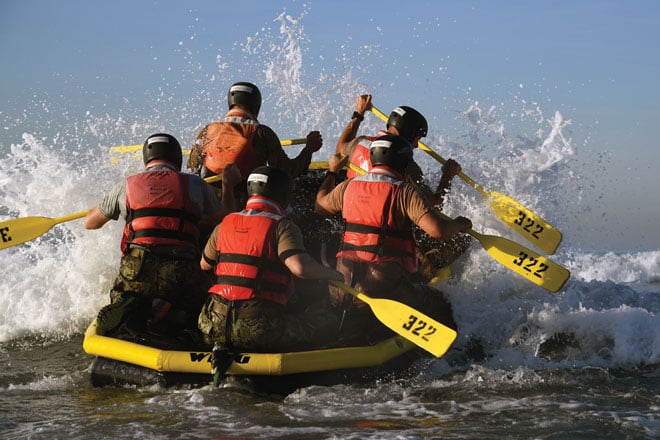 Navy SEALs undergo tough training designed to mimic dangerous situations U.S. Special Forces encounter. Most sailors, however, experience training scenarios in very controlled environments unlike what they likely would face in battle. 
On 19 August 1812, the 456-man crew of the 56-gun frigate USS Constitution tasted victory as the British frigate Guerriere struck her colors. This was the first time a British ship had struck her colors to a U.S. ship. And it was a "baptism of fire" that played a vital role in elevating the fledgling U.S. Navy to its current level of global renown.
What is a baptism of fire? It is when men and women command and crew vessels in war, employing weapons to devastating effect. It is the flash and smoke of missiles, the frenzy of saving a sinking ship, and the cries of the wounded and dying. Tactical and operational lessons are gleaned from these battles, as are lessons in equipment operation, damage control, and small-unit leadership. These baptisms of fire yield smart, hard, capable men and women who defend the nation with their blood and lives and are essential to victory at sea.
But our Navy has not seen a substantial naval conflict since World War II. To maintain our edge, we must train for the hardest conflict foreseeable, we must employ training that mimics real conflict, and we must create metrics that quantify performance in mission-essential areas vital to warfighting competency.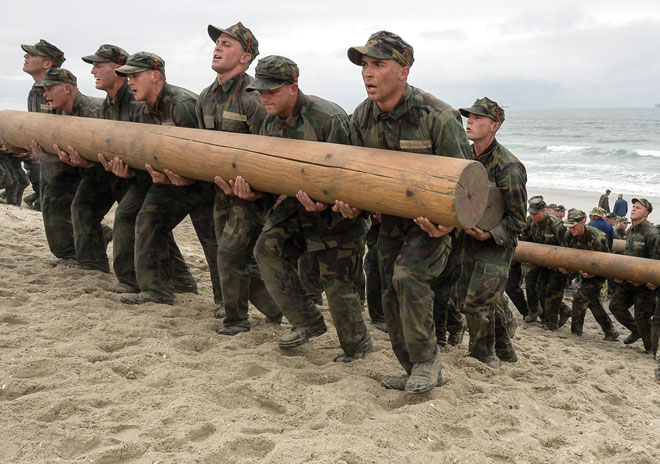 The U.S. Navy could benefit from more rigorous and realistic training scenarios, like SEAL training exercises designed to create hard, capable warfighters. Navy Photo
Train for Sustained Conflict
The U.S. Navy should be prepared to fight a sustained, long-term, bloody conflict against our most powerful adversaries. Decades of counterinsurgency-style conflicts have taken a toll on our armed forces in terms of training and execution. The absence of a real "gun fight" at sea has affected the Navy's readiness.
We have technologies that have been extensively tested in peacetime but never employed during a full-scale conflict. In naval battles, systems competency and success in their tactical employment are paramount. The ability to use weapons and optics to greater effect can give a force an advantage over an otherwise evenly matched foe. To that end, we must use an induced baptism of fire to achieve greater understanding of the strategic use of our new technologies; using them in calm training atmospheres will not yield a sufficient understanding of their role in combat.
Employ Realistic Training
A realistic training environment and atmosphere are hard to achieve. With current Navy directives aimed at ensuring safety, unit commanders are hesitant to insert variables into training schemes that could more accurately depict real-life scenarios. Operational risk management is necessary to reduce hazards, but it can constrain training. In addition, the Navy seems fixed on conducting exercises that mimic our past experience and relatively minor operations. Ships and shore crews should be preparing both for small proxy wars or counterinsurgency conflicts and combat with near-peer adversaries.
Creating a more realistic training environment could be as simple as allowing training team members to place more stress on trainees or exercise participants or allowing one potentially hazardous training variable to remain unchecked. We must ask ourselves as a Navy and Marine Corps: Is it better to have personnel who can act in dangerous situations or personnel who have trained safely and comfortably? Special Forces and Special Warfare use this principle during "Hell Week" or "Man Day" to create hard, capable warfighters, but even they are now being subjected to increased scrutiny. We must use training regimens that may seem "brutal" to ensure our own competence and, in the end, to ensure victory in future battles.
Evaluate Training Methods
We also must evaluate training based on core competencies in warfighting. Our metrics-based systems must include a way to assess training to ensure not only maximum performance in the training scenario, but also performance in stressful, even dangerous, real-world situations. Knowing Sailors and Marines can complete a task is important, but knowing they can perform under adverse, challenging conditions is perhaps more critical.
The current state of our naval forces is unprecedented. We have advanced weaponry that the founders of our Navy would never have dreamed possible. Even in this modern era, homage must be paid to the brutality and extremes of war on the oceans. Fire, smoke, comrades who are dead and dying, these situations test the wills and souls of Sailors. Drowning, severe burns, limbs amputated by shrapnel, these among many others are the woes that greet a Sailor amid a battle on the sea. We must prepare the men and women of our naval forces for these eventualities. We can better equip our personnel by training to fight our most powerful potential aggressor, by creating training regimens most akin to actual battle, and by employing evaluation metrics that reflect dynamics present in actual war.
---
Petty Officer Harrison enlisted in the Navy in 2013 and served for three years in Kings Bay, Georgia, at Marine Corps Security Force Battalion performing nuclear weapons security duties. An expeditionary warfare specialist, he currently is stationed at Coastal Riverine Group 2, Detachment Bahrain.