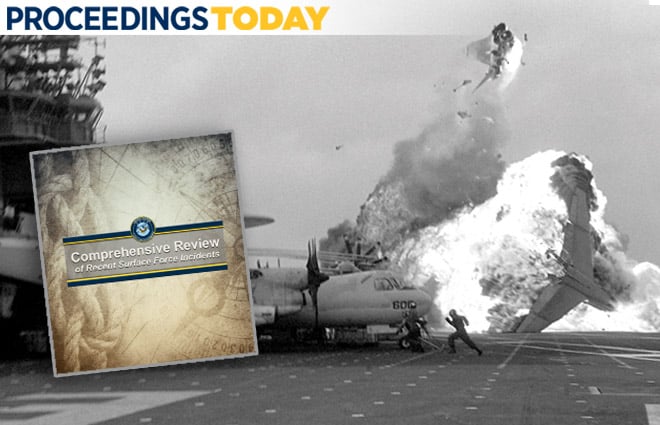 Admiral Phil Davidson's "Comprehensive Review of Recent Surface Force Incidents" examining mishaps involving Seventh Fleet ships leaves several big holes: In 177 pages of verbiage there is no reference to lessons learned from other communities other than to note that their systems for indoctrinating newly commissioned officers are more thorough than is that for surface warfare officers (SWOs). Missing is any comment on the following:
      ►   Comparisons of the ways SWOs are assigned to surface combatants vis-a-vis other communities
►   How SWOs are trained
►   What sort of standardization is or should be applied
►   The adequacy and uniformity of checklists or how ships and systems are maintained and supplied with either technical or material support.
Also missing from this review is any reference to how other warfare communities may have overcome similar problems. In particular, had the members of the review panel turned to naval aviation they might have found a recipe for corrective actions. Yet, only one naval aviator was on the panel, and his participation apparently was limited to that of high-level review. (Moreover, as far as can be seen, there were no submariners on the panel.)
A half-century ago naval aviation found itself in troubles such as those plaguing the surface community today. Most notably there was a horrendous mishap rate brought about largely by inadequacy in all the areas listed as shortfalls in the "Comprehensive Review." Lessons learned from a mishap or near-mishap were confined to the unit involved. Personnel assignments were too often the result of influence. Newly winged officers went directly to squadrons with no training beyond what it took to learn to fly in the Naval Air Training Command. Maintenance was out of the maintenance chief's little green book, and supply was often out of a cruise box.
It took a series of hard-hitting actions directed from the top to fix the problems.
►   The then-Naval Aviation Safety Activity (later, Center) promulgated lessons learned fleet-wide. Officer personnel assignments, particularly those of commanding officers and executive officers, were subjected to intensive review by boards of senior officers.
►   Maintenance was codified and aircrews and maintenance personnel were trained more intensively. 
►   Supply was moved out of cruise boxes and into a responsive and professional organization.
►   Human factors were addressed.
►   Simulators became more realistic.
►   More recently, operational risk management, crew resource management and culture workshops were established to enhance operational effectiveness and safety.
All of these actions and more can be applied by the surface community today, learning from the experiences of naval aviation. Too bad the "Comprehensive Review," apparently, never thought to look in that direction.
---
Vice Admiral Dunn is a one-time surface officer and a retired naval aviator whose book, Gear Up, Mishaps Down – The Evolution of Naval Aviation Safety, 1950-2000, was published by the Naval Institute Press earlier this year.
For more great Proceedings Today content, click here.