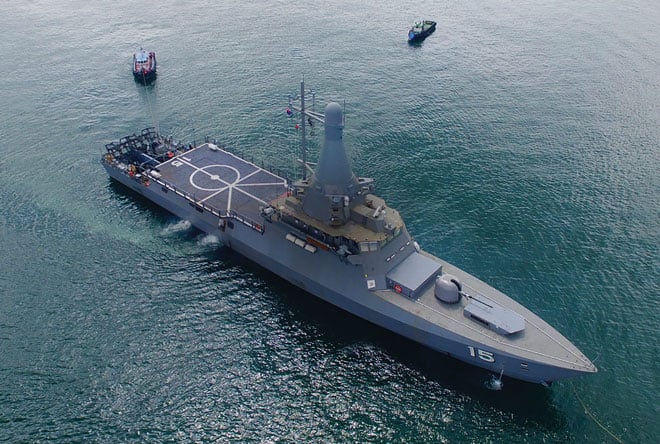 The first of eight new littoral mission vessels (LMVs) has entered service in Singapore. The Independence-class LMVs, not to be confused with the U.S. Navy's Independence-class littoral combat ships, were custom designed and built in Singapore to fulfill its unique maritime requirements. The class is modular and reconfigurable, permitting a wide array of naval missions. Displacing 1,250 tons, Singapore's Independence-class measures 262 feet long with a beam of 39 feet and operates with a crew of 23 personnel. The ships are fitted with a helicopter landing deck, short-range Mica surface-to-air missiles, a three-inch gun, and an array of nonlethal weapons, such as a long-range acoustic device and a water cannon system. All eight LMVs are due to enter service by the end of 2020. RSS Independence, commissioned in Singapore on 5 May 2017 and pictured here, is the first of the class. The second and third units were launched in 2016, and the fourth and fifth LMVs were launched in March and September 2017.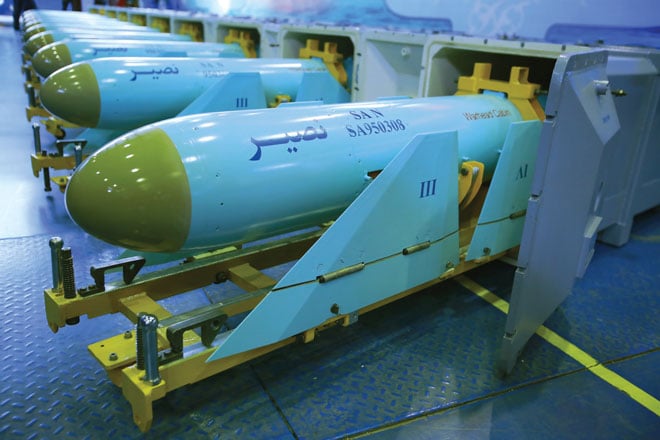 Iran's Revolutionary Guard Corps Navy (IRGCN) began taking deliveries of a large batch of recently unveiled Nasir antiship cruise missiles this past April. The missiles are thought to be extended-range variants of the Iranian-built Nasr-1 missiles, which are themselves copies of the Chinese C-704 missile. The Chinese C-704 began entering service around a decade ago and carries a 286-pound warhead to a range of 22 miles. Copies of the C-704 began appearing in Iranian service as the Nasr-1 by 2010. Little is publicly known about the newer Nasir missile, although it reportedly was test fired during Iran's Valayat 95 military exercises in February of this year. Iranian media reported that the Nasir can be fired either from ships or land launchers, and defense officials boasted of the weapon's quick response time and resistance to jamming. Unconfirmed reports suggest that an Iranian Ghadir-class submarine unsuccessfully attempted to test-fire the new missile in May.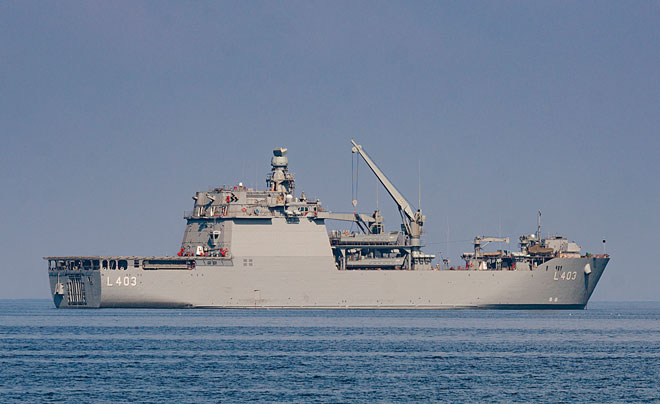 In April the Bayraktar, first of two new tank landing ships, was commissioned into the Turkish fleet. The second vessel of the class, to be named Sancaktar, was launched in July 2016 and is pictured here. She conducted trials and shipyard acceptance testing throughout the summer. The Bayraktar-class displaces 7,250 tons (full load) and measures 455 feet long with a beam of 62 feet and a 10-foot draft. Each LST carries a crew of 129 and is able to transport 350 personnel plus 20 main battle tanks and up to 60 smaller vehicles. The vessels have a top speed of 18 knots and a cruising range of 5,000 miles at 15 knots. Turkey's amphibious fleet is due for an even larger acquisition in the near future. The country's domestically built 28,000-ton big-deck amphibious assault ship, based on Spain's Juan Carlos I-class, is currently under construction and expected for delivery in 2021.
---
Mr. Wertheim, a defense consultant in the Washington, DC area, is the author of the 16th edition of The Naval Institute Guide to Combat Fleets of the World, available from the Naval Institute Press (see www.usni.org).