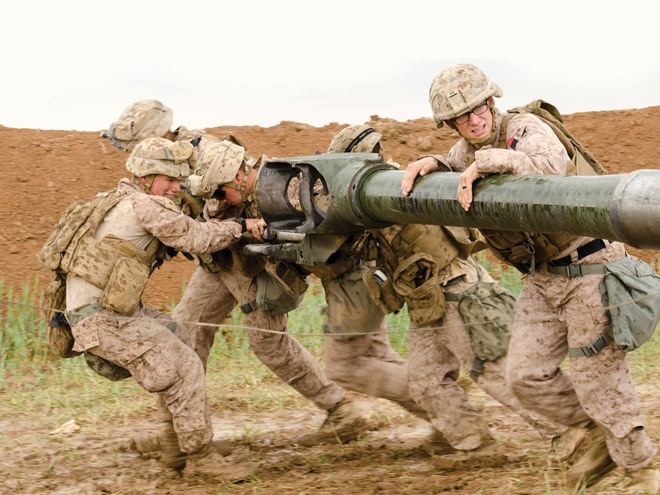 U.S. Marine Corps (Peter Berardi)
"We will make the force ready for today, but also prepared for tomorrow by maintaining the institutional agility necessary to address the range of challenges across steady state, crisis, contingencies and major theater combat operations."1
Commandant of the Marine Corps, General Robert B. Neller, 19 January 2016
 
Early in 2016, Marine Commandant General Robert Neller issued "FRAGO 01/2016," laying out his initial guidance to the Marine Corps. Subtitled "Advance to Contact," the document updated General Joseph Dunford's previous planning guidance, focusing on people, readiness, training, naval and joint integration, and modernization. Its stated purpose was to aid the Corps making the pragmatic institutional choices necessary to balance today's need to "remain forward deployed, at high operational tempo, and in harm's way" with future readiness requirements against a range of potential and evolving adversaries.
Marine Corps forces continued to be in high demand. During 2016, Marines were forward deployed conducting combat operations, deterring global instability, and sustaining the critical network of U.S. allies. In an increasingly challenging, unstable, and complex global security environment, including constrained defense resources, they provided critical expeditionary capabilities to combatant commanders. The Corps also made significant progress in laying the foundation for ensuring these valuable national capabilities continue to provide the necessary support to naval and joint forces.
In the past calendar year, Marines executed approximately 185 operations to include 20 amphibious operations, 140 security cooperation events with our partners and allies, and 65 major exercises. More than two-thirds of the Marine Corps' operating forces were deployed or stationed overseas during 2016, with nearly 23,000 west of the International Dateline providing regional stability and deterrence in the strategic Indo-Asia-Pacific region.2
At the same time, Marine leaders called for building the Marine Corps for the 21st century, often describing it as a fifth generation, multidimensional air and ground force. In late September, General Neller published a revised service capstone concept entitled, "Marine Corps Operating Concept: How an Expeditionary Force Operates in the 21st Century."3 This document (the MOC) expanded on the early FRAGO guidance, providing direction for enhancing the Corps' maneuver warfare approach. Some key points in the MOC include:
• Emphasizing fighting on and from the sea in support of naval campaigns
• Operating from more diverse platforms and employing expeditionary advance bases
• Increasing sea control and power projection operations as a cohesive naval force
• Increasing the ability of the MAGTF to operate in a distributed manner
• Improving resiliency to operate in a contested electromagnetic and network environment
• Integrating information warfare capabilities into a combined arms approach
• Leveraging unmanned systems at all echelons
A number of initiatives last year reflected this strategic framework for improving the capacity and warfighting capabilities of the MAGTF.
Combat Operations
Marines continued to support combat operations in the U.S. Central Command (USCentCom) area of operations, assisting Iraqi forces in retaking key locations and conducting operations in Syria to degrade, disrupt, and defeat the Islamic State of Iraq and the Levant (ISIL). Throughout 2016, Marine aircraft executed more than 900 total tactical air sorties and 700 strike events in support of Operation Inherent Resolve (OIR). Approximately 300 Marines from Special Marine Air-Ground Task Force–Crisis Response–Central Command (SPMAGTF-CR-CC), based out of Kuwait, and the I Marine Expeditionary Force (MEF) Advise and Assist team formed Task Force Al-Asad (TFAA). TFAA advised and assisted the 7th Iraqi Army Division and other designated Iraqi forces by providing peer-to-peer assistance and training support. Similarly, Task Force Al Taqaddum, made up of approximately 250 Marines from SPMAGTF-CR-CC and the II MEF Advise and Assist Team, advised Iraqi security forces tasked with holding Ramadi and securing the Euphrates River Valley.
Most notably, during the early part of 2016, the Marines' role in support of OIR expanded from primarily air and advisory support to the employment of ground forces to provide direct support to Iraqi offensive operations. In March, the 26th Marine Expeditionary Unit (MEU) established an artillery detachment at a fire base in northern Iraq to provide counterbattery fire in support of the Iraqi Army offensive operation to retake Mosul. Designated Task Force Spartan, it was composed of four M777 155-mm howitzers and 173 Marines (artillery, engineers, and security forces) along with eight Army counterbattery soldiers and their radar. On 19 March, Staff Sergeant Louis F. Cardin, an artillery cannoneer deployed with the 26th MEU, was killed when ISIL launched a rocket attack on the fire base near Makhmur. Eight other Marines were wounded in the attack. Remaining in Iraq after the rest of the MEU returned to the East Coast from its seven-month deployment, the detachment eventually transferred its mission to an arriving Army artillery unit on 24 May—proving once again the value and responsiveness of forward expeditionary forces.
In May, the 2nd Raider Battalion from Marine Special Operations Command assumed responsibility within USCentCom as Special Operation Task Force-North (SOTF-N) and conducted missions in northern Iraq. Also, both the 26th MEU / USS Kearsarge (LHD-3) Amphibious Ready Group (ARG) and the 13th MEU / USS Boxer (LHD-4) ARG offloaded personnel and equipment to join the special operations command USCentCom contingency response element. Together, the MEU Marines and the contingency response element conducted maritime contingency operations in the Gulf of Aden and the Arabian Sea. SPMAGTF-CR-CC provided a persistent alert force and company-sized crisis response force for OIR. Its mission included the capability to conduct tactical recovery of aircraft and personnel.
In support of Operation Freedom's Sentinel (OFS), the Marine Corps provided approximately 100 personnel to the NATO-led mission in Afghanistan. The majority of these Marines were with the Georgian military liaison team, and some served as joint individual augmentees in staff positons. October marked the 18th time since 2009 that Marines have supported the deployment of a Georgian light infantry battalion to Afghanistan. A Marine training team trains the battalion in Georgia before it deploys. The Marine liaison team is separate and deploys with the Georgian battalion, advising, assisting, and accompanying the unit in conducting force protection and quick reaction force combat missions in theater.
Elsewhere, in August, Marine AV-8B Harrier aircraft operating from the USS Wasp (LHD-1) and part of the 22nd MEU struck ISIL targets in Libya near Sirte as part of Operation Odyssey Lightning. These combat missions were conducted in response to a request from the Libyan Government of National Accord. For 100 consecutive days, AV-8B Harriers and AH-1Z Cobra attack helicopters conducted strikes. During much of this time—including after the Wasp was replaced on station by the USS San Antonio (LPD-17) in October—the guided-missile destroyer USS Carney (DDG-64) operated with the amphibious ships providing over-watch support and naval gunfire support—including illumination missions—with its MK 45 5-inch gun.
Forward Force Posture and Global Crisis Response
In 2016, forward-deployed Marine forces provided combatant commanders with flexible and responsive capabilities. Task organized and scalable expeditionary forces were ready-to-fight, with the flexibility to respond to a range of missions and crises, threats, and engagement demands, particularly in the Middle East, Africa, Europe, and the Pacific. In addition to rotational forces addressing steady state requirements, Marine forces maintained a surge capacity.
The deployment of 2,200 MEU Marines embarked on board ARGs continued to provide a balanced combination of expeditionary ground, air, and logistics forward presence and crisis response capabilities. During 2016, five separate MEUs were deployed—the 26th MEU (Kearsarge ARG) and 22nd MEU (Wasp ARG) from II MEF on the East Coast, the 13th MEU (Boxer ARG) and 11th MEU (Makin Island [LHD-8] ARG) from I MEF on the West Coast, and the 31st MEU (Bonhomme Richard [LHD-6] ARG), forward deployed from III MEF out of Okinawa. On average, nearly three MEUs were forward deployed at all times.
In addition to supporting combat operations in Iraq, Syria, and Libya, MEUs participated in major exercises with allies and partners, to include Turkey, the United Arab Emirates, Oman, Jordan, Kuwait, Thailand, Korea, Japan, Guam, and Tinian. In April, Marines from the 31st MEU, based in Okinawa, deployed eight MV-22 Osprey tilt-rotor aircraft to Marine Corps Air Station Iwakuni, Japan, in response to a 6.5 magnitude earthquake and a follow-on 7.0 magnitude earthquake near Kumamoto, Japan. The MV-22s flew 24 sorties delivering 76,000 pounds of relief supplies.
Notwithstanding their impressive accomplishments in 2016, the current force of 31 amphibious ships is not sufficient to meet combatant commanders' demands. Current peacetime rotational requirements total 54 amphibious ships. War plan requirements to provide amphibious lift for two Marine Expeditionary Brigades (MEBs) would equal 38 ships. To make up the difference and support combatant commanders' requirements in 2016, the Marine Corps deployed three tailored crisis-response Special Marine Air Ground Task Forces or SPMAGTFs. While these SPMAGTFs meet limited requirements for geographic combatant commanders, they lack the full combat power, capacity, and agility of the ARG/MEU team—in part because of the constraints of land-basing and reliance on host-nation approval.
SPMAGTF-CR-CC, a land-based rotational contingent force of approximately 2,300 Marines from I MEF, provided kinetic and nonkinetic strikes and other support to OIR. In addition, this team worked with the Jordanian armed forces to professionalize their quick reaction force. They also conducted numerous theater security cooperation exercises throughout the region. During 2016, I MEF sourced three rotations of SPMAGTF-CR-CC, each led by a colonel and controlled by an infantry regimental headquarters. The task-organized force included an infantry battalion and supporting ground forces, an aviation element with F/A-18 Hornets, KC-130J Super Hercules, and MV-22 Ospreys, and a tailored combat logistics element.
SPMAGTF-CR-Africa (SPMAGTF-CR-AF) from Moron, Spain, and Sigonella, Italy, with approximately 1,750 Marines sourced from II MEF, is postured to respond to a broad range of military operations in the U.S. Africa Command region, including U.S. embassy reinforcement, fixed-site security, noncombatant evacuation operations, humanitarian assistance and disaster relief operations, tactical recovery of aircraft and personnel, theater security cooperation, and other missions as directed. During 2016, the SPMAGTF provided security to intelligence, surveillance, and reconnaissance operations in Cameroon, supported a contingency mission in Djibouti, deployed to Uganda in response to instability in South Sudan, and conducted exercises and training with partners in Mauritania, Uganda, Senegal, Morocco, Ghana, Togo, Gabon, and Cameroon. II MEF sourced three rotations of SPMAGTF-CR-AF, each led by a colonel and controlled by an infantry regimental headquarters. The range and speed of the SPMAGTF's MV-22Bs and KC-130 aerial-refueling aircraft provided highly mobile, self-deployable, and self-sustained rapid-response ground forces from fixed shore bases in the region. In addition, the unit maintains an infantry company in Romania, collocated with the Black Sea Rotational Force (BSRF).
The BSRF, built around the elements of an infantry battalion based out Romania, also included a combined arms company (CAC) based in Bulgaria with three M777 155-mm artillery pieces, a platoon of four M1A1 tanks, and a platoon of six LAV-25s. The BSRF is in Eastern Europe to conduct military-to-military engagements with partner nations while providing a crisis-response capability year-round to U.S. European Command. During 2016, the unit supported training exercises with partners in the Black Sea, Balkan, and Caucus regions, to include combined arms live-fire, counterinsurgency, and peacekeeping operations training.
From January through March, elements of the BSRF and the CAC participated in cold weather and amphibious operations training with allies and partners in Norway. Starting in October, they participated in combined arms training in Norway. This was followed by a multilateral exercise in Lithuania that included forces from Romania, Czech Republic, Germany, Hungary, Latvia, Lithuania, the United Kingdom, Sweden, and Canada. The Marine Corps has announced that in early 2017 it plans to reduce its presence in Bulgaria as the U.S. Army takes over this mission. At the same time the Corps plans to establish a limited rotational presence in Norway of a reinforced company and logistical enablers consisting of approximately 300 Marines.
For the second consecutive year, SPMAGTF–Southern Command was task organized from Marine reserve and II MEF units and deployed from June to November. This SPMAGTF operated from Honduras providing theater security cooperation and limited crisis support to U.S. Southern Command. It provided persistent presence and advised and mentored partner nation counterparts in Honduras, El Salvador, Guatemala, and Belize.
In October, Joint Task Force-Matthew, composed of Marines from SPMAGTF–Southern Command and the 24th MEU, provided humanitarian assistance and disaster relief to Haiti in the wake of Hurricane Matthew. Within 48 hours after the hurricane passed, the SPMAGTF command element and two CH-53E Super Stallion helicopters arrived in Haiti, followed shortly by the 24th MEU on board the USS Iwo Jima (LHD-7) and USS Mesa Verde (LPD-19). Over the next two weeks the task force delivered more than 575,000 pounds of relief supplies.
In May, U.S. Marine Corps Forces Central Command (ComUSMarCent) and U.S. Naval Forces Central Command (ComUSNavCent) signed a memorandum of understanding tasking the commanding general of the 5th MEB—the MarCent forward operational headquarters in Bahrain—with the additional responsibility as Commander, Task Force 51 (CTF-51), under ComUSNavCent. This provides an "integrated structure that can prosecute a single naval battle concept, strengthen partnerships with both naval and special operations forces, and enhance interoperability with joint and regional coalition partners."4 During 2016, the 5th MEB led exercises in the region including a maritime prepositioning force offload in Oman, an amphibious exercise in Kuwait, and a multilateral training exercise in Jordan.
The Marine Corps also continued to employ maritime prepositioning force ships for the embarkation of forces conducting theater security cooperation exercises. From May to August, about 100 Marines from III MEF embarked the USNS Sacagawea (T-AKE-2) and conducted training events in Papua New Guinea, Fiji, and Tonga. From August to December, about 80 Marines from I MEF embarked the USNS Pililaau (T-AKR-304) and conducted training exercises in Peru, Tahiti, Tonga, Fiji, Vanuatu, New Caledonia, and Papua New Guinea. In addition, Spearhead-class expeditionary fast transports were employed in support of theater security cooperation missions. In the Spring, Marines from SPMAGTF-CR-AF embarked the USNS Spearhead (T-EPF-1) in support of the annual African Partnership Station operation that visited and conducted small unit training in West Africa, including Cameroon, Gabon, and Morocco. In October and November, unit deployment program Marines from III MEF embarked the USNS Millinocket (T-EFP-3) and conducted training with Cambodian forces.
For the fifth year, Marine forces deployed to Darwin, Australia, to enhance the U.S. alliance with Australia. From April to October, Marine ground, aviation, and logistic units from the III MEF unit deployment program operated from the field training areas in northern Australia. Training events included combined exercises with forces from Australia, Japan, New Caledonia, Canada, and Germany, as well as U.S. Army Pacific. The Marine Rotation Force-Darwin initiative remains in Phase II of a four-phase program projected to eventually grow from the current 100 Marines to a MAGTF of 2,500.
While the change of administration in the Philippines sparked concerns about future exercises in that country, Marine forces continued to conduct exercises with the armed forces of the Philippines. In September, 3rd MEB conducted bilateral training in the Philippines that included mechanized training, amphibious assault, naval surface fire support demonstration, and rocket artillery.
In New Mexico, Puerto Rico, Texas, and California, Marines supported the U.S. Border Patrol with ground sensor platoons and road construction. The Chemical Biological Incident Response Force (CBIRF) provided support to the U.S. Secret Service at both the Republican and Democratic national conventions. Marine Security Augmentation Units deployed 62 times at the request of the State Department, executing 19 embassy and consulate security missions and 43 VIP security missions.
Force Structure and Personnel
The Marine Corps fiscal year (FY) 2016 authorized end strength was 182,000 active-duty personnel and 38,900 reservists. With this end strength, the Marine Corps maintained the same basic framework for its ground operating force structure as in 2015, built around 24 active infantry battalions and 8 reserve infantry battalions, 18 active and 1 reserve fighter and attack squadrons, and 16 active and 2 reserve medium-lift MV-22 squadrons. The most significant change was the re­flagging in June and the initiation of the transition of an AV-8B Harrier squadron (VMA-211) to an F-35B Lightning II squadron (VMFA-211). Also in May, the first of four Marine tactical electronic warfare squadrons (VMAQT-1), equipped with the EA-6B Prowler, was disestablished, starting the planned sundown of all these squadrons by the end of FY19.
The 2017 National Defense Authorization Act sanctioned a reversal in reductions to force structure by approving 185,000 active component Marines. However, appropriations still are required to execute this growth. The new administration bolstered expectations of a potential expansion.
In recognition of new security challenges, the Marine Corps conducted a year-long bottom-up review over the course of 2016. While the results of this review, entitled Marine Corps Force 2025, have not been publicly released, senior leaders have discussed its objectives. The plan will provide design and development priorities for capabilities and capacity of the future force necessary to deter, and if necessary, defeat 21st century threats. In December, General Neller said his desire for increased capabilities will focus initially on improved cyber, information operations, intelligence analysis, targeting, and electronic warfare capabilities.5 The plan also will identify various end-strength levels up to 194,000 and the associated capabilities and modernization required for each step increase.6
At the end of 2015, the Secretary of Defense directed all services to implement fully the opening of all military occupational specialties (MOSs) and units to all service members. Over the course of 2016, the Marine Corps executed its Marine Corps Force Integration Plan (MCFIP) to integrate women into ground combat arms MOSs that previously were restricted to men. Major milestones over this period included the first female Marine officers graduating from the Field Artillery Basic Officer Course at Fort Sill, Oklahoma, in May and the first enlistments of women with contracts for previously closed ground infantry, artillery, and armor jobs. In each case the women, like all their male counterparts, successfully completed required gender-neutral standards testing.
Closely related to these efforts, in July the Marine Corps introduced new physical fitness test (PFT) and combat fitness test (CFT) standards for all Marines. The new standards eliminated the flexed-arm hang as an alternative to pull-ups for women on the PFT, and now allow both men and women, as an option, to do push-ups instead of pull-ups—though a maximum score for that section of the test is not achievable if the push-ups option is chosen. There is now age-specific scoring, and rules for body-fat are relaxed for those who score close to the maximum. The new standards maintain gender-normed scoring, however. For instance, men between 21 and 35 must do 23 pull-ups to maximize their score, while women between 26 and 30 must do 10 pull-ups to get the maximum score. It is important to understand that these tests are not the same as the gender-neutral tests employed for MOS assignment and classification.7 In September, the Commandant announced that a cadre of force fitness instructors will be trained and assigned to units down to the company level. Their role will be to serve as subject-matter experts on physical fitness, increase unit readiness, and reduce injuries.
Aviation Readiness and Safety
Aviation readiness and safety issues became a major issue for the Marine Corps in FY16. The Marine Corps suffered eight Class A mishaps (which involve either a fatality, loss of an aircraft, or more than $2 million in damages). During the calendar year, at least 15 lives were lost in aviation mishaps including the 14 January crash of two CH-53E Super Stallion helicopters that killed 12 Marines off the coast of Oahu during nighttime training. While the FY16 Class A Flight Mishap rate of 3.33 per 100,000 flight hours was in line with recent averages, the six major mishaps during the last three months of the calendar year added to the level of concern.
In testimony before the House Armed Services Committee on 6 July, the Deputy Commandant for Aviation Lieutenant General Jon Davis stated, "We are going through a period of risk for Marine aviation," and "General Neller and I are deeply concerned about the current state of our aviation readiness. This is what keeps me up at night." He highlighted that 13 of the last 27 squadrons deployed with less than the "required training and readiness levels to be safe and meet the minimum for tactical proficiency." He also testified that currently only 43 percent of Marine operational aircraft were flyable, and he noted that "average aircrew flight time has reached historic lows." He identified the most significant factors contributing to this aviation readiness crisis as the maintenance backlog at the depots, lack of qualified repair and maintenance personnel, and a shortage of repair parts, as well as the need to more rapidly replace old aircraft at the end of their service lives. He also highlighted that the rate of less serious Class "B" and Class "C" level mishaps has increased, primarily because of aircrew errors. He also explained the Marine Corps plan to correct these deficiencies and the success to date.8
Modernization andInnovation
In accordance with the Commandant's FRAGO, the Corps reinvigorated experimentation of new concepts and technology to develop and evolve MAGTF capabilities. Third Battalion, Fifth Marines (3/5), based in Twentynine Palms, California, was identified as the experimentation force. The battalion is conducting experiments while simultaneously progressing through preparations for deployment to Okinawa in 2017 and through that deployment with the 31st MEU. Kicking off over the summer, the unit was reconfigured, re-equipped, and trained to support the experimentation efforts as an integral part of its normal training regimen. In addition, various new concepts for unit organization, including the rifle squad, are being evaluated during the experiment.
The Marine Corps Warfighting Laboratory supplied new pieces of gear during 2016 for experimentation by 3/5. A key goal was to improve the ability of small units to operate on a more dispersed battlefield against a "near-peer" enemy. This included an exoskeleton that harnesses the Marine's energy as he or she walks, flexible lithium-ion batteries, and folding solar panels, which can be used to recharge a small unit's devices and reduce logistical resupply requirements. Remote-controlled robotic guns mounted on small tracked ground vehicles were tested along with a range of small drones with cameras for intelligence gathering. The battalion also evaluated a new infantry automatic rifle, the M27, as a potential new service rifle.
During the Freedom Banner exercise in South Korean waters in February, the 31st MEU / Bonhomme Richard ARG and III MEF validated key elements of the seabasing doctrine. Employing the expeditionary transfer dock USNS Montford Point (T-ESD 1) as a floating pier, gear from the USNS Gunnery Sgt. Fred W. Stockham (T-AK 3017) was off loaded and transferred to LCACs for transfer ashore. At a Marine Corps Warfighting Lab large-scale exercise at Camp Pendleton in August, I MEF worked to codify new tactics, techniques, and procedures for cyber network defense operations. This training reinforced General Neller's vision to expand the Marine's combined arms approach beyond lethal fires and to integrate more fully information, cyber, and electronic effects into maneuver operations. In addition, another tool was added to this capability set in October when the first high power, ground-mobile, electronic attack system was fielded to the radio battalions. This system, called CESAS II, significantly improves the ability of the MAGTF to detect, deny, and disrupt enemy communications in a much lighter system mountable in a HMMWV or man-portable that doubles the frequency range covered.
In another exercise off Japan in October and November, 3d MEB exercised the developing concept for expeditionary advance bases. As enemy long-range precision area-denial fires and antiaccess sea control challenges increase, large bases are becoming more vulnerable. Naval forces also must be able to operate in a more disaggregated and distributed manner. The ability to penetrate enemy antiaccess and area-denial zones and insert mobile intelligence gathering, targeting, strike, and other capabilities in the littorals can be a significant force multiplier for maritime joint forces conducting naval maneuver operations. Along with exercises like this, the Futures Directorate at the Combat Development and Integration Command at Quantico is developing various concepts for expeditionary advanced base operations and evaluating them in wargames and other venues.
In a key test to integrate the fifth-generation fighter into the naval integrated fire control-counter air architecture (NIFC-CA) in October, a Marine F-35B Lightning II provided targeting data from its sensors to the Navy's Aegis test site at White Sands, New Mexico, over its multifunction advanced data link. The USS Desert Ship (LLS-1) test platform then launched an SM-6 missile, which successfully hit the target drone. This test represented a significant growth of the NIFC-CA capability beyond the E-2D Advanced Hawkeye and demonstrates the expanded naval networking for more distributed naval operations in the future.
In March, the Marine Corps took delivery of the first upgraded amphibious assault vehicle with survivability upgrade (AAV SU). Eventually 396 of the Corps' 1,058 AAVs will be upgraded, extending the service lives of these 40-year old systems another 20 years. The remaining AAVs are to be replaced by the amphibious combat vehicle (ACV) increment 1.1. The first of 16 prototypes of the ACV 1.1 produced by BAE systems was delivered in December. SAIC, the other competitor in the next testing and selection phase, delivered its first of 16 prototypes earlier this year.
As Marine aviation reached the half-way point of full recapitalization of every tactical platform, several milestones were reached during 2016. At the beginning of the year, the RQ-21A Blackjack unmanned aircraft system (UAS) achieved initial operational capability with the fielding of the system to VMU-2 at Cherry Point, North Carolina. This system eventually will replace the RQ-7B Shadow UAS. In October, the CH-53K King Stallion successfully completed its first operational assessment and demonstrated that it could lift a 27,000-pound external load, three times the capacity of the CH-53E it is scheduled to replace starting in 2020. Near the end of the year, the F-35B Lightning II completed its final shipboard testing on board the USS America (LHA-6). This final clearance was achieved just before the first F-35B squadron deployed to Japan and eventually on board ship.
The Future
Over the course of 2016, the Marine Corps successfully faced many challenges, and Marines continued to demonstrate their skill as the nation's crisis response force, forward deployed and rapidly and effectively responding to the unexpected. The Marine Corps also laid a firm foundation for rebalancing and modernizing for the complex future operating environment. These actions are setting the necessary conditions to enable Marines to fight across all warfighting domains, enhance their ability to maneuver, integrate as a naval force, operate with resilience in a contested network environment, and exploit the competence of the individual Marine.
---

1. General Robert B. Neller, USMC, "FRAGO 01/2016: Advance to Contact," 19 January 2016, http://www.hqmc.marines.mil/Portals/142/Docs/CMC%20FRAGO%2001%2019JAN16.pdf.
2. General Glenn Walters, USMC, Assistant Commandant of the Marine Corps, testimony before the Senate Armed Services Subcommittee on Readiness, 8 February 2017, and "Calendar Year (CY) 2016 USMC Operational Highlights Paper" prepared by Department for Plans, Policies, and Operation, Headquarters, U.S. Marine Corps.
3. "Marine Corps Operating Concept; How an Expeditionary Force Operates in the 21st Century," September 2016, www.mcwl.marines.mil.
4. Memorandum of Understanding (MOU) between Commander, U.S. Naval Forces Central Command (COMUSNAVFORCENT) and Commander, U.S. Marine Corps Forces Central Command (COMUSMARCENT) Regarding Command Relationships and Staff Integration, 12 May 2016.
5. Sam LaGrone, "CMC Neller Wants More Cyber, Intel and Electronic Warfare Marines, USNI News, 7 December 2016, https://news.usni.org/2016/12/07/cmc-neller-wants-cyber-intel-electronic-warfare-marines.
6. Walters.
7. Hope Hodge Seck, "Marine Corps Rolls Out Biggest Fitness Standard Overhaul in 40 Years," Military.com, 1 July 2016, www.military.com/daily-news/2016/07/01/marine-corps-rolls-biggest-fitness-standard-overhaul-40-years.html?ESRC=todayinmil.sm.
8. LtGen Jon M. Davis, USMC, Deputy Commandant for Aviation, testimony before House Armed Services Subcommittee on Readiness, 6 July 2016.
Lieutenant Colonel Hammond, a 1982 graduate of the U.S. Naval Academy, served in Operation Desert Storm and commanded an artillery battery with the 15th MEU during the amphibious landing into Mogadishu, Somalia, in December 1992. Before retiring in 2005, he was an analyst in Headquarters Marine Corps' Strategic Initiative Group and director of the Commandant's Staff Group. He currently works as a DOD analyst and consultant.