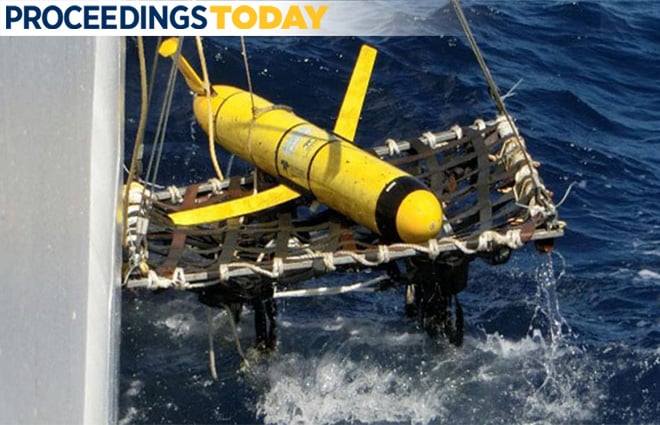 "Gray zone" is a new term indicating conflicts that involve some degree of offensive force, but with deliberate ambiguity over responsibility and intentions. Presumably the aggressor can avoid a corresponding armed response because of this ambiguity. It has been used to describe the use of "anonymous" armed forces ("little green men" or "nationalist fishermen") and actions of violence below the level commonly expected in war. In a prescient December 2016 Proceedings article, retired Navy Admiral James Stavridis referred to it as a part of "maritime hybrid warfare." Gray-zone incidents have become a standard feature of the South China Sea.
The Chinese seizure on 15 December 2016 of unmanned underwater vehicle (UUV) operated by the U.S. Naval Service (USNS) vessel Bowditch (T-AGS-62) in international waters was one of the most brazen acts yet in the ongoing gray-zone conflict. To seize the sovereign property of another nation in international waters is a clear violation of international law. The return of the UUV several days later did little to end a continuing and disturbing trend.
The seizure was not as surprising as the fact that it was done by a Peoples Liberation Army Navy (PLAN) Dalang III (AS-510) salvage ship. Usually gray-zone incidents in the South China Sea are carried out by the Chinese maritime militia, an organized group of "unofficial" fishing vessels under local government control that can be sent out to conduct such harassment missions. Apparently there were no Chinese fishing vessels on the scene or fast enough to get into position. The use of a PLAN ship to violate international law in international waters was indeed brazen and an escalation of activities.
The incident should have had significant effect on the gray-zone debate being conducted in academic and policy circles, but the return of the UUV clouded this discussion. In trying to determine a U.S. response policy, the international lawyers and academics have continued to agonize over how to "prove to the world" that gray-zone tactics are part of the official strategies of China, Russia, or other perpetrators. They should stop their agony; the world already knows it even if some nations are too queasy about Chinese economic power (or Russian military power) to speak out. There is nothing "gray" about military-like actions conducted by the vessels of an authoritarian state in which the commercial shipping and fishing fleet is owned by the government.
Beijing always will find a myriad of excuses for the action: "the UUV was a hazard to navigation; the PLAN ship did not recognize its ownership; the UUV was in danger of sinking and needed to be rescued." Take your pick. In the case of this particular incident, "the hazard to navigation" (despite being in the open ocean and with U.S. recovery imminent) was used.
Some China watchers interpreted the incident to indicate that Beijing meant to highlight its unhappiness with remarks by Admiral Harry Harris, Commander, U.S. Pacific Command, at an academic conference. Perhaps. But the practical result was that the PLAN had a U.S. Navy drone that they could (and likely did) take apart and examine to determine its capabilities, characteristics, and perhaps the Navy's methods of control.
Although the Ocean Glider UUV is largely autonomous and primarily constructed with commercial-of-the-shelf (COTS) technology, it was a convenient opportunity for the PLAN to ascertain its data frequencies so it (or other similar UUVs) can be jammed or spoofed in the future. After examination, it was predictable that the Chinese eventually would give it back. As they did the Navy's EP-3 in 2001.
The question is how the United States and other states should respond to such gray-zone activity. Although this UUV "catch and release" was quietly forgotten once media attention moved on, such incidents will continue in the South China Sea and other international waters claimed by China. The subsequent meeting between President Donald Trump and Chinese leader Xi Jinping in April indicated no solution. What should be our policy?
The initial step in responding should be a high tariff on a select group of Chinese-made electronic imports. This action will not set off a war, but it would send a message to an export-dependent economy.
Sanctions or tariffs would be resisted by those U.S. businesses that profit from imports from China made by low-wage laborers. Others will advise U.S. officials not to overact for a mere oceanographic drone. Actually, the United States should not overreact, which is why a small trade inconvenience should be the signal.
China is a mercantilist, not a free-trade nation; it will get the message.     
---
Dr. Sam J. Tangredi is now a professor of national, naval and maritime strategy at the Center for Naval Warfare Studies, U.S. Naval War College.