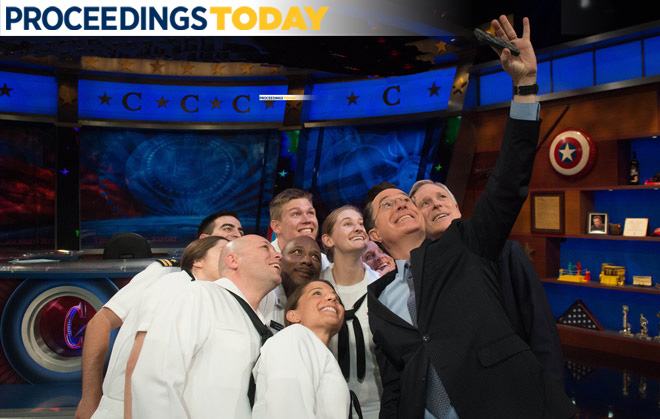 Impassioned public discourse is the hallmark of a healthy republic and should be encouraged among U.S. civilians. For our nation's military officers, however, such public-facing political opining has serious implications that easily can get lost amid emotionally charged debates. Members of the profession of arms have a responsibility to think through the signals sent by their political behavior to those both within and outside of the military.
Much has been said in recent months about retired generals and flag officers taking on highly visible roles during the last election cycle, but there has been little discussion about the behavior of younger, active-duty officers. In the cases of the retired senior officers, the admonition from top leaders was swift and clear. General Martin Dempsey, U.S. Army (Retired), former Chairman of the Joint Chiefs of Staff, emphasized, "The American people should not wonder where their military leaders draw the line between military advice and political preference."[1] Likewise, Marine General Joseph Dunford Jr., the current Chairman, reminds us that the military must be seen "as an apolitical organization that swears an oath to the Constitution of the United States—not an individual, not a party, not a branch of government—the Constitution of the United States."[2]
Renewed calls for sustainment of the military's apolitical character should not apply only to senior leaders, but to every officer. A recent survey of more than 500 West Point cadets and active-duty officers found that three-quarters of respondents had witnessed other officers repost or share political links or articles on Facebook and Twitter. More troubling, a third of respondents reported regularly witnessing "fellow officers advocate directly for a political figure, disparage a candidate, or encourage others to take action on a political issue."[3] The study's author rightly contends, "Such behavior threatens to erode the trust in which the public holds the military, leading to it being viewed as just another interest group."[4]
The U.S. military is among the most trusted and respected institutions in our society. Over the past decade, nearly three-quarters of the nation has consistently reported having "a great deal" or "quite a lot" of trust in the armed forces.[5] This trust, however, arises from the perception of the military as a professional, unbiased, and nonpartisan entity, able to remain above political wrangling. Unfortunately, some of today's officers have forgotten the sacrifices made by those who built the foundations of trust we enjoy today. They mistakenly assume that society's trust can be taken for granted and ignore (or simply do not realize) that their behavior on social media drags all of us into the political fray, damaging the image of a military that expressly is meant to serve the Constitution and not any political party or individual. Each politically charged rant posted on social media by an active-duty officer chips away at our time-honored reputation as professional and apolitical. Every time an officer shows a partisan face the profession of arms inches closer to becoming little more than a corruptible special-interest group, more interested in advancing a political agenda than in selfless service.
Retaining the trust of the American public and those we lead is critical if we are to remain the most professional and most capable military force in the world. As standard-bearers for the future of the U.S. military, all junior officers must remain apolitical and deliberately forgo political behavior on social media. Moreover, we must do a better job of policing the minority who forget their oaths and fail to understand what it means to be part of something larger than themselves. We are in the early stages of losing public trust. If we fail to understand and accept that an officer's politics do not belong on social media, we are liable to find our profession running aground.
---
Lieutenant Moffitt, an E-6B Mercury pilot, is currently a catapult and arresting gear officer on the USS Ronald Reagan (CVN-76), forward deployed to Yokosuka, Japan. 
Photo credit: Stephen Colbert, host of the late night television show The Colbert Report, takes a selfie with sailors during Fleet Week 2014. U.S. Navy photo by Mass Communication Specialist 1st Class Arif Patani.  
---