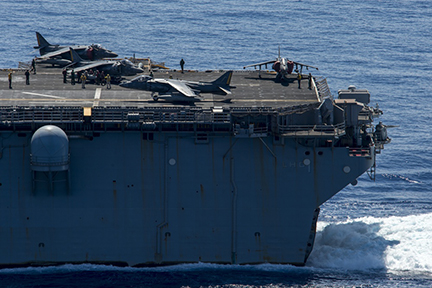 In 2016, the USS Wasp (LHD-1) ARG and the 22nd MEU conducted counterterrorism strikes against ISIL targets in Libya as part of Operation Odyssey Lightning.
To maintain U.S. influence around the globe, the Navy and Coast Guard need more ships. Today's demand for stronger U.S. sea power harkens back to arguments made by Alfred Thayer Mahan in The Influence of Sea Power Upon History 1660-1783. It is hard to imagine that a book published in 1890 still would have significance for modern naval forces, but if you scrutinize key naval events of the past century you will find elements of Mahan's thinking in the German strategy for World War I and Japan's strategy for World War II. When I commanded counterpiracy Task Force 151 in 2009, the commander of the Chinese task force in the Gulf of Aden, Rear Admiral Du Jingchen, visited me on board the USS Boxer (LHD-4). We discussed two topics of naval strategy—logistics for forward-deployed naval forces and Mahan's work.
Chief of Naval Operations Admiral John Richardson's "Design for Maintaining Maritime Superiority" says, "the essence of Mahan's vision still pertains" to maritime forces today.  In the past year, three significant accomplishments of our maritime forces demonstrate the continued influence of sea power on national security.
In April, the USS Porter (DDG-78) and USS Ross (DDG-71) launched 59 Tomahawk cruise missiles from the eastern Mediterranean that struck targets in Syria in response to Syrian chemical weapons attacks. The launch of these cruise missiles demonstrates the U.S. Navy's ability to execute orders from the National Command Authority without the permission of another nation state.
Last year, the USS Wasp (LHD-1) Amphibious Ready Group (ARG) conducted Operation Odyssey Lightning strike operations in Libya. In response to a request from Libya's Government of National Accord, the U.S. Navy and Marine Corps team carried out precision air strikes against the Islamic State in Iraq and the Levant in Sirte, Libya, for almost four months.
Another recent hallmark maritime operation was carried out by the U.S. Coast Guard when the USCGC James (WMSL-754) seized 16 tons of cocaine with an estimated street value of $420 million in the eastern Pacific. In 2016, the U.S. Coast Guard seized more than 416,000 pounds of cocaine and arrested 585 suspected smugglers.
A major question today is not the necessity of U.S. maritime forces. Recent events and the thinking of Mahan both confirm the need for a strong, capable Navy, Marine Corps, and Coast Guard. The question facing us is will our maritime forces be able to maintain their advantage within the current budget constraints? Admiral Richardson has argued for a larger fleet, stating, "The opposing team is making this game a lot closer than we feel comfortable."  Commandant of the Coast Guard Admiral Paul Zukunft has testified that his maritime forces have "80 percent awareness" of all illegal operations, and "we can only act on about 20 percent of that because of the resource constraints we have. We're giving 60 percent of what we know, literally, a free pass."  Marine Corps leadership has stated that without the appropriate funding the Corps will be forced to stop all flight operations this summer. On 7 February, Vice Chief of Naval Operations Admiral Bill Moran told the House Armed Services Committee, "Within a month we are going to have to shut down air wings, we are going to have to defer maintenance on several surface ships and submarines." 
So it was welcome news last weekend when Congress came to a budget agreement to take us through the end of this fiscal year. The immediate threat to cease routine operations and maintenance has passed for now, but for 2018 and beyond the administration and Congress must draft and approve disciplined budgets—not continuing resolutions—that allow for force structure growth and the necessary maintenance to enable the Sea Services to meet the nation's commitments. As Mahan stated, "organized force alone enables the quiet and the weak to go about their business and to sleep securely in their beds, safe from the violent without or within." The organized force our nation needs will not come from a disorganized budget process. It will only come from disciplined, ruthlessly prioritized, consistent resource decisions on the part of the White House and Congress. 
Rear Admiral McKnight served as commander, Expeditionary Strike Group 2, from 2008 to 2009 and was the first commander of Combined Task Force 151. He is the author of Pirate Alley – Commanding Task Force 151 off Somalia.