Assessing War The Challenge of Measuring Success and Failure
Leo J. Blanken, Hy Rothstein, and Jason J. Lepore, eds. Washington, D.C.: Georgetown University Press, December 2015. 376 pp. Notes. Index. $64.95.
Reviewed by Lieutenant Colonel Frank G. Hoffman, U.S. Marine Corps Reserve (Retired)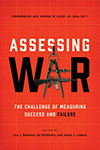 The past 15 years of protracted irregular warfare has produced many lessons, some merely encountered, and only a few that were absorbed into our doctrine. The perennial challenge of strategic and operational assessment is one critical lesson that appears to have been truly "re-learned" under fire. The importance of campaign and operational assessment is well known to the U.S. military and is taught in staff colleges. While military staffs routinely conduct campaign assessments of conventional operations, complex contingencies like insurgencies have typically required a more extensive set of metrics to assess progress, or lack thereof, in political, social, and economic dimensions.