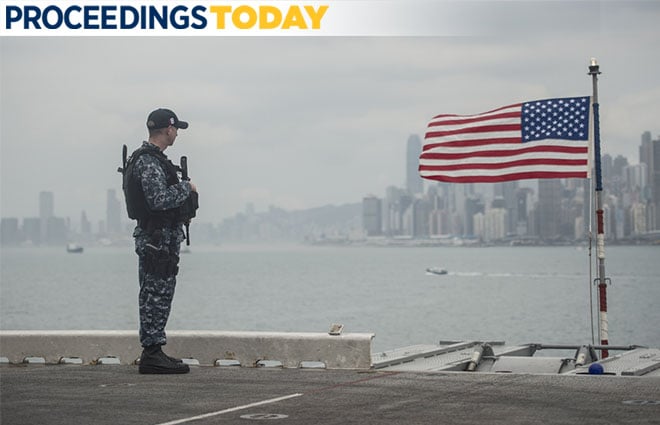 The U.S. Navy has been pulling liberty port calls in Hong Kong for decades. Since 1997, when Hong Kong reverted from British to Chinese rule, the city has remained a mostly reliable and certainly desirable Western Pacific liberty port. This should not be taken for granted, however, as socially and politically Hong Kong's future is looking increasingly turbulent.  
On 1 July, the 20th anniversary of Hong Kong's reversion, Carrie Lam will be sworn in as the special administrative region's next Chief Executive. This caps a tumultuous period for Hong Kong since the fall of 2014 when thousands of protestors—now known as the Umbrella Movement—occupied the city center and financial district for 79 days protesting China's 31 August 2014 "interpretation" of Hong Kong's electoral reform proposal. In it, Beijing agreed to allow the Chief Executive to be elected by universal suffrage, but only under a stringent candidate nomination process that effectively ensured only pro-Beijing candidates qualify for a universal suffrage ballot.  
In June 2015 Hong Kong's legislature rejected Beijing's version of electoral reform. Opposition was led by the pan-Democrats, a group of several parties that held enough seats to prevent the two-thirds majority approval, and who understandably viewed Beijing's interpretation as a cynical ploy to undermine Hong Kong's democratic system. Thus, without electoral reform Hong Kong's March 2017 election followed the process in place since 1997 where the Chief Executive is elected by the 1,200-person election committee, which remains dominated by pro-Beijing members. Lam was Beijing's preferred candidate, and she won easily. She has shown no interest in revisiting electoral reform, so universal suffrage, which Beijing promised under the Basic Law negotiated with Britain and that serves as Hong Kong's constitution, seems now an even more distant possibility.
For Hong Kong's pro-democracy movement—a movement that in the main does not seek independence from China but seeks rather that Beijing keep its commitments under the Basic Law—31 August 2014 was a defining moment. From that day there was little doubt that Hong Kong's political system was merely a marionette with Beijing the puppet master. The Chinese Communist Party's interpretations of the Basic Law serve as take-it-or-else amendments, feeding into the Hong Kong democracy movement narrative that the Basic Law is more Beijing's tool for repression than a bulwark against it.    
The 2014 decision is consistent with Chinese President Xi Jinping' broad-based crackdown on free expression and democratic movements. Beijing clearly sees a pluralistic, more democratic Hong Kong, even under the "one China, two systems" principle, as a threat it will not abide.  
How much does this matter to U.S. foreign policy and the Navy's future access to Hong Kong? The U.S. is obligated under the 1992 U.S.-Hong Kong Policy Act to ensure Hong Kong's promised autonomy under the Basic Law is not eroded to the point Hong Kong cannot qualify as a separate political entity under U.S. law.  In January 2017, Senator Marco Rubio reintroduced the Hong Kong Human Rights and Democracy Act (HKHRDA), legislation that aims to support Hong Kong's promised status under the Basic Law by, among other things, requiring the Secretary of State to return to annually certifying Hong Kong is "sufficiently autonomous" from China.
If Hong Kong's political and social climate were to worsen in the coming months and years, the United States will not long be able to avoid addressing this in some fashion.  China in turn undoubtedly will react harshly to any perceived "meddling" in its internal affairs. China already on several occasions has denied U.S. Navy port visits to Hong Kong to express its displeasure with the United States, and if the United States becomes a more vocal advocate for the protection of Hong Kong's democratic system, China may move to deny the U.S. Navy access to Hong Kong on a more regular and indefinite basis.   
---
Captain Bray was a career naval intelligence officer who retired in 2016. His last operational tour was Director for Intelligence at Naval Forces Europe/Naval Forces Africa/Sixth Fleet. 
Innovate to Return Perry-Class Frigates Faster and Better ... Captain Tony Butera and Captain Dale Rielage, U.S. Navy (Retired)
Loss of Confidence: What I Learned... Captain John Cordle, U.S. Navy (Retired)
When Am I Committed to a Collision? … Lieutenant Jotham M. Myers, U.S. Navy Reserve 
Collision at Sea (Naval History) ... David W. Joy  
Make Navy Selection Boards Transparent … Lieutenant Commander Collin Fox