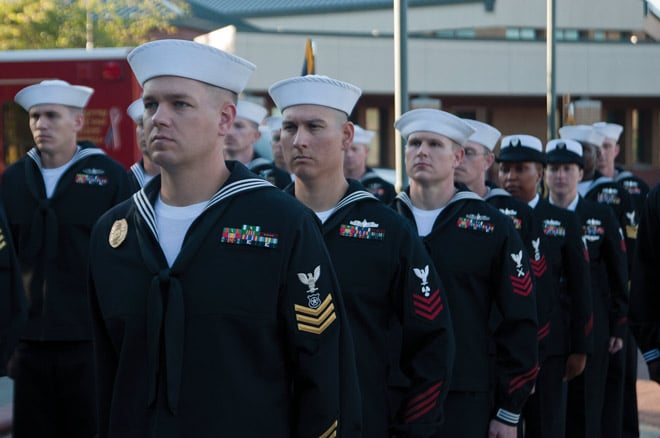 Navy traditions inspire pride in our identity and link us to our past. But time alone does not make traditions worthy. With that in mind, it is time for the Navy to dispense with its use of the red service stripes and rank as a way to visibly identify its enlisted Sailors without 12 years of good conduct in the Navy.
When a Sailor's misconduct leads to a disciplinary action, it often results in a captain's mast and a nonjudicial punishment (NJP). An NJP is a non-criminal conviction; punishment can include reprimand, restriction, correctional custody, loss of pay, or reduction of rank. But are these not adequate sentences? Must one also atone for wrongdoing by being marked with differentiating uniform components?
In some cases, it is a new Sailor who receives an NJP in his or her first enlistment. That Sailor may go on to have a successful and productive career, only to be reminded of the early transgression when, upon reaching the 12-year mark, he or she is unable to wear gold rank and service stripes. Sometimes the disciplinary action comes late enough in a Sailor's career that he or she is never able to wear gold.
Leaders must make the distinction between those whose infractions can be only punishable by separation from the Navy and those for whom rehabilitation is the answer. If we choose the latter, it must mean that we see potential in those Sailors, and that with a second chance, and with good leadership and mentoring, they can thrive and be successful in the Navy. If the Sailor remains in the Navy, then his or her service should be valued as much as the service of his or her peers, and all their uniforms should reflect that. We cannot be a Navy with one uniform for the virtuous and one for the "not quite good enough."
The dysfunction of the red versus gold rank and service stripes extends beyond the punitive to the perplexing, as those with prior military service are similarly affected. Service stripes reflect all military time served, but the transfer to gold rank and stripes reflects only naval service. Therefore, anyone who served in another branch of the military before enlisting in the Navy, regardless of conduct, will reach 12 years of service prior to being authorized to wear gold.
Sailors wearing three or more red service stripes are likely to face judgment—even if subconscious—by peers, subordinates, and leaders. Red service stripes can humiliate the wearer and invite gossip, speculation, or conjecture. They can lead to incorrect assumptions and further prejudices against those Sailors, causing others to mistrust their work or devalue their potential.
Ultimately, we must ask ourselves what the goal of this regulation is and what it achieves. If the answer is public shaming, then the Navy is successful. But when is such a practice ever the goal in discipline? We have heard the saying, "praise in public; admonish in private." There is no privacy in three or more red service stripes on a uniform advertising, perhaps, one moment of poor judgment. Furthermore, there is no way to differentiate between a conduct incident and prior service. Standardizing the color of rank and service stripes and basing the color on time in service only would eliminate confusion and bring continuity to the uniform. And by leaving this tradition behind, we would allow Sailors to move on from their past mistakes.
Chief Privler performs with the U.S. Naval Academy Band in Annapolis, Maryland. She also serves as Chief of Band Public Affairs.
Photo credit: U.S. Navy (Jeffry A. Willadsen)