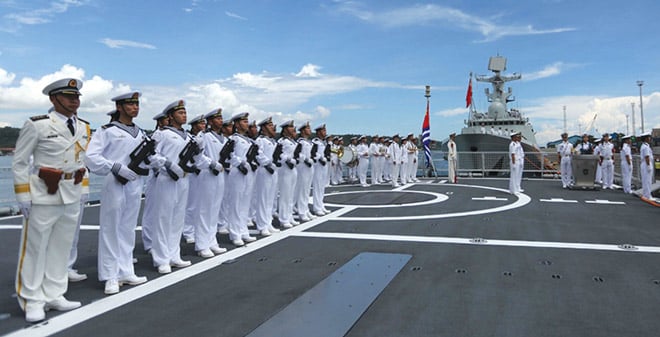 On 30 April a small flotilla of Chinese People's Liberation Army Navy (PLAN) warships arrived in the Philippines to boost naval ties between the two nations. Rather than docking in the capital, Manila, the three Chinese ships, which included the Type 052C destroyer Changchun, Type 054A frigate Jinzhou, and replenishment ship Chaohu, sailed into Davao City on the southern island of Mindanao. Davao is hometown to the controversial Philippine president Rodrigo Duterte, who has promised to take the country's foreign and domestic policy in new directions. In 2016, Duterte announced a dramatic split with longtime ally the United States, declaring, "America has lost" and vowing to realign his country with China and Russia. After visiting the PLAN warships, Duterte discussed future plans for naval exercises with China and was reportedly impressed by the advanced weaponry and creature comfort afforded sailors on board the Chinese warships. This past January, two Russian warships were hosted at Manila and additional visits by Chinese and Russian naval vessels are expected in the future.
Read a related article from Proceedings Today: U.S. Coast Guard Partners with Philippine Navy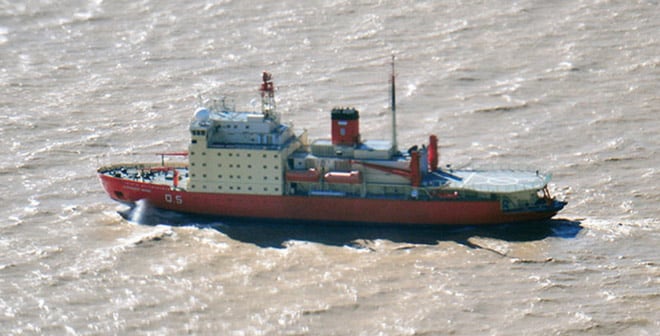 This spring, Argentina returned the icebreaker Almirante Irízar to service ten years after a disastrous fire destroyed much of the vessel, including her engine room, helicopter hangar, and parts of the flight deck. The Finnish-built scientific research ship has played an important role in Argentina's Antarctic research activities and exploration efforts since first entering service in the late 1970s. The vessel has a storied history, and in addition to scientific duties, the Almirante Irízar served as a hospital ship during the 1982 Falklands/Malvinas conflict. Sea trials have now begun on the 15,000-ton (full load) vessel, which is 398 feet long with a beam of 83 feet. She is expected to return to full duties in the South Atlantic during the next few months. Improvements include modernized laboratories and enhanced berthing facilities, permitting larger contingents of scientific staff to operate from the refurbished vessel.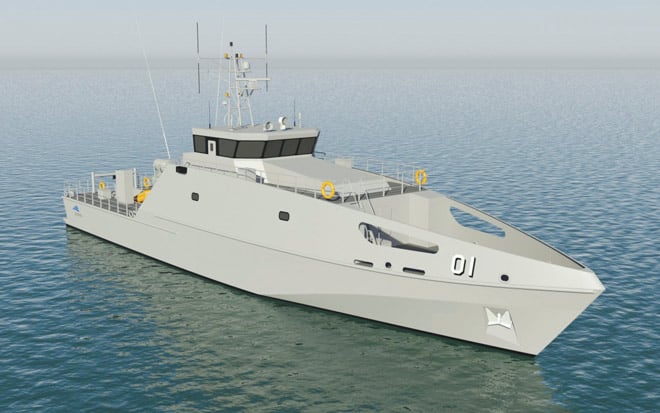 On 26 April the first steel was cut for Australia's new Pacific Patrol Boat Replacement (PPB-R) vessels. Nineteen of the craft will be delivered between 2018 and 2023 for donation to 12 Pacific island nations. The PPB-Rs will replace older Pacific Patrol Boats which were gifted by Australia to 12 Pacific island countries between 1987 and 1997. Current plans call for transfer of the vessels to all current PPB operators including Papua New Guinea, Tonga, Solomon Islands, Fiji, Tuvalu, Kiribati, Samoa, Vanuatu, Federated States of Micronesia, Palau, Republic of Marshall Islands, Cook Islands, and also to Timor-Lest, which is a new member of the program. The 130-foot steel boats have a beam of 26 feet and a draft of 8 feet. Each of the new boats, as pictured here in a computer rendering, will have a top speed of 20 knots, a cruising range of 3,000 nautical miles at 12 knots, and will accommodate 23 people.
Mr. Wertheim, a defense consultant in the Washington, D.C., area, is the author of the 16th edition of The Naval Institute Guide to Combat Fleets of the World, published by the Naval Institute Press (see www.usni.org).
Photo credits: Chinese Ministry of Defense, Argentinian Ministry of Defense, Austal