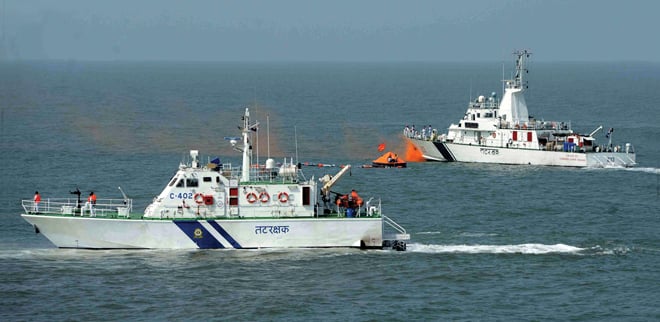 The Indian Coast Guard (ICG) is a unique instrument of national security, just like the U.S. Coast Guard. Given India's 4,349-mile coastline and vast resources, it is a good thing the ICG's motto is Vayam Rakshamah, meaning "We Protect."
The ICG was founded on 1 February 1977 with the donation of two frigates and five patrol boats from the Indian Navy. It was inaugurated officially by former Indian Prime Minister Shri Morarji Desai on 19 August 1978. The intervening four decades have seen the ICG grow into a modern, multimission, military service of 12,585 personnel against an authorized end strength of 15,714. Key interagency partners besides the Indian Navy are the Department of Fisheries, Department of Revenue, and local law enforcement organizations.
Headquartered in New Delhi and operating under the auspices of the Ministry of Defense, the ICG is led by Director General Rajendra Singh, a distinguished alumni of the U.S. Coast Guard's international training program on maritime search and rescue and maritime safety. Singh also serves as chairman of the National Maritime Search and Rescue Board, National Oil-spill Disaster Contingency Plan, Offshore Security Coordination Committee, and Indian Governor to the Regional Cooperation Agreement on Combating Piracy and Armed Robbery against Ships in Asia.
The ICG is divided into five regional headquarters and 14 district headquarters. Subordinate units include 9 air stations and 13 independent stations located across India's vast coastline. According to its official website, ICG missions include:
• Ensuring the safety and protection of artificial islands, offshore terminals, installations, and other structures and devices in any maritime zone
• Providing protection and assistance to fishermen in distress while at sea
• Preserving and protecting India's maritime environment, including prevention and control of marine pollution
• Assisting Customs and other authorities in antismuggling operations
• Enforcing the Maritime Zones of India Act 
• Taking precautionary measures for the safety of life and property at sea and collecting scientific data
• Backing up the Indian Navy during war
To perform these myriad missions, the ICG operates four types of surface vessels—offshore patrol vessels, pollution control vessels, fast patrol vessels, and air cushion vehicles (ACVs)—as well as a fleet of aircraft.
At 328 feet, the 16 offshore patrol vessels are the longest vessels in the ICG. Displacing approximately 2,000 tons, they perform a variety of missions like those performed by medium endurance cutters in the U.S. Coast Guard. They also deploy in support of the Indian Navy when required.
The three pollution control vessels displace 3,300 tons and are 308 feet long. They can recover 300 tons of oil an hour.
The 42 fast patrol vessels are 164 feet long and displace 300 tons. They are well suited to perform the ICG's constabulary missions, such as antipiracy, antipoaching, and migrant interdiction operations.
The 18 ACVs are very similar to the air-cushion landing craft in the U.S. Navy. According to the ICG, "They provide a new dimension and capability for patrolling the 'brown waters' and adjacent low-lying land areas in the coastal zones. The ACVs are particularly useful for amphibious operations, search and rescue, quick response, and fast interdiction."
A total of 73 interceptor boats round out the ICG's surface fleet.
The surface fleet is augmented by a fleet of fixed-wing and rotary-wing aircraft, to include Dornier 228 twin-engine turboprops, Chetak Alouette III helicopters, and the Dhruv advanced light helicopters. According to the ICG, these aircraft and vessels "are deployed 365 x 24 x 7 in the Maritime Zones of India (MZI) for addressing real-life emergencies and security threats."
Unlike the U.S. Coast Guard, the ICG is expanding. According to Minister of State for Defence Subhash Bhamre, the surface fleet is expected to grow by another 25 platforms by next year while the number of aircraft is expected to increase from 62 to 100 by 2020.
Mr. Dolbow is editor of The Coast Guardsman's Manual, 10th edition, published by the Naval Institute Press, and a senior acquisitions editor for professional development books at the U.S. Naval Institute.