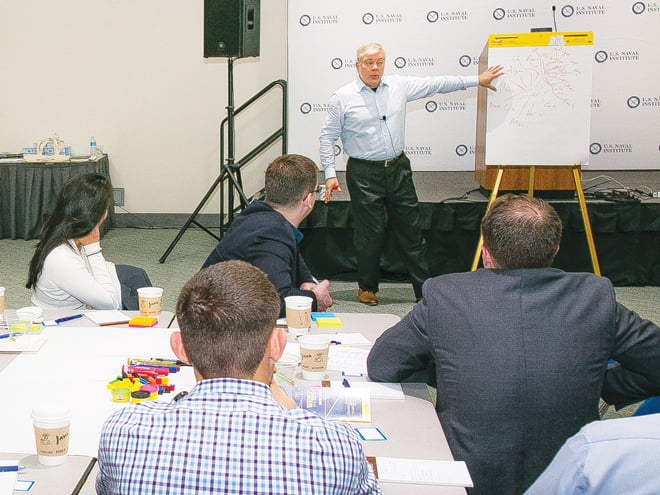 Be careful what you wish for. That old adage might be gnawing at the Chief of Naval Operations (CNO). Admiral John Richardson engaged with a seemingly modest initiative that took place in San Diego the day before the annual WEST 2017 Conference, cosponsored by the U.S. Naval Institute and AFCEA International in late February. What he got in return was eye-opening. And what the CNO chooses to do in response could have profound implications for the Navy.
For the second consecutive year, the U.S. Naval Institute hosted a day-long brainstorming session about critical Navy issues. Sixty "young Turks"—some 40 mid-grade active-duty personnel and 20 civilians—came together for a "discussion" about two topics proposed by the CNO. "Discussion" is an understatement, because it was a nine-hour structured exercise in design thinking. Intense, sometimes tense, and often provocative, the exercise was moderated by Professor Michael Meyer of the University of California San Diego's Rady School of Management and Navy reservist Joshua Welle. The effort was appropriately named DARE 2017.
The two questions the CNO asked the group to explore came from his guidance document, "Design for Maintaining Maritime Superiority." Admiral Richardson asked the group to address two of his four "lines of effort" for moving the Navy forward. His first challenge was to "recommend concepts or present opportunities for technology adoption to improve fleet-wide toughness." The second was for "recommendations, concepts, and methods for improving organizational learning at all levels of command."
The DARE participants took on the challenge with a seriousness of thinking and tenacity that exhibited both toughness and intellectual curiosity. I was invited to observe the proceedings under the condition that I not quote the participants by name. The harder part was keeping quiet. Given the intensity of the discussion, I really wanted to participate.
The group dynamics were at times uncomfortable—and that proved to be a good thing. First, the room was designated "AFZ"—an acronym free zone—and more than a few military folks had amusing trouble sticking to the rule. Second, and more significantly, some of the civilians had absolutely no familiarity with the military. In response, a few of the military folks bristled at civilians weighing in on military culture. In the end, however, such fiercely different perspectives and life experiences seemed to generate thoughtful analysis and more creative ideas. Whether any of the recommendations are accepted—much less implemented—by senior Navy leadership will be seen.
The participants were organized into six teams of ten people. Each team sat at a large table laden with pads, markers, Legos, candy, and other accoutrements believed to help the rigorous design-thinking process. Periodically they were assisted by a facilitator who helped move the discussion along. The process worked—though I'm not sure the Legos generated any breakthrough thinking. As I moved from team to team, lingering with one longer than the others, I sensed a palpable energy. People were engaged in hard thinking—and sometimes struggling to develop thoughtful recommendations. Half the groups focused on toughness and half on learning. All got to spend time interacting with people addressing the other question.
The participants' first task was to understand what the CNO really meant by "toughness." Working efficiently within the strict time limits imposed by the design-thinking process, three teams quickly agreed on a combination of physical, mental, and spiritual characteristics that leads to resilience. Not surprisingly, their second initiative was to remove the modifier "technology adoption" from the CNO's construction and apply it instead to the learning question. Toughness, they agreed—whether individual or team or organizational—had little to do with technology.
The learning question proved to be the easier of the two challenges. No one doubted the importance of learning at every stage of life and career. And people seemed to subscribe to the CNO's adoption of a concept known as "high velocity" or accelerated learning.
A high-velocity edge—the construct of MIT lecturer Steven Spear—is the outcome that best-in-breed organizations achieve through accelerated learning. One of the examples he cites in his book, The High Velocity Edge, is the success of the nuclear Navy. Given his experience in the submarine community, it is understandable why Admiral Richardson would want to adapt that high-standard culture to other parts of the service.
Recommendations to improve fleet-wide toughness
Overhaul Navy tactical training, incorporating random scenarios based on real world threats, scalable from individualized training to whole theater operations.
• Inject uncertainty (or "controlled chaos") and physical stress to expose/bolster team adaptability and resiliency.
• Require some exercises and assessments to be unannounced and unpredictable.
• Ensure watch teams are prepared to solve unforeseen problems and watchstanders are both more creative and interchangeable.  
• Reward and encourage innovative thinking from everyone in a watch team; encourage bottom-up recommendations and team-wide cross-training to better understand the big picture, shore up potential gaps, and enable a shared sense of purpose/mission accomplishment.
• Teach and train to "warrior ethos" in boot camp and officer accession pipelines.  
Additional Observations
• How do you measure or what constitutes "toughness"? It has both subjective and objective elements to it—and over time, as lessons and examples are shared, the fleet will come to a better idea of what "toughness" looks like and can enable the Navy to develop coping or fortifying mechanisms and identify strong leaders (and their attributes) to ultimately succeed.
• As complexity and interdependence of our combat systems suites increase, training must also increase. Onerous administrative requirements, however, often push "optional" training to the sideline.  Training for combat must become a higher priority than paper pushing.
Revise the trait characteristics in officer fitness reports and enlisted evaluations to value toughness, adaptability, and resilience.  
• Rewrite selection board precepts to reward certain levels of physical fitness and discount lower levels.
• Change the Physical Fitness Assessment to better emulate conditions under which the service member is likely to encounter, similar to Army's Occupational Physical Assessment Test initiative.
The tension between innovation and compliance makes us weak. To be tough, we must be both resilient and fit to fight. Our fear to act is fueled by a culture of compliance while operating in an environment of uncertainty.
• Enact a "relief valve" in the form of a force-wide directive giving flow to both procedural compliance and innovation.
• Empower commanding officers and officers in charge, who are both closest to the innovators and ultimately responsible for compliance. Give them a way to put into local action solutions to larger scale problems, articulated by the results of climate surveys, feedback forms, and other available and emerging tools for crowdsourcing.
Recommendations for improving organizational learning at all levels
Create a better central repository of searchable, low-bandwidth lessons learned that spans administrative and operational areas.
• Remove the "hunt" for information by making it a user-friendly platform that is accessible at sea through the automated technical information server (ATIS) accessed with a common access card (CAC).
• Use a Facebook-type news feed algorithm to push and pull based on the interests of the writer/researcher.
• Create a simple vote up or down function to get the most impactful solutions at the top of each category list.
• Send out quarterly messages with excerpts from some of the best inputs, similar to the Safety Center's "Friday Funnies."
• Encourage and reward people to self-report near misses (without fear of reprisal).
• Develop a sister website on the classified network for only classified and operationally sensitive content.
Increase the "horizontal feedback loop.
• Bring in teams from recently deployed ships (at all levels) to go around the waterfront and discuss their experiences to those about to deploy.
• Ensure critical lessons are passed and encourage development of relationships for continued learning.
Train in what counts.
• Conduct analysis to baseline the amount of training each service member must do on a regular basis.
• Focus on what matters.
• Find ways for personnel to "test out" of certain routine trainings.
• Emphasize what is vital and intentionally find ways to minimize the unnecessary.
• Make training more relevant and fun.
• Create contests or encourage competition to create innovative and impactful new training mediums (videos, apps, etc.).
• Establish unit and personal awards for the best.
Improve metrics.
• Make assessment metrics more than check-the-box/drills.
• Create a method to assess along the spectrum from regressing (progressing to proficient) to expert.
Make it action-based.
• Evaluate the effectiveness of computer-based training, which is largely viewed as ineffective in the fleet.
• Develop training that uses all senses.
Inject uncertainty into training.
• Introduce "chaos" into standard training programs.
• Remove artificial constraints to ensure we train like we fight.
Final Observations
Mistakes—indeed failures—proved to be linchpins between the toughness and learning groups. The toughness challenge seemed to elicit far more emotional engagement than the learning question. Once the components of toughness were agreed on, there was an undercurrent of speculation as to why the CNO wanted the group to focus on this issue. Several participants agreed on the same trigger: the surrender of ten Navy sailors on riverine craft to the Iranian Revolutionary Guard. The image of those Americans on their knees, hands behind their heads, was seared into the mind of every military person present. The accuracy of that speculation notwithstanding, that image and experience—indeed the lessons learned—seemed to strongly affect the toughness group's discussion.
The tenor of the toughness teams' debate was very different from the learning teams. It seemed to me—and was confirmed by other participants, both military and civilian—to be much more emotionally charged. People in the Navy have enormous pride in the service and in their being part of it. But there is also enormous frustration.
That frustration at first seemed almost counterintuitive—certainly to the civilians. That is because there was almost universal agreement that the Navy is a risk-averse organization. There was near-unanimous disapproval of the zero-defect mentality that prevails and a widespread belief that it inspires fear that often limits the organization. The most salient, pervasive frustration is that there is no opportunity to learn from failure. I didn't hear John Paul Jones' famous quote, "He who will not risk cannot win." But I heard the sentiment repeated continuously.
At one point late in the afternoon, a participant at the table where I was sitting—and having a harder and harder time remaining quiet—asked someone at the next table to talk to "our" group. The visitor was a Navy SEAL. He shared his experiences and insights. In SEAL training, he explained, everyone was expected to fail. In fact, the instructors honed in on each individual's unique weakness. Our SEAL, for example, explained that he had been a collegiate swimmer and was comfortable even in cold water. So he was subjected to extra running and heat—until he failed. The only rule, apparently, was that no one was allowed to die in training. All else was negotiable.
I heard the following themes over and over again:
• The zero-defect mentality is limiting the U.S. Navy's effectiveness.
• Risk-aversion prevents service members from learning from failure—their own and others'—and from understanding personal limitations.
• Sailors want a shared sense of mission—beyond the silos of their particular community. (I immediately jotted down the idea—shamelessly borrowed from the Marines—"Every Sailor a War Fighter.")
As the group completed its work, I could not help but admire—indeed marvel at—the dedication of the military participants to their service. Dedication to the Navy/Marine Corps/Coast Guard, to the nation, and to the concept of something bigger than themselves. There was also a newly understood and obvious respect on the part of the civilians. Their combined enthusiasm and intellect were impressive as they came together to help solve some the service's toughest challenges.
Steve Cohen is an attorney and writer in New York and a former member of the Naval Institute Board of Directors.