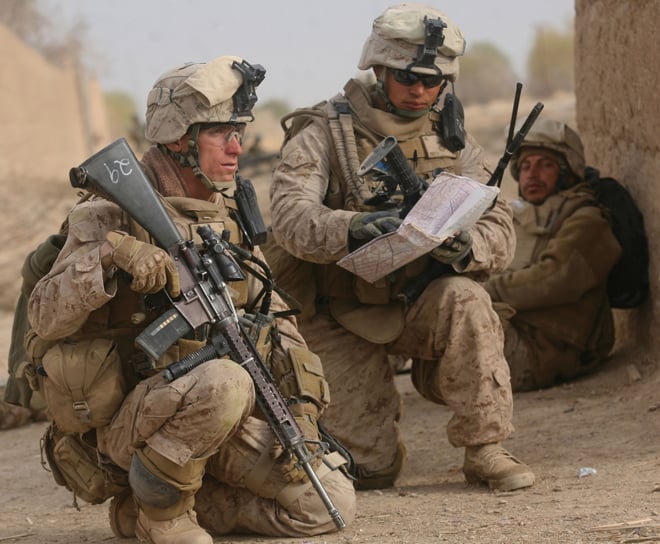 Small unit leadership is the heart of the military. This phrase often is spoken to Marines and Sailors. Its weight and importance are grasped by some, misunderstood by others, and not even acknowledged by an unfortunate number of service members.I never heard the phrase in boot camp, or at A-School at Fort Sam Houston, or even at Field Medical Training Battalion at Camp Lejeune. I did not even hear it at my first permanent duty station where I spent two years learning the foundation of my duties as a hospital corpsman. It was when I executed my first permanent change of station and checked into 1st Battalion, 3rd Marines, in Kaneohe Bay, Hawaii, that I learned how small unit leaders drive our operating forces.
Take the Time
The importance of small unit leadership hit home when I was sitting with a junior corpsman, working with him to write his midterm evaluation. Halfway through a report cycle, enlisted Sailors have a counseling session where they are asked to identify their strengths, areas of improvement, and short-term and long-term goals. They then sit with their immediate leadership and discuss their evaluation in a brief conversation. When I was asked to do this at my first command, my intentions were to get out of the Navy as soon as possible. I inquired about early release from my contract, desiring to return home and pursue a childhood dream of becoming a New York State Police officer. Just two years later I found myself sitting with a subordinate who spoke the exact words that once echoed in my mind: "This is stupid!" Having walked in his shoes, I took the time to explain the reason for the evaluation. Not only is midterm counseling a requirement, but it also is a great opportunity to assess yourself as a Sailor and as a person, and to get your leadership's help and feedback.
This type of engaged leadership turned me from a person doing his time in uniform to a Sailor dedicated to serve the Navy and the nation. The small, relatively unnoticeable interactions with the leaders throughout my first tour helped guide me to my new path. Hospital Corpsman First Class Matthew Skipworth advised me to stay hungry and "that closed mouths do not get fed." It was Hospital Corpsman Third Class Matthew Miller who taught me how to see my first patient. Hospital Corpsman Chief Elliot Martinez advocated for and pushed me to attend a course at the Mountain Warfare Training Center in Bridgeport, California. Lieutenants Chelsea Brown and Marshall Faulds taught me about myself as a person and how to better take care of our patients. While there are many others I could mention, these people affected my development through undeniable character. Their impact resulted from direct engagement—not in formation or formal training, but as individuals who cared enough to spend their time imparting their wisdom and knowledge.
Teach In the Moment
Leadership cannot be taught through PowerPoint or online courses. Speeches and professional military education delivered in formation on a Friday afternoon fall on deaf ears. Developing the character of Sailors and Marines is best left to the small unit leaders throughout the fleet.
Leadership must be taught in the moment. While at a training exercise, my platoon was filled with new Marines finding themselves in the field for the first time since they joined the fleet. There was no online course that could have taught them their weapon systems better than being immersed in simulated battle conditions. No PowerPoint could have taught the corpsmen to treat musculoskeletal injuries better than their petty officer showing them how to treat an actual patient. What keeps the Marines moving during a long foot movement in full kit is not having memorized the Marine Corps leadership traits; it is the corporal walking next to them with the same gear, pushing along and offering verbal motivation.
When our platoon noticed deficiencies in character and skill, the learning moment did not come from the platoon commander, or the company first sergeant, or even the battalion commander. It was our section leader who made the difference, gathering the Marines in a hooch to tell stories about his deployment to Marjah, Afghanistan. The Marines listened intently as he explained how the skills we were practicing, if not mastered, could have fatal consequences. It was that sergeant, a true small unit leader, who had the experience and the desire to teach his Marines what they needed to develop into a functional war­fighting platoon capable of delivering destruction to the enemy.
Take Up the Challenge
Small unit leadership is dependent on the desire to teach others. Without this, leadership dissipates and micromanagement by senior enlisted leaders and officers takes hold. That is why it is imperative that we select our noncommissioned officers appropriately and do not permit lifeless leaders to take billets and degrade our warfighters. When we select the right people, we must also provide them the tools they need to train their personnel.
Unit cohesion and esprit de corps increase our warfighting capability and the sustainability of our military. If you are in a billet with significant authority (commanding officers and battalion commanders) consider yourself challenged: make your mission statement known and hand down the reins to your subordinates. If you hold a staff billet, whether you are a chief or gunnery sergeant, consider yourself challenged: identify personnel capable of leading your smaller units and provide them with the tools to lead. If you are a noncommissioned officer or petty officer in charge of a small unit, or even a prospect for these jobs, consider yourself the most challenged of all: take pride and bring enthusiasm to the table because you are the backbone of your team.