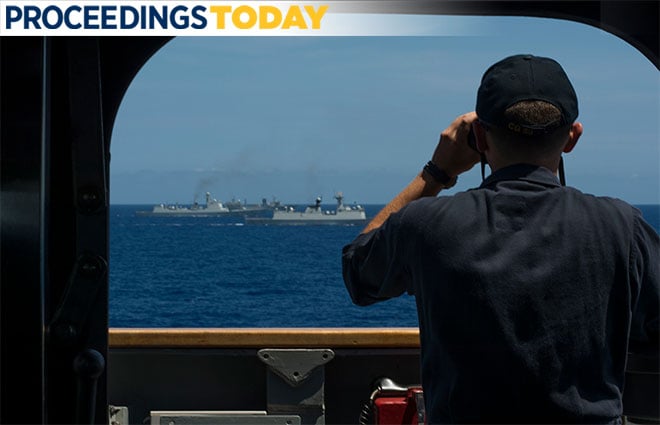 In a contested body of water surrounded by maritime powers, the bridge crew of an Arleigh Burke-class destroyer sights a ship on the horizon. The contact appears on radar, but there is no correlating information in the Automatic Identification System (AIS). The combat information center (CIC) reports there are no indications of a warship operating nearby, but as the ship draws nearer it becomes obvious this contact is a warship. In this familiar scenario, surface warfare officers (SWOs) know that their next step is to rifle through the pages of Combat Fleets of the World or Jane's Fighting Ships to attempt to match a small photograph to the ship they see looming on the horizon. CIC watchstanders turn their electro-optical/infrared sensors on the contact for a closer view. If all else fails, the ship's nautical or otherwise photographic interpretation and examination (SNOOPIE) team—a group of sailors trained to photograph vessels for intelligence purposes—will be called to help identify the target. Eventually the watchstanders will agree on the ship's likely class and nationality. Often, they are wrong.
SWOs receive no formal training on how to visually identify ships and aircraft. Like flag hoists and Morse code, the fundamental naval skill of identifying ships and aircraft is absent from the SWO training pipeline. Identification training is not a part of the Basic Division Officer Course (BDOC) curriculum, nor is it included in the Advanced Division Officer Course, and there is no personnel qualification system (PQS) item that covers this skill. It has been relegated to tribal knowledge and on-the-job-training, meaning most SWOs are taught little more than how to tell the difference between a "group I" and a "group III" merchant ship.
In the increasingly competitive maritime domain, we expect our adversaries to secure tell-tale emitters, maneuver to blend in with merchant traffic, and take advantage of adverse weather conditions to close us while remaining undetected. In the face of such threats, it is possible that the eyes of a bridge watchstander will be the first sensors to make contact. SWOs must be capable of rapidly identifying foreign naval ships and aircraft. SWOs, for instance, should be able to recognize quickly a Chinese Luyang II-class or a Russian Sovremennyy-class destroyer, and tell them apart from an ANZAC-class frigate. They should be able to distinguish between a South Korean P-3 and a Russian Il-38 May.
Rather than leaving the development of critical identification skills to on-the-job-training, the Navy should learn from the U.S. Army. Army 2nd lieutenants training to become armor officers must complete the Armor Basic Officer Leader Course (ABOLC), an 18-week course that combines classroom instruction with field exercises to give students in-depth, practical training. Officers in the course are required to identify more than 200 friendly and adversary vehicles and tanks by name, sight, and thermal image. If an officer misidentifies even a single U.S. vehicle, he or she must retake the exam.
Ship and aircraft identification, like vehicle recognition in the Army, should be taught in the training pipeline for Navy junior officers. It is a skill that can be taught without the context of experience on a ship, meaning that it could easily be incorporated into the BDOC curriculum. Newly commissioned officers who have not yet reported to their ships often struggle to understand more arcane topics, like maintenance and material management or the composite warfare concept, when they are presented in a classroom environment out of context. Why not replace one of those lessons—which are amply covered by SWO PQS—with a lesson on ship and aircraft recognition? Even the World War II-era method of issuing "spotter" cards, depicting images or silhouettes of various foreign and U.S. ships and aircraft, would make an effective training tool, and one that could be developed into a smartphone app.
Proficiency in visual identification is important for ship drivers. Junior SWOs should have the ability to recognize friend and foe by sight. This fundamental skill can—and should—be taught ashore in a classroom and refined at sea.
LT Rosende, a surface warfare officer, is a 2012 graduate of the U.S. Naval Academy. He served four years on a destroyer forward deployed to Yokosuka, Japan, and has written for Naval History magazine, Proceedings, and The Naval War College Review.
Click Here For More From Proceedings Today