Portrait artist Albert K. Murray was commissioned as a lieutenant early in World War II and would serve on active duty as a combat artist—doing watercolors under live fire in the south of France. When the war ended, before returning to civilian life, he was assigned by the Navy to paint portraits of many of the admirals, generals, and civilian leaders who guided the war at sea. His words on the approach he took with his subjects accompany each of these portraits. For more of Murray's post-World War II portraits, see the August issue of Naval History magazine.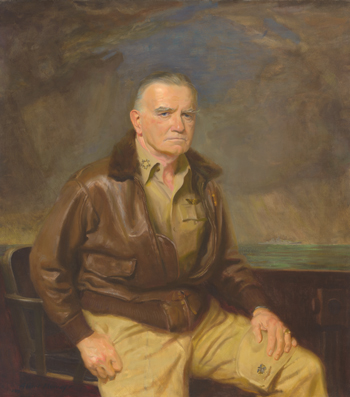 Fleet Admiral William F. HalseyStarting the portrait in Halsey's postwar Virginia home, Murray found his subject happy and at peace. He wanted the fiery wartime admiral. He quoted from a magazine about Halsey's differences with Admiral Thomas Kinkaid over the Battle of Leyte Gulf. "'Say,' Halsey said, 'you're trying to get me annoyed, aren't you?' I said 'Yes I am; I want this to be convincing as to the timeframe it's representing.' Yes, well he really didn't get irritated; he did sober up. And those big bushy eyebrows of his knitted a few times."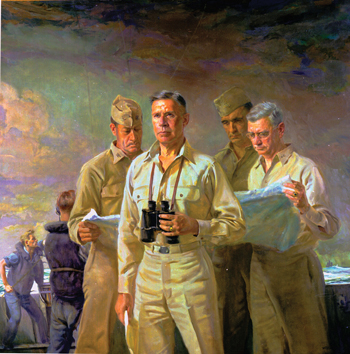 Admiral Raymond A. Spruance"I felt of him as being 11 or 12 feet tall, and he was as I recall about five feet nine inches or thereabouts. I asked him if he would warm up to having others in this with him. He thought that would be great. What I contrived was a deck scene with the admiral conferring with his officers. Admiral Spruance was uncovered; there was a sailor about to raise a signal hoist behind them, as though a decision would be made here. And I had the ship in a turn, a technical thing, in order to give him height, to dominate physically."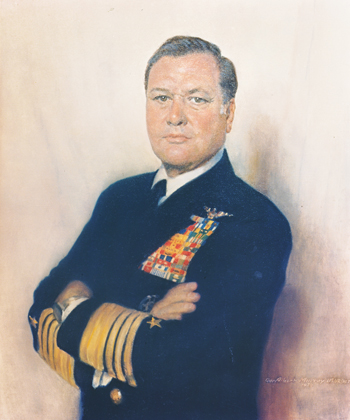 Admiral James L. Holloway III"I would put up a cardboard between the source of light and the painting to show a change of value on it, where this is reduced in importance on the painting in order to get the observer's attention back to the primary target, which would be the head. But at the same time, when interest had wandered and he was exploring other areas of the canvas, he would gently be led back to the primary target—just as the stage electrician illuminates the players on stage, so that the audience sees what the director wants them to see."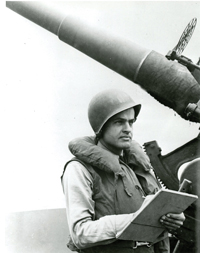 Albert K. Murray
"What I'm doing is writing a biography with paint and a brush, and I just don't want to be a victim of a half-baked performance if I can possibly escape it." In his oral history, published by the U.S. Naval Institute in 1994, Murray expanded: "It isn't just someone walking in and you pick up the brush and start painting what you are looking at. You need to think about it quite a bit and try to—especially in this Navy business and wartime experience—to have things as pertinent and significant as you can."
Mr. Clift is the U.S. Naval Institute's vice president for planning and operations, former editor of Proceedings magazine, and president emeritus, National Intelligence University. He served in 11 administrations, including tours as National Security Council senior staff member for the Soviet Union and Eastern and Western Europe, National Security Adviser to the Vice President, and chief of staff, Defense Intelligence Agency. His books include With Presidents to the Summit.