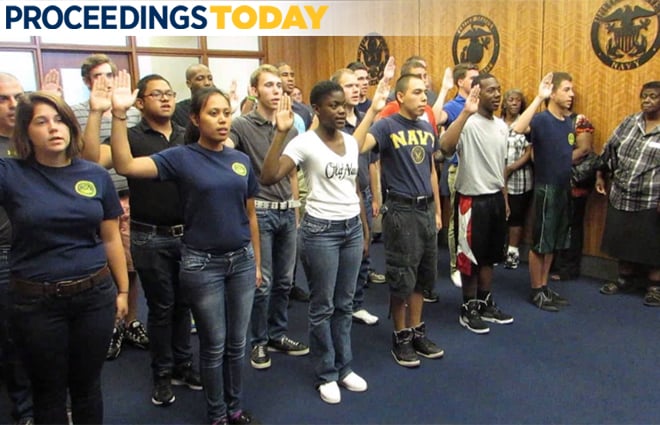 The most critical path to our future is the Warrior, who is more important than everything else in our readiness to fight and win.
The All-Volunteer force, introduced in the 1970s, has provided the smartest, most capable, and most highly motivated fighting force in the history of mankind. It is the same across all our military services.
Yet, it is becoming increasingly difficult to recruit the numbers needed.
This is not because young people lack the desire to serve. The challenge is that too few of our young citizens are qualified to serve.
In 1991, when I retired from active duty, only 50 percent of our nation's young people—ages 17 to 24—were considered eligible for military service as officers or enlisted.
This was based on enlistment standards set by the military to ensure recruits would be competent to serve in our increasingly sophisticated military environment. Reasons for this lack of eligibility ranged from academic achievement to physical ability, to medical problems, drug use, and criminal records.
Today, eligibility to enlist has dropped to 25 percent, mostly because of an emergent condition among young people called obesity! So, 75 percent of our nation's youth are not able to serve in the all-volunteer force, even if they want to. Yet, this is today's reality. And, at least in the mid-term—looking out five to ten years—a turn-around does not appear likely.
This is a much greater problem for the military than a mere statistic because the services are not alone in selecting from this narrow slice of qualified talent. The technically-oriented private sector is trying to recruit the same people, with fewer physical requirements and a lot more cash to offer.
While the military held its own during the recession, it must be more creative as it looks to build the manpower for our future force. At the same time, as a nation we must help our youth eat better diets, exercise more, take more challenging classes, and educate them on our National values and the importance of service to the nation. On another front, maybe it is time to consider a national service program that complements, but does not compete with, the All-Volunteer force. 
Ensuring more citizens are qualified and willing to serve in uniform is the number one challenge to our nation's security. Without highly competent warriors, the United States will be "dead in the water."
---
Admiral Hogg, a surface warfare officer, completed his 35 years of uniformed service as the U.S. Representative to the NATO Military Committee. His sea commands included a guided missile cruiser, two destroyer squadrons, a cruiser-destroyer flotilla, and the U.S. Seventh Fleet. After retirement from the Navy, he served for 18 years as Director of the Chief of Naval Operations' Strategic Studies Group, which he transformed from strategic studies to a research center with the mission to generate future war-fighting concepts at the operational level of warfare. 
Click Here For More From Proceedings Today