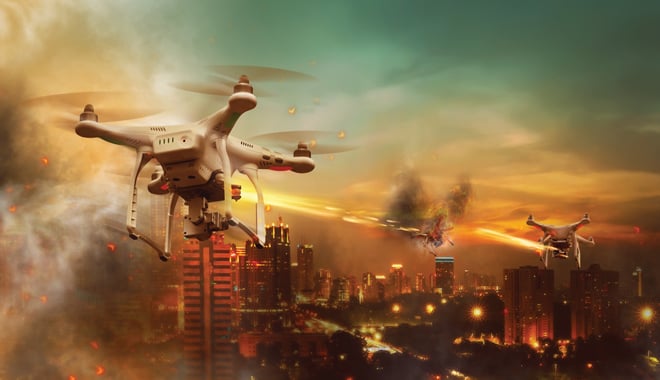 The United States must overcome the bureaucratic and technical barriers so it has the superior drones needed to prevail in future combat.
Advances in technology have enabled the deployment of aerial drones into hostile territory, with human operators monitoring and controlling them from a safe distance. Increased use of unmanned aerial vehicles (UAVs) will continue to reduce risks to human operators by replacing them with pilotless vehicles to perform dangerous missions. At the same time, nation-state and non-state actors aim to exploit UAV swarming tactics to their advantage. The United States must overcome existing technological barriers to employ swarms of retrievable and reusable drones.
Swarming is the deployment of dozens of UAVs against a single target to overwhelm its defenses through numerical superiority. Some UAVs will be lost, but the low cost of production and replacement makes it an acceptable risk. Research fellow and test pilot Major Paul Calhoun, U.S. Air Force, explains, "If a UAV costs less than the missiles required to defend against it, this is a cost imposition on the adversary. The goal, therefore, is to build systems that are lethal enough that they cannot be ignored but inexpensive enough that the loss of an individual vehicle is acceptable."1
Swarming UAVs not only are useful for destroying targets in a hostile antiaccess/area denial (A2/AD) environment, but also provide advanced scouting, surveillance, and general intelligence preparation of the battle space. This includes employing disruptive electronic warfare tactics such as jamming radar sites and interrupting enemy communications that do not require the physical destruction of enemy facilities. As this technology emerges, developers are designing methodologies that combine man-machine teaming and machine learning.
Gremlins Pave the Way
The Defense Advanced Research Projects Agency (DARPA) aims to take UAV technology to the next level. By cultivating a new Offensive Swarm-Enabled Tactics (OFFSET) program, it is advancing the use of robotic, pilotless aircraft that think, analyze, and respond without consulting a human operator for guidance. According to DARPA:
OFFSET seeks to develop and demonstrate 100+ operationally relevant swarm tactics that could be used by groups of unmanned air and/or ground systems numbering more than 100 robots. These swarm tactics for large teams of unmanned assets would help improve force protection, firepower, precision effects, and intelligence, surveillance, and reconnaissance (ISR) capabilities.2
Ideally, the UAVs must be small enough to reduce costs and operate within a condensed range. DARPA's Gremlins program, for instance, combines lethality, cost-effectiveness, and reduced risk to achieve optimal performance.
The Gremlins program borrows from the World War II Operation Anvil vision of using motherships to support pilotless aircraft. Motherships are ideal for nonpermissive environments lacking friendly military installations within range of the drone fleet. Aircraft with large cargo bays—such as B-52 Liberators, B-1 Lancers, and C-130 Hercules—provide UAVs with a mobile base from which to launch, return, and receive support.3 This reduces instances in which piloted aircraft are exposed to an enemy's weapons while flying long distances over hostile territory through formidable A2/AD capabilities. DARPA's Gremlins are designed to use swarming tactics to disrupt adversaries' A2/AD capabilities and soften the battlefield before troops are deployed into the area of operations.
Most existing UAVs require a ground-based operator to control and interact with each drone. DARPA's Gremlins, however, are programmed to collect and analyze information and then respond to specified threats independently while maintaining contact with human monitors.4 During a mission, human operators monitor a swarm of drones in enemy territory, but individual drones may be programmed to take evasive actions against surface-to-air missiles (SAMs) fired in their direction using passive or active measures. Passive measures include drones deploying chaff and decoy countermeasures to distract and intercept missiles and antiaircraft munitions. Active measures include drones armed with Hellfire missiles and programmed to independently attack lightly armored targets such as SAM sites, enemy vehicles, and hostile personnel.
Each Gremlin is programmed to "think" independently using algorithms, like a football team's play book. Accordingly, the UAVs will respond in a specific manner when confronted with a specified situation. They can communicate and relay real-time data and report threats to other drones in the area and to their human operators. Drone programming and interfaces are likely to include "rapidly emerging immersive and intuitive interactive technologies (augmented and virtual reality, voice-, gesture-, and touch-based) to create a novel command interface with immersive situational awareness and decision presentation capabilities."5
For DARPA's Gremlins program, the most challenging aspect of deploying UAV swarms is the recovery phase. UAV retrieval after a mission is risky because of turbulence associated with airborne recovery. The host aircraft (mothership) is vulnerable to damage if developers are unable to cultivate an effective, safe, and efficient recovery technique that preserves both the host and the drones. Accordingly, DARPA is testing various drone recovery methods, including:
• Soft capture outside the highly turbulent region directly aft of the host aircraft using precision navigation techniques demonstrated through previous UAV air-refueling programs.
• Hard capture into a structure that provides six degrees of freedom restraint for transition through the turbulent region aft of the host. This phase leverages advances in robotics.
• Transition into the cargo bay and automated rack storage.
As these techniques are perfected, developers likely will design aircraft tailored to deploy, support, recover, and store swarming UAVs. Investing financial resources in testing, research, and development will accelerate the discovery of practical recovery techniques that propel drone-swarming development forward.
DARPA awarded initial contracts to four companies in the aerospace industry as part of its Phase 1 development (system and technology design). Dynetics, General Atomics Aeronautical Systems, Lockheed Martin, and Composite Engineering are competing to resolve and perfect the Gremlin recovery process.6 DARPA will eliminate two companies from competition and proceed into Phases 2 (preliminary design) and 3 (prototype flight demonstration) by 2020. It is conceivable the U.S. military will implement swarming drones in its aviation combat element by 2025.
---
The Drone Race is On
Unmanned aerial vehicles (UAVs) are revolutionizing the modern battlefield. This revolution began in World War I when the U.S. Navy contracted with Elmer Ambrose Sperry to develop a series of catapult-launched pilotless aircraft.1 These dive bombers were to carry trinitrotoluene (TNT) and crash into enemy positions. Sperry, however, was unable to field this technology with sustainable success. During Operation Anvil in World War II, the Allies fielded partially unmanned B-24 Liberators loaded with explosives to bomb German positions. This hybrid approach required a pilot to launch the aircraft and parachute to safety in England. Then a mother ship would guide the aircraft to its destination in enemy territory. Despite Anvil's tepid results, the operation laid the foundation for the development of UAV programs.
Throughout the 1960s and 1970s, the U.S. military made significant advancements in UAV technology, employing several drones to conduct surveillance of enemy positions in Vietnam. Improvements in computer technology in the 1980s and 1990s further enhanced the capabilities of modern UAVs. By the late 1990s, unmanned aircraft were conducting armed missions and strikes in addition to their surveillance activities. UAVs now are an integral and invaluable aspect of achieving military objectives on the modern battlefield.
The Chinese also have recognized the value of UAVs. In November 2016, the state-owned China Electronics Technology Group Corporation (CETC) flew 67 drones simultaneously at the 11th China International Aviation and Aerospace Exhibition in a demonstration of its advanced drone technology. The CETC demonstration also highlighted the Chinese drones' ability to conduct intelligence, surveillance, and reconnaissance, as well as to communicate with other drones in their swarm. They did not, however, appear to be armed.2 It remains unclear whether the Chinese possess the capability to arm and employ swarms of drones to destroy specific targets, and it is unlikely the Chinese would reveal this information.
While the U.S. and Chinese militaries are the leading nation-states in advancing drone swarming tactics, the interest of non-state actors in emerging UAV technologies cannot be ignored. In its struggle to establish an Islamic caliphate, the Islamic State of Iraq and Syria (ISIS) has proven itself an increasingly tech-savvy and innovative terrorist organization. Reports from the region indicate ISIS is developing a series of crudely constructed drones to conduct surveillance and possibly carry explosives. Other non-state actors such as Hezbollah and Hamas have modified Iranian-made drones to carry and deploy munitions in one-way missions.3
Non-state actors likely will continue exploring and harnessing emerging technologies as they pursue their objectives through asymmetrical warfare. It is unlikely, however, that they will rival the drone technology of the United States and China, as terrorist organizations lack the research and development resources, advanced expertise, and financial viability to independently develop their own versions of swarming drones. But the collective interest of non-state actors in drone technology is an alarming trend.
The race for superior drones is on. U.S. developers must pursue practical approaches to perfect this emerging technology or they risk falling behind their geopolitical foes.
---

1. John Sifton, "A Brief History of Drones," The Nation, 7 February 2012, www.thenation.com/article/brief-history-drones/.
2. David Hambling, "If Drone Swarms Are the Future, China May Be Winning," Popular Mechanics, 23 December 2016, www.popularmechanics.com/military/research/a24494/chinese-drones-swarms/.
3. David Hambling, "ISIS Is Reportedly Packing Drones with Explosives Now," Popular Mechanics, 16 December 2015, www.popularmechanics.com/military/weapons/a18577/isis-packing-drones-with-explosives/.
---
Battle of the Drones
Gremlin development is just one example of how drones could change the character of battle. The Office of Naval Research (ONR) also has developed a series of drones within the Low-Cost UAV Swarming Technology (LOCUST) program.7 While the Gremlins are deployed from the air, LOCUST drones are propelled from tube-based launchers on ships. Recovery of the sea-based drones is easier, as ships already possess the capability to deploy and retrieve piloted aircraft. These sea-based drones swarm an opposing vessel or land-based objective; perform intelligence, surveillance, and reconnaissance; conduct cyber and electronic warfare; and (if required) destroy the target before returning to their origin point.
While both sea- and land-based drone swarms can saturate and overwhelm a target's defenses, some drones will be sacrificed to distract the target while others conduct the attack. Developers determined this risk to be acceptable because the cost of replacing the drones typically is less than the cost of the adversary's defense system the drones seek to destroy. Each Gremlin, for instance, costs approximately $700,000, with an expected lifespan of 20 flights.8
Designers must consider the enemy's ability to shoot down, preserve, and exploit the drone's technology through reverse engineering. For example, in 2011 Iran seized a U.S. RQ-170 Sentinel drone that had deployed from Afghanistan, ceased communications with its operators, and crashed-landed in eastern Iran. The Iranian military successfully reverse-engineered its technology and produced a drone of its own. Similarly, China's navy in 2016 seized an unmanned underwater vehicle deployed by a U.S. Navy ship in the international waters of the South China Sea. Although the Pentagon claimed the drone technology was commercially available, the incident demonstrated the ease of capturing and exploiting drone technology. DARPA, ONR, and other developers of drone swarms should consider programming each drone to self-destruct if it is disabled and cannot return to its origin point.
DARPA and ONR are paving a path to transition unmanned systems from human-centric tactics to battles involving machines exclusively. It is plausible to imagine a future where drone swarms encounter and defeat enemy drone flocks, attack their objectives on land and at sea, and then return to their bases and ships to reload for their next mission. The U.S. military will produce and deploy superior drones only if it overcomes technical and bureaucratic barriers.
---

1. MAJ Paul Calhoun, USAF, "DARPA emerging technologies," Strategic Studies Quarterly, vol. 10, no. 3 (Fall 2016), 91–113.
2. DARPA Public Affairs, "OFFSET Envisions Swarm Capabilities for Small Urban Ground Units," 7 December 2016, www.darpa.mil/news-events/2016-12-0.
3. Ibid.
4. Eric Adams, "DARPA's Developing Tiny Drones that Swarm to and from Motherships," Wired, 13 April 2016, www.wired.com/2016/04/darpas-developing-tiny-drones-swarm-motherships/.
5. DARPA Public Affairs, "OFFSET Envisions Swarm Capabilities for Small Urban Ground Units."
6. John Keller, "DARPA rounds out Gremlins program with four companies to create overwhelming drone swarms," Military & Aerospace Electronics, 10 May 2016, www.militaryaerospace.com/articles/2016/05/gremlins-drone-swarms.html.
7. John Keller, "Navy researchers developing swarms of cooperating air drones for overwhelming land and sea attacks," Military & Aerospace Electronics, 16 April 2015, www.militaryaerospace.com/articles/2015/04/navy-swarming-drones.htm.
8. Eric Adams, "DARPA's Developing Tiny Drones that Swarm to and from Motherships."
Staff Sergeant Stiles serves as an aviation ordnanceman with Marine Aviation Logistics Squadron 13 in Yuma, Arizona. He has deployed numerous times, including two tours in Afghanistan for Operation Enduring Freedom. He holds a B.S. (with honors) in organizational security and management from the University of Phoenix.