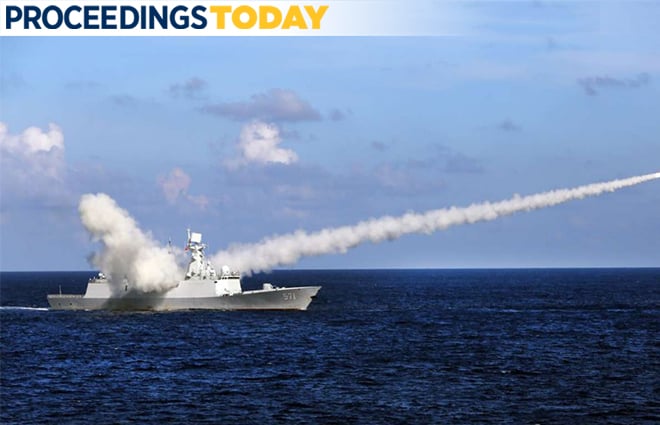 The post-World War II Euro-American consensus—the rule of international law and an open trading regime—is eroding. Great power competition has returned, with the inclusion of peripheral sources of instability (ISIS, North Korea, Iran). The liberal international order is under siege, and stable governance is collapsing. Sound bad? It is. 
An essential goal in this new era must be to deter China. U.S. leaders must do everything in their power to make sure the Chinese leadership never gets to the point where it finds it acceptable to risk war with the United States. Deterrence is a strategy of forceful warning, not acquiescing to an adversary's goals. There are too many vital interests at stake—for the United States and for the global system it underwrites—to simply accommodate the Chinese. 
Militarily, deterring China must rely on Chinese perceptions of the United States' ability to defeat any military adventure and the unquestionable will to do so if necessary. To attain and sustain this military deterrent capability requires hard, honest thought and discussion. U.S. leaders must better understand China's capabilities and doctrine. The Chinese approach to war is very different than ours, as Captain Dale Rielage outlined in the 31 May 2017 Proceedings Today article. For the U.S. Navy, it must experiment and train against realistic, unscripted adversary play. Commanders must be allowed to experiment to the point of failure in order to develop and realistically assess Navy strategies and capabilities. This will be a cultural challenge for the Navy.
The Navy has done this before. The transition in Navy thinking in the 1930s from a Jutland-like climactic battle to a more realistic long-war scenario was a key to the U.S. victory in the Pacific. That change was nurtured by realistic wargames (a series of annual exercises known as the Fleet Problems) and by honest critique. Militaries learn by failing. Navy wargames, training, and exercises must create an environment where failure is possible and acceptable.   
War with China would be challenging and destructive. Each great power war since the Industrial Revolution has been so. Immense geographic scope, severe losses, thwarted objectives, and local tactical defeats are real possibilities. Mass probably will not favor U.S. forces, and unlike its recent history, the United States will not enjoy space, cyber, air, and maritime supremacy. 
In this context, sustaining forces forward must be thought through—Navy logistics forces must survive, and they must be equal to the task of moving large quantities of munitions and repair parts, replacement aircraft, and replacement crews to forward areas. In-theater repair that is independent of shore infrastructure will be needed to sustain operations and undergird strategies. The ability and will to sustain operations will be key to deterrence. Being ready to fight is the best hope of avoiding fighting.
Navy training, exercises, and wargames must also place a premium on time. In recent wars, the Navy has been able to choose when, where, how fast or slow, and even if, it would fight. That will not be the case in combat with China. Naval forces will have to constantly seek ways to capture or recapture the initiative. It will have to foster quickness and agility to a degree not seen since World War II. This too will be a cultural challenge for the Navy.
China is coming, and the predictable battlespace will be inside the First Island Chain. The Navy needs to look hard and long at itself to ensure it is ready. Confidence in that readiness to fight is the irreducible basis for an effective deterrent strategy.
Captain Roncolato is an independent consultant, and is currently working on DDG 1000 Engineering training. He is a retired surface warfare officer.