Churchill & Orwell: The Fight for Freedom
Thomas E. Ricks. New York, NY: Penguin Press, 2017. 352 pp. Photos. Notes. Index. $28.
Reviewed by Admiral James Stavridis, U.S. Navy (Retired)Tom Ricks, a Pulitzer prize–winning reporter and Foreign Policy magazine contributing editor, has written a superb, creative, and meaningful book about two of the most fascinating figures of the turbulent 20th century: Sir Winston Churchill, the iconic British leader known for his courage, tenacity, and wit; and the cerebral novelist, essayist, and humanist Eric Blair, best known by his nom de plume, George Orwell. Churchill & Orwell: The Fight for Freedom resonates perfectly with our chaotic times today, nearly half a century after both of its subjects were at their most influential.
The story of Winston Churchill is well known to most readers, but a quick sketch would include his early years as a cavalry officer in India at the height of the British Raj; his participation in colonial wars in Sudan and South Africa; service as a war correspondent; significant political office as First Lord of the Admiralty during World War I; a long period in the political wilderness; a triumphant return to power to lead his nation through an existential struggle and the defeat of fascism in World War II; a Nobel Prize in Literature for his voluminous writings; and eventual rejection by the electorate late in his life. He was revered by many, hated by some, and never lacked for a witty line, living his life in the glare of publicity, and consuming prodigious quantities of high-quality champagne, spirits, and cigars.
George Orwell is best known, of course, for two brilliant novels about the struggle against totalitarianism; the chilling Nineteen Eighty-Four (written just before his death in 1950) and the seemingly childlike but powerfully constructed fable Animal Farm, reflecting the rise of communism and Joseph Stalin. He also published many articles and books of political thought reinforcing his views on the importance of freedom. Throughout his short life (he would die at 46), this tall, energetic, chain-smoking Brit would fight constantly against injustice, the curtailment of human rights, and political domination by elites. Notably, he fought and was wounded in the Spanish Civil War in the mid-1930s, and his nonfiction writing—which was more highly regarded than his novels during his lifetime—constantly posed fundamental questions of right and wrong.
Ricks does a clever job of weaving their stories together and manages to balance the vastly more "public" life of Churchill with the intellectual and moral force of Orwell. What the two men most had in common was their determination and certainty about the causes they fought for, and their willingness to swim upstream when the larger forces in society seemed to be flowing against them. Today we somehow think that the outcome of World War II was inevitable, and that it was obvious that a liberal, democratic order would survive the 1940s. For both Churchill and Orwell, it was anything but a given, and each gave everything he had to ensure a victory. Each brought to the fight the tools mastered best in his life: words. Each was a master craftsman of the written word, and Ricks illuminates this lovingly—he a gifted writer himself—in telling their stories.
Best of all is the careful thought Ricks put into the structure of the story—choosing to focus on the crucial two decades 1930-1950. While these are two very different men—Churchill was robust, loud, and charming while Orwell was often introspective and withdrawn—they each left an indelible imprint on the 20th century. More important, the staunch proclamation of the need for individual human freedom as the basis of our societies is needed now more than ever. As Churchill said, "Democracy is the worst form of human governance, except for all the others." This book emphasizes that perfectly, especially as the very idea of democracy is under stress.
Indeed, authoritarian regimes are rising around us, from Manila to Ankara to Moscow to Beijing and many other places. Truth is embattled and battered as we see even in the United States the rise of "fake news" and "alternative facts." One wonders not only what Churchill and Orwell would have made of these ominous trends, but more important who is ready—both politically and intellectually—to take them on in our times. Tom Ricks does a splendid job showing us two iconic figures of the last century who took up the mantle for freedom, but his book begs the question, who will stand for us in the 21st century?
Admiral Stavridis is dean at The Fletcher School of Law and Diplomacy at Tufts University, where he earned his PhD. A former Supreme Allied Commander at NATO, he is author of the recently published The Leader's Bookshelf (Naval Institute Press, 2017) and Sea Power (Penguin Press, 2017).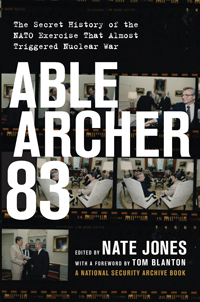 Able Archer 83: The Secret History of the NATO Exercise that Almost Triggered Nuclear War
Nate Jones (editor). New York, NY: The New Press, 2016. 320 pp. Illus. Maps. Source notes. Index. $27.95.
Reviewed by James J. Wirtz
By the early 1980s, Soviet leaders apparently believed their position in the Cold War arms race was slipping. Faced with the election of Ronald Reagan, U.S. deployment of the nuclear-tipped Pershing II and ground-launched cruise missiles in Europe, the announcement of the Strategic Defense Initiative, and a series of crises (e.g., the destruction of KAL 007), to the Kremlin it appeared the United States was preparing a bolt-out-of-the-blue attack to decapitate their nuclear command-and-control and early-warning networks. In response, the Kremlin launched Operation RYaN, an enhanced intelligence-collection program to funnel indicators of an impending U.S. nuclear attack directly to senior Soviet leaders. This new Soviet intelligence program worked well. It detected Able Archer 83, a North Atlantic Treaty Organization (NATO) command post exercise that simulated the Western use of nuclear weapons against the Warsaw Pact. In fact, it might have worked too well. For a few days, the Soviets seemed to believe Able Archer 83 was the real McCoy. Soviet nuclear and conventional forces began moving to a heightened state of alert.
Thanks to the decision of senior U.S. officers to not react to indications of a shift in Soviet conventional and nuclear force posture, the crisis petered out. Nevertheless, the events surrounding Able Archer 83 shook both the Reagan White House and Yuri Andropov's Kremlin and continue to reverberate in historical debates about the end of the Cold War and the level of threat posed by inadvertent escalation—the risk that the interaction of military forces can take on a logic of its own, detaching the use of force from legitimate political authority and intentions. Historians recently have noted that Able Archer 83 helped the Reagan administration to realize that Soviet behavior was motivated by fear, not aggression, leading to a thawing of diplomatic relations that prompted the Kremlin to recognize that the United States and its NATO allies had no intention of attacking the Soviet Union. Once these ideas took hold in Washington and Moscow, the Cold War began to wind down, albeit in unexpected ways. Strategists also point to the crisis as evidence of the pernicious threat posed by inadvertent escalation. They note that a whiff of nuclear war was in the air in November 1983.
Nate Jones, in a series of outstanding essays introducing this collection of recently declassified documents, highlights the issues raised by Able Archer 83, placing them in their theoretical, historical, and policy context. Able Archer 83 provides the reader with a series of intelligence reports, secured after much effort by the National Intelligence Archive, that illustrate how the U.S. intelligence community assessed the Soviet reaction to the NATO exercise. The reports highlight the uncertainty permeating Washington in the mid-1980s about the status of Soviet-U.S. relations and the motivations behind Soviet behavior. They also provide insight into how the U.S. intelligence community struggled to make sense of what appeared to be deteriorating political, social, and economic conditions inside the Warsaw Pact.
For officers not well versed in the finer points of Cold War history or nuclear folklore, Jones highlights the threat inherent in peacetime operations and exercises, which can convey unintended messages to friend and foe alike. It is clear from Jones's narrative that for a time, Americans failed to understand how their actions were being interpreted in Moscow, even though the U.S. intelligence community devoted the lion's share of its resources to monitoring events behind the Iron Curtain. Even more disconcerting is that U.S. policymakers were not newcomers when it came to dealing with the Soviets; many had personal relationships and a host of back channels with the Russians over many years. For instance, Averell Harriman, the first unofficial envoy sent by the Reagan administration to Moscow, attended more than one dinner party at Stalin's dacha years earlier and was recognized by the Soviets as an informed and trusted interlocutor.
As U.S. Navy operations are conducted off the coast of Korea, or in the South China Sea, or in the Persian Gulf, one wonders who in the U.S. government has the requisite background or experience to accurately assess the message being conveyed to Pyongyang, Beijing, or Tehran. It is a question that commanders need to keep in the backs of their minds as they undertake operations that seem benign but might be viewed as non-routine by some observers. Indeed, as the history of Able Archer 83 suggests, officers in the field or at sea might be the first to recognize that things are spinning out of control.
Dr. Wirtz is Dean of the School of International Graduate Studies and former Chairman of the Department of National Security Affairs at the Naval Postgraduate School. A graduate of the University of Delaware, with a PhD from Columbia University, Dr. Wirtz is the author and co-editor of several books on intelligence, arms control and strategy.

Cyber Insecurity: Navigating the Perils of the Next Information Age
Richard M. Harrison and Trey Herr (editors). Foreword by Richard J. Danzig. Lanham, MD: Rowman & Littlefield /American Foreign Policy Council, 2016. 391 pp. Figs. Notes. Glossary. Index. List of contributors. $65.
Reviewed by Vice Admiral Denby Starling, U.S. Navy (Retired)
The law of war and the principles underpinning it harken back thousands of years. The policies on which our nation's foundational laws are based have been evolving and maturing since colonial times. By comparison, cybersecurity law and the policies that shape it are newcomers. Our ever-increasing dependence on a global internet, originally designed to operate in a "trusted" environment, demands policies be developed and laws enacted to protect personal, commercial, and military access to and operations in cyberspace. Development of cyberspace policy is complicated by a general lack of understanding and the exponential rate of change of technologies. The law often lags technology, and policymakers are challenged to remain abreast of the latest developments. Cyber Insecurity: Navigating the Perils of the Next Information Age, edited by Richard M. Harrison and Trey Herr, examines cybersecurity policy with the aim of closing some of the gaps in understanding in this new and evolving arena.
This book originated as a series of briefs for Capitol Hill professional staff. The editors, in collaboration with the American Foreign Policy Council's Defense Technology Program, staged the briefs with the intent of reducing gaps in "official Washington's" understanding of cybersecurity matters. The briefing series was so positively received that a "more comprehensive treatment of the subject matter was necessary. Hence this book." The editors have delivered an excellent primer on cybersecurity policy suitable for reading by both experts and newcomers to the field.
The book is structured as a series of short essays by individual authors who are experts from across the cybersecurity spectrum. Each essay tackles a relevant policy area or issue, putting forth the nature of the challenge; explaining (where appropriate) the underlying technology; examining the social, security, or legal implications surrounding use or implementation of the technology; and presenting policy recommendations. The essays are grouped into four sections: "Securing Data, Devices and Networks"; "Combating Cyber Crime"; "Governing the Security of the Internet"; and "Military Cyber Operations."
In an ambitious effort to touch on a broad segment of the cybersecurity landscape, beginning with the basics of information assurance, the authors logically set the stage for follow-on essays addressing cybersecurity policy implications of topics as diverse as self-driving cars, liability in software development (do you really read the end user licensing agreement before clicking yes?), the government's policy regarding the use of "zero day" vulnerabilities, and the Department of Defense's "over classification" of all things cyber. Also included are essays that relate to debates playing out in real time on the evening news, such as whether software developers should be required to build in "back doors" to defeat encryption used by terrorist groups or whether vendors should be compelled to break into personally owned devices when national security interests come into play. High visibility "hacks" of major commercial entities and the ramifications of exposure of personally identifiable information also figure prominently.
Cyber Insecurity: Navigating the Perils of the Next Information Age is an excellent compendium. Because the essays appear to have been drafted as standalone documents there is some repetitiveness, but this does not detract from the book's overall readability. The essays are precisely footnoted, and each carries a well-crafted conclusion, summary of policy recommendations, and chapter highlights. For those whose jobs involve information technology, cybersecurity, or the policies that govern it, this book is one you would do well to have on your shelf as reference.
Vice Admiral Starling, a career naval aviator, served as Commander, Naval Network Warfare Command, before retiring in 2010. Since his retirement, he has worked in the information technology industry and is currently vice president, Navy and Marine Corps, for DXC Technology.
---
NEW & NOTEWORTHY BOOKS
By Captain Bill Bray, U.S. Navy (Retired)
The Death of Expertise: The Campaign Against Established Knowledge and Why it Matters
Tom Nichols. New York: Oxford University Press, 2017. 238 pp. Index. $24.95.
There are always books we love and recommend to family, friends, and colleagues. But occasionally there is a book we find so important to our current social, cultural, or political existence we wish the country's business could be suspended for a couple days so everyone could read it, perhaps with a modest tax credit as an incentive. Tom Nichols' latest book falls in the latter category. It is an incisive analysis of an old problem that seems, in part due to the Internet Age, to have metastasized into a more menacing and consequential malignancy for effective democratic governance. One should wonder, as I have for some time, about this paradox: in an age where information is so easily accessed, why are we so uninformed and dismissive of true expertise? Mere access to information should never be confused with knowledge, but it routinely is for a variety of reasons and that has so thoroughly debased the national discourse the author is correct to sound an alarm for not just the way we think, but the way we live.
War and the Art of Governance: Consolidating Combat Success into Political Victory
Nadia Schadlow. Washington, DC: Georgetown University Press, 2017. 282 pp. Index. Biblio. $32.95.
This book uses a set historical analysis format to identify answers to a very vexing question concerning ongoing
U.S. military engagements in Afghanistan and Iraq. Why, after years on the ground following the defeat of the Taliban and Saddam Hussein's Baathist regime, does ultimate political victory for the United States remain elusive? Nadia Schadlow's answer: The United States has forgotten the lessons of its own history, particularly in World War II, Korea, and Cold War engagements in places such as the Dominican Republic and Panama. In those examples, the United States had the foresight to plan for and then correctly use the military to enable political reconciliation and economic reconstruction (phase four operations, in today's parlance). In other words, if the United States stuck closer to the successful playbooks of the past, it would not be in the mess it is in today. There are certainly lessons to be drawn from previous U.S. foreign engagements, and Schadlow does well to identify them, but her premise seems to ignore the fundamental differences between a country like Iraq, artificially contrived as it was after World War I, and long-standing homogeneous nations like Japan or Germany.
On Tactics: A Theory of Victory in Battle
B. A. Friedman. Annapolis, MD: Naval Institute Press, 2017. 206 pp. Appendices. Biblio. Index. $29.95.
Do a quick search for books on military tactics, and most results are books on military strategy and not on tactics in battle. This explains B. A. Friedman's central motivation for writing this wonderful book, as the accessible literature on military tactics is woefully limited. Friedman, a recent artillery officer in the Marine Corps, is an excellent writer and succeeds in his stated aim of delivering a concise theory of tactics for the tactician in the field today. The book contains nine short chapters on tactical tenets and five on tactical concepts. In addition, Friedman supplies six discussions in appendices on subjects germane to tactics, including insightful essays on center of gravity as a somewhat problematic strategic concept and the operational level of war (there is no such thing).
North Korea and Nuclear Weapons: Entering the New Era of Deterrence
Sung Chul Kim and Michael D. Cohen, editors. Washington, DC: Georgetown University Press, 2017. 211 pp. Intro. Index. $32.95.
Given that the current U.S. administration has focused much of its Asia foreign policy around northeast Asian security, this set of nine essays on the North Korean problem is both timely and insightful. Seven experts join the editors in examining various aspects of dealing with a nuclear-armed North Korean state, from North Korea's nuclear policy to policy options for the United States and South Korea in a future where North Korea has a viable nuclear deterrent. The failure of the international nonproliferation regime to prevent the North from going nuclear has complicated the already complex regional dynamics, and Sung Chul Kim and Michael D. Cohen give us an excellent collection centered on how to deal with this reality, as opposed to more analysis about tried or untried approaches that now are largely irrelevant.
Captain Bray served as a naval intelligence officer for 28 years before retiring in 2016. Currently, he is a managing director in Ankura Consulting Group's geopolitical risk practice.