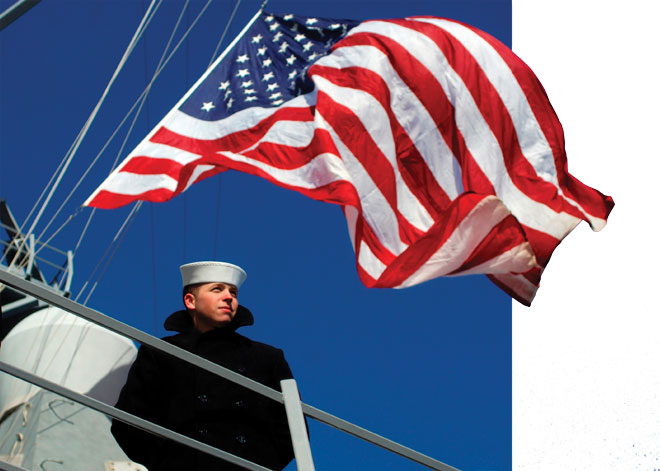 U.S. Navy (Jeffry A. Willadsen)
 
There are two kinds of sailors in today's Navy. One is the individual who sees the Navy as a job. He or she might be a career sailor who is planning on staying until retirement or someone who might stay in the Navy only long enough to earn money for college, to see the world, or to develop skills that later can be used in the civilian workplace.
The other kind of sailor is the individual who sees the Navy as something more—much more. These sailors recognize that they are part of something special, that they are unique individuals who see and do things differently from civilians and even from their counterparts in other military services. They embrace their heritage because they understand they are continuing an honorable legacy that is the result of the service and sacrifice of those who have worn the uniform before them, and that they are privileged to wear that same uniform.
There is room for both of these sailors in today's Navy. Each is a contributor to the overall mission and serves in important ways. But the ones who are in the latter category usually are much happier.
There are several reasons for this increased happiness. To begin with, most people find fulfillment in knowing what they are doing is important. True job satisfaction comes from more than a mere paycheck or a good retirement plan. It also comes from a sense of knowing what you are doing is serving a greater good, that it is important to others as well as yourself. Recognizing that sailors have done that for more than two centuries makes being a modern-day sailor far more rewarding.
Another reason these sailors are happier relates to the nature of Navy life. Service in the Navy can be tough at times, full of challenges and required sacrifices that most civilians rarely encounter. Leaving loved ones behind on a receding pier, or trying to accomplish a task when the whole world is moving up and down and side-to-side, or waking up at 0300 to get ready for the next watch, or manning a machine gun in the face of hostile fire—these are just a few of the challenges sailors must contend with, yesterday and today.
Meeting those challenges can be difficult, but there is both inspiration and a kind of dare in the past. Those sailors who know that others have gone before them and triumphed in the face of the same or similar challenges often are inspired and driven by a desire to "measure up," to prove that they too have the required mettle to prevail when they are called on to do things others can barely imagine.
A third reason for their increased happiness is that most people enjoy being part of something exceptional, something that separates them from others in a good way. Clubs, teams, congregations, societies, and interest groups all are examples of this desire to be different, yet with companionship. When sailors raise their right hands and swear to "support and defend," they cross a threshold into another world. Whatever their initial motivation, they begin a journey that is unlike any other, and those who fully understand that and embrace it accept membership in a very special club.
This is one of the reasons why Proceedings has included a "Lest We Forget" focused on sailors in every issue since September 2003. These glimpses into the past meet the needs of those sailors who see the Navy as more than an employer, reminding them that what they do can have great importance, equipping them to prevail in the face of hardship or danger, and reassuring them that they are part of the greatest Navy the world has ever seen.