Impressive Beneath the Waves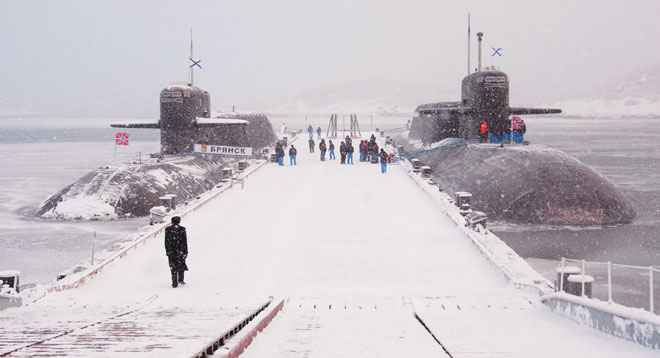 Russian Northern Fleet
The modern Russian Navy, similar to its Soviet predecessor, looks best underwater. Russia's fitful attempts to revive its surface fleet could leave some observers unimpressed, but such criticism misses the point that the country's current naval power largely resides in its submarine force.
Russia has retained the industrial capacity and knowhow to produce capable submarines. Today the navy is recapitalizing its nuclear-powered ballistic missile submarine (SSBN) force, which has the highest naval priority, modernizing its nuclear-powered guided-missile and attack submarine (SSGN/SSN) force, and still pumping out venerable diesel-electric submarines (SS), which are upgraded to launch land-attack missiles.
In 2015, the commander-in-chief of the Russian Navy, Admiral Viktor Chirkov (now retired), lauded a 50 percent increase in submarine patrols, but this fresh life comes from a force that had been largely missing from the world's oceans in the preceding 15 years. Russia's operational submarine force consists of an estimated: 12 SSBNs, 8 SSGNs, 11 SSNs, and 20 SSs. There also are several special-purpose nuclear and diesel-electric submarines.
While this undersea force is but a fraction of the Soviet strength during the Cold War—which approached 400 (largely diesel) submarines in the 1960s—the current emphasis on submarine development and construction is readily evident.
After the collapse of the Soviet Union, submarine production slowed and then came to a halt. The first prototype Yasen-class SSGN—the Severodvinsk—was laid down in 1993 and the first Borey-class SSBN—the Yuri Dolgorukiy—in 1996, but construction on both ceased soon after. In the decade or more of that hiatus, both submarines were extensively redesigned, and when they belatedly went to sea they were very different from their original designs.
Prior to the arrival of the first Borey, Russia's sea-based deterrent consisted of three Delta III and six Delta IV submarines plus one Typhoon in limited service as a missile test ship. The Delta IIIs, completed between 1979 and 1982, are outdated and have seen relatively little time at sea compared to their U.S. counterparts.
Three Borey-class SSBNs have been completed. The Aleksander Nevskiy and Vladimir Monomakh are now in the Pacific Fleet, while the Yuri Dolgorukiy is in service with the Northern Fleet. Five additional Borey SSBNs are under construction, all scheduled to enter service by 2021, although construction delays are common. These ships each carry 16 solid-fuel Bulava missiles, given the NATO designation SS-N-32. The missile itself had a troublesome development history largely due to production quality issues, but despite several test failures it has been declared operational since 2013. The Bulava is reported to sacrifice range and warhead payload for increased survivability against ballistic missile defenses.
Russia has not announced the scrapping of any Delta IIIs, but its strategic forces are now significantly above the 1,550 deployed nuclear warhead count agreed to under the 2010 New Strategic Arms Reduction Treaty. This limit must be met by February 2018, and likely will require the decommissioning of several older SSBNs.
The lead unit of the Yasen class SSGNs—the Severodvinsk—represents the most advanced undersea adversary now faced by the U.S. Navy. Launched nearly two decades after being laid down, she was extensively redesigned and is Russia's first truly multipurpose submarine. The Severodvinsk is capable of antisubmarine, antiship, and land-attack missions. Among the more interesting features are a large bow sonar dome for the Irtysh-Amfora sonar system and an amidships battery of eight vertical-launch cells that can carry 32 Kalibr (SS-N-27/30 Sizzler) or Oniks (SS-N-26 Strobile) cruise missiles. These antiship and land-attack weapons are particularly significant after Russian surface ships and submarines fired long-range missiles into Syria in 2016.
The Severodvinsk spent more than two years on sea trials, reportedly having significant propulsion and noise-level problems that delayed her commissioning. Subsequent submarines of this design have been modified with changes said to include a different sonar arrangement. Six are reported to be under construction.
Russia's older SSGNs—the Oscar II series—are receiving facelifts, with several undergoing modernization. Some of the Oscars will have their existing 24 missile tubes for the P-700 Granit (SS-N-19) missile refitted to carry 72 Kalibr or P-800 Oniks missiles. The Granit missile was principally an anticarrier weapon. Armed with the latest missiles, the Oscar II will be more versatile.
Now in development is a new Russian "hunter-killer" submarine. This SSN will have the primary role of countering Western SSBNs. The new SSN is probably a significant program, but very little is known about it other than construction is slated to begin in the near future.
While all nuclear submarine construction is now undertaken at the massive Severodvinsk shipyard in northern Russia, four other shipyards are producing diesel-electric Kilo submarines. There are several variants of the Kilo, first completed in December 1980. More than 20 were built for Soviet/Russian service, and about 40 units were built for export to Algeria, China, India, Iran, Poland, Romania, and Vietnam. An improved version, known as Project 636.3, is one of the defense industry's most popular exports, carrying the export variant of the Kalibr antiship and land-attack missile. Russia recently completed an order of six for Vietnam.
Six improved Kilo submarines are being added to Russia's Black Sea Fleet, which is being revived at a remarkable pace. An identical squadron has been promised to the Pacific Fleet by 2021. One Kilo fired Kalibr missiles at targets in Syria as part of the Russian air-ground-naval intervention in the Syrian civil war.
The construction of modernized Kilos continues in part because of the Russian failure to produce a submarine with an effective air-independent propulsion (AIP) system. Three submarines of the Lada class were begun, but after difficulties with the AIP plant only the lead unit, the Sankt Peterburg, was completed in 2010—with conventional diesel-electric propulsion. She now is in the Northern Fleet. The two unfinished Lada-class submarines are scheduled for completion in 2018 and 2019, but the class as a whole has been a failure. It is unclear what Russia ultimately will do with Sankt Peterburg's sister ships once finished. Hopes for an AIP submarine now are being placed on the Kalina class, a new design likely to employ AIP, about which little is known publicly.
The continuation of non-nuclear submarines offers several benefits to Russia: the ability to conduct operations in restricted waters where nuclear submarines are impractical (Baltic and Black seas); coastal defense missions; and special operations where larger, nuclear submarines are not required and could be considered a liability; as well as ease of production compared to nuclear submarines. Armed with land-attack missiles, cheaper diesel submarines can range the European and Asian theaters while staying relatively close to home waters. They also are easy to produce and a good source of hard currency for Russia's shipbuilding industry.
Beyond combat submarines, there is another Russian submarine force that answers to its own command. The Navy's General Directorate of Undersea Research (GUGI) maintains several special-purpose undersea craft. Some are conversions of older submarines, such as the Delta "stretch" SSBN designs, while others are new construction units. These special-purpose submarines—nuclear and diesel-electric—are employed in several roles, including supporting submarine weapon and systems development; conducting deep-ocean antisubmarine projects; and mapping and possibly interdicting seafloor fiber-optic cable networks. Some of GUGI's submarines serve as mother ships for deep divers such as the "Losharik" special-purpose submarine. Others may deploy underwater drones with nuclear warheads such as the recently revealed "Status-6" weapon, which will be carried externally. Many press reports credit the Status-6 with incredibly high speed, long range, and a multi-megaton warhead—claims that likely are unrealistic. But even if those performance figures are off significantly, it still will be an innovative weapon and need to be countered.
Russia's submarine fleet may be a dwarf force compared to its Soviet predecessor and even its contemporary U.S. Navy adversary, but it is still the heart of the navy's combat capability. Its SSBN replacement program continues apace, while new SSGN/SSN designs promise to test the dominance the U.S. Navy has grown accustomed to in the undersea domain. Given the troubled state of the Russian economy, it is difficult to predict how long the country can sustain the current levels of construction and readiness, but for now this force has been imbued with fresh life. Russian submarines produced in this decade will shape the underwater military balance well into the 2030s.
Norman Polmar, a Proceedings columnist for 38 years, is coauthor of Submarines of the Russian and Soviet Navies (1990) and Cold War Submarines (2004). He currently is updating and merging those two books for publication by the Naval Institute Press. Mr. Polmar also was the author of four editions of Guide to the Soviet Navy.
Michael Kofman is a research scientist at the Center for Naval Analyses and a Fellow at the Kennan Institute, Woodrow Wilson International Center, in Washington, D.C. Previously he served at the National Defense University as a program manager.