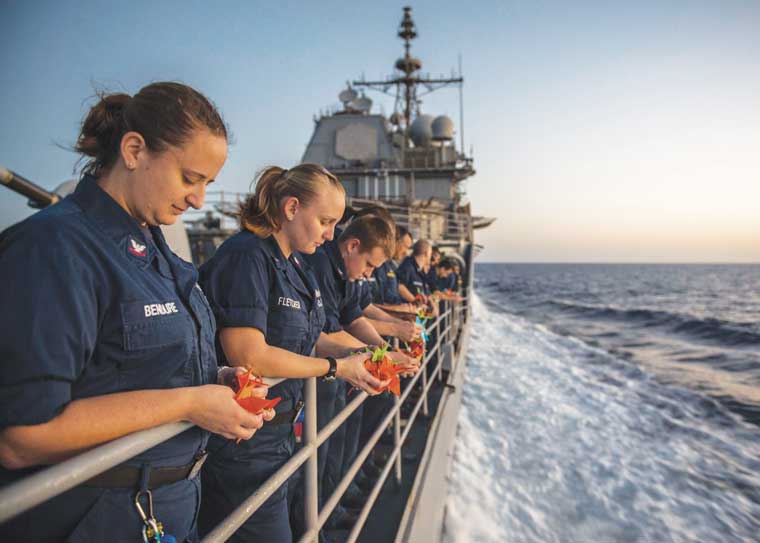 Suicide is an uncomfortable word. With it come feelings of confusion, shame, despair, desperation, and loss. We drive quickly past billboards on our highways—"Every 13 minutes, someone in America dies by suicide"—and squirm in our seats when a news broadcaster tap-dances around a celebrity suicide. We waver awkwardly between feelings of mourning and scandal. When it happens close to home, we struggle to give ourselves permission to grieve, as if the means of death marginalized our feelings of loss. Generally we speak of suicide in whispers, as if the word is a hex or a disgrace. This stigma and silence undermine efforts at suicide prevention.
A Scarring Silence
Willful silence acts like a line in the sand. We want to believe that suicide exists on the other side of that line, away from us, our lives, or our scope of reality. To be touched by suicide is to wear the "scarlet letter." If you are unlucky enough to be scarred by suicide, you become a leper, ever-yanking your sweater sleeves over your arms, lest the others discover secret shame.
Imagine the cognitive dissonance in knowing the prevalence of suicide in our troops, yet simultaneously refusing to acknowledge it in any personal terms. I would venture that most readers have seen this up close, especially if they have endured the aftermath of a suicide within their command (or, God forbid, their family).
To them I say, "Your pain is real, and it deserves to be acknowledged. You are not alone." I wish I could shout it over the 1 MC announcing circuit. Invisible lines in the sand, stigmas, and barriers to frankness are very real problems when it comes to suicide prevention. Even as a command suicide prevention coordinator and having survived a suicide in my family, I find myself repeatedly exhausted with the never-ending fight against this culture of shame. I nevertheless feel compelled to share my story. Our command just lost another shipmate to suicide, and hardly a soul in our one-building installation knows. Because of that, I have been telling my story more often.
On 22 June 2012, my father swallowed two bottles of methadone and killed himself. My dad was not military, but he endured many traumas. He was struggling with mental illness, but he was not crazy. He was in physical and emotional pain and he wanted it to stop. This is what I relate in my general military training on suicide. Those who choose to end their lives seldom want to die, but they do want the pain to go away. There is a major difference. As fellow humans, we can understand someone's desperation for pain relief. But to understand why someone would contradict the primal imperative for self-preservation? That is much more difficult to wrap your head around.
Perhaps this struggle is why we do not talk about suicide when it happens. When the technical obligations have been addressed—filing situational reports, granting emergency leave, and crunching the numbers of having one fewer sailor—the command often stops talking about it, and everyone else follows suit. Sometimes legal departments—in a misguided attempt to protect commanding officers from backlash—will convolute semantics and cite liability to prevent an honest discussion. More often, though, leadership just does not know what to say.
For example, recently I filmed an official video promoting suicide prevention month, and I requested a command's permission to memorialize our fallen shipmate with his photo at the video's conclusion. Despite several calls to the command's front office, I never got a response. The video ran without acknowledging the biggest and most heart -breaking elephant in the room—a man who had devoted decades of his life to his country was doomed to fade from the Navy's collective memory. The moment he died by suicide, he disappeared into that foggy ether.
Prevention Is Hollow
Survivors of another's suicide feel the pervasive and damaging impact of avoidance. In the most practical sense, it creates workplace confusion about tasking, manpower, and replacements. Culturally, it reinforces stigmas of shame and immorality. Perhaps the most hurtful consequence when we avoid addressing a suicide is that we estrange multitudes of survivors and invalidate their anguish and loss. We abandon them in their darkest hours of bereavement and desperation, and we erect barriers to seeking help and to expressions of healthy grief.
What are we teaching our workforces? OPNAVINST 1720.4A is the Navy's instruction governing suicide prevention across the fleet. It explicitly lays out the responsibilities of the individual sailor, the prevention coordinator, and the command when it comes to preventing and reporting a suicide. In writing, this de jure doctrine seems legitimate. Yet the de facto reality is that we rarely discuss the issue outside the scope of PowerPoint general military training. Most people cannot wait to scurry away when I start talking about the warning signs or how to ask, care, treat (ACT) those who may be at risk. It is difficult to reconcile the important responsibilities of a suicide prevention coordinator with the widespread stigma about even acknowledging that suicide exists. Suicide prevention has been effectively reduced to "Do as I say, not as I do." We talk a big game during those long PowerPoint presentations, but the entire campaign falls apart in practice when we need it most.
A Better Way
Fortunately, the military is a Petri dish for cultural change. Once a new policy is published—the recognition of gay marriage, the integration of women on submarines, or the introduction of women into special forces, for example—the troops are obligated to comply. Certainly there are always salty dissenters who clutch to old tradition, but they are the minority. Every 20 years or so, the military's entire population changes in face, belief, and creed, which offers a natural engine for change.
This mechanism provides hope for the issue of suicide. As of 16 September 2016, a new program called Sailor Assistance and Intercept for Life (SAIL) had entered the fleet. It aims to act quickly when someone demonstrates suicidal behaviors. The program assigns struggling sailors to a fleet and family case manager, who routinely conducts risk assessments and provides emotional support for 90 days after enrollment.
This effort undoubtedly will help a hurting cause. After all, a suicide prevention coordinator's principal job is preventing suicide. But another part of my identity—the part of me that identifies as a grieving, lonely daughter—recognizes that we need more. The Navy needs to start talking about suicide when it happens and how to best take care of the mourners left behind.
If commands do not know where to start, look to those who have walked this path. I can attest to there being thousands of "survivors" in the woodwork, and there is much to learn from their stories. Every survivor of suicide is different, but certain threads run through us all. I venture that these threads resonate with anyone who has been bereaved by loss.
First, we want the truth: when someone dies by suicide, say it like it is. No one's asking for graphic details, but we are asking that you normalize the word. Without candid recognition, survivors are relegated to the shadows.
Next, we want compassion: when suicide happens, no one knows what to say. There is no such thing as a perfect script to alleviate grief, but there is comfort in expressions of care. Just be there and be kind. Grief and its accompanying emotions come in many forms, and all of them are right.
Last, we want remembrance: both for the ones who killed themselves and for our new identities as survivors. Nothing hurts more than invisibility in loss or legacy. Just because someone dies by suicide does not mean that their life meant less. Those who died are still sailors who served, fathers, mothers, sons, daughters, coworkers and friends. They are people we loved and lost. They deserve to be remembered for the way they lived, not just how they died.
I do not know if these requests can be properly translated into a new instruction, but they certainly can be embodied in practice. Suicide and its effects are not just a military problem but a human one. When we strip away the extraneous means of separation—the uniforms, the titles, and all the other lines in the sand—we are all human, and we will all experience pain, grief, and death in our lives. To suicide's survivors and potential victims, leaders must start with these sentiments, "Your pain is real, and it deserves to be acknowledged. You are not alone."
Petty Officer Smedley is assigned to the Office of Naval Intelligence Security Forces Training Department. She is the command's suicide prevention coordinator and resident applied suicide intervention skills training (ASIST) instructor. She holds a Bachelor's of Arts in Political Science from San Jose State University. Petty Officer Smedley's essay won third prize in the Fall Enlisted Prize Essay Contest sponsored by Textron Systems.